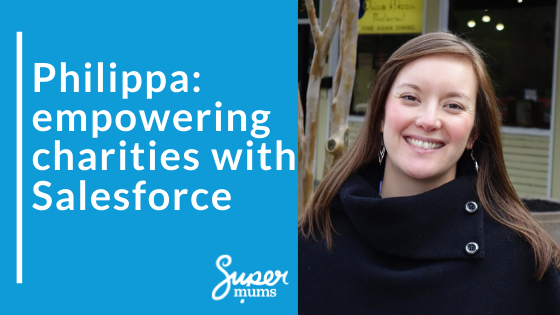 Pip is a mum and has a background working in fundraising and communications for charities. After returning to work after maternity leave, her role just wasn't working and she needed something more flexible to suit her new family life. A friend recommended Salesforce and Supermums and the rest as you say, is history.
Pip's Story
Supermums courses taken or in progress:
Supermums Admin course, Sept 2019 cohort
How did you get into Salesforce / find out about the Supermums courses?
A friend who had been working with/for Salesforce connected with one of the Economic Change team and found out about it. He passed the details on to me as he thought I might be interested in the course.
What were you doing before transitioning to a Salesforce career / starting a Supermums course?
I was working in the charity sector in Fundraising & Communications. I had used Salesforce before at one of the charities I'd worked for and helped to transition the organisation on to Salesforce as their new CRM. I had recently returned from maternity leave and had gone into a role which wasn't working out for me.
Can you share a little about your experience of the course? What was the best thing about it and what was the most challenging?
It was great to have the weekly webinars and communication from the Supermums team to help keep me motivated. I faced a few struggles during the course with sickness and the team were really accommodating to ensure that I still managed to complete all the tasks, project assignment and ultimately passed my exam. I know that if I had just tried to study for the exam on my own, I never would have completed it – I would have lost motivation and life would have got full with everything else. But committing to the course, and having all the resources and support that I needed provided for me made it feasible to fit this in amongst everything else.
What was it like having a mentor? How did you work / meet together?
It was great having a mentor – she was there to answer any questions I had, and to give me clues/prompts as to how to work around my tasks correctly. It was also helpful to have someone who was working through the system "in real life" to give a practical example of what I was learning.
Please share share a little about the work experience element of the course. What did you do? What was good about it? Was it useful?
It was great to have a 'real life project' to get involved in and to put some of the skills I had learned into practice. I had used SF before in another organisation, so I did have some practical experience already, but I think if the tool is new to you then it's vital to get this experience. It was also helpful to see things from a consultant's point of view in terms of implementing SF for a client, which I hadn't been on that side of things before.
Of course you have someone who is managing the project directly, so it's great to have another person to learn from and to help develop your skills.
What do you think is great about the Supermums programme and why do you think people should do it?
I think one of the great things is their mission to support Mums into flexible and meaningful careers. There's not a lot of organisations out there that are focusing on this and until I became a Mum, I didn't realise how important this is.
I also love that the programme isn't just focused on getting people qualified but also supports individuals to find work and suitable roles in the future.
Where do you work now?
Health & Hope UK, home based. I head up the fundraising & communications for a small charity – who use Salesforce!
What is your job title?
Senior Partnerships & Communications Manager
What does the business do?
We provide healthcare, education and poverty relief for rural communities in western Myanmar (Burma)
Do you work flexibility?
I work part time – 4 days a week, all from home as it's a small charity and we don't have an office. I typically work 4 full days, but there is loads of flexibility on this when I need to adjust around childcare arrangements.
What do you do in a typical day?Manage all our supporter communications (website, social media, emails etc), process all donations, administer the database to record all income, write funding bids, hold relationships with supporters, plan campaigns… anything to do with income generation or communications (and anything else that needs doing, as there's only 3 of us!)


What certification do you have and what are you working towards next?
I completed my Admin certificate about 18 months ago, and then with starting a new job things have been busy. My next plan is to complete the non-profit cloud consultant certificate as this will not only help me in my current role but potentially help me develop my future career as well.
What are your top tips for studying for Salesforce certifications? (you can be specific to those you have taken if you like)
Definitely take part in a structured course like Supermums – it gave me the structure, format, timeframe and motivation to pass my certificate in a timely manner (6 months). Without it, I would stopped as life just gets full and things get in the way.
Also connecting with other people is vital – again to help motivate you and if you've got a slightly competitive nature (like me), when you see other people booking & passing their exams, it's a good boost to make you think "right, I'd better do this too as I don't want to be the only one who hasn't passed!"
There are lots of online resources too, like Salesforce Ben, where you can get practice questions and learn more about specific areas of Salesforce. I found these resources invaluable when I was studying for the actual examination.
What is your favourite thing about Salesforce?
It's so versatile. I work for a small charity, so with some tools, there's so much that we don't use and they can become clunky for a small organisation to use. But I love how I can customise SF to suit my needs and easily change it / update it as things change and develop, which inevitably they do!
Who are the best people to follow on Twitter?
Heather! I'm really inspired by how she's paving the way for working Mums to have successful and flexible careers. I follow anyone who inspires me and aligns with my passions.