Supermums Salesforce Training and Recruitment
Supermums empower mums (and dads) in to well-paid, flexible work with Salesforce.
With approx. 45 million mums in the world and technology being the fastest growing sector, why aren't there more mums in tech? Supermums sees their potential and helps them to upskill and retrain in Salesforce and supports parents into finding flexible, well paid roles that fit around family life.
Supermums is a global company as we now offer our courses and training across 3 continents. Since 2016 we have taught over 700 mums and dads, across 10+ different countries and upskilled them in Salesforce CRM, delivered over £1 million of free training to charities through our work experience projects and helped over 200 companies to recruit better talent.
No matter what you are into, this innovative sector has a place for you. You don't need to be techie to understand but having the knowledge opens so many new doors.

Upskill and find your flexible career with our award-winning Salesforce training.

Find your next Salesforce Role
Sign up with our specialist recruitment agency for flexible Salesforce roles.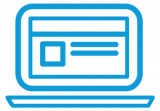 Discover your next career
Get started with our career path where you can find out more about career opportunities within Salesforce.

Find out how you can support Supermums through volunteering, sponsorship, or donations.
As a social enterprise, we are passionate about making change in our society by empowering women in tech, and championing flexibility in the workforce. That's why we are on a mission to train 1k mums in Salesforce by 2023, so they can step into their new, flexible Salesforce career.
Salesforce is the biggest CRM in the world, and because it's all cloud-based, many Salesforce roles offer the type of flexibility that mums are looking for. Pair this with the huge shortage and growing demand for Salesforce skills across the world, and you get the perfect solution – for mums and organisations.
Watch our video below to hear from our Founder, Heather, about how Salesforce enables mums to find well-paid, flexible work, and how  Supermums was born. 
'I like how the course is structured and your own personal mentor provides feedback, tips and advice on how to perform tasks. With Supermums, anyone can learn Salesforce!'
'I found the format helped to keep me on track as i had weekly deadlines to complete the learning objectives'
'I liked having a group of people to work with and learn from. I liked being able to interact with the tutors too'
'Gaining an insight into working with a project manager was useful and interesting as this is a world that i have never worked in before'
'The format of the course in terms of being in a specific cohort with weekly webinars and homework really worked for me as it gave me focus'
'It was a really good start to using Salesforce, in a real life system during my work experience'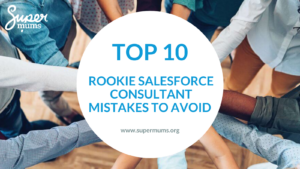 Are you looking for that next step in your career after being a Salesforce Admin? If the road to being a Consultant is for you then these 10 rookie mistakes to avoid can help you be a successful and confident Consultant!
Read More »
Subscribe to our Newsletter
Get all the latest news, advice and help guides from our Supermums team.
Get Started with your Salesforce Career