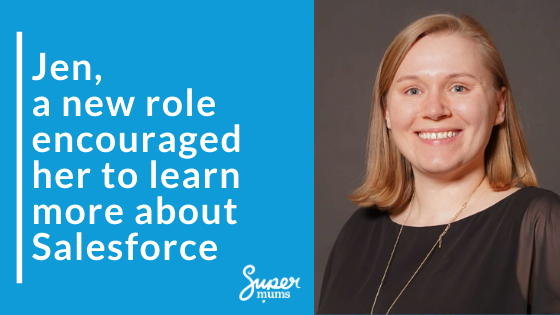 Jen is a mum of 2 and based in Vermont, USA. When her role changed overnight, a new opportunity to become a Salesforce Admin encouraged her to take the next step and commit to a training programme.

Jen feels that being part of the Salesforce ecosystem has been essential to not only her career development but also the wellbeing of her family during COVID-19 when we have all needed to be more flexible to help us fit work and home schooling into our daily lives. 
Supermums course/s taken: Supermums Admin course
How did you get into Salesforce / find out about the Supermums courses?
My past roles have always had a data management component to them, so I knew of a number of database systems and their competitors. I'd known of Salesforce for a number of years, but found it really difficult to learn at a good pace on my own time just using Trailhead, I knew I needed something more hands-on. 3 years ago, I took a role focused on Operations, which included serving as their Salesforce Administrator. I got to learn by doing and help a great organization improve their workflows and staff capacity!
Two years into the role, I knew I wanted to supercharge my Salesforce learning through a guided program. I decided that a paid bootcamp or training program would offer the guidance and accountability that I needed in this phase. Around this time, I also took the leap to attend my first Dreamforce, where I met Heather Black and learned more about the Supermums program. I was so impressed with Heather and her passion and vision. But perhaps more importantly, I was impressed by the structure of the Supermums program. It was the only intensive program I'd come across that offered hands-on context-based practice problems, a mentor & weekly sessions with them, a work project in an existing organization where your work would be out there in a live Salesforce instance, and job support services for alumni.
What were you doing before transitioning to a Salesforce career / starting a Supermums course?
I had spent 15 years working in non-profits and higher education, predominately in fundraising and operations. A number of the organizations I worked with were small, resource-constrained environments. In those scenarios, it felt really important to be as efficient as possible in the way we did work. Oftentimes, data management was a really important tool in my "efficiency toolbelt". Even at larger organizations, organized systems and processes were important in forming a strong foundation to allow other staff (such as frontline fundraisers or program staff) to do their work more efficiently and seamlessly.
How was the process of making that change / career pivot? Were there skills and knowledge that transferred particularly well? If you feel you can, include anything you found challenging and how you overcame it.
I think it was more challenging than usual to make the career pivot because of COVID-19 and its initial impact on the job market. I started a soft job-search back in mid-February, and most leads ground to a halt by late-March due to covid. That said, Salesforce jobs recovered quickly and quite well, so I feel very lucky there. My family needs shifted during this time, with my two young kids home all day, and I needed to pivot from looking for full-time roles to exploring part-time opportunities. Between the pandemic and my personal needs shifting, the job search process took longer than I originally anticipated. That can be difficult for your self-confidence, but I overcame it by 1) giving myself the space to take a day's break from the process when needed, and 2) celebrating the successes of others. I know it might sound counter-intuitive, but hearing about the successes and breakthroughs of others in the Salesforce community was empowering and made me feel like it would happen for me — it just wasn't my time yet. LinkedIn was a great place to stay plugged into the happenings of the Salesforce ohana. I also continued to focus on growing my skills by preparing for and taking the Administrator and Advanced Admin certifications. 
Can you share a little about your experience of the course? 
I came into the program with some Salesforce knowledge and experience already, but continued to learn and grow each week. Especially as the program progressed, there were some functionalities I hadn't been exposed to in my job and was excited to get hands-on with them during the course. I really enjoyed the community that sprang up from the Supermums Admin course. I also really enjoyed the mentor component as well as the ongoing sense of accomplishment. Some weeks were harder than others – there would be times when I'd get stuck on a solution and have to research the community forums or experiment with several possible solutions. But it was always so gratifying once I found a good solution. Each week's homework was like working through a brain teaser, which I find really engaging.
What was it like having a mentor?
My mentor was really phenomenal and such an important part of my Supermums journey. We had a weekly call where we reviewed the homework and my solution within my Salesforce practice org. I was able to use this time to ask questions about best practices, and as the homework got progressively harder, about other potentially more elegant ways to approach a solution. There's not always a right or wrong way to do something in Salesforce, like with a workflow or process builder, so I really appreciated getting to utilize his expertise on how to approach a solution the most efficient way possible. My mentor had a number of years of experience in the Salesforce ecosystem, as both a developer and architect, and brought a unique perspective. Outside of homework, he was also a great resource for general questions I had about the Salesforce ecosystem, different types of roles, different industries, and the overall job search process. The mentor component is definitely something that sets Supermums apart.
Please share a little about the work experience element of the course. 
I had the opportunity to work with an organization that does Salesforce consulting for nonprofits. It was really helpful to take the learnings of the past several months and have to draw on them to solve issues a client was having within their Salesforce instance. It was also a nice confidence booster to see that I was able to make those connections, do the research and info gathering, and implement an appropriate solution. Because those solutions went into a "real world" instance of Salesforce (vs my own personal developer org) and helped real staff members at a real organization, it was extra gratifying. It was also something job interviewers were really keen to hear about. They expressed more interest in knowing what type of solutions you'd built in "real world" Salesforce instances vs in your own practice/developer org, so this is really important experience.
What do you think is great about the Supermums programme and why do you think people should do it?
Honestly, all of it! The mentor component and real work project are great components of this program. The training is well done and covers the breadth of topics any admin should know. One really fabulous thing that came out of the program, which I hadn't necessarily expected, is the community built from the cohort model. You emerge with this great network of individuals who are supporting you, who you're also cheering on and supporting. I can definitely see how it forms the base of your Salesforce network for years to come.
Where do you work now? 
I'm working as an independent contractor with Idealist Consulting. They're headquartered in Portland, USA but have been remote-friendly for a long time. They have consultants based all throughout the US.
What does the business do? 
Idealist Consulting provides Salesforce, marketing automation, and app development services to progressive organizations. Their clients are predominantly nonprofits and small businesses. As a certified B Corp, Idealist has committed to using business as a force for good. Given my past experience in nonprofits, I was able to transfer a lot of that industry knowledge to this new role.
What is your job title?
Salesforce Consultant (Functionally: sometimes I serve as a Project Manager and sometimes as an Administrator. In the future, I'll also get to learn and flex some Business Analyst skills.)
Do you work flexibility? 
Yes, I work remotely 100% of the time. I have flexibility over the number of projects I take on, which ultimately means flexibility over the number of hours I work in a week. Virtual client meetings generally take place during standard office hours. I have complete flexibility over non-client facing work; I can do that any time of the day, on weekends, or whenever works for me and my family's needs.
During the unexpected and unprecedented scenario we all find ourselves in during the COVID-19 pandemic, flexibility has become even more important to me. I have young children who are doing their schooling at home this year, so flexibility was no longer a "nice to have" but a critical element of me being able to contribute to my family's financial well-being. I feel that working with a cloud-based software (Salesforce) opened up more flexible-friendly doors than would have been possible otherwise.
What do you do in a typical day?
It really does vary. When I'm serving in a project management capacity, I'm helping to move a Salesforce implementation project forward. The main phases include scoping & discovery, configuration, testing, and roll-out of the new or enhanced Salesforce system. This piece of my role involves a lot of organization and coordination. I think about it like cooking a large multi-course meal for a group. There's a lot of prep and background coordination that goes into a final product that arrives on the table all at the same time. For Salesforce implementations, this means you're coordinating externally with the client and their main teams/project stakeholders and internally with the team of people who are working as business analysts, architects, etc on the project. As an administrator, I'm responding to troubleshooting requests and also trying to think proactively about a client's needs and how their system might be enhanced over time. This includes some client facing meetings, of course, as well as time hands-on in their Salesforce instance (well, their Sandbox) building out solutions. 
What is the most challenging thing about your role?
One of the best things about my job is probably one of the most challenging as well: no two clients are the same, so no two solutions are the same. There will be times when the bounds of your knowledge are tested. In these moments, it's so important to make use of your network and the greater Salesforce community. I continue to benefit from the vast knowledge of the Idealist Consulting community as well as the larger Salesforce community, such as the Power of Us Hub.
What is the best thing about your job?
The variety and the clients! As noted above, no two clients are the same, so no two set of requirements and no two solutions are exactly the same. Sure, there are some core business practices that will repeat themselves across organizations, but each entity has its own unique mission, audience, staff set-up, processes, etc. It offers a continual learning environment. Also, Idealist Consulting's clients are predominantly nonprofits or small businesses. It's pretty great to learn more about each organization and the amazing work they're doing. It's gratifying to know that, in some small way, your day-to-day work is helping to support these meaningful missions.
What certification do you have and what are you working towards next?
I've achieved my Administrator and Advanced Administrator certifications. I'm keen to learn more about the Developer track next. My goal is to achieve Platform App Builder before the end of the year and start working toward PD1 (Platform Developer 1) in 2021.
What are your top tips for studying for Salesforce certifications? (you can be specific to those you have taken if you like)
One of the biggest helps for me was pushing past my perfectionist tendencies. I would take a practice test and think of the results as being x points away from 100%, which was ultimately demotivating. I retrained myself to think about how many points (or questions) away I was from passing the exam, which suddenly made it feel much more within reach. I found the feedback from Salesforce's Admin practice exam to be really helpful. It helped me hone in on which areas to focus on, based on my score for that section of course, but also based on that section's overall weighting. I focused on strengthening my knowledge in the most heavily weighted sections first. I'd also say, if you can, to try and take Advanced Admin or Platform App Builder within the next few months of achieving your Admin certification. There's a lot of topic overlap among those three exams. Lastly, definitely attend a free Certification Day session – they are so so helpful! 
What has been the biggest challenge in your Salesforce career so far?
I've met many people in the Salesforce ecosystem who are high achievers and used to being experts in their field. I think it's hard for many people working in the ecosystem, myself included, to accept how vast Salesforce is and that no one person will ever be an expert in all things Salesforce. It's just grown beyond that now. It's better to gain awareness about your own strengths and limitations, then tap into your network or the general Salesforce community when you need information about one of your limited-knowledge areas. You can (and should) still explore new features or products and grow your understanding of them, but don't feel like you should do that for every single feature. For example, if marketing isn't really your thing but you love bringing together groups of people online, focus on growing your skills in Communities and grow relationships with others who are experts in Marketing Cloud or Pardot. You don't have to (and really can't) do it all yourself!
What is your favourite thing about Salesforce?
I love how much of a "one stop shop" Salesforce has become. The integrated approach it offers to organizations is really crucial. You no longer have to have multiple different softwares living in their own little silos to support your business; it can all come together in one spot. And the capabilities for automating an organization's business processes is really just phenomenal. By freeing up staff from repetitive manual work, you're legitimately increasing the capacity of an organization, allowing it to have a greater impact.
Who is your favourite Trailhead Character?
Well, my favorite animal is a goat, so I'm partial to Cloudy. I do appreciate Cloudy's tagline of "keeping everyone together and on track." I'm also a big fan of Ruth, though. Kudos to Salesforce for rolling out a female character to represent their architect track!
Are there any groups / networks you would recommend joining (online or in real life!)
User groups in your area are a great place for learning and networking. During covid-times, most groups have gone virtual, giving you even more options. Amplify is a great organization for underrepresented voices in technology. Salesforce Saturday has always struck me as a fun group and a great opportunity for ongoing learning. And of course, Supermums Alumni!
Is there anything else you would really like to tell people who are considering a career in Salesforce?
Salesforce offers a whole world of opportunity! There are so many different types of work you can do with Salesforce, across a variety of industries. If there's a particular type of work you're interested in, don't be afraid to reach out to people and ask them about their experience. The Salesforce ecosystem is an incredibly welcoming place!
Anything else about your experience that you think it is important / useful to share:
I think it's just really important for technology to be a more inclusive space and am really appreciative of organizations like Supermums who are working toward this goal. Also, I mean no shade to people who aren't parents, but moms are some of the hardest working and skilled people I know. Having a space like Supermums that really welcomes, celebrates, and advocates for working moms and talks about them in a positive way is huge. Thank you for doing the work you do! 🙂