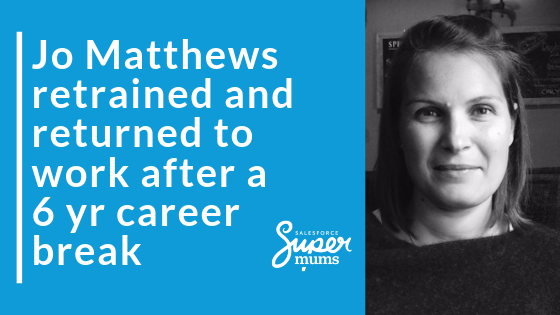 Have you been out of work for a while looking after little ones and thinking about returning to work? Don't worry, about a quarter of our trainees are in your shoes.
Jo Matthews tells her story about how she returned to work and got back onto the career ladder after spending six years out of the workplace.  Following the Supermums course, she successfully secured a part-time job at Equinix  as a Salesforce Administrator and Data Analyst with the help Debra Carlyle from our Supermums Recruitment Team.
Equinix, Inc. is an American multinational company headquartered in Redwood City, California that specializes in internet connection and related services. It is a global co-location data centre provider, leading by market share, operating 175+ data centres in 44 metropolitan areas in 22 countries on 5 continents.
Jo shares her background and motivation for getting started in Salesforce.
"I spent 6 years at home raising my two young daughters. Before this, I worked as an analyst for a financial services company, a job I really enjoyed, but one I knew held no flexibility for a working mum with a young family and a husband who regularly travels with his job. Once both my children were school age, I decided it was time for me try something new and return to work in a way that had as little impact as possible on my family life. Salesforce was a program I'd heard of, and I knew there was demand for skilled workers. 
I was attracted to the Salesforce Supermums six month course due its flexibility. I knew I could work the 16 hours it required around my existing commitments, meaning I could still do the school run and play dates whilst obtaining the feeling of achievement as the course advanced. My main driving factor was definitely the flexibility."
The work experience was the most enjoyable and most satisfying part of the course. The mentoring and practice as the course progressed was great, but the work experience, as scary as it seemed at the time, was invaluable. Being able to put into practice some of the things that we had learnt on the course was a real confidence boost, something that I really needed after being out of the workplace for so long.  
For those considering a career in Salesforce – Just Do it! Its a scary leap into the unknown, but from everything I've learnt over the past year, Salesforce experience is definitely in demand, especially in the non profit sector who often only want someone to work part time."
Looking to return to work? Jo shares her top three reasons to join the Supermums Programme:
"To get started, I would definitely recommend the Salesforce Supermums Admin Course. For me, the course has had 3 very positive outcomes.  Firstly, it gave me a chance to spend time doing something soley for me again, to use my brain and switch off from family life. Secondly, it helped me to regain confidence in my own abilities which I had inadvertently lost whilst taking a career break for such a long time.  Lastly, without it I wouldn't have been able to secure the part-time position that I currently have, which gives me the work-life balance I never thought I'd be able to get."