Boost your Expertise as a Salesforce Professional
Be confident to lead a Salesforce Project with the Supermums Salesforce Consultancy Skills Course.
Increase your confidence and expertise in leading and managing a Salesforce Project

Be prepared with ready made Business Analysis scripts and templates

Boost your salary and earning potential by at least 10k with Consultancy skills

Conduct your Salesforce projects in professional way.
Why specialise in Consultancy Skills
If you plan to take responsibility for gathering requirements, engaging stakeholders in digital transformation and managing a Salesforce implementation professionally, then you will need an additional skill set beyond the Salesforce technical skills and certifications. This includes:
Agile Project Management​
Business Analysis
Change Management
NLP Coaching
These are the skills that every Salesforce solo admin or consultant should possess to enable you to conduct yourself in a professional way.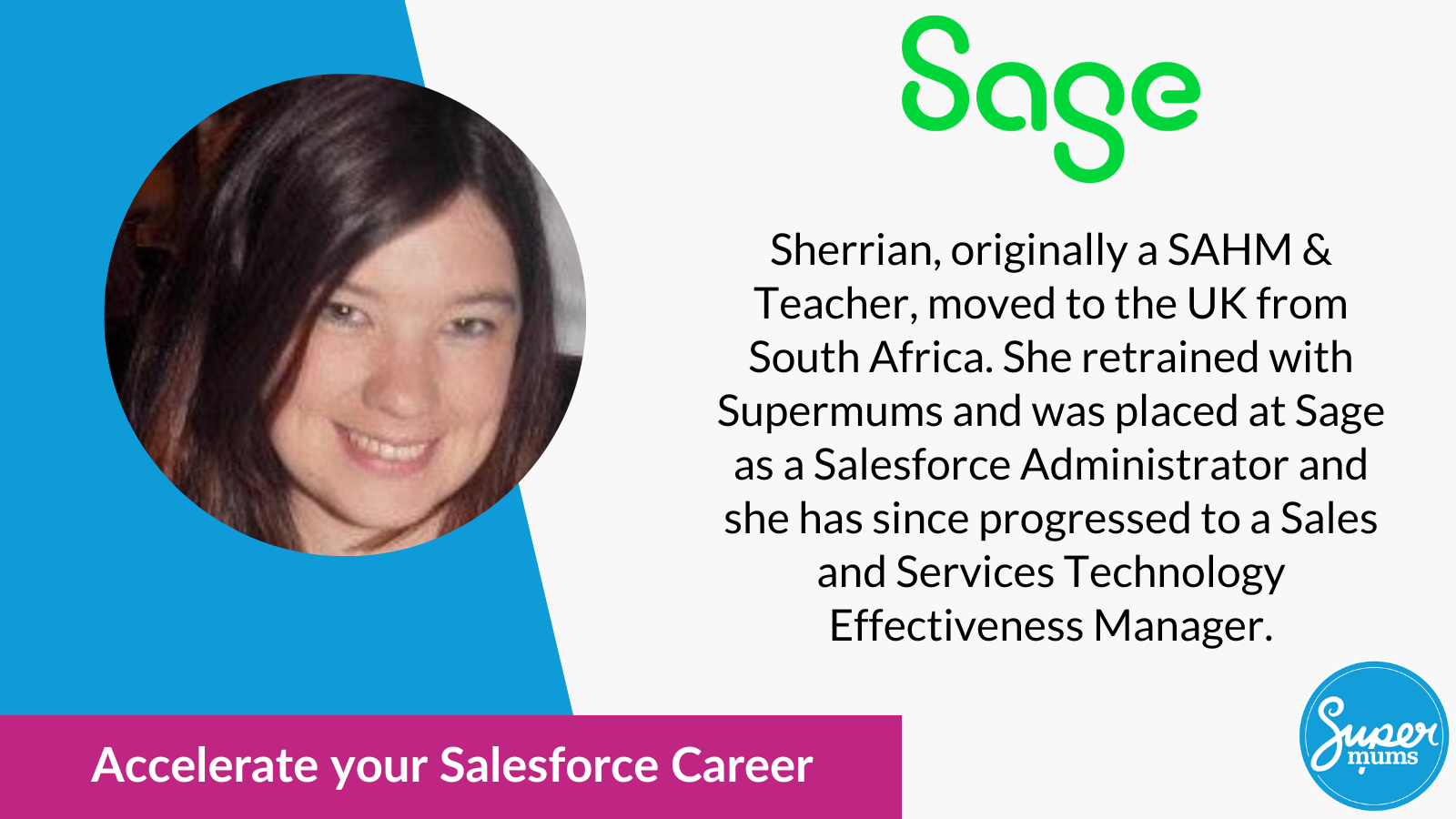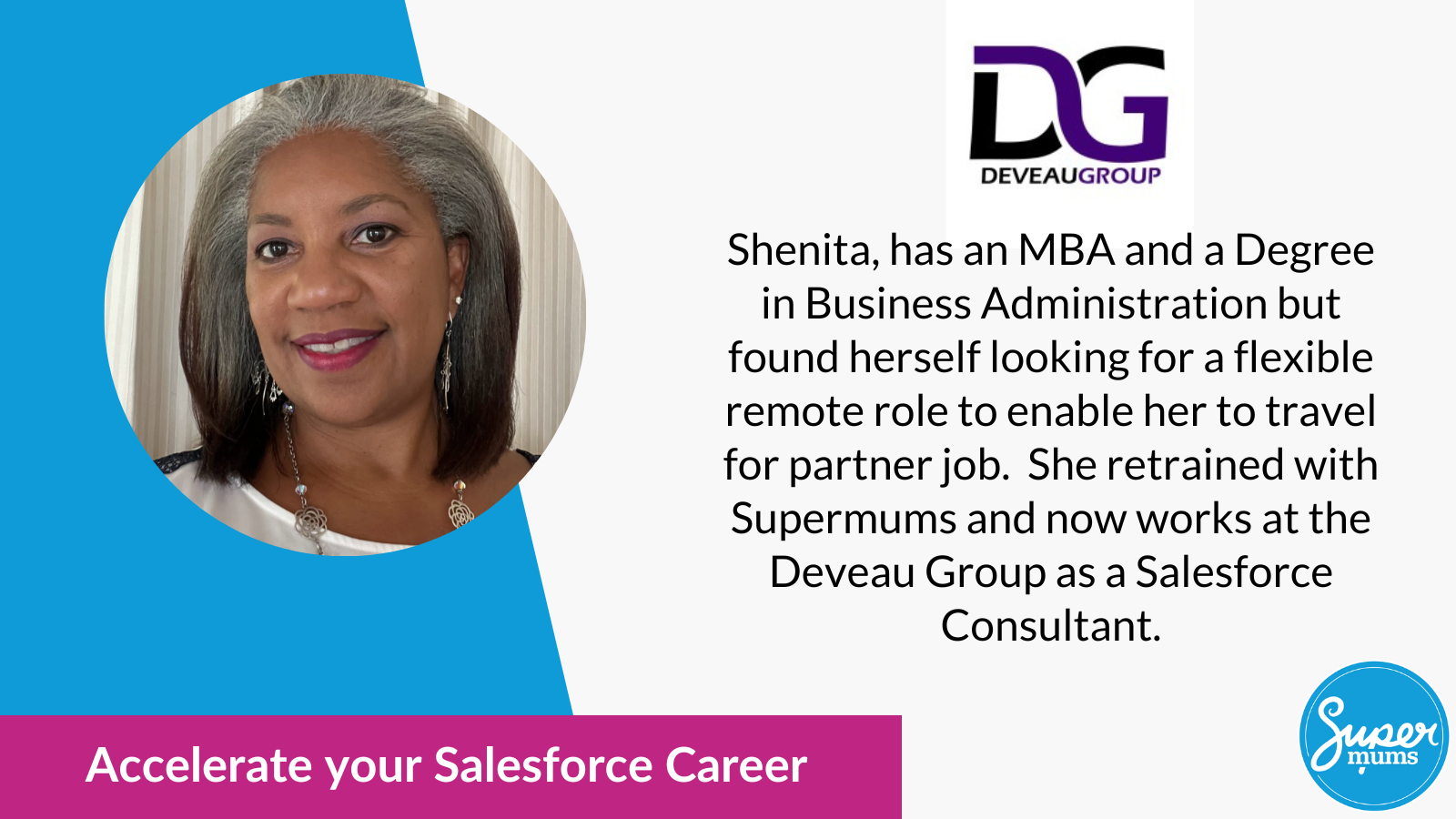 Our Salesforce Consultancy Skills course includes:
Learn these Consultancy skills over 3 months with 12 months access to online training videos, business analysis scripts and templates.

Weekly group mentoring calls with Heather to ask questions and share advice with your peer group as you apply your new knowledge in practice. Alongside group coaching calls and one to one mentoring.

Learn, share and grow with other Salesforce professionals through both our online communities and in person events.

Receive a Supermums Certificate of Achievement for completing the Consultancy Skills Course & support to pass your Salesforce certifications.

Learn how to prepare and pitch yourself at interviews as an employee or independent contractor. Understand how prepare your CV or a proposal to secure your next job.
Why choose Supermums?
Experienced Trainers
Heather Black is the lead trainer and has worked as a Salesforce Consultant since 2012. Since then she managed a consultancy team and has overseen over 700 projects and her Consultancy won the EMEA Salesforce.Org Consultancy Partner of the Year Award. She has 7x Salesforce Certifications and certifications in APMG Agile Project Management, APMG Change Management and BCS Business Analysis and NLP Coaching.
Professional Applied Learning
Heather has taken the professional theoretical learning from the courses she undertook in Business Analysis, Agile Project Management and Change Management certifications and applied this learning in practice to Salesforce projects with the creation of relevant training, templates and scripts to manage Salesforce implementations easily.
Recruitment Support
After you graduate, our USA and EMEA Recruitment team can help you reformat your CV, prepare you for interviews and we can put you forward for available Salesforce roles working with partners and customers to increase your earning potential.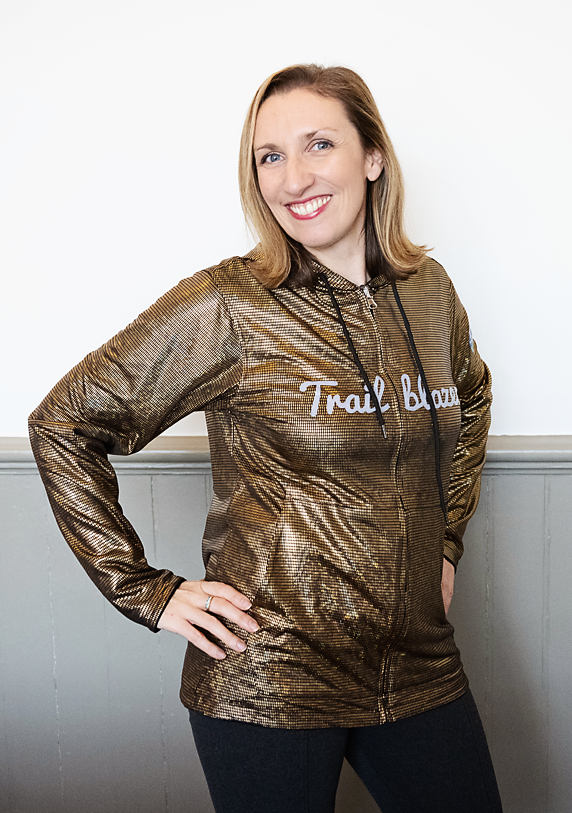 Why Trainees Have Studied with Supermums
The Consultancy Programme has given me practical resources, and new language and concepts to use with clients and teams I interact with. I have felt much more confident, for example, describing the Agile Project Management methodology and catering for different learning styles. Having a greater understanding of change management has also allowed me to gain greater buy-in by senior leadership. I am excited to continue scale my consultancy work in the months and years ahead.
The Consultancy Skills course has been a very informative experience. The course is very well structured and organized in order to guide through all the steps of an implementation process with Salesforce. Lots of valuable detailed information, templates, and checklists that will make any consultant's life easier and deliver the best quality of work.
After completing my Admin Cert I really wanted the skills to design new systems and respond to different stakeholder needs throughout the CRM implementation process. I've really enjoyed the Consultancy Skills course as it has given me the confidence to deliver with a clear implementation process for projects, with tools and techniques. It's a great flexible course to fit around my schedule with also the option to stay in touch via chatter and the weekly group coaching sessions.
I think the best thing about it so far is the quality of the information because everything has been relevant to me and I wish I knew it all before I started working as a solo Salesforce Admin! The format of the course is working well for me because it's all videos which I watch when I have spare time. The course is preparing me to do demos and presentations in real life with clients.I I would recommend it to anyone who has just passed their Admin Cert.
I wanted to supercharge my Salesforce learning but i needed a training course that would offer the guidance and accountability that I needed. I saw Heather at Dreamforce and was so impressed with her passion and vision but more importantly, I was impressed by the structure of the Supermums programme.
"After completing my Admin Cert I really wanted the skills to design new systems and respond to different stakeholder needs throughout the CRM implementation process. I've really enjoyed the Consultancy Skills course as it has given me the confidence to deliver with a clear implementation process for projects, with tools and techniques. It's a great flexible course to fit around my schedule with also the option to stay in touch via chatter and the weekly group coaching sessions."
Real Stories from our Trainees
Our trainees go on to launch successful careers using Salesforce.
?>
What's included in the Salesforce Consultancy Skills Training Programme?
We've put together a programme that covers everything you need to know to be a successful and confident Salesforce Professional.
Module 1
Business Analysis
Understand how to undertake business analysis, what to ask with a suite of templates for a range of salesforce products, and how to document requirements professionally.
Module 2
Agile Project Management
Learn Agile to understand how to manage a Salesforce project and prioritise business requirements to keep a project in time and budget with a client.
Module 3
Change Management
How do you engage, enthuse and empower users effectively during the project life cycle business analysis  design and training process to maximise user adoption.
Module 4
Consultancy Tool Kit
Understand the range of tools, templates and systems you can use as a Salesforce professional to manage projects effectively.
Module 5
Salesforce Certification
We provide a weekly training content plan to help you pass the Salesforce Business Analysis Certification.
Module 6
Coaching Skills
Benefit from our 12 months career coaching course to think through your career options, build your confidence, overcome imposter symdrone and learn essential coaching tools and techniques to empower your Salesforce projects.
Enrol on our Salesforce Consultancy Skills course
Build your career with an industry recognised certification. Get the skills, confidence and mindset of a Salesforce consultant.
3 month programme with 12 months access.

Group coaching, mentoring and one to one support.

Receive full employability support.

EMEA, USA, Canada and ANZ.

Payment plans available.
Course Starts
The next course starts dates are on:
W/c 9th Jan 2023
W/c 2nd May 2023
W/c 18th September 2023
The live sessions are on Tuesdays – 3pm GMT / USA 9am CST / 7am PST
Price
Have a question?
We offer a FREE, no obligation, 30 minute Career Consultation to help you understand if this is the right course for you and help you to to make an in partial, informed decision. Book your call here and chat to the team.
Get My Questions Answered
Sponsored by:

Frequently Asked Questions
More questions? Schedule a call with a member of the team.
Do I need previous experience before joining the Consultancy Course?
Yes, you need to know your way around Salesforce to get the most from this course. You should already have your Admin Certification or relevant hands on experience. If you are at the beginning of your Salesforce career journey check out our Administrator Course first. You can then take the Consultancy Course afterwards to  boost your skill set and learn best practise skills to independently manage Salesforce implementations either internally or as a contractor.
Is the Consultancy Course flexible?
You can learn at your own pace over 3 months  but you have access for 12 months. This will consist of pre-recorded material and homework challenges, access to an online learning community and weekly group coaching with Supermums Founder, Heather.
What jobs will the Consultancy course prepare me for?
Combined with an Admin certification, these skills will make you very employable or, if already in employment, able to deliver a better service and outcome for users in your organisation in a professional way.
Supermums created this course to fill a gap in the market where these skills are needed and in demand. Heather invested £10,000 in learning these skills so the content is delivered at a fraction of the cost.
Those who take this course will be prepared to be exceptional Admins or Consultant and could also move into Business Analysis or Sales / Marketing Operations roles too.
What separates the Consultancy Course from other training programmes?
Supermums was launched to provide training in a flexible way to mums (and now dads) who want to upskill in Salesforce. We are not just a training provider – we're a supportive community delivering weekly educational content invested in helping you to succeed.
Many Salesforce projects and implementations fail and businesses do not get the best from the product, due to inadequately trained Salesforce professionals. Our courses equip you with knowledge and skills to achieve customer success and be the best Salesforce professional you can be.
Our course attracts trainees from all over the world who are looking to make a career change or progress in their current Salesforce role. With our training you will
Be able to deliver professional and best practise Salesforce projects
Increase the jobs roles open to you and improve your salary prospects
Increase your confidence and overcome imposter syndrome
Add additional certifications and important transferrable skills to your CV or resume.
Get a job that you love with a work / life balance that works for you!
Build a career in a fast moving, innovative. resilient industry
What support do I receive when joining the course?
Once a Supermum, always a Supermum! As soon as you join our programme you become part of the Supermums Alumni Community and will benefit from special alumni-only monthly events and Slack channel so you can keep networking and supporting each other.   You'll also be able to work with the Supermums Recruitment Team; they'll prepare you for your job hunt and help you  find your first, or next, Salesforce role.
Are you ready to take the next step?
Find out if our Salesforce Consultancy Skills course is right for you with our free course info pack. Don't forget, you can book a FREE 30 minute Career Consultation with our team after you have read through the course info pack.