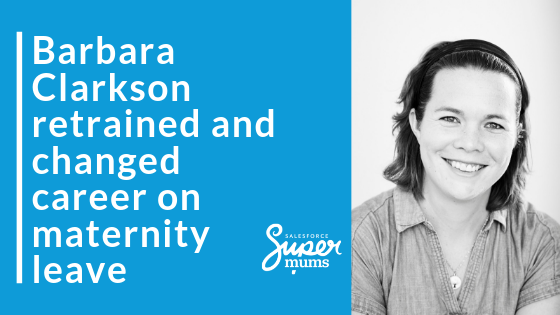 Sometimes maternity leave can make us realise we want a new career path. This was the case with Barbara, one of our Supermums, whose career background includes law and rowing coaching! Barbara joined our Supermums programme whilst on maternity leave after having her second child.
Since qualifying as a Salesforce Admin, Barbara has held roles as an internal Salesforce admin, a Salesforce consultant and a business development manager! We spoke to Barbara about her journey, why she decided to retrain in Salesforce, and the difference it's made in her professional and family life…
What did you do before the course?
After I finished my law degree in south Africa I took a year off to work at a school in England and decided I'd rather be a rowing coach than a lawyer! I started working as a community sports coach for a charity in London and over the years worked my way up the ranking to senior management level. It was a great job but I did feel that I didn't have anywhere to go as my actual qualifications were specific to South Africa and my experiences were fairly specific as well!
Why did you choose to retrain in Salesforce?
I was on my second maternity leave and seriously considering a change in career. I knew I needed to re-qualify and based on my past experience with Salesforce I did know that I enjoyed working with the system. I knew that it would be internationally compatible and flexible which gave me some room to work around my children.
What attracted you to the Salesforce Supermums course?
The way the course was structured – with two children and on maternity leave, I didn't have the time to take a whole week to do a course but having the work spread over 6 months fitted around my circumstances at the time.
What difference did the work experience and mentoring make to your learning?
It was the turning point for deciding to go into a Salesforce career. Learning the theory was fun but actually doing the work was fascinating and made me realise that I'd enjoy doing that kind of work all the time
What are you doing now? What does a typical week of work look like?
Working in a consultancy, rather than as an end user, means that there is constant variety. I'm currently working as a business development manager which means I get to talk to a huge range of people – partners, clients, Salesforce people. I'm also having to constantly research new Salesforce things to keep on top of what I can offer clients. It's busy but satisfying!
What guidance would you now give others who are considering a career in salesforce?
If you are looking for a flexible career then go for it. You will need to prepare yourself for a steep learning curve if you haven't been involved in IT before but you will find it very satisfying to learn the new things and see how it all fits together.
How has the course and progression changed your outlook or circumstances. Have you found flexible work?
Yes, very much so. I've got a huge range of options available to me now and the best part is I can do this job from anywhere in the world. I'm also due to go off on maternity leave again and I know I'll be able to keep on top of my learning while I'm off which will give me something to focus on beside children and also keep myself in a good position for when I return to work.
Would you recommend this programme to others if yes, why?
Yes definitely! You can learn Salesforce theory anywhere but this course provides you with access to a ready made community, essential practical experience and support to get into the Salesforce ecosystem which can be pretty daunting at first!
---