Find your Salesforce career
Salesforce promotes values of trust, innovation, customer success and equality and they attract a global community of followers. It offers a career for life with a wide range of job roles on offer.
By 2026 the Salesforce ecosystem will be creating 9.3m jobs.
Rated CRM in the world for global companies
companies trust Saleforce
Source: Trailhead Careers
Salesforce roles lead to competitive salaries
Gaining skills in Salesforce provides a career with great average salaries.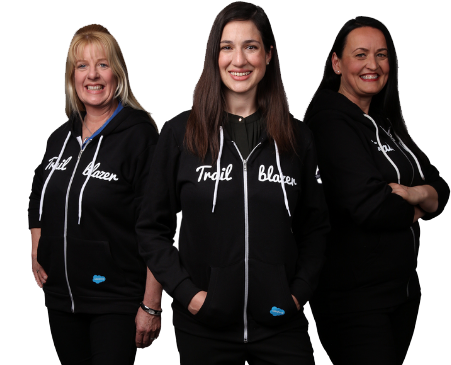 Real stories from our trainees
There are millions of jobs in the Salesforce ecosystem. Whatever your background, skills, previous experience or interests, we are sure to help you find the right role for you!
Would you enjoy supporting users and managing the ongoing development of a Salesforce instance to help drive an organisation and it's growth forward?
Do you enjoy leading and co-ordinating people and tasks to implement Salesforce solutions, then you could be a project manager.
Do you love understanding and talking through business processes and solutions to help teams work much smarter to deliver better outcomes for employees and customers?
If you love talking about Salesforce and the different products that exist but don't want to be involved in all of the delivery work then how about working in sales and marketing.
Do you enjoy helping companies to improve their management processes and want to do a bit of everything. As a Consultant you can deploy business analysis, admin, project management skills to support Salesforce customers? Explore this role further and see if it fits your career path.
Marketing Cloud Consultant
If you have a background in marketing and love the creative side but want to delve a little deeper into the tech, then find out about the Salesforce Marketing Solutions to see if this is a career path is for you.
Keen to become a Salesforce expert? Once you have gained a few years experience working and consulting on Salesforce solutions you can work towards becoming a Salesforce Architect
Love cracking the code on tricky problems? Whether you already understand JavaScript or think it sounds like a coffee, this might be what you're looking for.
Expand Your CV with Supermums
Enroll on our Training Programmes