From Salesforce Admin to Consultant – Part 6 – How to Secure your Salesforce Consultant Job Role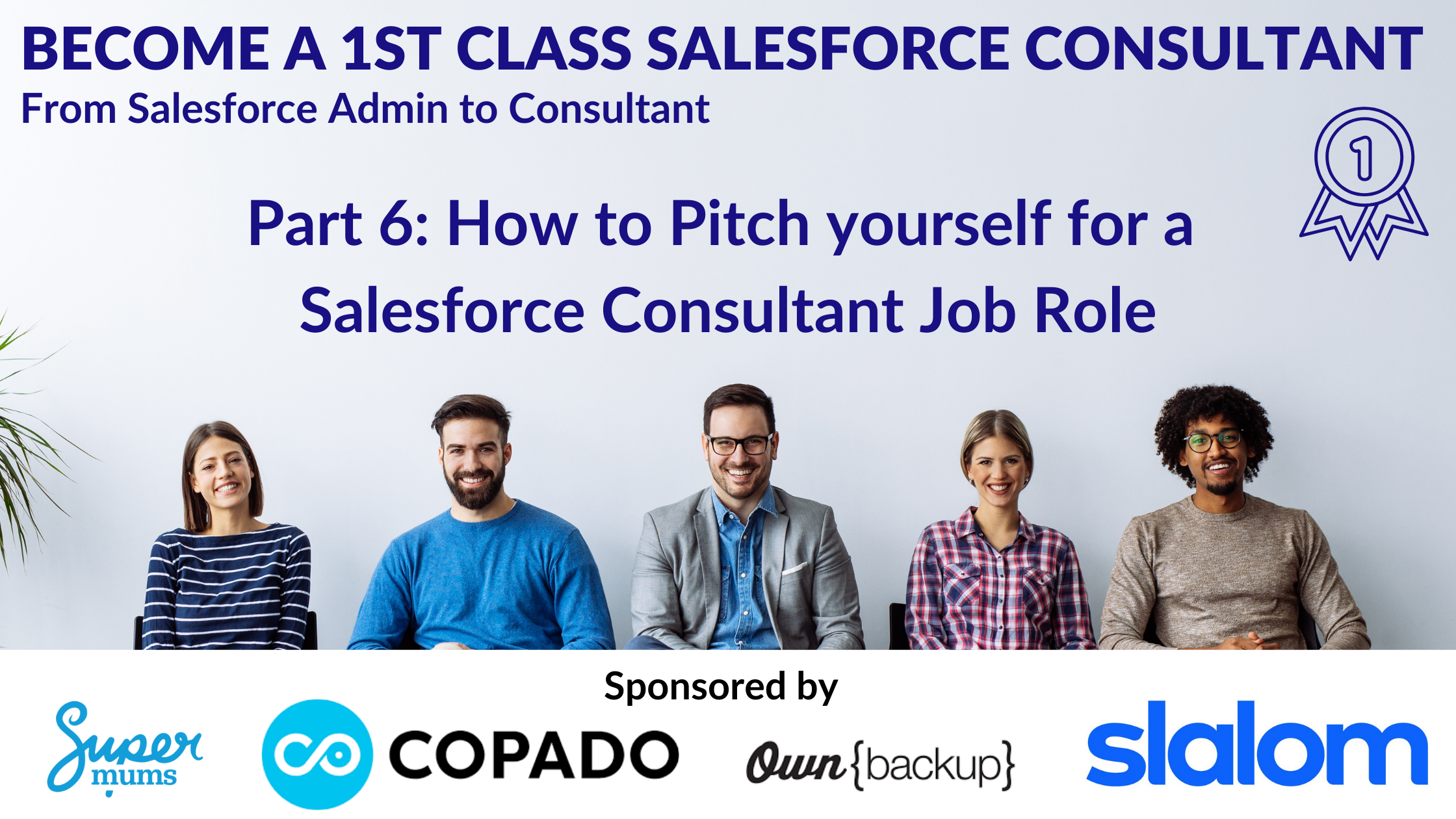 Are you looking for the next step after gaining your Salesforce Administrator certification? YES! Join us for our 6 part series where we teach you the key skills to become a No1 Salesforce Consultant.
In this week's podcast and blog we are talking about how to pitch yourself for a Salesforce Consultant Job Role. Depending on your transferrable skills and experience this could be your first job or beyond and we focus on how to sell yourself successfully into this role.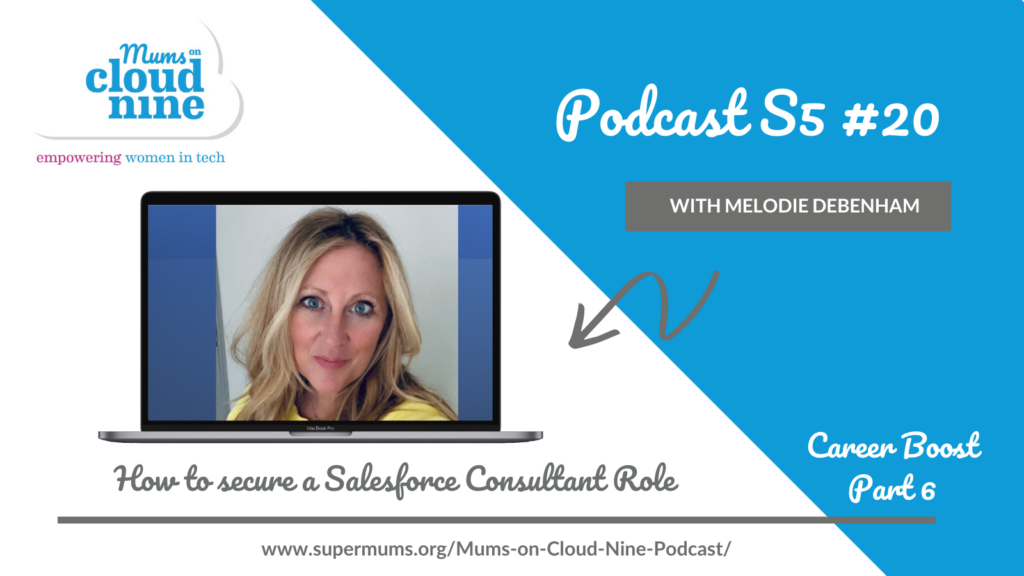 This article is one of a 6 Part Series where we teach you the key skills to become a No1 Salesforce Consultant. Salesforce professionals who master this suite of skills are cream of the crop as they do things professionally and this leads to fantastic project outcomes. With the right skills and training you can advance your Salesforce Career from learning the basics of being Salesforce Admin to becoming a Salesforce Consultant. During this series we cover:
How to gather requirements professionally with Business Analysis Skills (Part 1)
How to prioritise requirements using Agile Project Management (Part 2)
How to increase adoption of Salesforce Users with Change Management Skills (Part 3)
How to empower Salesforce users with Coaching Skills (Part 4)
How to manage Salesforce changes with Dev Ops (Part 5)
How to pitch yourself for a Salesforce Consultant Job Role (Part 6)
Listen to the podcast with Melonie Debenham, an experienced recruiter and General Manager of Supermums Recruitment, about how to pitch yourself to Salesforce Consultancies. Everyday Melonie and the Supermums Recruitment team are liaising with Salesforce Consultancies and supporting candidates to prep their CV and Interviews to apply for roles.
Download our free Interview Tips for Salesforce Consultants Guide:
10 Steps to Help You Stand Out at Interview
1 – Talk about the time you invest in your own personal development
A career as a Salesforce consultant requires a desire and commitment to life-long learning. Share how many hours you study for salesforce certifications and other related skills. What type of training and study do you do and why are you motivated to do it.
2 – Talk about the financial and personal investment you have made in yourself to learn
Share how much have you spent on training and how have you funded it. It really shows your dedication and commitment to learning and your preferred learning style. .
3 – Talk about your involvement and contribution to the Salesforce Ohana community
Participate on twitter, trailblazer groups, linked in, attend user group events, Salesforce events etc. Do you write blogs, share tips, speak at events?
4 – Talk about your Salesforce project experience and explain your own customer success stories
A Salesforce consultant has to solve business problems so don't just talk about the technical skills and functionality you deployed but talk about the business pain points and outcomes that were achieved….tell the whole story.
5 – Talk about your job satisfaction in previous job roles
What did you love, enjoy, relish about the role – how did it stretch you, what did you learn that was new, what did you learn about yourself. Being a Salesforce consultant requires you to be comfortable being uncomfortable so how you demonstrate that you have a growth mindset and enjoy problem solving and new challenges.
6 – Reflect on what the new job entails
Tell them why you are keen for this next step. Why do you feel your personality suits a Salesforce Consultancy role, why do you want this role and what excites you about it. Sell yourself into the role.
7 – Talk about your future ambitions
Salesforce Consultants typically are best suited to diversity and new challenges so talk about the different industries, products, projects that you desire to learn and even the future career steps you aspire too if you wish to step into a Architect roles going forward.
8 – Explain why you like the company
Before the interview check out the company's website, values, social media themes and explain why you believe the company is the right fit for you.
9 – Don't forget to ask about the company
Find out what the ambitions of the company are going forward in terms of strategy and employee development. Show interest and intrigue as to where the company plans to expand to see how it fits into your bigger picture.
10 – Share your values and what you enjoy in life
Values should align between a person and a company, so check if your values fit together so there is harmony going forward. If you want a family friendly company, check they are family friendly and open to flexibility upfront.
10 Mistakes to Avoid at your Salesforce interview
1. Lack of Knowledge of Third Party Apps
Lack of knowledge of third party apps to enhance and extend the capabilities of Salesforce and how they can add value to a customer project.
2. Not Demonstrating Your Competence
Inability to talk about the hours of formal or informal training and certifications you have completed to your demonstrate your competence, enthusiasm for life long learning and to benchmark you against others.
For example, our Supermums Admin trainees complete 320hrs+ of training and hands on experience on our admin course to build knowledge, skills and confidence to secure their cert and Job.
3. Lacking in Confidence
Avoid talking about what 'we' did and talk about what 'you' did as part of a salesforce implementation to demonstrate your capability within a team. Be confident in your contribution and role and create a demo to showcase your skills in practice.
4. Poor Communication Skills
Lack of communication and understanding about the business value that the technical features provided. It's important to talk about business analysis aspect and the ROI of the technical work you delivered. If you aren't hot on Business Analysis then it's a no1 skill to get on your CV – find out more and how you could learn this with Supermums.
5. Not Asking Questions
Not asking intelligent or constructive questions to the potential employer or client about their Salesforce project. For help with this, check out our article '27 questions to ask at a Salesforce Interview'
6. Not Shouting about your Transferable Skills
Not packaging and talking about your transferable experience and skills from previous careers in a way that benefits and lends itself to the roles available in the salesforce sector. Take our Boost your Salesforce Course to package yourself as a great asset
7. Unclear on Career Goals or Aspirations
This can help both you and the employer understand if there is a good fit for both of you to support your progression and to see how motivated you are.
8. Not Preparing or Researching
Always do your research on the organisation which you are applying to and be prepared to explain why you are keen to join them. Look up case studies, company values and think about how they align to your personal values.
9. Not Preparing or Researching
So important this one got included twice! Make sure you are clear on the role requirements and do some research on the company and your interviewer prior to your interview.
10. Don't Use Too Much Jargon!
Be mindful of your audience and be prepared to explain the technical work you do in a way that a non-technical person can understand. This is especially important when thinking about a client facing role in consulting.
Download our free Interview Tips for Salesforce Consultants Guide here:
Get Confident to Apply with our Salesforce Consultancy Skills Course
At Supermums we offer 2 x Advanced Training Courses on Consultancy Skills which offer live training, a suite of templates, recommended resources, a weekly accountability training plan, a peer network of salesforce consultants, and group / one to one mentoring to support you on your business analysis learning journey to build your confidence, expertise and knowledge.
Find out more below about the courses that we offer to help you achieve this:
Salesforce Consultancy Skills Course
3 month course
Start in October or December
Learn how to deliver successful Salesforce Projects.
Includes business analysis, project management and change management skills.
Includes pack of BA Scripts, Documentation Templates and Consultancy Skills Toolkit
Prepare for your Salesforce Business Analysis, Sales Cloud, Service Cloud, NPSP consultant certifications.
Learn flexibly with on demand material.
Weekly support coaching with experienced Salesforce professional, Heather Black.
Salesforce Business Analysis – Level 4 Qualification
18 month programme which is free for learners and funded by the UK Apprenticeship levy
Delivered in partnership with Learning Curve Group and Salesforce
Power your performance by understanding more about the company you work for.
Weekly Live training and 1-2-1 mentoring to gain a university level qualification.
Includes training for Business Analysis, Agile Project Management and Change Management.
Complete 2 further Salesforce Consultancy Certifications.
To be eligible you have to be employed by company based in England and working in a Salesforce Role
If you are looking for your next Salesforce Job opportunity then enlist the help of the Supermums Recruitment Team.
Supermums is proudly supported by: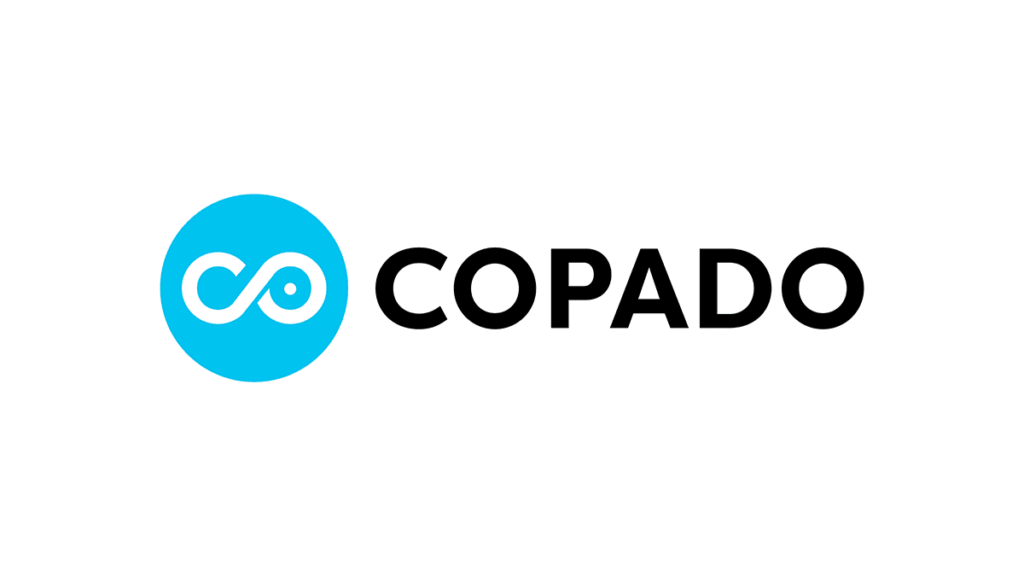 Subscribe To Our Weekly Top Tip Bulletin
Get Updates And Learn From The Best