From Salesforce Admin to Consultant – Part 2 – How to prioritise requirements with Agile Project Management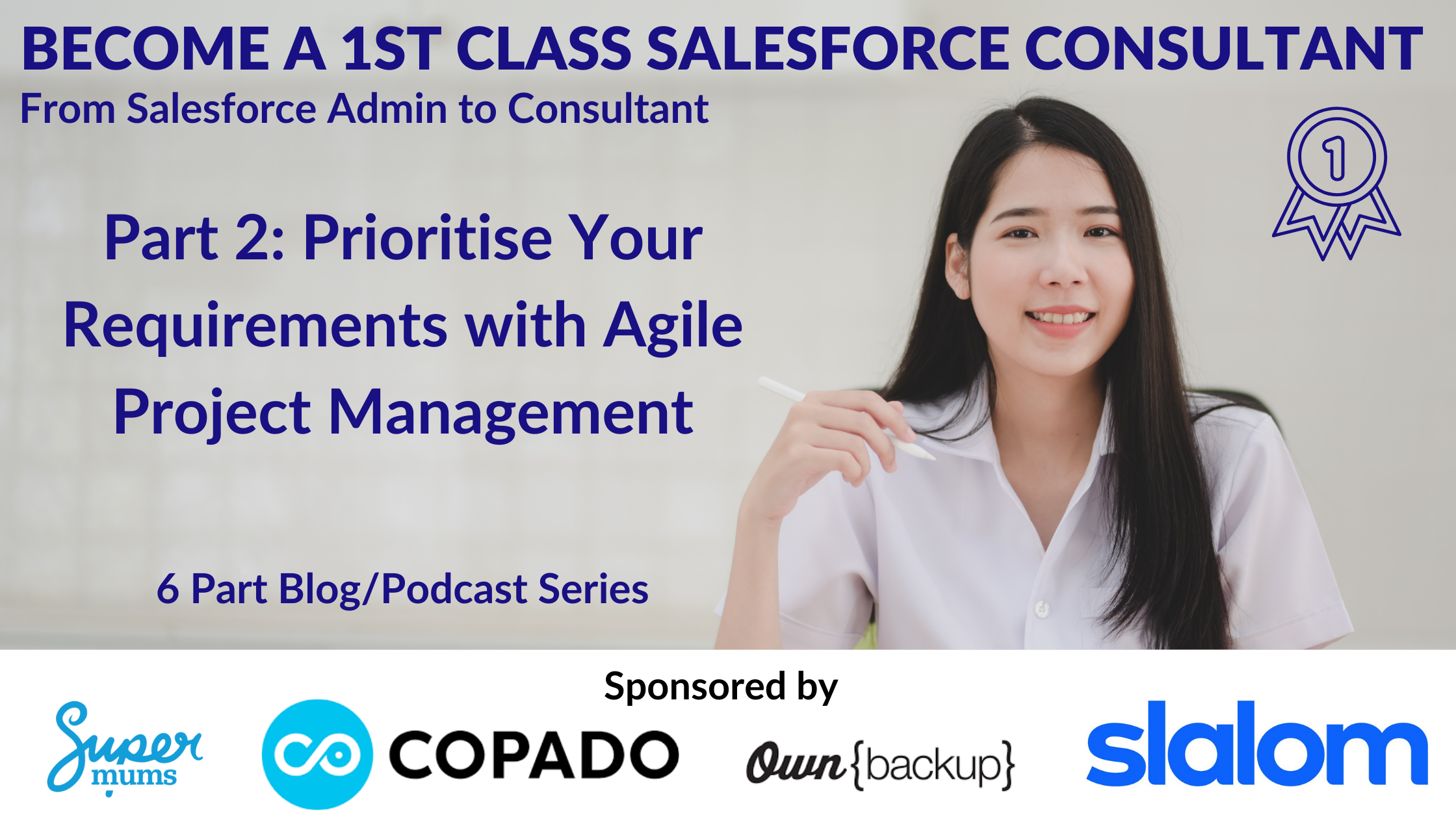 Are you looking for the next step after gaining your Salesforce Administrator certification? YES! Join us for our 6 part series where we teach you the key skills to become a No1 Salesforce Consultant.
In this week's podcast and blog, we're talking about the importance of prioritising and managing requirements with Agile Project Management and how to produce professional documentation. This is an essential skill for any Salesforce professional if you want to properly manage the expectations of stakeholders when their wish list is huge and their budget and time is short. It's one of the key 'soft' skills to master once you have completed your Salesforce Admin Cert to help acquire the consultancy skills that every Salesforce professional should master.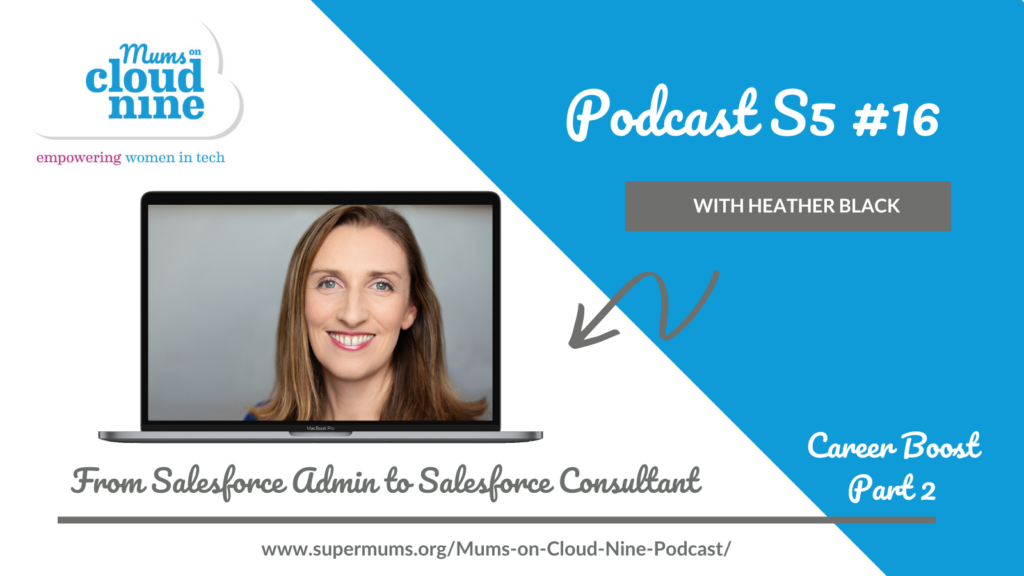 This article is one of a 6 Part Series where we teach you the key skills to become a No1 Salesforce Consultant. Salesforce professionals who master this suite of skills are cream of the crop as they do things professionally and this leads to fantastic project outcomes. With the right skills and training you can advance your Salesforce Career from learning the basics of being Salesforce Admin to becoming a Salesforce Consultant. During this series we cover:
How to gather requirements professionally with Business Analysis Skills (Part 1)
How to prioritise requirements using Agile Project Management (Part 2)
How to increase adoption of Salesforce Users with Change Management Skills (Part 3)
How to empower Salesforce users with Coaching Skills (Part 4) 
How to manage Salesforce changes with Dev Ops (Part 5)
How to pitch yourself for a Salesforce Consultant Job Role (Part 6) 
Read on to find out more what is agile project management, why is agile project management important, what is the value of agile project management, why is the norm for tech agencies, what is the different between traditional v agile project management methodologies and which agile project management methodology would suit your job role.
If you are looking to upskill your skills and confidence in this area, you can also check out our Agile Project Management training courses below.
What is Agile Project Management?
Here are the four key principles:
Agile Project Management is an umbrella term for different methods – (DSDM) Dynamic Systems Development Method, Scrum, Lean are some examples.
Prioritisation and Iteration – It focusses on flexible requirements working within time and budget constraints
The Norm – It is now considered the norm for technology projects
Its a global project management practice – There are tools and systems to manage requirements, time & costs
Why is Agile Project Management important?
If there's a long wish list of requirements and demands with no prioritisation or project management then there will be a challenge to meet expectations of clients and teams which can lead to frustration. It will result in:
Requirements not correctly prioritised and budget spent on wrong areas
Half baked solutions
Technology not aligning to business need
Overspend on budget
Timeframes not being met
What is the Value of Agile Project Management?
Organizations increasingly embrace agile as a technique for managing projects. A full 71 percent of organizations report using agile approaches for their projects sometimes, often, or always.

9th Global Project Management Survey, PMI 2017
Agile Project Management evolved in the 90's with a specific focus on technology projects. Organisations large and small are embracing the new Age of Agile.
A report by APMG showed.. The more that agile methods had been used in a project, the greater the success of that project in meeting all its aims. Read the report to learn more. https://www.apm.org.uk/media/7550/does-agile-work-a-quantitative-analysis-of-agile-project-success.pdf
"Senior executives increasingly recognize that "Agile Is Eating The World." In fact, surveys by both Deloitte and McKinsey show that over 90% of senior executives want to be agile, while less than 10% currently see their own firm as "highly agile." There are now major efforts under way with "Agile transformations" being planned or implemented in many organisations, both public and private. All the successful software firms are all recognizably implementing the substance of Agile—a focus on delivering value for customers, working in small teams in short cycles, and networked organizational arrangements rather than top-down bureaucracy and silos." Source: Denning, Forbes 2018
So if we look at practicalities, why is Agile Project Management the norm for tech agencies and projects?
There is rarely a detailed technical specification designed upfront so it's usually impossible and high risk for agencies to give a fixed price on a project when requirements are unknown.
Technology is advancing all of the time and market conditions are changing, there may be a need to evolve solutions and requirements as needed throughout the life time of the project.
The client's often don't know or understand the technical features available at the outset, so this process enables the users flexibility to evolve their requirements throughout the project as they learn more about their approach.
Confidence comes from quick-wins so if you can develop a system in stages, this allows users to see and celebrate success in earlier stages without committing to a whole project.
Typically there is a fixed budget with contingency for a project and it is in the best interests of both the client and consultancy to deliver on high priority requirements for this budget without compromising the working relationship or quality.
It reduces the risk for both client and partner, as they can choose to allocate and spend resource as needed rather than stick with an upfront plan.
What is the difference between Traditional Waterfall Project Management v Agile Project Management?
Waterfall
•Budget and Time can escalate for the consultancy or the client depending on the agreement
•All requirements are to be delivered that have been agreed upon within a contract
• Requirements are agreed upfront as part of the initial contract
• There is typically no flexibility throughout in changing these requirements
• There is a sequential process of design – build – test – roll out for the full project.
Agile
– Budget and Time are fixed and agreed upfront but can be added
•Requirements are prioritised throughout and aligned to business need
•There is an iterative process where design – build – test – roll out happen throughout.
•Flexibility is key throughout the project life cycle
Which Agile Project Management Methodology suits your Job Role
Agile DSDM approach is the best methodology if you manage CRM implementations at a strategic level working with the executive team and managing both the business analysis and technical team. It helps you to see the big picture and prioritise projects and requirements. This would suit a Salesforce Project Manager or Solo Salesforce Administrator/System Manager.
SCRUM is the best methodology if you have been given a sub-set of requirements and you are managing a technical team to implement the technical requirements on a daily basis. This would suit a Salesforce Technical Lead who is managing the daily build of a solution.
How equipped and confident are you with Agile Project Management skills?
Do you have presentation templates to train your client / team on Agile Project Management?
Do you have roles and responsibilities for a project management team with a communication plan to manage and agree priorities and sign offs? .
Do you know how to prioritise requirements and run with sprints / timeboxes and manage the delivery of requirements, budget and time?
Do you have systems and tools to manage projects?
As example of the tools you could put in place, check out an example here
Learn Agile Project Management Skills Confidently at Supermums
At Supermums we offer 2 x Advanced Training Courses on Agile Project Management Skills which offer live training, a suite of templates, recommended resources, a weekly accountability training plan, a peer network of salesforce consultants, and group / one to one mentoring to support you on your agile project management learning journey to build your confidence, expertise and knowledge.
Find out more below:
Salesforce Consultancy Skills Course
3 month course
Start in October or December
Learn how to deliver successful Salesforce Projects.
Includes business analysis, project management and change management skills.
Includes pack of BA Scripts, Documentation Templates and Consultancy Skills Toolkit
Prepare for your Salesforce Business Analysis, Sales Cloud, Service Cloud, NPSP consultant certifications.
Learn flexibly with on demand material.
Weekly support coaching with experienced Salesforce professional, Heather Black.
Salesforce Business Analysis – Level 4 Qualification
18 month programme which is free for learners and funded by the UK Apprenticeship levy
Delivered in partnership with Learning Curve Group and Salesforce
Power your performance by understanding more about the company you work for.
Weekly Live training and 1-2-1 mentoring to gain a university level qualification.
Includes training for Business Analysis, Agile Project Management and Change Management.
Complete 2 further Salesforce Consultancy Certifications.
To be eligible you have to be employed by company based in England and working in a Salesforce Role
If you are looking for your next Salesforce Job opportunity then enlist the help of the Supermums Recruitment Team.
Supermums is proudly supported by: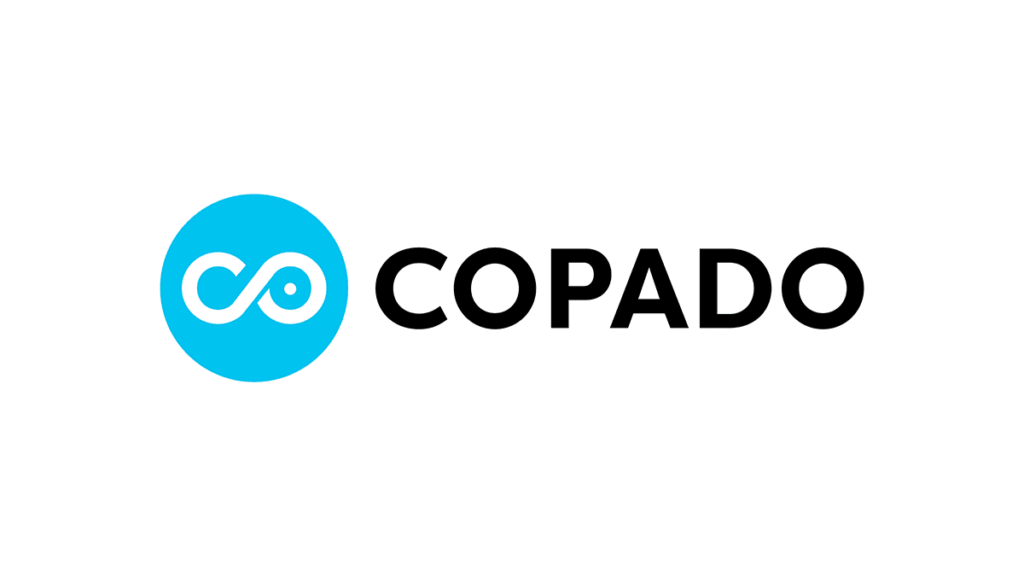 Subscribe To Our Weekly Top Tip Bulletin
Get Updates And Learn From The Best