From Salesforce Admin to Consultant – Part 4 – How to Empower Salesforce Users with Coaching Skills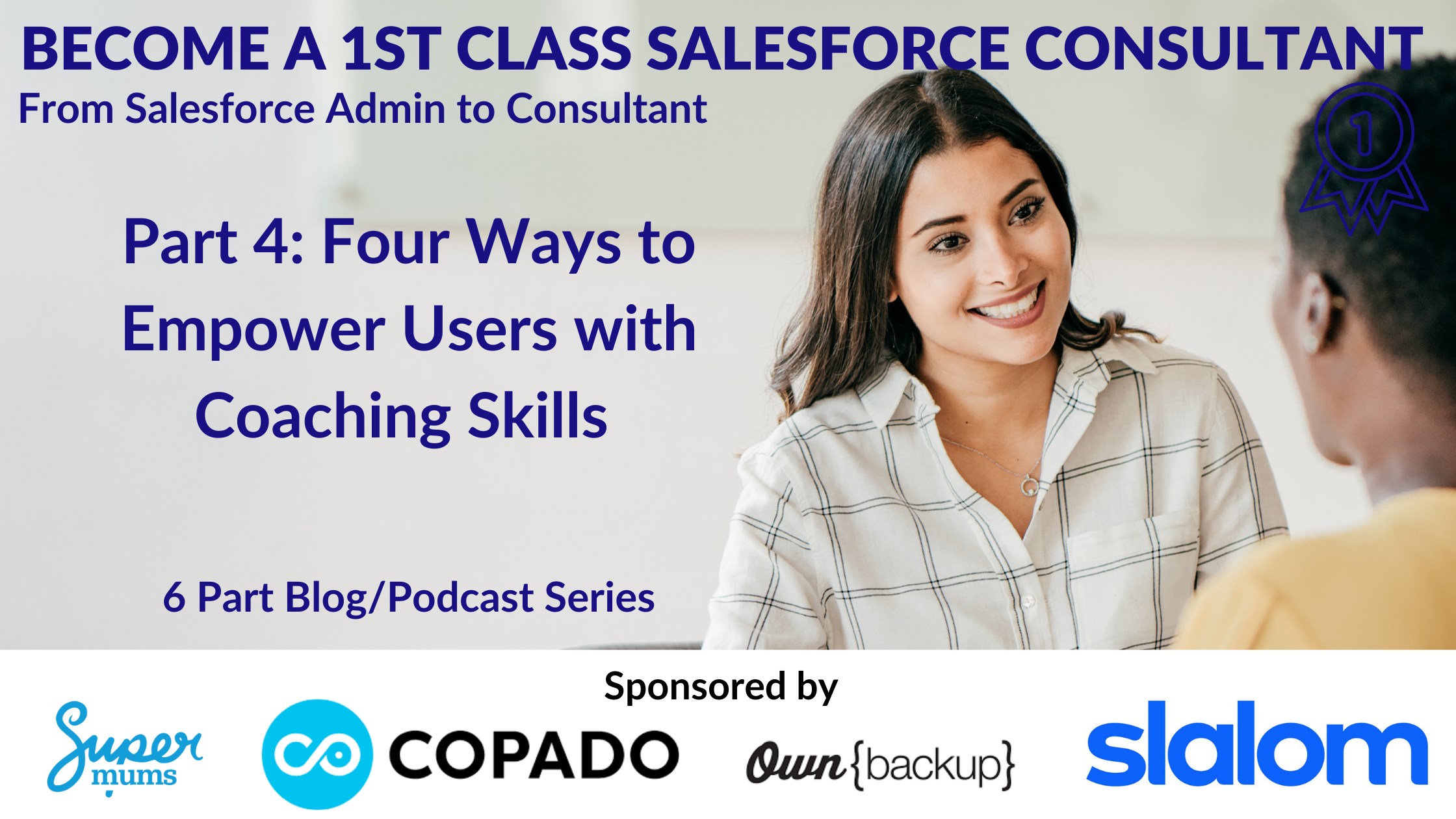 Are you looking for the next step after gaining your Salesforce Administrator certification? YES! Join us for our 6 part series where we teach you the key skills to become a No1 Salesforce Consultant.
In this week's podcast and blog, we're talking about coaching tools and techniques, and how they go hand in hand with change management to effectively communicate to engage, enthuse and empower your users to result in high user adoption. You can have a change management strategy but then not be equipped with the right communication skills to implement it effectively. Applying coaching skills is important throughout the life cycle of a project to engage, enthuse and empower your users to achieve high user adoption. This is an essential skill for any Salesforce professional if you want to properly engage users effectively. It's one of the key 'soft' skills to master once you have completed your Salesforce Admin Cert to help acquire the consultancy skills that every Salesforce professional should master.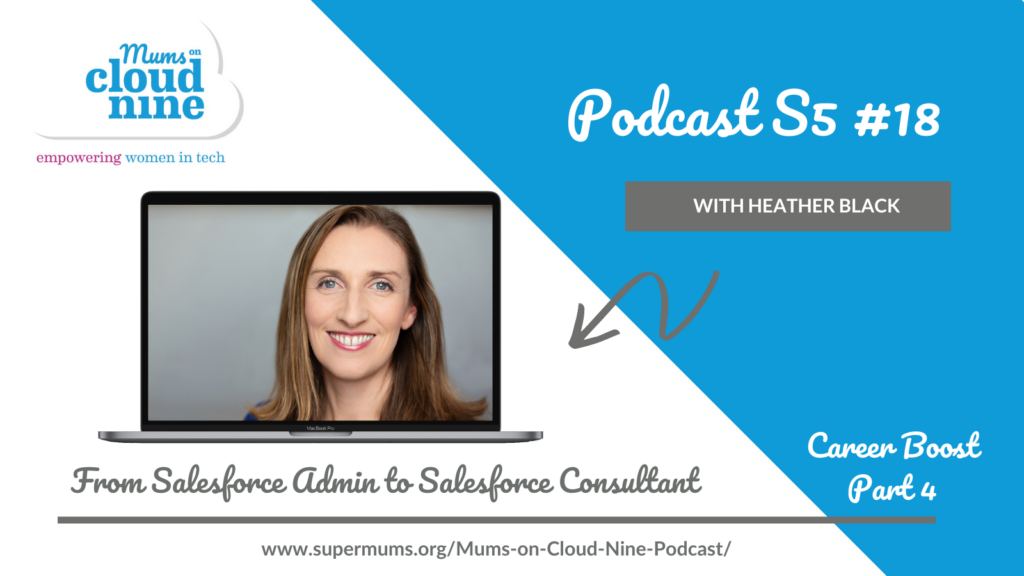 This article is one of a 6 Part Series where we teach you the key skills to become a No1 Salesforce Consultant. Salesforce professionals who master this suite of skills are cream of the crop as they do things professionally and this leads to fantastic project outcomes. With the right skills and training you can advance your Salesforce Career from learning the basics of being Salesforce Admin to becoming a Salesforce Consultant. During this series we cover:
How to gather requirements professionally with Business Analysis Skills (Part 1)
How to prioritise requirements using Agile Project Management (Part 2)
How to increase adoption of Salesforce Users with Change Management Skills (Part 3)
How to empower Salesforce users with Coaching Skills (Part 4) 
How to manage Salesforce changes with Dev Ops (Part 5)
How to pitch yourself for a Salesforce Consultant Job Role (Part 6) 
Read on to find out more about what coaching tools and techniques are, why coaching skills important, what is the value of coaching skills and what does coaching people entail.

If you are looking to upskill your skills and confidence in this area, you can also check out our Coaching Skills training courses below.
What are Coaching Tools and Techniques?
Here are the four key principles:
Understanding yourself and achieving goals – Learn how to get clear on your goals, how do you build confidence and foster motivation.
Building Rapport with others – Learning how to understand other people's personalities, learning styles and motivations
Learning how to empower other people – Use Coaching tools and techniques to motivate and enthuse other people
Team Building – Learn how to align on common goals and overcome difficult conversations.
Improve Salesforce Adoption using Coaching Tools and Techniques
If you can't communicate effectively with stakeholders then there is a risk that your change management plan won't get executed and there is a probable chance that stakeholders won't be engaged, enthused or empowered to engage with the Salesforce system. This will happen because:
You have low confidence in yourself and what you are communicating
You are suffering from Imposter Syndrome
You lack skills to influence and sell in solutions, build rapport and engage people.
This will result in:
Stakeholders not being bought into
A Team Fall Out
Customer Complaints
Project Failure
How Coaching can help develop your Salesforce Career
Overcome imposter syndrome
Change negative behaviours and patterns
Boost your confidence and self-esteem
Get clear on your own unique selling points
Get equipped with the soft skills and attributes to be successful
Create a clear success plan with achievable goals
Improve your communication style
Understand your own learning style
How Coaching can support Salesforce Projects
Coaching is a powerful tool that every Salesforce professional should have in their toolkit not only for their own development but to deploy on projects they work on to maximise user adoption. Our coaching will help you:
Understand emotional intelligence and how it impacts teams.
Understand how to motivate people
Understand how to engage people
Help your clients to get clear on their goals
Influence and generate buy-in to achieve success
Improve your methods of communication
Understand different learning styles
Maximise user buy-in and adoption
Support Salesforce Adoption using Coaching Tools
Logical Levels – helps you assess risk of your salesforce projects in a structured way.
Learning Styles – helps you deliver training in a way that suits different people's learning styles
Goal Setting – helps you to set clear goals for your career
Positive Reframing – helps shift negative communication and thoughts to positive outcomes
Building Rapport – helps you to build relationships quickly with new stakeholders
Motivation to Change – helps you identify ways to motivate people to do things.
Grief Cycle – helps you to deal with people who are anxious or concerned about Salesforce
Self Belief – helps you to build confidence and overcome imposter syndrome.
Well Designed Outcomes -helps you to create tangible ROI goals with clients
Download our free TOOLKIT here which explains these tools in more detail and how they can apply to your Salesforce projects.
How equipped and confident are you with coaching and communication skills?
Do you know how to handle people who are negative and dis-engaged in a salesforce project?
Do you know how to assess risk effectively with clients?
Do you know how to deal with people who are anxious or concerned about new tech?
Do you know how to engage and train people effectively to match their learning style?
Learn Coaching Skills Confidently at Supermums
At Supermums we offer 2 x Advanced Training Courses which include Coaching Skills. We offer live training, a suite of templates, recommended resources, a weekly accountability training plan, a peer network of salesforce consultants, and group / one to one mentoring to support you on your learning journey to build your confidence, expertise and knowledge.
Find out more below about the courses that we offer to help you achieve this:
Salesforce Consultancy Skills Course
3 month course
Start in October or December
Learn how to deliver successful Salesforce Projects.
Includes business analysis, project management and change management skills.
Includes pack of BA Scripts, Documentation Templates and Consultancy Skills Toolkit
Prepare for your Salesforce Business Analysis, Sales Cloud, Service Cloud, NPSP consultant certifications.
Learn flexibly with on demand material.
Weekly support coaching with experienced Salesforce professional, Heather Black.
Salesforce Business Analysis – Level 4 Qualification
18 month programme which is free for learners and funded by the UK Apprenticeship levy
Delivered in partnership with Learning Curve Group and Salesforce
Power your performance by understanding more about the company you work for.
Weekly Live training and 1-2-1 mentoring to gain a university level qualification.
Includes training for Business Analysis, Agile Project Management and Change Management.
Complete 2 further Salesforce Consultancy Certifications.
To be eligible you have to be employed by company based in England and working in a Salesforce Role
If you are looking for your next Salesforce Job opportunity then enlist the help of the Supermums Recruitment Team.
Supermums is proudly supported by: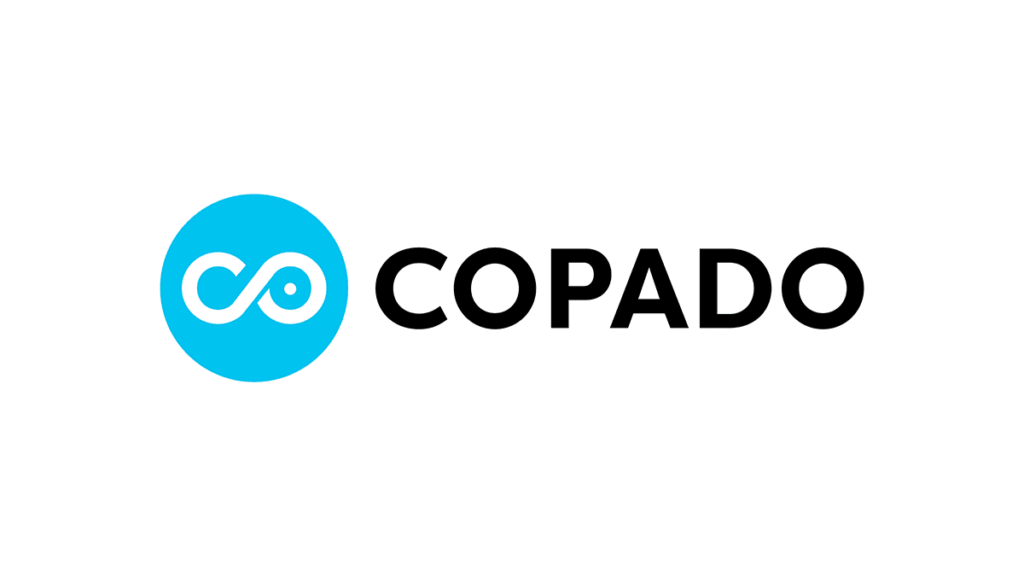 Subscribe To Our Weekly Top Tip Bulletin
Get Updates And Learn From The Best