27 Great questions to ask at a Salesforce Interview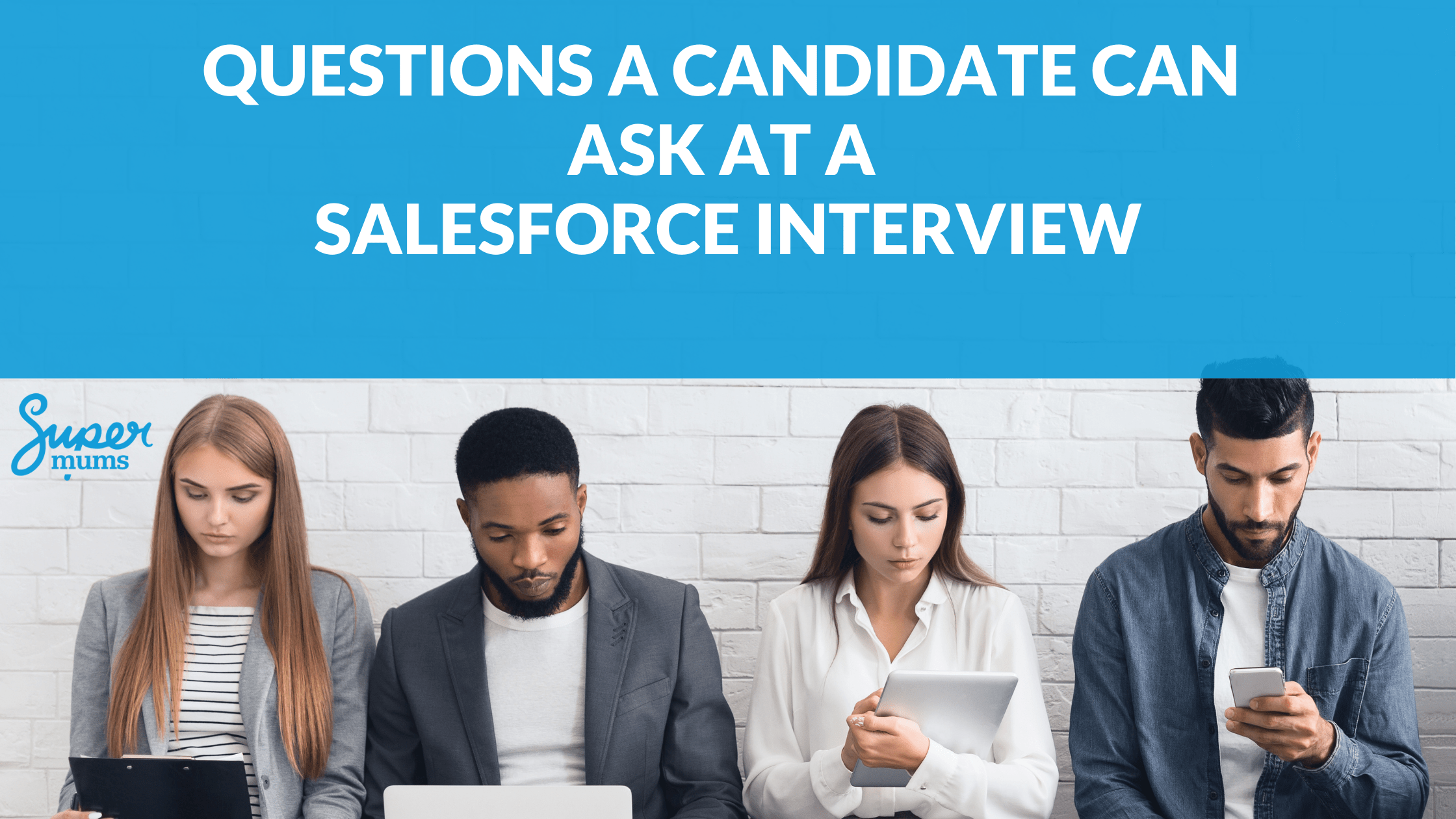 If you are going for a Salesforce Interview you want to know as much as possible about their Salesforce project as they do about you. If the company has Salesforce already you want to know if it's well adopted or not, and if it's a brand-new implementation, then you want to know how prepared they are for the project.
You can ask some intelligent questions based on the Supermums Risk Assessment Model which we teach in our Consultancy Skills Course. It uses the NLP Logical Models concept that explores where issues or pain points may reside in a situation and can be easily applied to a Salesforce project. We also went out to the wider Salesforce community and asked them for their question suggestions.
Asking these questions will help you assess if the job is a risk for you, but equally shows your intelligence around risk mitigation, and they will be sure to be impressed.
You can start with the following questions…although this list isn't exhaustive of course!
Purpose – How do you see Salesforce transforming your organisation? What is its purpose? (The ideal answer is that they see this as fundamentally changing the way their company does business and serves customers – it's going to be transformational.)
Identity – How is the management team going to use Salesforce to manage performance? How are staff responding to the introduction or adoption of Salesforce? (The ideal answer is that they see Salesforce as the living breathing heart of the organisation and relish in the idea of real-time performance analysis and everyday business use)
Beliefs/Values – What benefits do the different teams/departments feel that Salesforce offers/will offer them? (The ideal answer will show that team members are bought into the solution and not opposing it's use)
Capabilities – Who does the Salesforce technical team comprisee of? If they already use Salesforce how confident are users in using Salesforce currently? If they don't use Salesforce, do team members know what Salesforce is? (The ideal answer is that they have more than one technical team member in-house and that they have Salesforce champions per department. From user confidence level you can gauge whether further training is needed)
Behaviour – What is the preferred approach to business analysis to inform the development of Salesforce? Are their clear processes mapped out in the business before/after adoption of Salesforce? (The ideal answer will showcase that they have or want to invest time in business analysis and that they want to add value to their existing processes. Ideally if you are walking into an existing implementation you would want to see the roadmap of the work undertaken).
Environment – How are the team using Salesforce currently? Is it via an office, virtually, do they work via mobiles/tablets/laptops? Is Salesforce to be integrated with other technical systems? (The ideal answer will show you if they have a clear idea of the technical landscape and you will get an overview on what other systems need to interact with Salesforce or be replaced. This might indicate how technically advanced the project is.)
Here are some other recommended questions from the Salesforce Ohana.
What challenges will I face in this role
What's the decision process and who is the decision maker when it comes to Salesforce changes. This alone can reveal so much about the position and show the potential red flags.
Can I see your org? Even 15-20min of clicking around is enough to have an idea of what's going on.
Can you show me some examples of your process/config documentation?
What will my typical day look like?
Will you cover the cost of my certificates/training? Will I get time allocated to study?
What are your KPIs for this role and progession/reward structure?
Who do I report to? Who does my direct manager report to? Does my direct manager have decision making power, or is he/she only there to give me tasks?
How often do you deploy changes? How does the schedule look like?
What tools/infrastructure do you use to manage Saleforce changes? Here comes everything from backup to developer IDEs.
How would you rate your understanding of technology?
Who has stayed at the company the longest, then direct a follow up question at that individual, "the salesforce career paths are in high demand what about the company or its leaders has kept you here so long?
What's the user to admin ratio? Check there isn't too many users to look after by yourself
How deep is your backlog? Is there work to do, too much work or too little
What are the primary skills and products you are looking at so that I can do some more prep on those areas?
What's the performance /appraisal cycle (some companies have it annual and some have biannual)
How is work life balance here, do you have remote options to work from home
If they get offer, they can ask about in general how much you see average variable bonus component for employees in addition to the base
What does the roadmap for salesforce look like right now?
What are the top projects/priorities are you looking for this position to tackle in the next year?
What are the companies concerns with Salesforce right now?
To skill up as a Salesforce Consultant, learn more about our Consultancy Skills Course
Apply for a Job – If you are ready to apply for a job then apply for a wide range of super roles available now via the Supermums Recruitment Team. We currently represent a range of great customers and consultancies in the UK.
Check out the last job roles available via Supermums Recruitment and sign up for our Job Alerts today.
We currently represent a range of great customers and consultancies in the UK.
Subscribe To Our Weekly Top Tip Bulletin
Get Updates And Learn From The Best