From Salesforce Admin to Consultant – Part 1 – How to gather requirements professionally with Business Analysis skills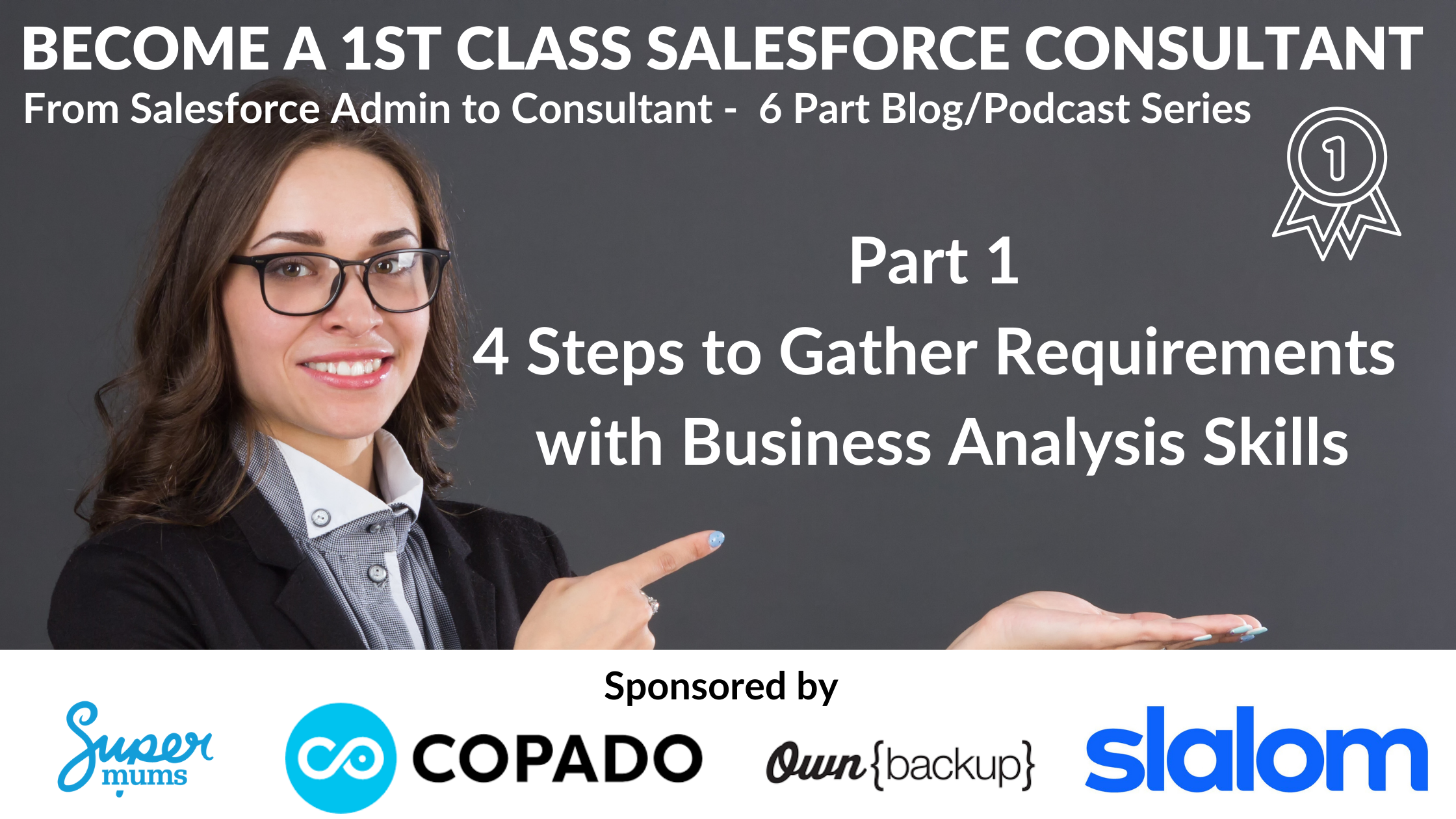 Are you looking for the next step after gaining your Salesforce Administrator certification? YES! Join us for our 6 part series where we teach you the key skills to become a No1 Salesforce Consultant.
In this week's podcast and blog, we're talking about understanding and applying Business Analysis Skills and how to produce professional documentation. This is an essential skill for any Salesforce professional if you want to properly understand and document the expectations of stakeholders on your Salesforce Project. It's one of the key 'soft' skills to gain once you have completed your Salesforce Admin Cert to help acquire the consultancy skills that every Salesforce professional should master.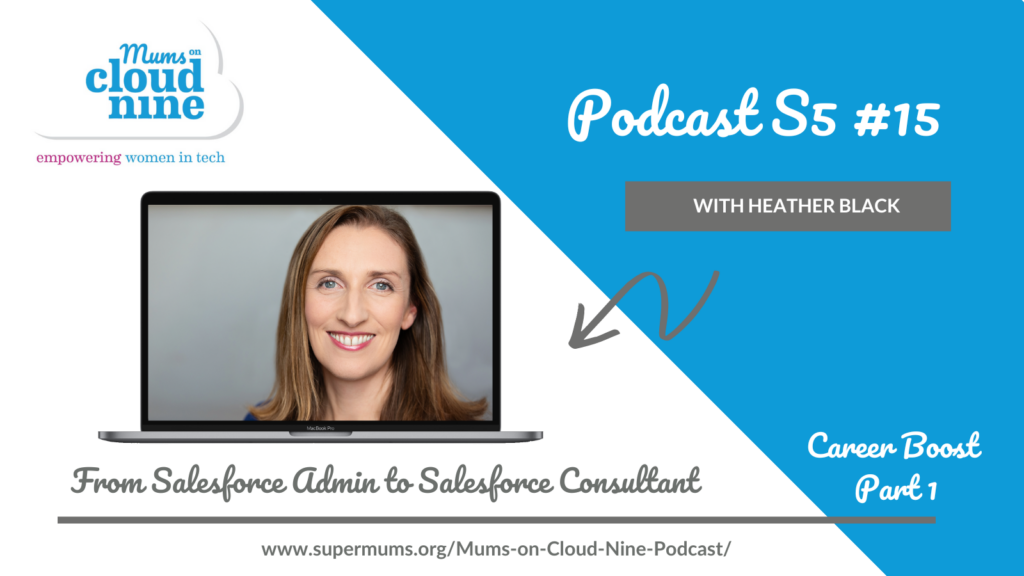 This article is one of a 6 Part Series where we teach you the key skills to become a No1 Salesforce Consultant. Salesforce professionals who master this suite of skills are cream of the crop as they do things professionally and this leads to fantastic project outcomes. With the right skills and training you can advance your Salesforce Career from learning the basics of being Salesforce Admin to becoming a Salesforce Consultant. During this series we cover:
How to gather requirements professionally with Business Analysis Skills (Part 1)
How to prioritise requirements using Agile Project Management (Part 2)
How to increase adoption of Salesforce Users with Change Management Skills (Part 3)
How to empower Salesforce users with Coaching Skills (Part 4) 
How to manage Salesforce changes with Dev Ops (Part 5)
How to pitch yourself for a Salesforce Consultant Job Role (Part 6) 
Read on to find out more what business analysis is, why is business analysis is important, what is the value of agile business analysis and how you can do business analysis in 4 practical steps.
If you are looking to upskill your skills and confidence in this area, you can also check out our Business Analysis training courses at the bottom of this article.
Gather Salesforce Requirements – What is Business Analysis?
Here are the four key principles:
1 – Understand the business priorities – Identify and document the business case to anticipate ROI
2 – Understand the business processes -Elicit and document as-is and will be processes and undertake a technical audit
3 – Gather Requirements – Detailing and documenting high level to low level functional and non-functional requirements
4 – Propose Technology Solutions – Documenting the technology solutions with a clear Return on Investment
Why is Business Analysis important to a Salesforce Project?
If requirements are not gathered, prioritised and delivered to align to business goals and there is no consistent clear documentation, then it will inevitably mean that the technology solutions won't get developed to align to business need. As a result there will probably be an unhappy customer, with overspend on budget and result in user adoption being very low.
What is the value of Business Analysis to Salesforce Projects?
Based on research undertaken, it was found that on average, performance virtually doubled as organizations progressed from using an ad-hoc approach for requirements definition and management to having institutionalized and consistent competency in all capability areas: The research highlighted the following stats :
Average on time performance of technology projects increased by 161%.
Time overruns on projects reduced by 87%.
Average on budget performance for technology projects improved by just over 95%.
Budget overruns reduced by just under 75%.
Percentage of projects that deliver the functionality needed by the business rose by just over 75%.
Average functionality missed dropped by approximately 78%.
How you can do Business Analysis on your Salesforce projects with our Four Step Approach
1 – Understand the WHY – What is the STRATEGY underpinning the business and business case for the CRM implementation.
Understand the Business Strategy
Complete a SWOT analysis
Identify the Key Performance Indicators
Mobilise the Roles and Responsibilities of the Exec Sponsor
Establish a Centre of Excellence
Identify the Business Stakeholders who need consulted
2 – Understand HOW they work and what they need – conduct Business Analysis and execute your ELICITATION strategy with different stakeholders. This could include:
Interviews
Shadowing
Workshop
Questionnaires
Meetings
Focus Group
Document Analysis
3 – Document WHAT the business needs in a professional way to provide clear documentation. A suite of business analysis documentation would include:
Business Canvas – Explaining the Business Strategy simply
Business Case – Demonstrating the ROI for the CRM implementation
CRM Strategy – Outlining the Reasons and Strategy for the CRM Implementation
Process Maps – Documenting the before and after business processes
Technical Audit – Documenting the different technology used by a business and how it interacts
Stakeholder Context Diagram – Showcasing the different stakeholders and their interaction with the systems
Requirements Log – Details of all of the requirements with prioritisation, business case and technology solution
Technical Workbook – Details all of the elements that require building by a technical team
Object Entity Diagram – Showcases the high level architecture of the CRM System
4 – Schedule WHEN to do Business Analysis and the CRM Implementation with an agreed PROJECT MANAGEMENT plan. Here are some aspects to consider:
Functional Requirements
Non-Functional Requirements
Prioritisation of Requirements
Time Frame of Requirements
Dependencies of Requirements
Budget for Implementation
Resource for Implementation
How equipped and confident are you with Business Analysis skills?
Do you have presentation templates to facilitate business workshops and document the business case?
Do you have a ready made set of questions to ask per project and type of solution?
Do you understand the diagrams to produce and have a set of templates to document all of the processes, requirements and technical solutions?
Do you have systems and tools available to document, share and manage the delivery of requirements?
As example of the tools you could put in place, check out an example here
Learn Business Analysis Skills Confidently with Supermums
At Supermums we offer 2 x Advanced Training Courses on Business Analysis Skills which offer live training, a suite of templates, recommended resources, a weekly accountability training plan, a peer network of salesforce consultants, and group / one to one mentoring to support you on your business analysis learning journey to build your confidence, expertise and knowledge.
Find out more below:
Salesforce Consultancy Skills Course
3 month course
Start in October or December
Learn how to deliver successful Salesforce Projects.
Includes business analysis, project management and change management skills.
Includes pack of BA Scripts, Documentation Templates and Consultancy Skills Toolkit
Prepare for your Salesforce Business Analysis, Sales Cloud, Service Cloud, NPSP consultant certifications.
Learn flexibly with on demand material.
Weekly support coaching with experienced Salesforce professional, Heather Black.
Salesforce Business Analysis – Level 4 Qualification
18 month programme which is free for learners and funded by the UK Apprenticeship levy
Delivered in partnership with Learning Curve Group and Salesforce
Power your performance by understanding more about the company you work for.
Weekly Live training and 1-2-1 mentoring to gain a university level qualification.
Includes training for Business Analysis, Agile Project Management and Change Management.
Complete 2 further Salesforce Consultancy Certifications.
To be eligible you have to be employed by company based in England and working in a Salesforce Role
If you are looking for your next Salesforce Job opportunity then enlist the help of the Supermums Recruitment Team.
Supermums is proudly supported by: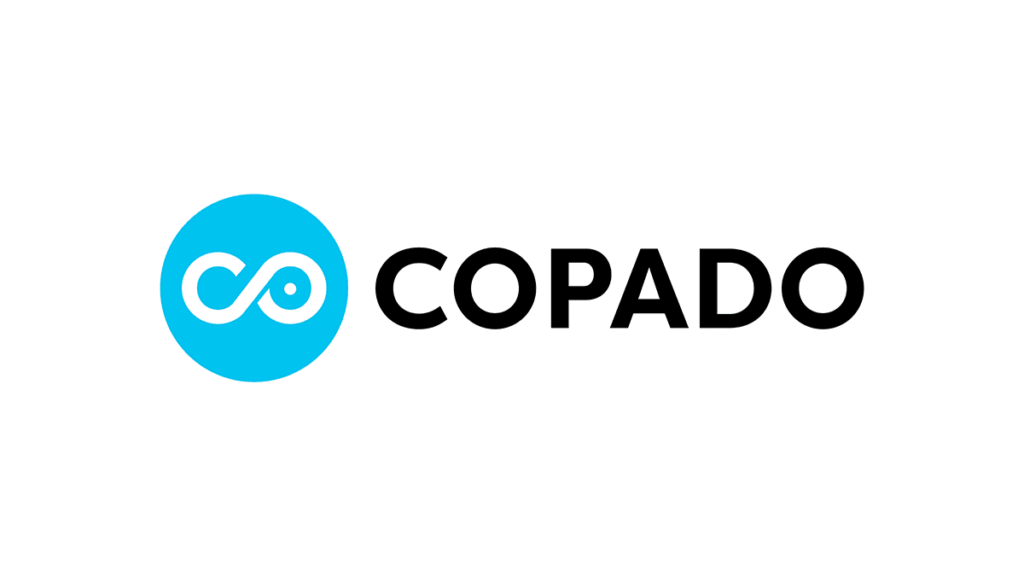 Subscribe To Our Weekly Top Tip Bulletin
Get Updates And Learn From The Best