Get Ready to Harness the Power of AI in Salesforce – Part 4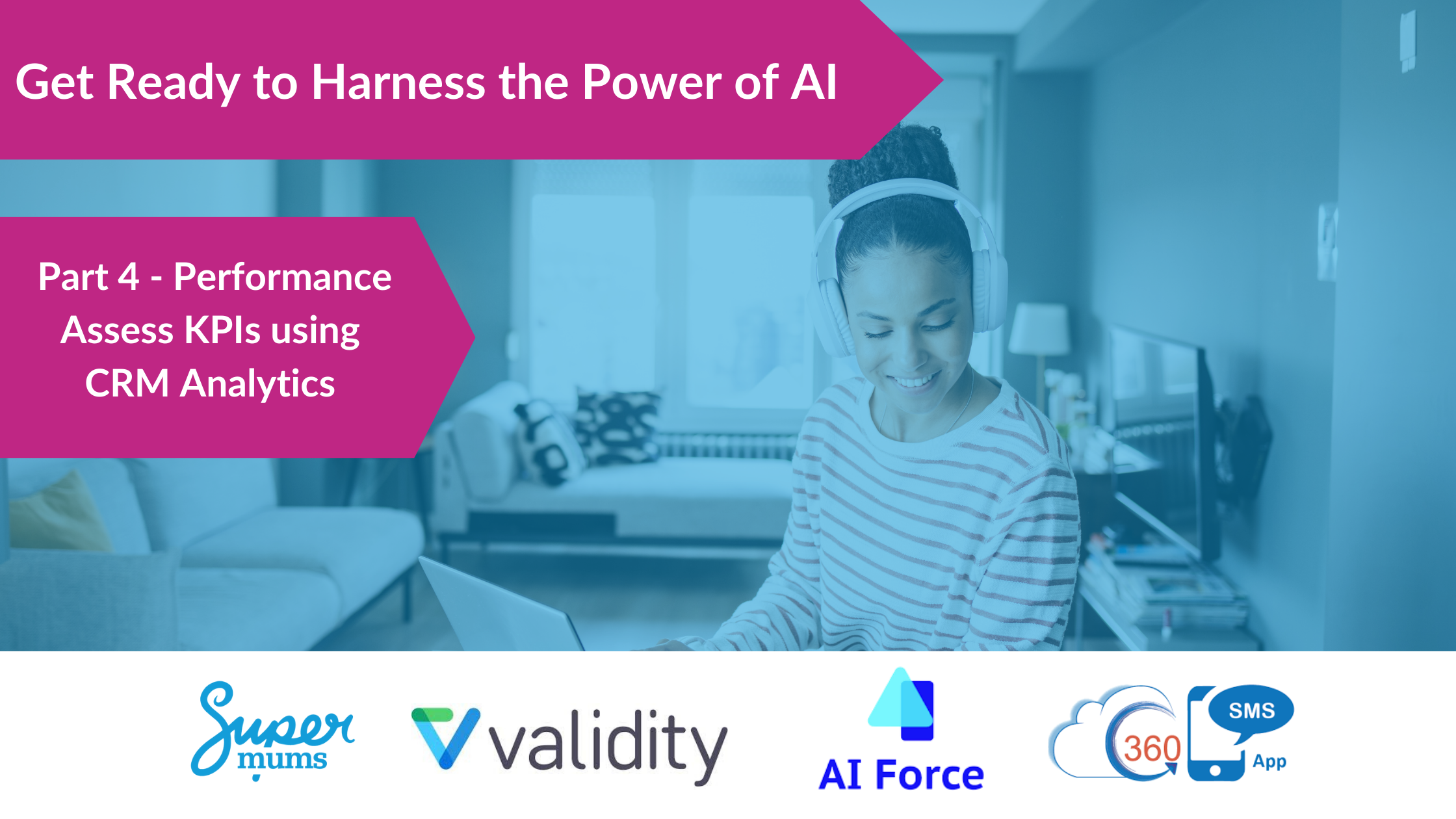 Salesforce firmly established that AI was part of the future technology stack at Dreamforce 23 so you can get ready to harness all of the new amazing tools that Salesforce and ISV's are providing to power your Salesforce projects and implementations with AI.
Over the next 4 weeks we are going to help you create your plan of action to get ready to harness the power of AI with our 4 part series, wrapping up with our Consultancy Skills Masterclass where we will bring all of this information to life with live speakers:
Part 4: Performance – Analyse Productivity using CRM Analytics
Join us & guests speakers, daily between 6 – 9 November, and get ready to harness the power of AI.
Day 1 – Contact Management
Day 2 – Data Management
Day 3 – Chat GPT for Salesforce
Day 4 – CRM Analytics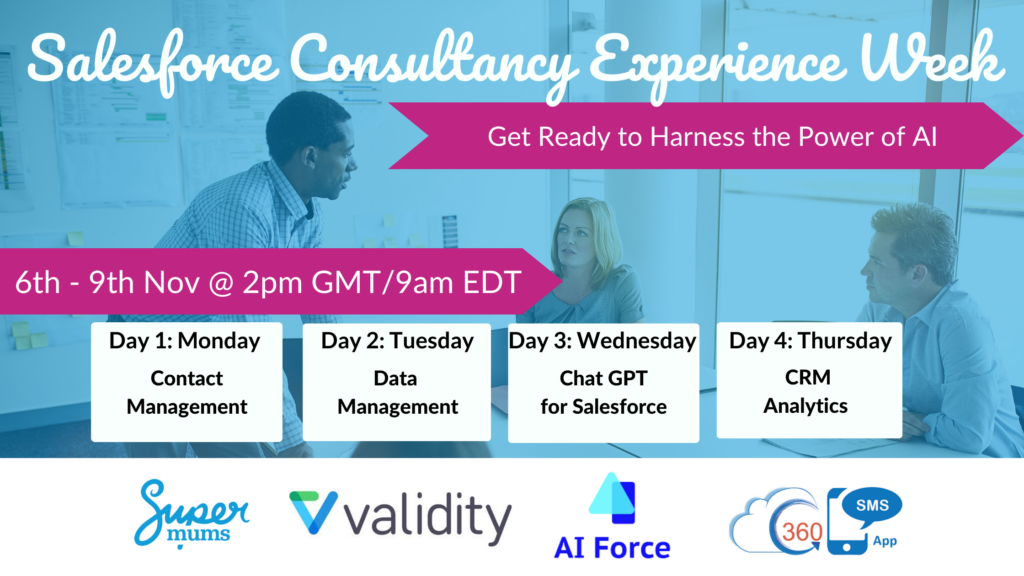 Part 4 – Performance – Analyse Productivity using CRM Analytics
This week we provide an introduction to CRM Analytics and how it can help you to analyse the performance of your organisation to assess if AI is really achieving improved productivity, business outcomes and efficiency.
What is CRM Analytics?
Salesforce CRM analytics is a comprehensive and robust solution that empowers users with a unified system to collect and analyze customer data, transforming it into valuable insights. With its accuracy and expansive capabilities, Salesforce CRM analytics enables businesses to make data-driven decisions and derive actionable intelligence from their CRM data.
Salesforce CRM Analytics AI promises to transform the way businesses interact with data. The AI can predict future outcomes by processing historical data, such as predicting customer churn rates or lead conversion probabilities. Its prescriptive analytics can suggest actions for businesses to improve outcomes, like recommending which marketing campaigns to run, or which sales leads to prioritize.
What KPIs could it help you measure that are applicable to?
Sales Analytics
Pipeline Analysis and Forecasting: With pipeline analysis and forecasting, sales teams can assess the health of their sales funnel, identify potential bottlenecks, and accurately predict future revenue.
Sales Performance Tracking:
Sales performance tracking enables organizations to drive continuous improvement, align sales efforts with business goals, and achieve better sales outcomes.
Service Analytics
Case management and Resolution Tracking:
By analyzing case data, including case volume, response times, and resolution rates, businesses can gain insights into their service operations.
Customer Satisfaction Analysis:
By aggregating and interpreting this data, organizations can gain insights into overall customer satisfaction levels and identify patterns and trends. Customer satisfaction analysis empowers businesses to proactively address customer needs, identify areas for service improvement, and drive customer loyalty and advocacy.
Other areas include, Marketing measures, Lead Conversion Analysis, ROI Tracking.
How do you get trained up in CRM Analytics?
Supermums delivers the Authorised Salesforce CRM Analytics Training Courses. Successful implementation and utilization of Salesforce CRM Analytics rely on effective training strategies. To fully leverage the capabilities of Salesforce CRM Analytics, organizations should prioritize comprehensive user training and onboarding. Training sessions should cover various aspects, including navigating the analytics interface, understanding data visualization tools and utilizing the analytics studio.
The course includes:
ANC201 – 8hr Content
Build and manage apps in CRM Analytics
Design a dashboard based on requirements, and create a dashboard template
Create and add lenses to build a dashboard
Optimize a dashboard for mobile use
ANC301 – 24hr Content
Determine your user, data, and security requirements, and establish a development process.
Set up apps and control what users can do in CRM Analytics by assigning them licenses, permission sets, and app permissions.
Load external data to CRM Analytics.
Create and run dataflows to load Salesforce data, and join it with data from other datasets.
Understand and use Data Sync effectively.
Understand Recipes and Data Prep.
Understand and implement data security in CRM Analytics, and override security for implementation and testing.
Understand how filters on dashboards function and be able to use interactions when necessary.
Understand a dashboard's JSON file.
Explain the process of dashboard queries and modify a query to meet specific analytic requirements.
Modify dataset metadata.
Our next CRM Analytics Training Course starts in November. Find out more
Find out more about CRM Analytics, inc a demo at our Consultancy Skills Experience Week
Get prepared with an introduction to CRM Analytics at our Consultancy Skills Experience Week from 6 – 9 November. Join us and guest speakers live @ 2pm GMT / 9am ET / 6am PT each day. (all sessions are recorded and will be available on demand if you have registered)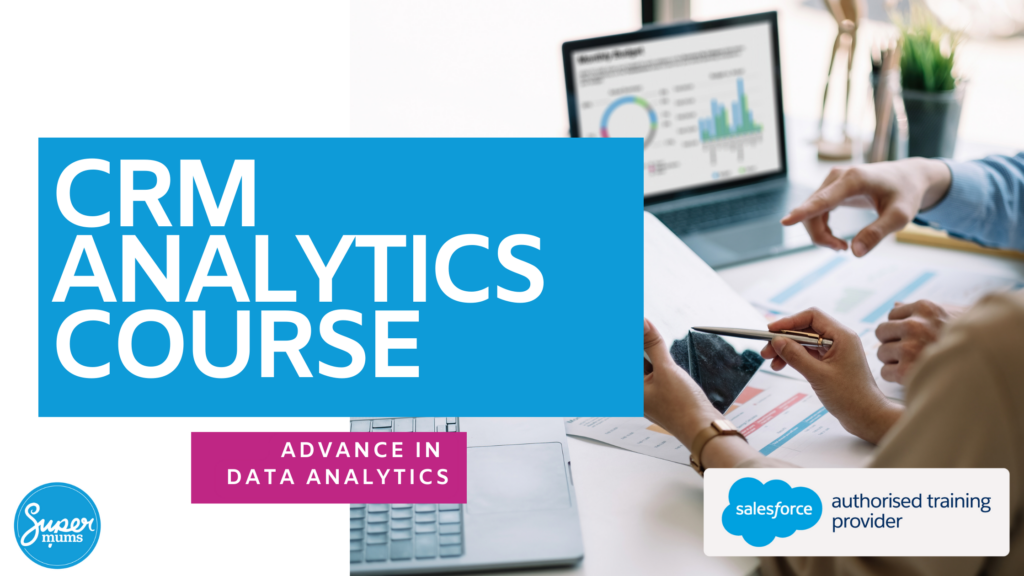 Subscribe To Our Weekly Top Tip Bulletin
Get Updates And Learn From The Best