Get Ready to Harness the Power of AI in Salesforce – Part 3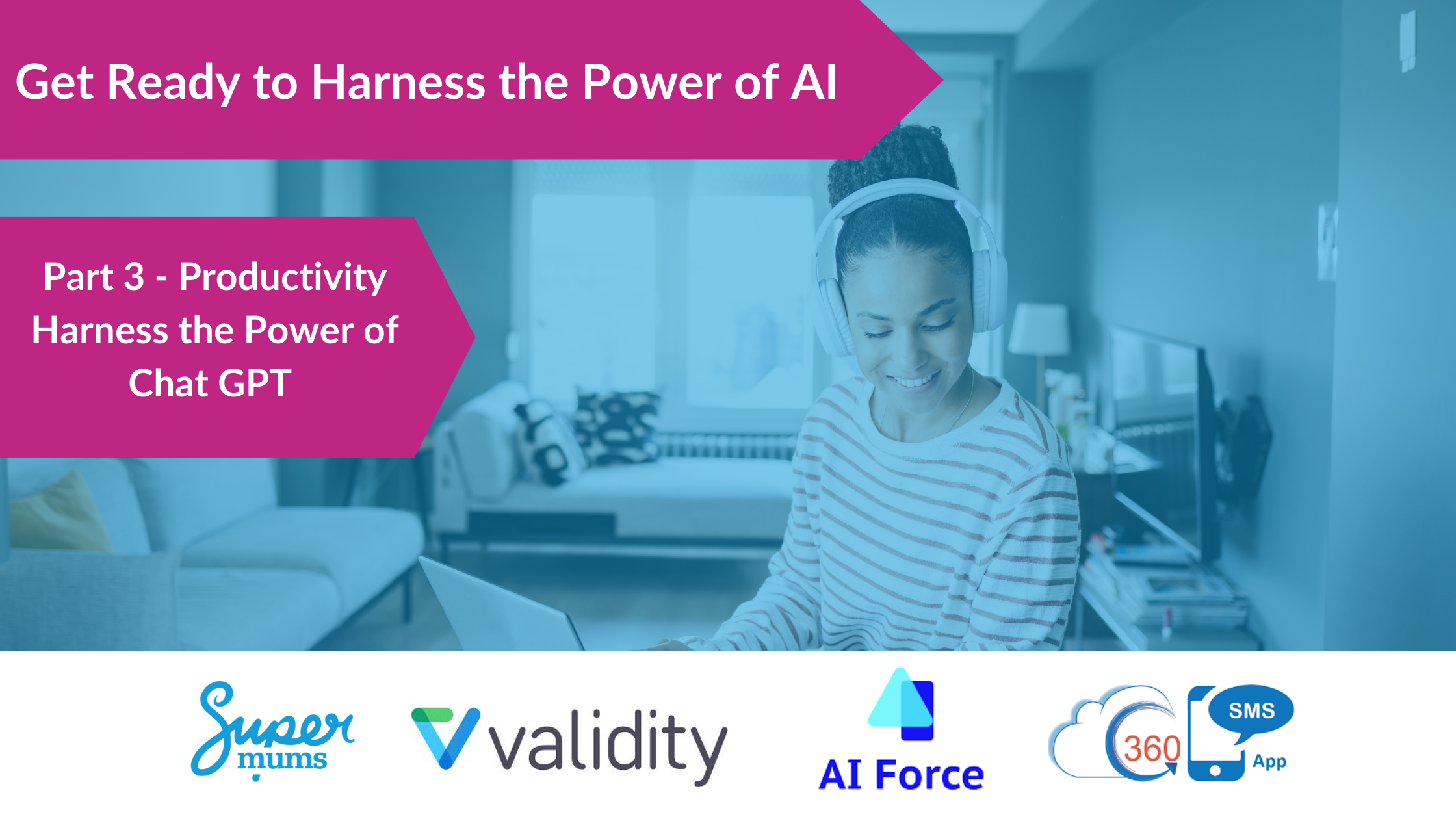 Salesforce firmly established that AI was part of the future technology stack at Dreamforce 23 so you can get ready to harness all of the new amazing tools that Salesforce and ISV's are providing to power your Salesforce projects and implementations with AI.
Over the next 4 weeks we are going to help you create your plan of action to get ready to harness the power of AI with our 4 part series, wrapping up with our Consultancy Skills Masterclass where we will bring all of this information to life with live speakers:
Part 3: Productivity – Harness the Power of Chat GPT
Join us & guests speakers, daily between 6 – 9 November, and get ready to harness the power of AI.
Day 1 – Contact Management
Day 2 – Data Management
Day 3 – Chat GPT for Salesforce
Day 4 – CRM Analytics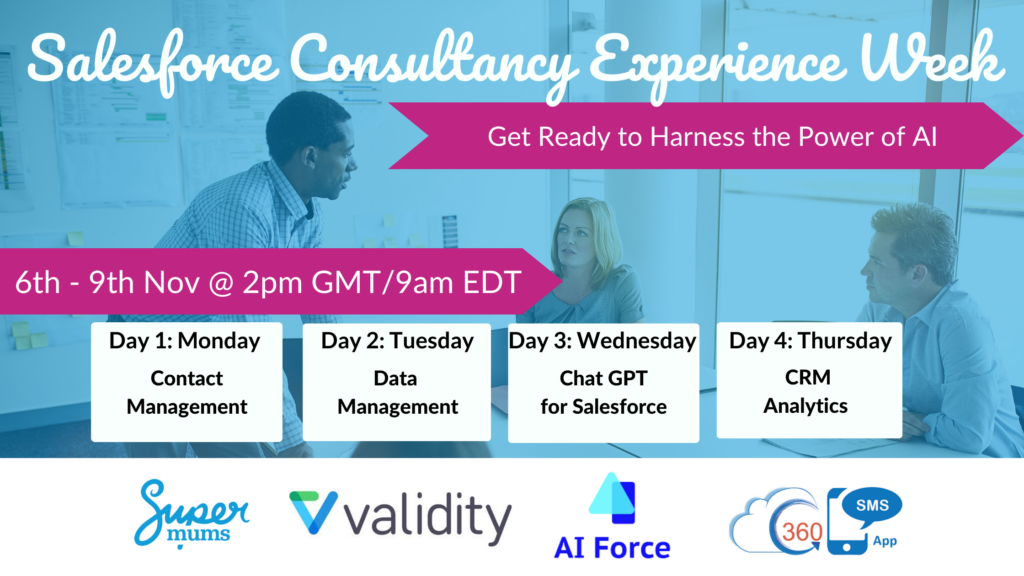 Part 3 – Productivity – Harness the Power of ChatGPT
This week we provide an introduction to Chat GPT and how it can help Salesforce professional do their job better.
Are you ready for the Einstein 1 Platform including Copilot and Copilot Studio?
Do you have the skills you need to to effectively implement this new AI into your orgs?
There are a lot of changes going on and skilling up in the AI space has become top priority!
Let's talk about ChatGPT and why you should learn how to use it effectively.
OpenAI made a big splash at the end of 2022 with the rollout of, the fast growing app of all time, ChatGPT. Why was this such an important moment in time? Prior to this, using a Large Language Model (LLM) was only being tested by companies like OpenAI, the LLM owners, and a few adventurous companies.
ChatGPT was designed to be used by everyone and was the first widely adopted consumer facing LLM chatbot. It wasn't created specifically for Salesforce professionals or any specific professionals for that matter. It's backed by the power of the finely tuned GPT4 language model which is trained on most topics which you can imagine.
ChatGPT was trained on Salesforce specific concepts so it has information specific to your needs. Because it's a generative AI, we can use it to create solutions to problem we have that it wasn't specifically trained to solve! This combination along with the flexible use cases creates an incredibly powerful tool to help you tackle your work smarter.
So what exactly can you do with ChatGPT? Here is a list of some common use cases!
Problem Solving
Writing Training Documents
Validation Rules and Formula Fields
Summarizing Key Topics for Large Texts
Providing General Knowledge on Salesforce topics
Salesforce Setup Support
Writing Triggers and Apex Code
Creating Flow Diagrams
Copy for Email Templates
Harvard Business School completed a study and determined that professionals who uses ChatGPT are able to complete 12% more tasks, 25% quicker, and with 40% higher quality than those who are not using ChatGPT.
Can you just jump on ChatGPT today and start working with it to get these incredible results? Yes! However, you will be faced with the challenge of learning a new tool.
We think of ChatGPT as a tool in your bag to be used at the right time for the right task. How do you know what tasks are right for ChatGPT? Are you wasting your time if it's not giving you the answers you needed or giving you wrong answers? Is it possible to ask questions differently to get better responses?
Learning a new tool is always a challenge, but with some time spent learning how it works you'll also be able to benefit from the productivity gains and more as promised.
The first step is to just get in there and start practicing. Ask some questions, have some conversations, and see if you can practice asking questions in different ways to get the things you are looking for from ChatGPT.
The great thing about taking a deep dive to learn how to truly use ChatGPT is the knowledge transfers over to the Salesforce Einstein 1 Platform! Salesforce professional now have to use the Einstein Copilot Studio to manage the use of AI inside the platform, and knowing how the AI responds to prompts is your key to success when using the studio. Copilot is setup much like ChatGPT and infused with the data in your org. The skills you gain when learning ChatGPT set you up for future success with Salesforce!
Learn AI Skills with Supermums & AI Force
Supermums and AI Force have teamed up to bring a unique AI Skills Training Course that combines the best of both training companies.
Supermums specialises in providing a learning infrastructure that provides peer support, structure, motivation and accountability, whilst Mark Good, founder of AI Force, delivers the core training content as an AI expert covering a wide range of topics to get the most out of Chat GPT to support your Salesforce Admin and Developer roles.
Join our AI Skills Training Course to benefit from:
10 Week Structured Course with Guided On-Demand Curriculum.
1 x 90 min Live Session Per Week delivered by Supermums at 3pm BST / 10am ET on Mondays.
AI Force GPT Specialist Course Content – Accessed on demand.
Weekly Suggested Trailheads.
Peer AI Community via Slack.
Become an AI Force Certified GPT Specialist.
Get 50% discount voucher off your AI Associate Certification.
Next Start Date: January 2024
Price £500 / USD $700
Sign up to our waitlist below. We'll let you know once the dates confirmed so you can save your seat. Booking is made AI Force and once you have registered and paid, Supermums will onboard you ready to get started. We are so excited to offer this new AI Training and can't wait to hear how you are getting on learning it all!
Subscribe To Our Weekly Top Tip Bulletin
Get Updates And Learn From The Best