Get Ready to Harness the Power of AI in Salesforce – Part 2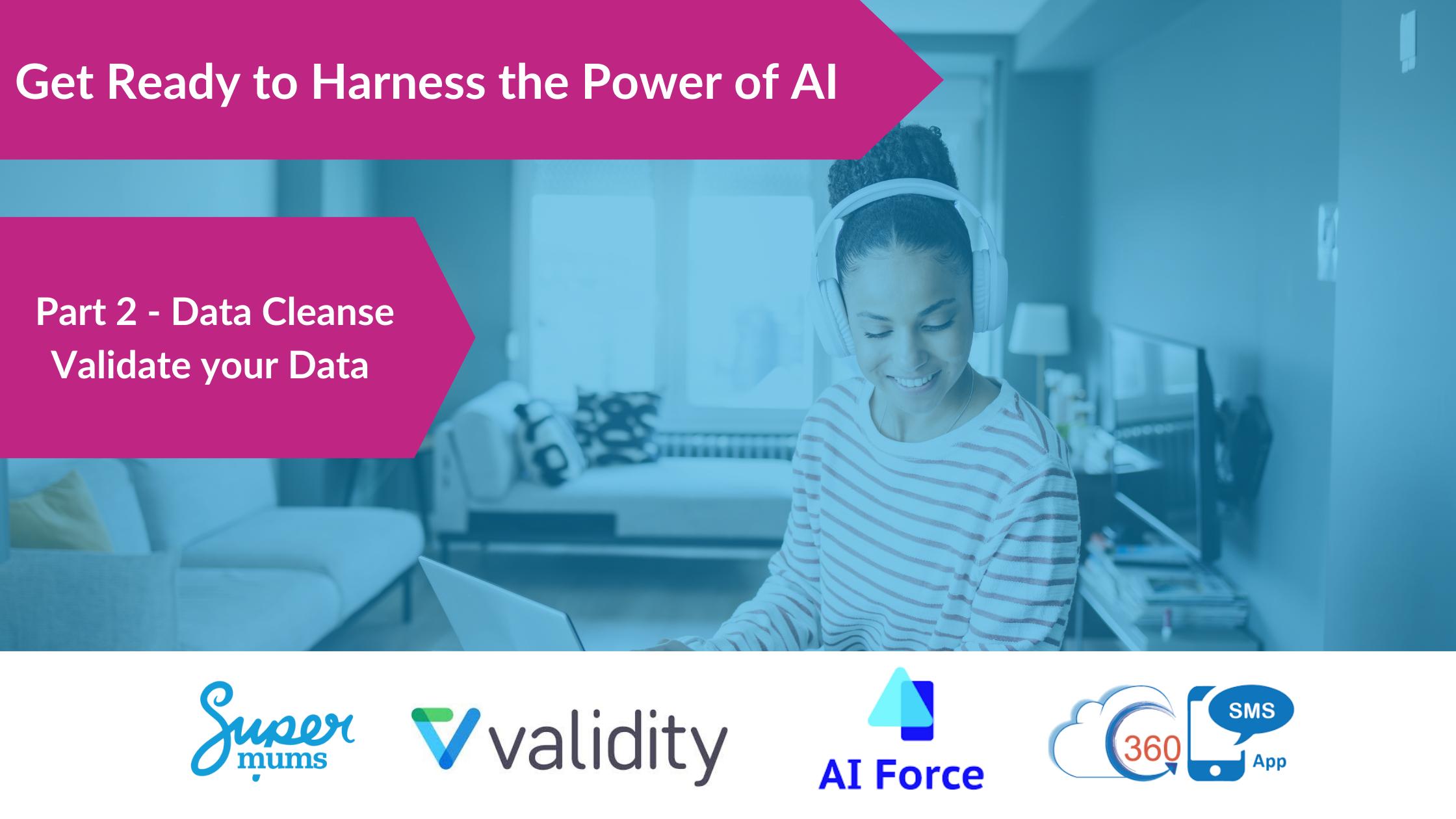 Salesforce firmly established that AI was part of the future technology stack at Dreamforce 23 so you can get ready to harness all of the new amazing tools that Salesforce and ISV's are providing to power your Salesforce projects and implementations with AI.
Over the next 4 weeks we are going to help you create your plan of action to get ready to harness the power of AI with our 4 part series, wrapping up with a Consultancy Skills Masterclass where we will bring all of this information to life with live speakers:
Part 2: Data Cleanse – Validate your Data
Join us & guest speakers, daily between 6 – 9 November, and get ready to harness the power of AI.
Day 1 – Contact Management
Day 2 – Data Management
Day 3 – Chat GPT for Salesforce
Day 4 – CRM Analytics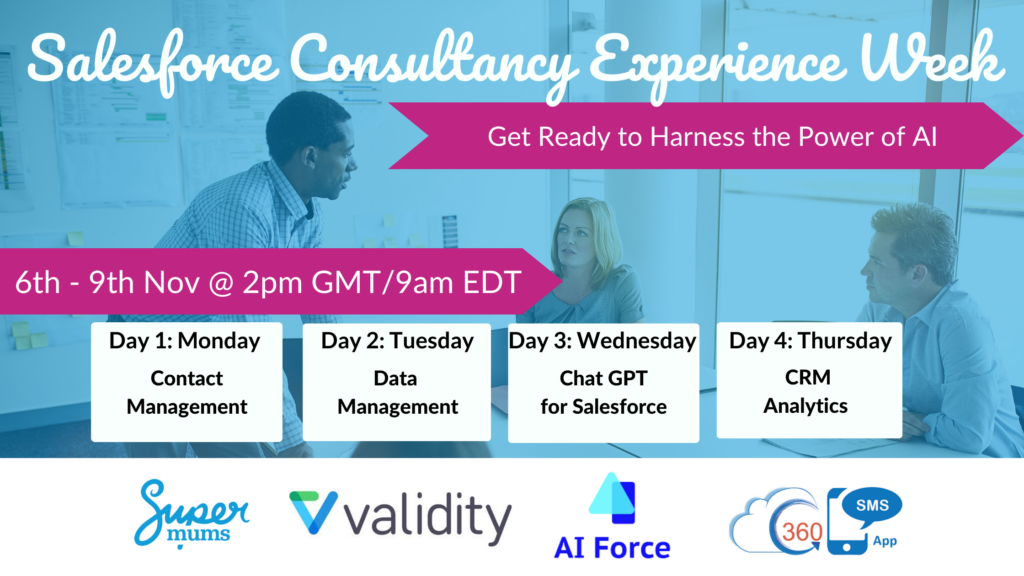 Part 2 – Data Cleanse – Validate your Data
This week we provide an introduction to Data Management.
Data interacts with AI in two different ways. It can speed up the creation of messages if 'accurate' data can be merged into automatically created emails or messages, and AI can also support data to be enriched and updated.
One of the biggest reasons why CRM's won't beable to adopt AI quickly is because their data isn't accurate. It's also one of the reasons why CRMs are not adopted, because users don't trust the data. Poor data governance can impact the organisation significantly*:
Inaccurate or incomplete data can lead to 20% stalled productivity, which is one day of work each week.
The average company loses 12% of its revenue as a result of inaccurate data.
Forty percent of all business initiatives fail to achieve their targeted benefits because of poor-quality data.
Bad data is consistently linked with:
Lost revenue
Missing or inaccurate insights
Wasted time and resources
Inefficiency
Slow info retrieval
Poor customer service
Reputational damage
Decreased adoption by reps
Good data lets your organisation:
Prospect and target new customers
Identify cross-sell and upsell opportunities
Gain account insights
Increase efficiency
Retrieve the right info fast
Build trust with customers
Increase adoption by reps
Plan and align territories better
Score and route leads faster
*Data Governance PDF https://a.sfdcstatic.com/content/dam/www/ocms-backup/assets/pdf/misc/data_Governance_Stewardship_ebook.pdf *
On the Supermums Consultancy Skills Course we provide a comprehensive business analysis questionnaire and workshop format on the topic of data management that looks at the following areas. We would recommend bring the heads of all your departments together to align on the requirements of data management.
Step 1 – Find out what data is important to your management team.
The 80/20 rule is often cited as applying to your data for example 20% of your fields will be the most important in your organisation to align with performance management dashboards, AI automation, compliance. Conduct a business analysis workshop to discover:
What are the business objectives
What customer data is required to support those objectives
How are they currently using that customer data
Where is the customer data stored
Step 2 – Assess Data Quality
Assess the quality of your data using tools such as DemandTools from Validity:
Age – What was the last time each record was updated?
Completeness – Are all key business fields on records filled in?
Accuracy – Is your data as accurate as possible? Has it been matched against a trusted source?
Consistency – Is the same formatting, spelling, and language used across records?
Duplication – Are records and data duplicated in your org
Usage – Is your data being harnessed in reports, dashboards, and apps?
Cleansing – Is data being deleted that is no longer required in the system.
Step 3- Data Management Plan
We would recommend that clear business rules are agreed by your team and communicated during rraining about which data is collected and required in the system at different stages of the customer journey.
To support compliance with these business rules we would recommend harnessing some of the features and apps below which would be documented within a Data Management Plan. A typical data management plan includes standards for creating, processing, and maintaining data.
To support data management here are some recommendations you could take forward.
Naming – Set naming conventions for records. Always include suffixes (Inc., Corp.)? Abbreviations?
Formatting – Figure out how dates and money are represented.
Workflow /Flows – Determine processes for record creation, reviewing, updating, and archiving. Determine all the stages a record goes through during its life cycle.
Security and Permissions – Determine the appropriate levels of privacy for data. Make sure to comply with regulatory, legal, and contractual obligations.
Monitoring Reports and Dashboards – Outline a process for ensuring quality control of data. Determine the frequency, scope, owners, and checks, including ways for updating data, preventing duplicates, merging records, adding records, and archiving records. Determine metrics that can be easily monitored in a dashboard.
Paths – Provide clarity/guidance to users about what data to input during each stage of a customer journey by using Paths on the object.
Required Fields – Make sure fields are required that support your business objectives.
Validation Rules – Set up validation rules for any field. Then, when records are saved, the data is checked to make sure that it follows the format.
Page Layouts – Remove fields them from the page layout for team members that don't need or use them and put the most important, required fields at the top.
Data Enrichment Tools – Data is obsolete almost as soon as it's entered. That's why it's important to regularly match your data against a trusted source.
Duplicate Management – Identify duplicate identify rules and determine the best approach for identifying new ones or managing existing ones. This could be using the native Duplicate Management tool or a third party app.
Custom Field Types – Create Custom Field Types to help standardise data collection where data is inconsistent and can't be analysed
Supermums Favourite ISV Tools for Data Management and Data Integrity
The Supermums Team are busy harnessing the power of AI to be more efficient, productive! Some of our favourite ISV tools for data management and data integrity include: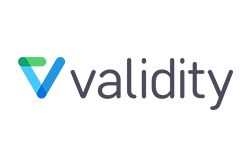 For over 20 years, tens of thousands of organizations throughout the world have relied on Validity solutions to target, contact, engage, and keep customers – using trustworthy data as a key advantage.
The Validity flagship products – DemandTools, BriteVerify, Everest, GridBuddy Connect, and MailCharts – are all highly rated solutions for CRM data management, email address verification, inbox deliverability and avoiding the spam folder, and grid CRM applications. These solutions deliver smarter campaigns, more qualified leads, more productive sales, and ultimately faster growth. Get a free trial and clean your data faster here.

GridMate is a powerful productivity suite of over 30 components that has revolutionized the way users work in Salesforce. Designed to enhance the User Experience, it is built on the lightning framework with an easy-to-use interface that allows users to quickly and efficiently create, edit, and manage their data. Users can streamline their workflow, reduce errors, and improve data accuracy, all while saving time and increasing productivity.
With spreadsheet-like inline editing capabilities and an enhanced 360 view of your data providing a single source of truth in one pane, users can reduce clicks by over 93% and customize how they visualize data.
GridMate is a game-changer for businesses that rely on Salesforce. With its intuitive design, powerful User Experience enhancements, and ability to improve productivity, GridMate is the ultimate tool for anyone looking to get the most out of their Salesforce investment and increasing utilization within their orgs. Schedule a demo to see how easy inline editing, mass updates and data exports can be!
Join us for a Salesforce Consultant Skills Masterclass
Get prepared to utilise the the latest AI technology in your Salesforce projects.
We have 4 sessions starting on the Monday 6th November. They will be live @ 2pm GMT / 9am ET / 6am PT each day. Plus, hear from industry experts and alumni on the Supermums Consultancy Skills Training Programme and their hands-on experience. (all sessions are recorded and will be available on demand if you have registered)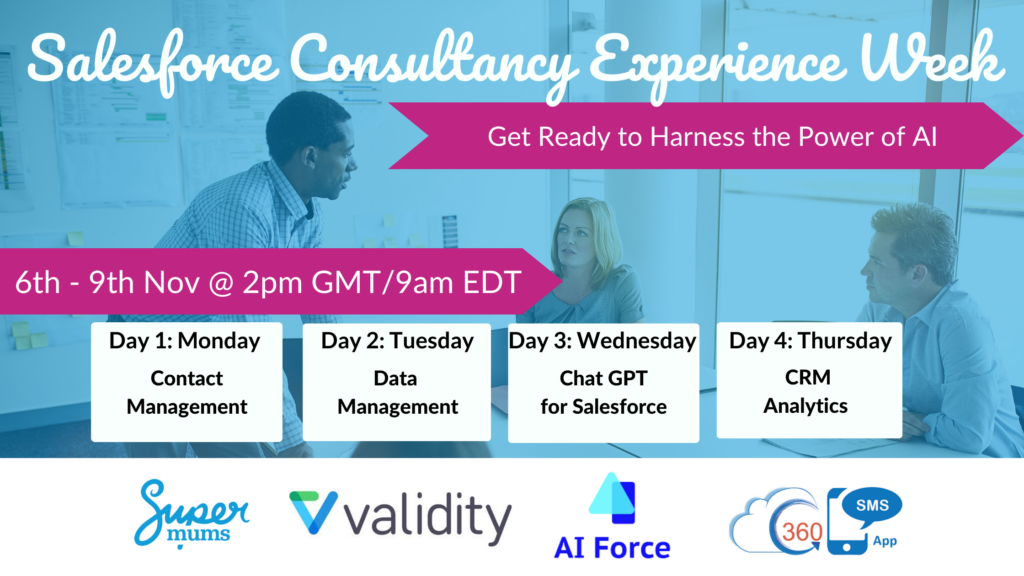 Subscribe To Our Weekly Top Tip Bulletin
Get Updates And Learn From The Best