Relaunch Your Career Part 4 – How to Avoid Burnout in your new Career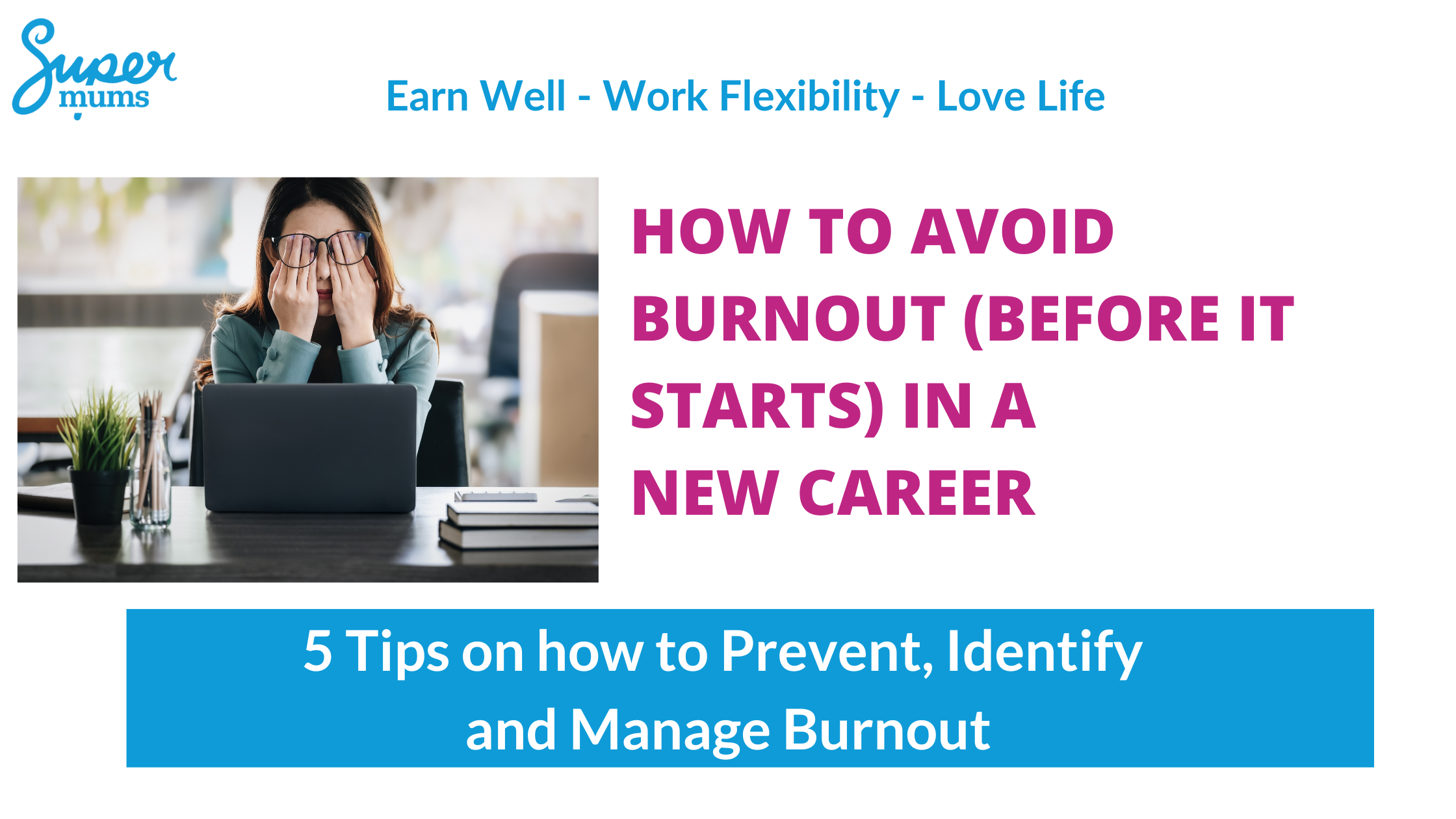 Over the next 6 weeks we are talking about how to instil the right mindset to relaunch your career successfully.
At Supermums we specialise in helping people to relaunch their career and we understand the challenges that many parents face when thinking about taking the plunge to re-skill and relaunch a career into something new. It's a scary prospect so it's so important to get the right support around you to make it happen successfully. Supermums combine coaching, mentoring and training to empower trainees with the right mindset to launch their career successfully. We wanted to share some of this wisdom with you so you better understand it yourself or share with it someone who might be in that position. Join us to learn about the following mindset attributes that can support you on your journey to relaunch your career:
Relaunch Your Career Part 4 – How to stop burnout before it starts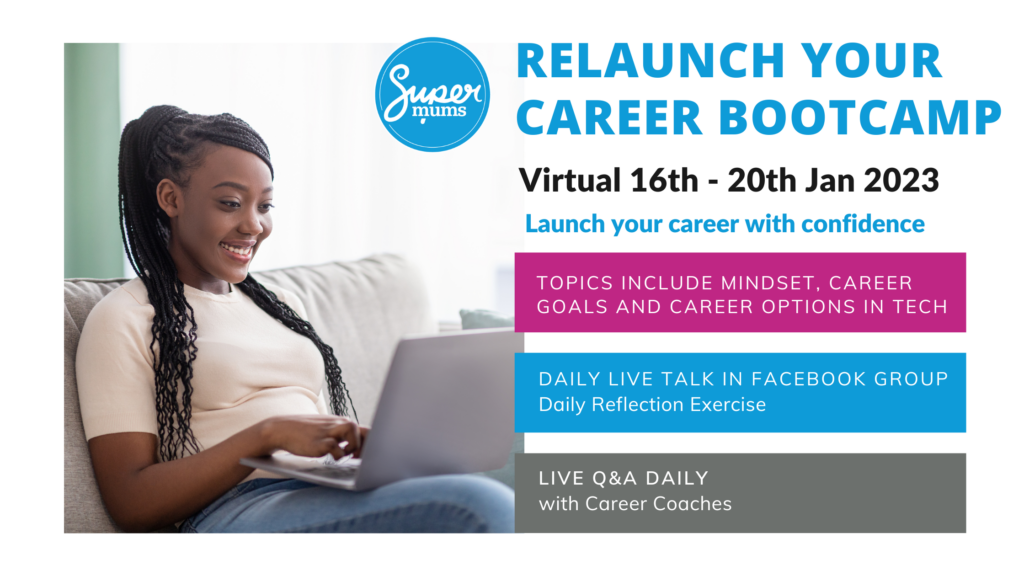 Attend our Relaunch Your Career Bootcamp to get informed about career choices that can offer you flexibility and good pay and the steps to take to achieve them. Make time for you and launch your new career with confidence.
This week we look at Part 3 – How to avoid burnout before it starts in your new career
At Supermums we talk about the Ambitious Women Mindset, as without a considered focus on managing our mindset we can easily fall into a trap of burnout. We can have a so-called flexible career choice but it's up to us to manage our mindset – to manage our boundaries, set achievable goals and not over commit ourselves. If you are a high performer, people pleaser, find yourselves over committing and can't say no to things, then this topic is for you as it's highly likely you'll suffer from burnout.
Working out how to prevent burnout before it starts is very important and you can get burnt out even working part-time as much as you can working full-time, working, or working flexibly from home as much as you can be in the office, so having these strategies in place is brilliant.
Dr Jacqueline Kerr, who's a burnout expert, joined me for this week's podcast! She recently did a TED talk on how to stop burnout before it starts and she shares some of her tips in the show. Check out a sample below.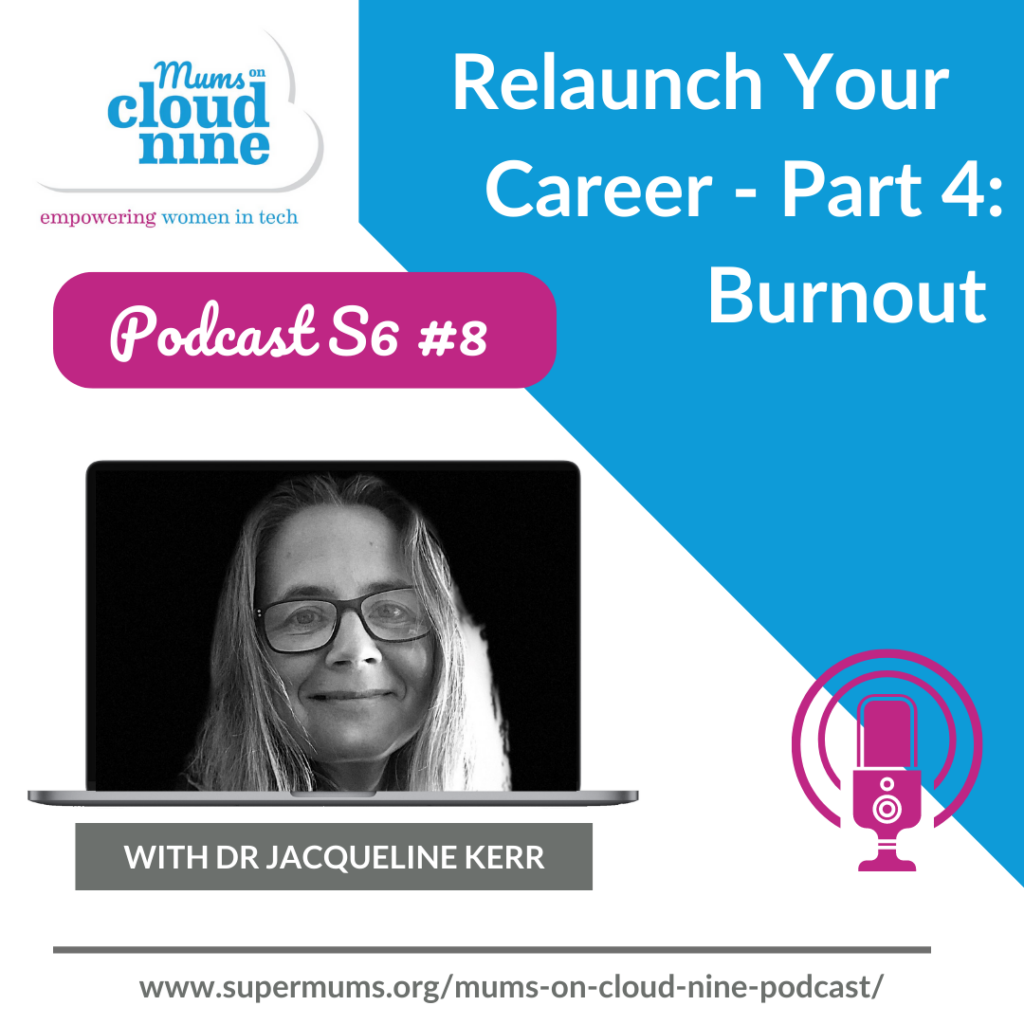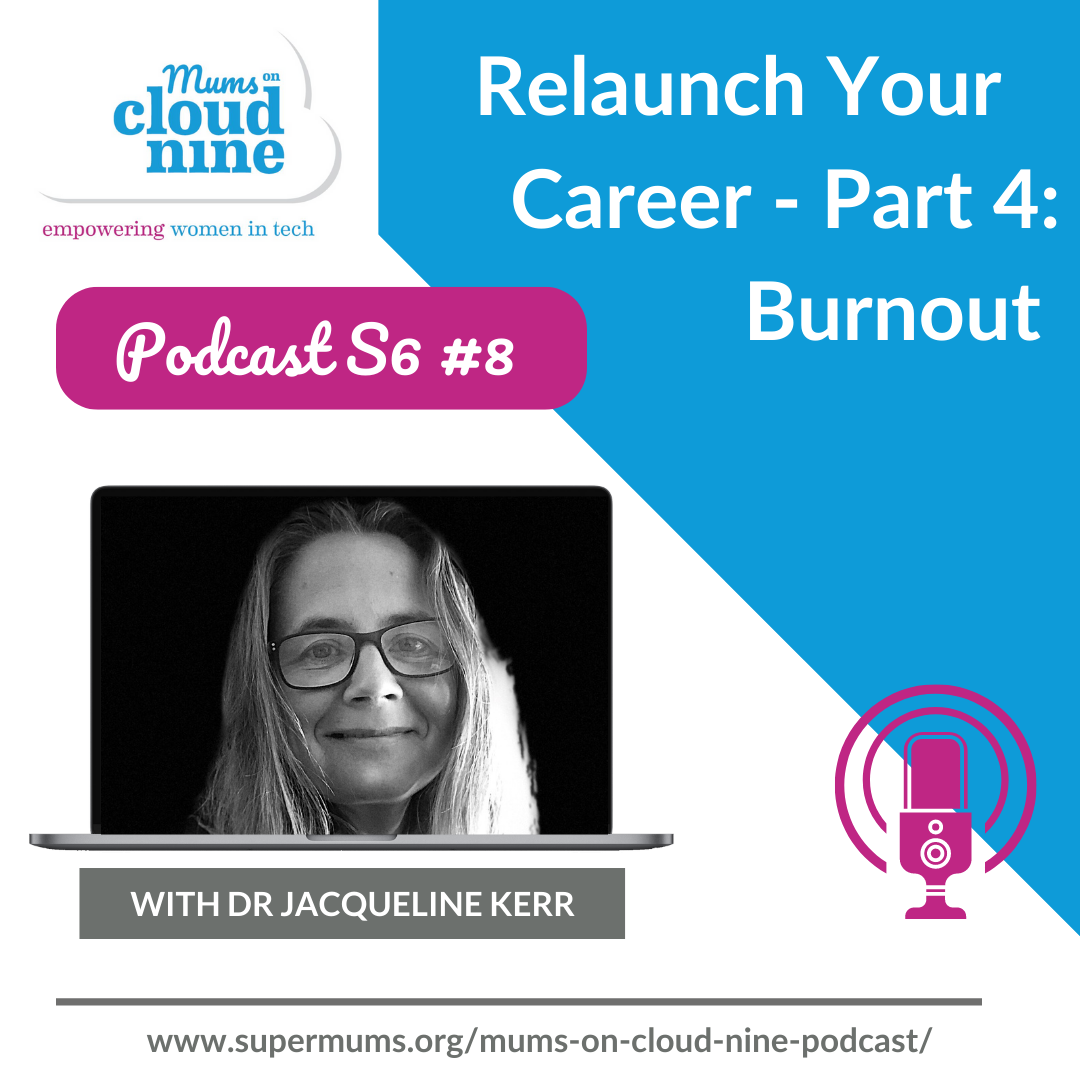 What are some of the warning signs are of burnout?
An early sign to think about is resentment – resentment for the things you're doing, the people around you, when that starts to become rumination.
Its when you're talking about exhaustion, cynicism, really sort of wondering why you're doing what you're doing anymore.
Starting to not care about the people around you. That's part of that cynicism.
Ineffectiveness. That doesn't mean that you're not being productive, it just means it could be taking you a lot longer to get to where you're going. And you may not have even recognized that change. You're still sort of going, well, I'm getting there, but you don't realize how much extra effort's taking you.
If you keep ignoring these signs, your body will eventually just crash on you and either you can't get out of bed or you start having panic attacks, or you end up going to the doctor. Because your hair's falling out and, and, and you're having other symptoms of illness like adrenal fatigue.
How can we prevent burnout?
First be able to recognize where is stress in my body?
When I allow myself to feel emotions, where do I feel it? Where do I recognize it? What are my symptoms that I know? If it's getting, you know, short with the kids, if it's saying things you wouldn't normally say, if it's expressing frustrations, little things getting to you. Resentment. If those are your early symptoms or that you start to, you know, do less of your exercise or, or you know, stress management routine, what are your early symptoms that tell you that you are, you are heading into that burnout phase again.
Secondly be able to feel like you're getting control, get perspective and permission. So I really recommend people do get coaches or if they've got somebody in their life that can provide perspective to say what is realistic in your life and your daily habits right now.
Give yourself permission to say, it's okay to do less, or as a mom, it's okay to take a week off of parenting, because these breaks are things we really need and to reset and, and have a different sort of mindset around expectations.
Assessing your time and commitments – how often you are saying yes, and how often you are saying no? Do you feel like you have a choice, are you making the right choices? Write down everything you do for everybody else in your life. Give yourself some gratitude that you're doing all these things! Start to look at that list and which do you actually want to do? Which is from some obligation you're feeling versus actually you love doing that thing.
Having a coach there as your third party person to speak openly and honestly, and frankly with is so important because it's confidential. You discuss all this stuff that you probably wouldn't tell other people.
How to self-manage burn-out
I think it is really recognizing what your emotions are and what your emotions are telling you and sharing those emotions with others.
Setting your boundaries and being clear to those around you about what you need and how they can better support you.
Getting more perspective on what 'okay' looks like rather than comparing yourself to others, having an over-realistic benchmark or being an overachiever.
Unlearn bad habits and start to install new ones that help you achieve better outcomes for yourself and address the issues that are arising that are causing you anxiety and stress.
Having accountability partners, who you have to report to weekly or who can have frank conversations with you if your going off piste.
The conversation continues.. if you are interested in how companies can foster a culture to create or prevent burn-out then listen to the podcast to learn more.
Avoid burnout by accessing Coaching Support
At Supermums we provide trainees with one to one and group coaching as part of our Salesforce training courses to set you up for success! Find out more here
If you don't need technical training but interested in one to one coaching or joining our group coaching – Ambitious Women Mastermind programme – for women that want to accomplish their personal and professional goals then please find out more here.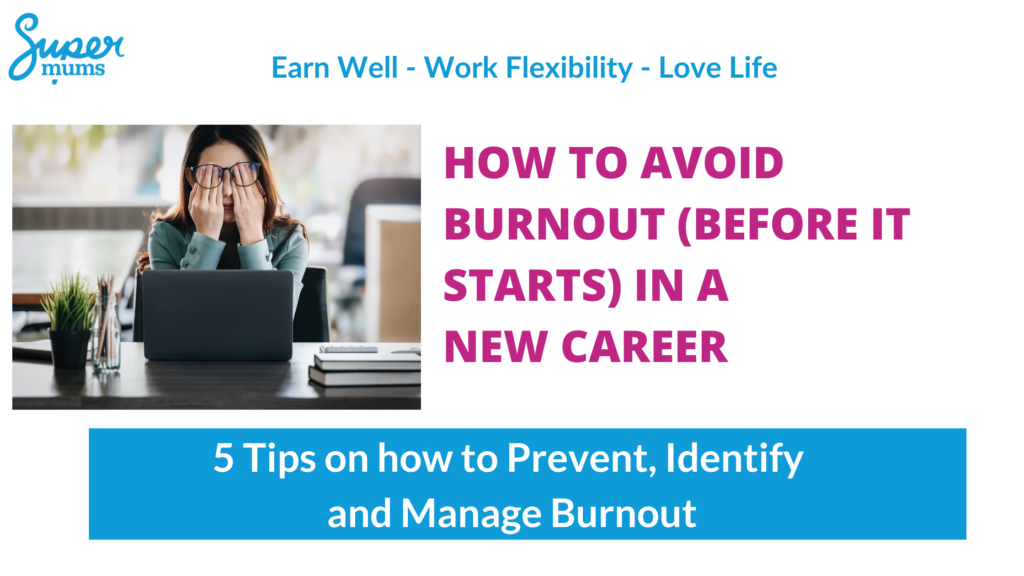 Supermums is proud to be an approved training provider of Salesforce

Subscribe To Our Weekly Top Tip Bulletin
Get Updates And Learn From The Best