#ParentsFlexUp – Create Your Career Plan – Part 3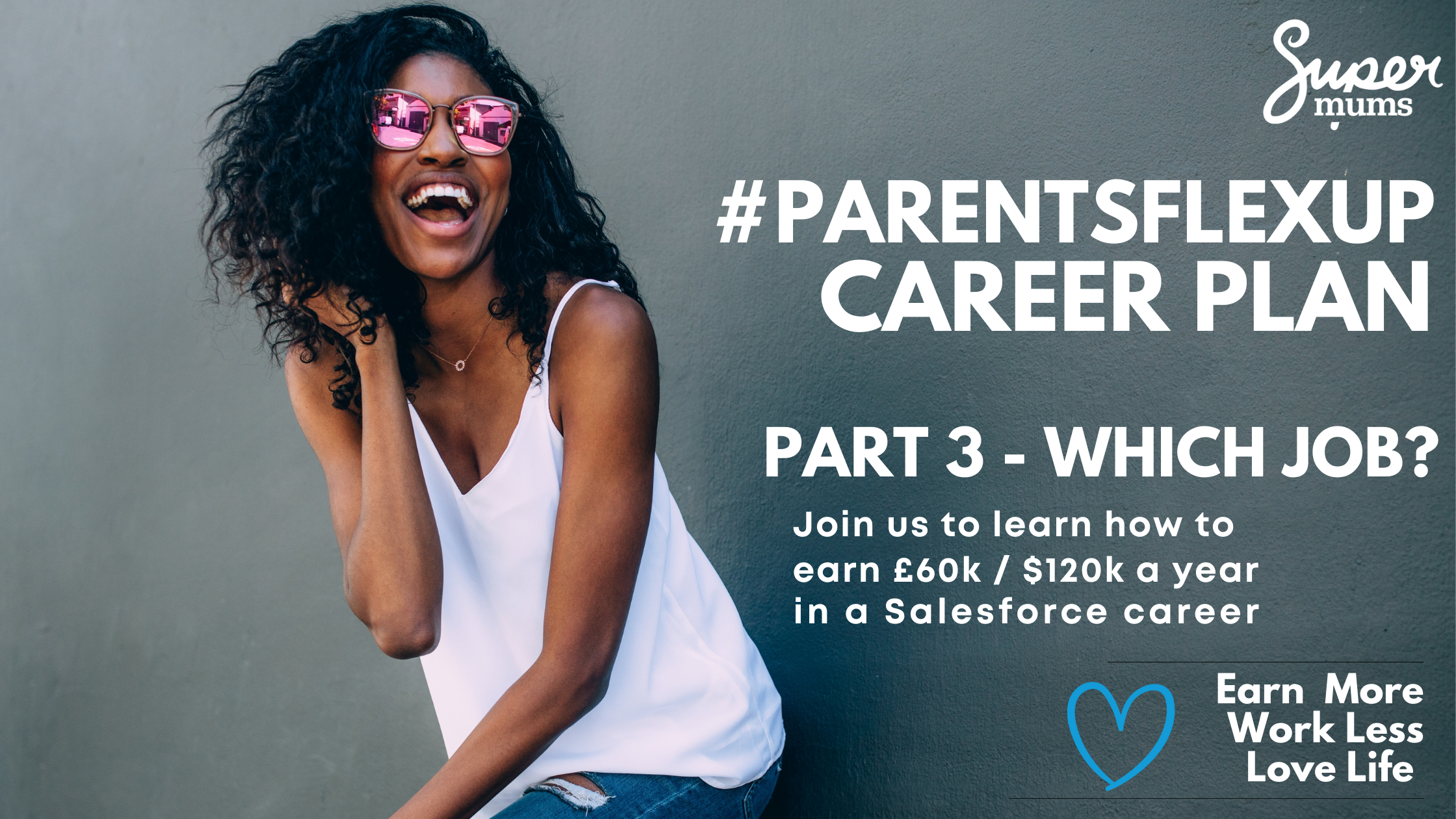 Do you want to earn more, work less and love life? Yes? Join us for part 3 of the #ParentsFlexUp Career Plan as we show you how to plan your recession proof career path and decide which Salesforce job is right for you.
During our #ParentsFlexUp Campaign we're talking about how to create your career plan to relaunch your career and work towards achieving £60/$120k a year as a Salesforce professional. We're going to teach you to earn more, work less and love life during this four part series.
During these four episodes we're sharing advice on how to create your #ParentsFlexup Career Plan:
How to create the right mindset for success (Part 1)
How and what to learn to accelerate your success (Part 2)
How to decide which job is right for you and when (Part 3)
How to make yourself in demand and indispensable (Part 4)
Salesforce – A Resilient Career Move
In this week's third show in our podcast mini series, we cover why Salesforce CRM is a resilient career choice for many during a time of recession and what a career could be like for you. Whilst providing a level of reassurance, at the same time we encourage you to not be complacent as many jobs are never 100% recession proof, and there are definite steps you can take to make yourself indispensable in your current role or stand out in the job market if there are fewer jobs up for grabs. Have a listen to this weeks show and make sure you don't miss the final episode in the mini series next week.
Resilient Job Roles in a Recession
In the eaves of a recession, we're hearing about losses of jobs across industries including the tech sector, so how do jobs in the Salesforce sector fit within this mix?
The tech sector, covers a broad range of jobs, but when we focus in on Salesforce, it is fundamentally a CRM system which is the living breathing heart of a business. If the CRM is being utilised correctly, a business cannot not function without it, as it keeps customer data centralised and safe for employees to use in their day to day jobs and enables a business to monitor its performance. Therefore a team is needed to manage the CRM to maintain it's operating sufficiently which would include Salesforce Administrators, CRM/System Managers, Developers and Project Managers for example.
A CRM can also help reduce costs and increase profits of a company which is vital during a recession. It can reduce admin and overhead costs, maximise team efficiency and optimise sales through better customer service. It's important to demonstrate the value of the product, if you are in one of these roles.
Is Salesforce Recession Proof?
For the eighth consecutive year, Salesforce has been ranked the #1 CRM provider by International Data Corporation (IDC) in its latest Worldwide Semiannual Software Tracker.
Salesforce continues to grow its overall market share position and increase revenue year after year, contributing to its #1 ranking. Additionally, the data shows that Salesforce has leading market share in IDC's segments for sales applications, customer service applications, marketing applications, model-driven application platforms, and enterprise community applications.
Salesforce has shown consistent revenue growth year on year even throughout the 2008 recession and 2020 pandemic. Salesforce isn't just a small part of a companies infrastructure, there suite of products power many FTSE 100 to small companies to function every day.
Where you might see job retractions is companies putting their Salesforce implementations on the back burner potentially if they haven't yet started their implementations, but there have been competing pressures around companies needing robust systems for their teams to work flexibility.
Salesforce continues to talk confidently about the growth of the Salesforce job market and the significant gap in talent.
A study in Sept 21 estimated that the Salesforce Economy Will Create 9.3 Million Jobs and $1.6 Trillion in New Business Revenues by 2026. Check out the International stats here.
How to decide which Salesforce role suits you?
It partly depends on your personality and your appetite for learning.
Do you like a quick or slow paced role?
Do you get bored easily or do you like variety?
There are four options for you to initially consider. You can kick off your career in any of these avenues and plan out a learning and progression route in the same or different role after 2 years to steadily increase in salary:
Do you get bored quickly, like to think quickly, love new challenges and have a thirst to learn?
Then a role within a Salesforce Consultancy is probably best suited to you. As a Salesforce Consultant you have the opportunity to work with a wide range of clients and industries, on a range of projects that will embrace a suite of products. You have to love being out of our comfort zone and enjoy the thrill of meeting new people, learning new products and finding solutions to problems within a focussed time and budget.
Do you like a steady routine, a familiar environment, have a spirit for helping people, trouble shooting and a bit of innovation?
Then a Salesforce Administrator role is probably best suited to you where you can really embed yourself within an organisation and manage their internal CRM. You will be focussed on really understanding the business and supporting their staff to be happy users of the system every day to achieve business goals.
Do you love being the agony aunt or fixer?
If you enjoy talking to people all day, being a listening ear, getting to the root of an issue and solving problems through technology, then a Business Analyst is probably best suited to you. In this role you really like to get under the hood, you like to map everything out so it's clear for everyone and you love to hear and solve people's pain points. You don't necessarily need or want to fix the problems but you will be happy to identify and communicate what needs doing.
Do you relish organising people to get things done? Are you the co-ordinator or social organiser who loves to plan the who, what, when and how?
Then a project manager role is probably best aligned for you. If you have an appetite or background in project management then it's easy to transfer these skills over to Salesforce. Understanding the world of agile project management will set you up for success.
How to Learn Salesforce to Accelerate Your Success
If you want to try out some of these these different roles, securing initial shorter term contract positions in companies can be a great way to start out and build your experience. You can then steadily increase your day rate over a couple of years. Alternatively you could land that first permanent job role. It would be advisable to discuss, at the outset, what the career progression route could look like to see what opportunities they could offer you. Ideally you should create a 2 year career plan with an employer which talks through learning and certification goals and gives you that clear performance and salary advancement plan to work to. If it's not an option, after 2 years you might provision a jump into another company if that's your step for progression.
Learn more about a flexible well paid career?
A Salesforce career can offer you great salaries and flexibility in a skill that is in high demand.
If you want learn more about a career in Salesforce and our training programme then check out 'What is a Salesforce Career' Page.
If you are interested then join our 5 day challenge and book in a free 30 min career consultation with one of our career coaches.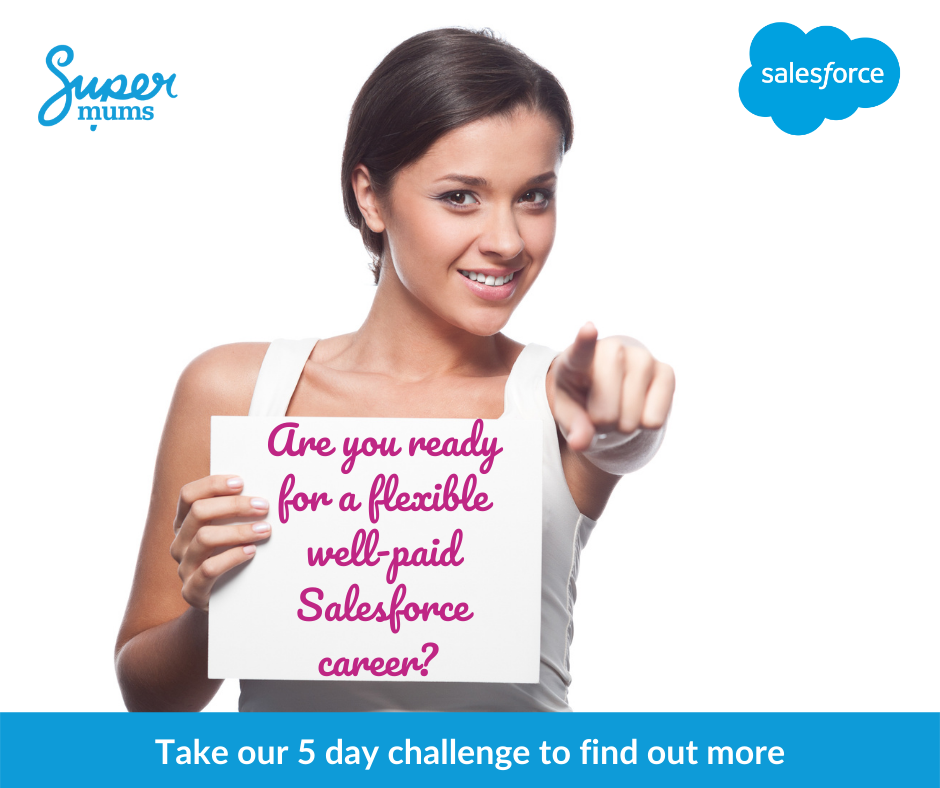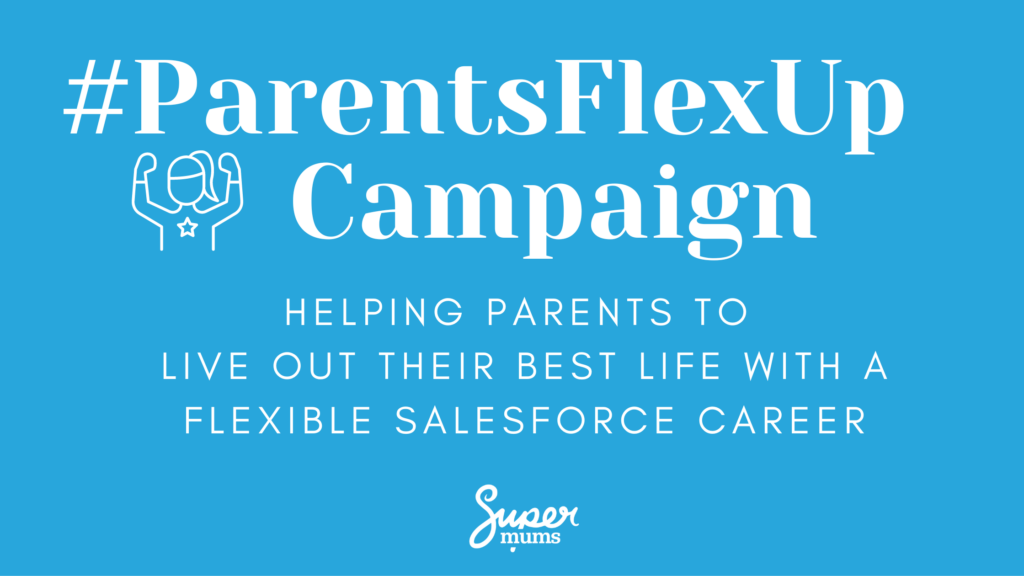 The #ParentsFlexUp campaign is being proudly supported by:





Subscribe To Our Weekly Top Tip Bulletin
Get Updates And Learn From The Best