#ParentsFlexUp – Create Your Career Plan – Part 2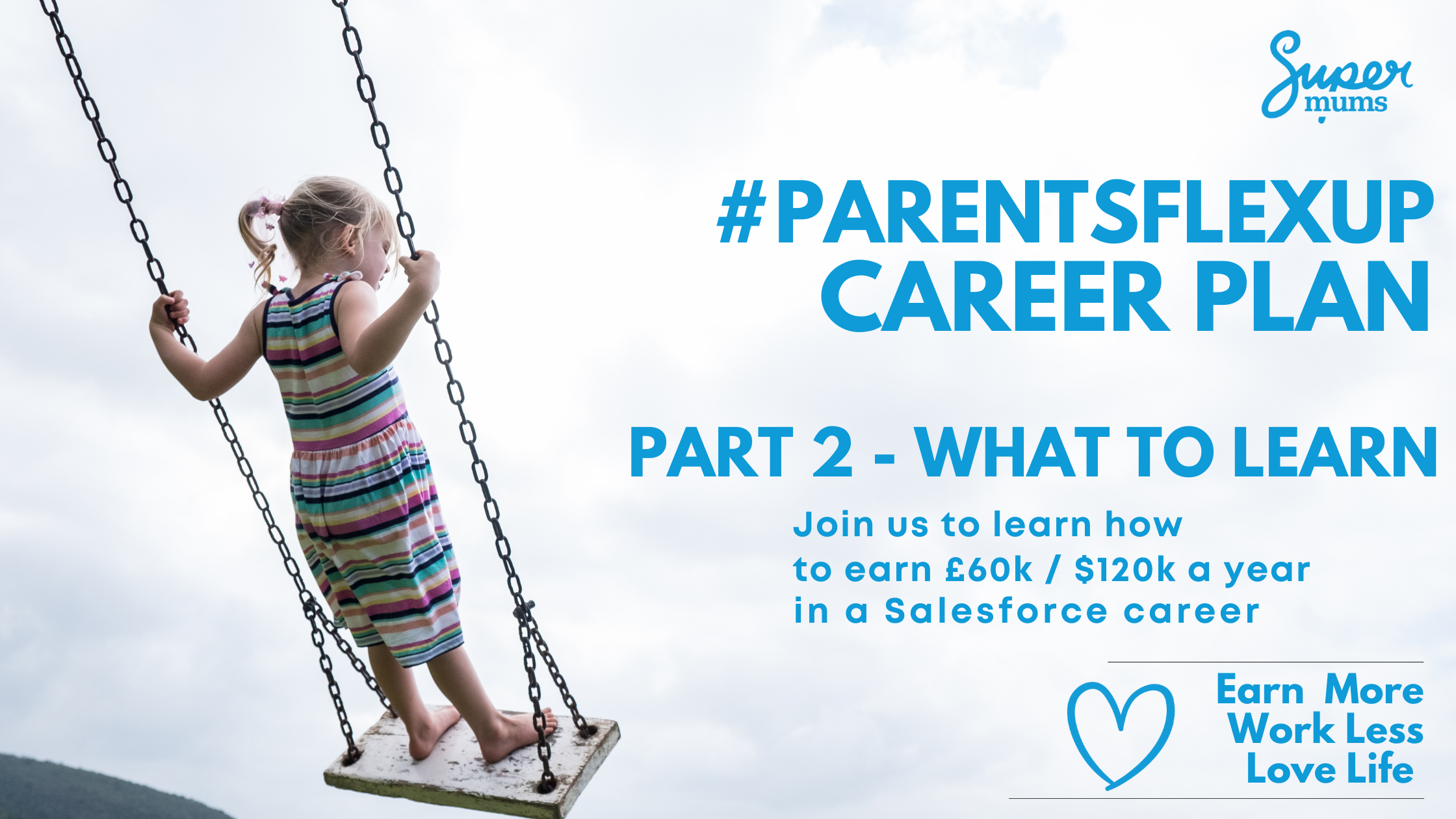 Do you want to earn more, work less and love life? Yes? then join us to create your #ParentsFlexUp Career Plan.
During our #ParentsFlexUp Campaign we're talking about how to create your career plan to relaunch your career and work towards achieving £60/$120k a year as a Salesforce professional. We're going to teach you to earn more, work less and love life during this four part series.
During these four episodes we're sharing advice on how to create your #ParentsFlexup Career Plan:
How to create the right mindset for success (Part 1)
How and what to learn to accelerate your success (Part 2)
How to decide which job is right for you and when (Part 3)
How to make yourself in demand and indispensable (Part 4)
Can Anyone Learn Salesforce?
Launching a new career requires a commitment to learning at the outset, but in the world of tech, learning doesn't stop there. An appetite is needed for life-long learning to keep pace with innovation, to keep you relevant and to be trusted as an expert. Anyone can learn Salesforce if they are motivated to learn and they choose the right type of training that suits their learning style and habits. Salesforce CRM is great to learn right now, as Cloud computing is rated as one of the most in-demand skills by employers and a good career choice in a recession. Listen to Part 3 to learn more.
If you are launching a new career in the Salesforce space then people often ask what is it that i need to learn in the first two years to accelerate my salary and career path, especially if you have initially taken a pay cut. Here is our recommended game plan:
What to Learn when Starting a Career in Salesforce
Year 1
Admin Certification – This is the foundation knowledge and certification as it gives you the basic understanding of the product, what it can offer and how you can configure it using clicks not code. It gives you the ticket to apply for a Salesforce related role as you have mastered the basics. Within the Supermums Admin Course we provide live training, but also practical theory and live work experience to really master these skills before applying for a job.
Business Analysis Skills – Implementing Salesforce is all about solving business problems and generating a return on investment for a company. Your second investment should be in understanding how to conduct business analysis skills so you can formally elicit and document requirements and prioritise them to understand where to focus time and money. At Supermums we offer the Consultancy Skills Course which equips you with these BA skills so quickly ramp up your skill-set and capabilities as a Salesforce professional. These extra skills can add an extra 10k to your CV.
App Builder and/or Advanced Admin – To consolidate and master your admin skills, it is recommended that you quickly progress to complete your App Builder and Advanced Admin Certs as the content overlaps and complements the admin cert nicely. Adding these certs will certainly nudge you head and shoulders above others at interviews and also add to your salary count.
Year 2
During Year 2 you want to start to niche down your career path and decide which route you want to take:
Product Cloud Certifications – We would recommend niching down on a product that lends itself to your industry background and expertise to really add value and to get practical experience working with this product. You could be looking at the Sales Cloud, Service Cloud, Financial Services, Non Profit Cloud, Marketing Cloud, Field Service Lightning and beyond. Which product/industry are you most comfortable with? Selling your Industry Background and experience combined with a specialist cloud niche again can add10k brownie points.
Developer Certifications – If you have a real appetite for coding and would love to move down this route, then starting to progress through Dev certifications starting with the Platform 1 certification would be the right path for you.
How to Learn Salesforce
The best way to learn Salesforce will depend on your preferred learning style and learning habits. If you find yourself struggling to learn something, or not motivated to learn, then review the areas below and check if you have selected the right type of training partner that aligns with your styles and habits.
There are four common learning styles:
Visual – you enjoy seeing visual demonstrations of the product, seeing run throughs, watching videos, presentations and pictures.
Kinaesthetic – you enjoy practically working through exercises to really get a feel. You enjoy learning by doing and getting stuck into the product to really understand how it works.
Audio – you enjoy listening to people to understand how to do something, whether it's a live trainer, video, audios, podcasts etc.
Audio Digital – you prefer reading things to learn how to do something and need all of the detail to understand the rational and logic behind things.
Learning Habits
Live Training – Are you motivated by having set times and dates with live trainers to take you through a learning journey to keep you accountable? You like working in groups and/or one to one with trainers and mentors to ask questions, seek advice and maintain concentration.
Pre-Recorded Content – Are you self-motivated to plan your learning journey and complete learning modules to build your knowledge and confidence? You prefer working independently in your own pace to get study done in your timeframes and seek help from peers only if needed.
In either option the following tend to be important ingredients for success:
Setting Boundaries
Create a Study Plan
Create Accountability
Being Present
Accepting Recognition
Rewarding Yourself
How to Learn Salesforce to Accelerate Your Success
Many trainees have joined the Supermums Admin and Consultancy Skills Course as they have struggled to implement their own learning plan and learn Salesforce from pre-recorded content. They have subsequently accelerated their learning through attending our live training programme with clear deliverables each week that provided a blended learning style.
If you want learn more about a career in Salesforce and our how our training programmes can help you achieve success, join our 5 day challenge and book in a free consultation with one of our career coaches.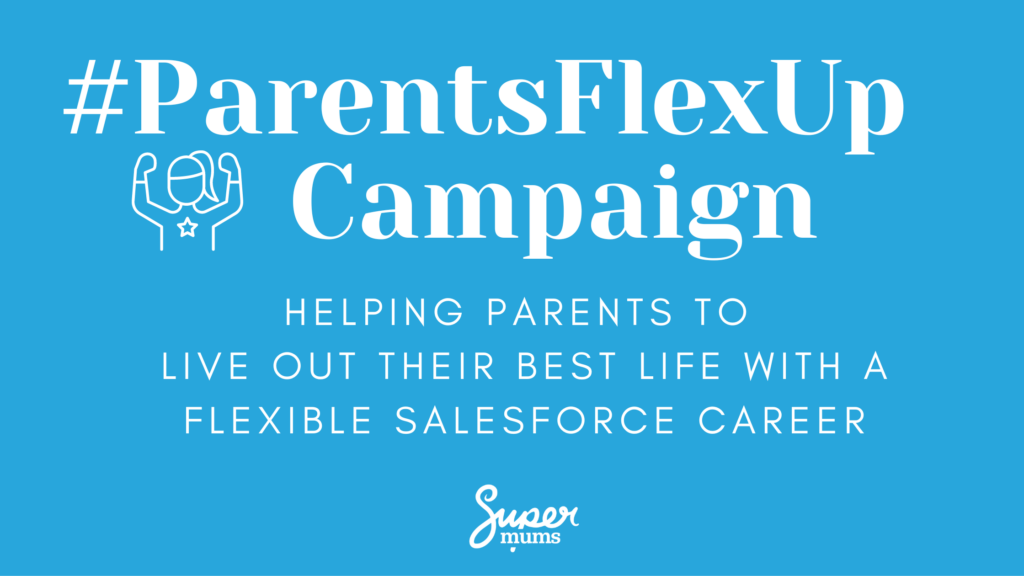 The #ParentsFlexUp campaign is being proudly supported by:





Subscribe To Our Newsflash
Get Updates And Learn From The Best