With a new year just round the corner, its time to sit back, take stock and reflect on the past 12 months. For the year ahead, will you set yourself new goals? Or will you change your habits instead to reach those goals? We wanted to shine the light on these and the difference between them.
'Atomic Habits' by James Clear highlights the importance of how making tiny changes can lead to remarkable results. He reflects on the difference between goals and changing habits. Goals can be something we work towards, achieve and conquer but the happiness and motivation can wane once we hit the goals, whereas if we focus more attention on changing habits in the process of achieving a goal, we can accomplish a more fullfilling life by creating an ongoing habitual change that helps us achieve more goals overall.
As an example – If you are setting your intentions for 2022, would you prefer to set a goal for achieving a Salesforce certification or do you want to focus on creating a new habit around life long learning and achieve multiple certifications along the way?
The risk of not doing the latter is that you could set a goal and achieve the cert, but what's next? You are at the peak of the mountain and looking down. Whereas if you have changed a habit around life-long learning, you can celebrate reaching a milestone but you are still climbing towards your goals.
At Supermums our mission is to empower and motivate women to engage in life-long learning to accelerate their Salesforce career. Once you start on the #Salesforce journey there is always more to learn, more certifications to gain, more products to skill up in. Success is about creating a new habit and enjoyment for life-long learning that goes way beyond bagging the first admin certification.
Below we have shared some strategies that our team have adopted, instigated or taught to support behaviour change for life-long learning but in-deed these can support any other behaviour change:
Setting Boundaries
Creating a habit is about making it a routine so it's good to block out a regular time in your diary to do study and appreciating the value, confidence and buzz you get when it's completed.
Creating a Plan
If you carve out time in your diary for something, you are more likely to look forward and commit to this time if you have carved out a plan for what you intend to study and when so you have a clear intention and focus. Our students really like our study schedules that tells them exactly what to do each week.
Creating Accountability
Trainees sign to our course as they value the weekly accountability when a mentor has to review their weekly schedule of homework. The trick is to maintain this momentum beyond the initial training course by either seeking a new accountability partner or embedding new behaviours as the norm.
Fostering Peer Support
To maintain momentum post training courses, our Supermums team members and alumni have teamed up as study buddies and meet weekly to study for new certifications.
Being Present
If you aren't very good at self-study and easily get distracted, you might prefer showing up at live in person or virtual events to learn something. We arranged the CPD programme and office hours events to help our community get focussed on learning one ISV product a month. Make sure you have 100% attention.
Rewarding Yourself
What is your motivation for embedding a new habit and how are going to reward yourself. What will it mean for you if you achieve this new habit – a greater salary, more holidays, a bigger house?
If you would benefit from a clear plan and accountability to kick start a new habit then think about joining our: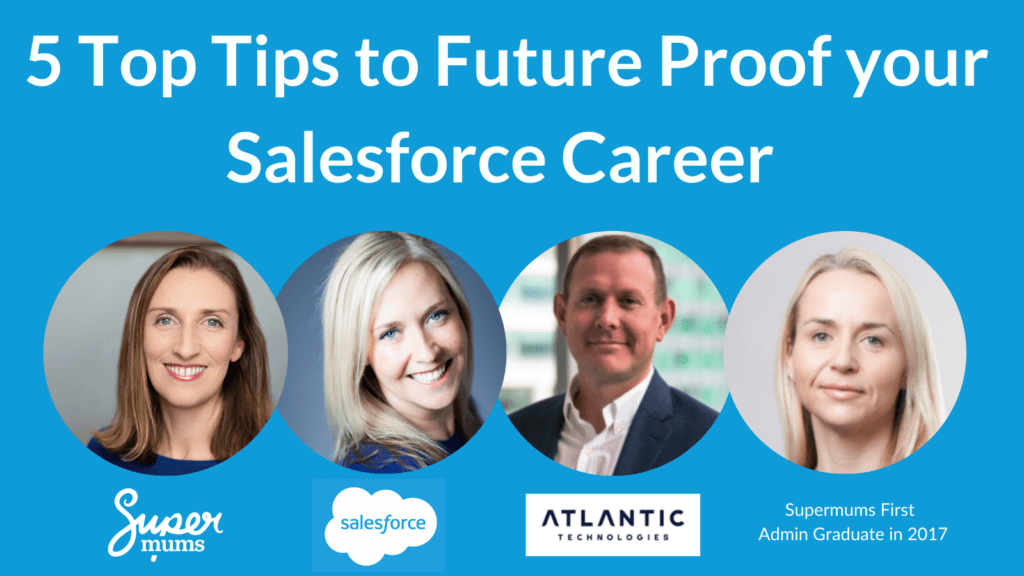 5 Top Tips to Future Proof Your Career from Salesforce Industry Experts
Check out our top 5 tips to future proof your Salesforce career – shared at our 2021 Graduation event by Supermums, Salesforce, Atlantic Technologies, Own Back Up and our first graduate from 2017.