This week I am looking at resilience and what makes us strong to power through hardship, set-backs and challenges and where to find the motivation and determination to carry on and sail in a new direction.
Right now, times are tougher than usual, and for many facing different circumstances in their life and it requires effort to change career, find a new job and learn new things which can make you feel overwhelmed or sad.
Personally, i changed to a career in Salesforce because i needed a more resilient career, and the opportunities presented by the growth in technology seemed the right way to go. However, finding the motivation to change careers and invest in new beginnings takes guts.
I can hand on heart say, that my experience and understanding of NLP, coaching tools and techniques which has given me strength of mind, emotion and behaviour to weather storms, take on new challenges and stay true to my mission.
I invested over £4k of my own money in 2005 and spent the equivalent of 4 weeks learning NLP and coaching training when I was aged 25 and it changed my life for the better. Coaching has been integral to what I have done since then and now I coach trainees on our Supermums courses to supercharge their confidence and skills.
Throughout my career I have benefited from working with different coaches. I currently invest in a group coaching programme, which keeps me accountable, motivated and focussed to drive forward. I love learning and applying new coaching tools, and the support of the group is amazing. It's invaluable. I am delighted to share my latest podcast interview with Ruth Kudzi this week.
So what makes me resilient and gives me the ability to bounce back from set-backs? Here are my 4 top tips:
Understand Emotional Intelligence – understand where you on in your emotional thinking and why, appreciate and empathise with your feelings, but take control of them. Look at ways to shift that pattern of thinking to work towards a more positive outlook.
Create Positive Mind-Set – harness the power of positive affirmations, positive language, positive memories and positive feedback. Work on acquiring these resources now so you have them available to you as and when you need a boost.
Model others success – Identify people who demonstrate the resilience and courage you aspire to achieve. Investigate and explore their behaviour, values, traits, and skills so you can replicate their model of the world and follow suit.
Different Perspectives – Be aware of your own negative patterns, limiting beliefs and the negative voice on your shoulder, and tell them to where to go. Surround yourself with people who can lift you up, provide a different perspective, help you overcome your own negative thought patterns and keep you focussed on moving forward.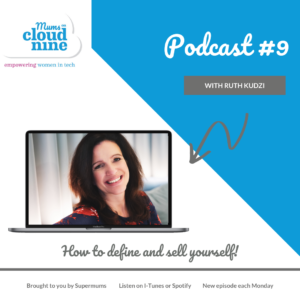 This week, check out our latest podcast with Ruth Kudzi about the power of coaching and how i can help you to be stronger and more resilient. Tune in here.
If you like what you hear, please subscribe, rate and review on I-Tunes.
Get inspired by our Day in the Life of Case Study with Julie Mitchell who shares how Supermums training transformed her thinking from imposter syndrome to self belief. 
Click here to read her story and watch her video.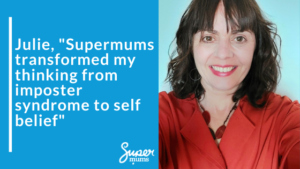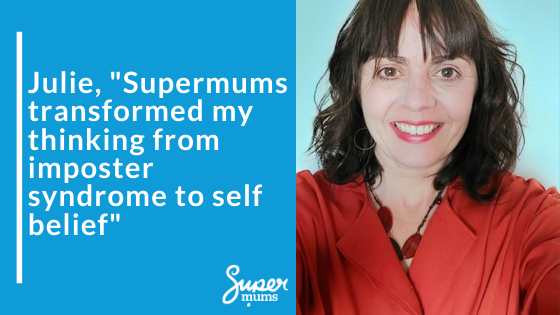 If you would like to build a more resilient career with Supermums then here are your next steps: