10 Steps to starting your career as a Salesforce Professional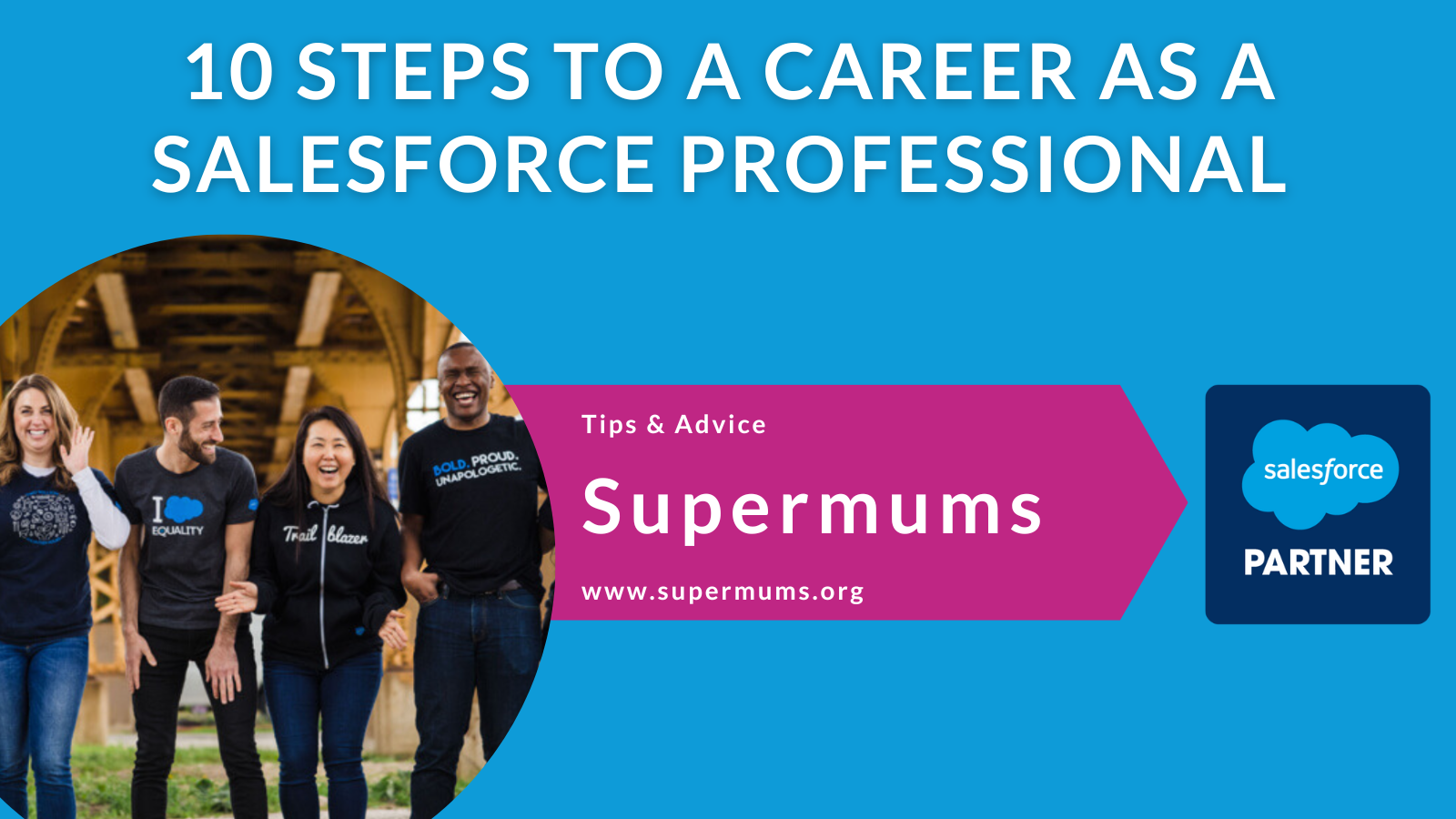 Salesforce is the world's #1 CRM – that's a Customer Relationship Management System – and is trusted by 150,000 global companies and 30,000 non-profits including 99% of Fortune 500 customers. It is used by customers across most industries and departments from sales, marketing, operations and beyond. How do you get your foot in the door? A great place to start for any Salesforce job role is to get your foundation knowledge in Salesforce Administration.
By 2026, the Salesforce ecosystem will have created 9.3m job opportunities from their growth in product sales but to achieve this there is a need to attract and upskill talent for these roles and bridge the digital skills gap as there isnt enough talent currently. This gap in talent is amplifying competition and demand for talent and boosting salary levels.

Companies want to hire Salesforce talent with relevant Industry Experience, this means you can work in a sector that you are already familiar with….if you want to! For example if you previously worked in Sales or Marketing, you can work with Sales or Marketing teams to implement Salesforce; if you worked in Hospitality or Health, you can work on projects where they are implementing Salesforce in Hospitality or Health companies. This can be your best starting point and you can diversify from here.

To find out more about a career in Salesforce and what this means, visit our website
Ok, so you've done some digging and like what you see. What's the next step to get you started on your road to success using Salesforce?
A great place to start for any Salesforce job role is to get your foundation knowledge in Salesforce Administration. From here you can get your foot in the door by becoming a Salesforce Administrator or stepping into a role at a higher paid level such as a Business Analyst or Project Manager if you have relevant transferrable skills. Don't let the term 'Administrator' out you off, especially if you have been at senior management level. The demand for Salesforce Admin skills is skyrocketing because of the important role they play in helping companies reach their goals using Salesforce. In fact, according to indeed.com, Salesforce Admin is a top-five tech job…..and this entry level understanding helps to form the basis of your understanding of this platform and the doors and opportunities it opens up.
Since everyone's career path is different, the below is not intended to be used as a checklist of things you must do, rather it is intended to be a guide to help point you in the right direction:
1 – Find out more about the Job Roles available and how you could progress your career path
Exploring this will give you an insight into the types of roles available including as an Administrator, what these roles include, salary expectations and how to get involved.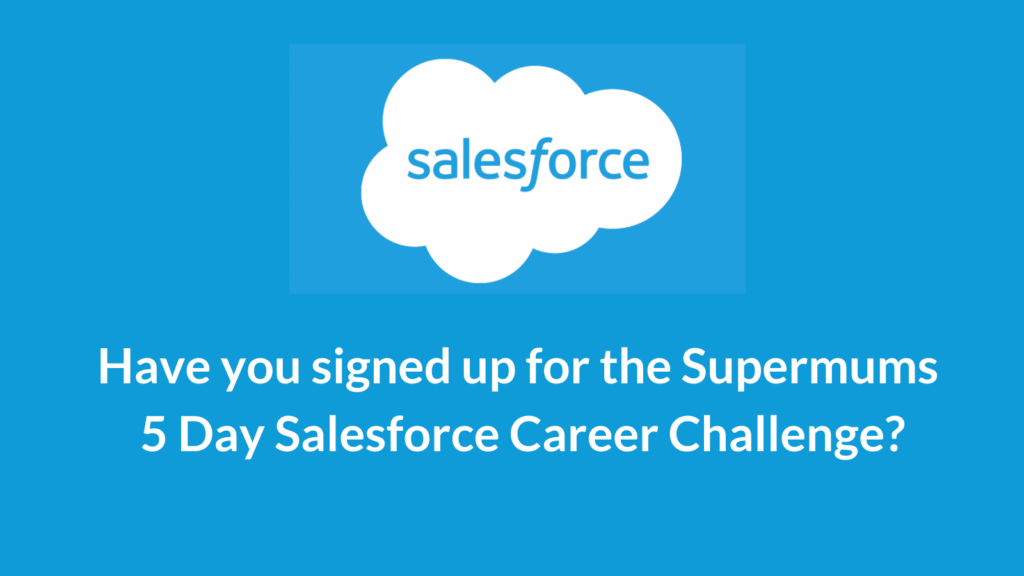 2 – Find out how to upskill by checking out training options available
There are both free and paid for training course options available in the market place:
Learn with Salesforce – Study on their instructor led Admin ADX 201 course which will set you back £3k.
Learn Supermums – We deliver the above Salesforce Authorised Admin ADX 201 Administrator course but we also include a real work experience project, career coaching and 1-2-1 mentor over 6mths for just £2k. As a non-profit we have made it our mission to discount our courses from typical commercial rates to help parents retrain and relaunch their careers.
Learn with Trailhead – Learn solo at your own pace with Trailhead, which is free and self-study platform from Salesforce, where you complete the modules yourself and earn points and badges on your learning progression.
Learn with Other Providers – There are a range of other independent providers also available.
Choosing a training course to suit you depends on your learning style – are you motivated to self-study, do you prefer live training to self-study reading, do you want to get hands on experience and one to one guidance and support. It's also worth considering if the training resource is credible by potential employers and will give you a competitive advantage over others at interview. The most reputable and highest quality training course for your CV is the ADX201 Admin Course which we deliver at Supermums as it's Salesforce's Authorised Training Course delivered by certified instructors.
A few of our Supermums trainees started out trying to learn for free but then chose to pay for the Supermums course for the following reasons:
3 – Seek independent validation of your Skills through references
We would highly recommend getting a mentor or supervisor – someone who can validate your newly found skills authentically ready for your interviews. Ideally a mentor will see you build a practical demo org or real-life project and can testify that you can deliver the admin competencies independently. It's the reason we provide 3 references to Supermums on our Admin training course from their 1-2-1 mentor, work experience supervisor and training manager who can verify the completion of work. Ask for references on your LinkedIn profile so any recruiters can see them straight away.
4 – Beyond Technical Skills – What Other Professional Skills do you need
Being a great Salesforce Professional isn't just about getting the Admin Certification. there are a lot of great transferrable skills such as industry experience, communication skills, management skills and other professional skills we would recommend you acquire.
Ideally every Salesforce Professional should learn and apply Business Analysis Skills. This is the ability to analyse business needs and processes and to work with a team to refine and improve them by harnessing the benefits of Salesforce technology. It also requires an understanding of how to develop a business case, how to document requirements and how to build a Salesforce platform with the business need at the core of the design.
There are various options to upskill in Business Analysis from 4 week courses to free Udemy courses. At Supermums we deliver the Consultancy Skills Course which covers the interdependent skills of Business Analysis, DevOps, Change Management and Agile Project Management. Find out more about our Consultancy Skills course here.
5 – Sell your Industry Experience
Salesforce operates in a range of industry verticals so it's well worth kicking off your career in a role that aligns with your previous industry experience. The reason for this is that when you are implementing Salesforce in a business, it is really about understanding and visualising the Industry Key Performance Indicators, refining Industry Processes, customising the system to speak the industry lingo and terminology. If you already have an understanding of an industry you already know what is important to the client and you can speak their language.
This is one of reasons why Salesforce recruiters want to hire Salesforce professionals with relevant industry experience.
6 – Build connections in the industry
The Salesforce Ohana is one big network of positive, motivated learners who like to lift each other up and celebrate successes.
You will find them most active across Twitter, LinkedIn and Facebook groups but they thrive on all platforms depending on your choice. The first thing to do is to craft your personal profile so it talks about your Salesforce experience, your ambitions, goals and relevant experience. Then start following, connecting, commenting, liking and posting around Salesforce related topics with influencers and grow from there. Here are some recommendations connections to get started.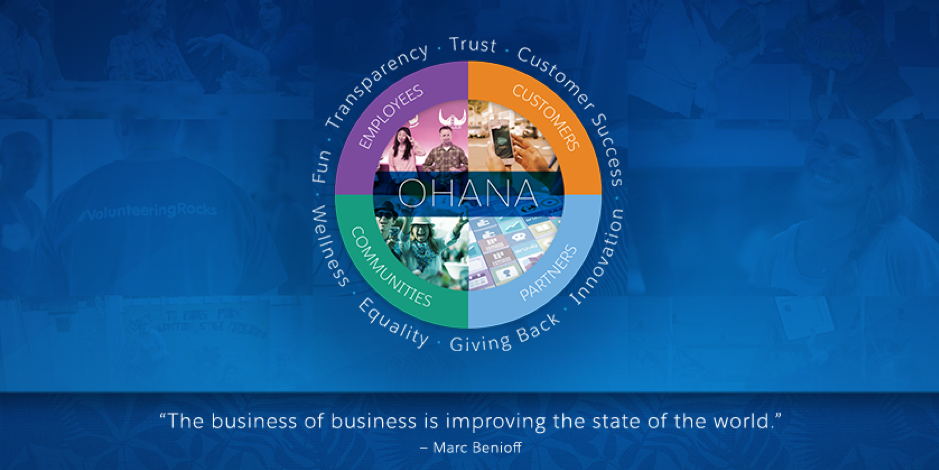 7 – Find a job in the Salesforce ecosystem
There are many great ways to start or change your career in the Salesforce Ecosystem. Many Salesforce jobs are managed via Recruitment Agencies and working with a dedicated recruitment consultant can be a great way to land your first job. This is because they can mentor and support you to pitch yourself in the best way for free. They can help you prepare your CV and prep you for interview, and we have seen first hand the difference this makes when candidates are presented to employers by a recruiter vs independently.
Recruiters are great at selling you into a customer so you don't have to sell yourself initially. Alternatively you could search and go direct via Jobs Boards, LinkedIn Jobs Ads or research and approach companies directly. If you identify and approach companies directly with a tailored covering letter it shows you are really interested in working for them.
Reach out to the Supermums Recruitment Team if you are looking for work Visit https://supermums.org/recruitment/job-listings/
8 – Get Involved in the Ohana – Attend Local User Groups, Events and Conferences
Attending Salesforce events like World Tours, TrailheaDX, and Dreamforce are experiences like no other! Find one near you through the links below, start meeting your Ohana, and get the hands-on Salesforce experience you want. Visit: salesforce.com/events
Get involved in Community conferences that are put on by members of the community, for the community! Attending one will give you access to incredible content, local Trailblazers, and many inspiring stories of success. Visit: trailhead.salesforce.com/community/conferences
Attend a community hosted conference
Meet your local Salesforce Ohana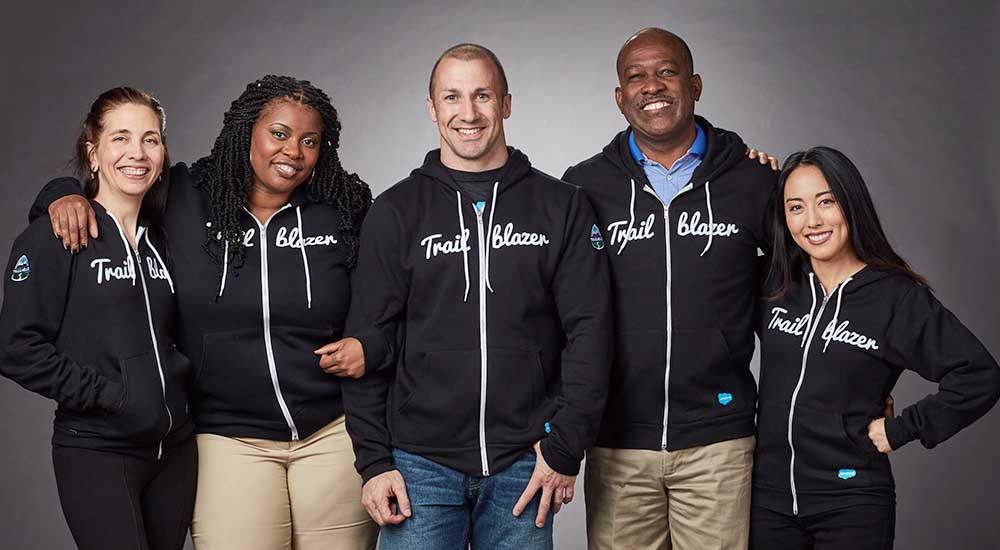 9 – Plan your Career Progression to Double your Salary
Salesforce offers a wealth of career opportunities and you should create a clear road map to double your salary. Having these goals upfront will keep you motivated to learn and progress either within an existing employer or by moving around.
Check out our blog on the 10 ways to continue to add value to your CV and Salary and the four career paths you could take to double your salary. 
10 – Maintain Inspiration and Motivation – Listen to Industry Podcasts
With an initial trust of enthusiasm and energy we can accelerate your initial period of learning and embracing a new career, but we can all suffer from imposter syndromes, days that don't go quite right, rejected from job interviews. On these days we need to seek out positive messages and stories of people who have all been through the same experience to lift us back up and re-energise us on the way. Podcasts are a great way of doing this. To get started we would recommend: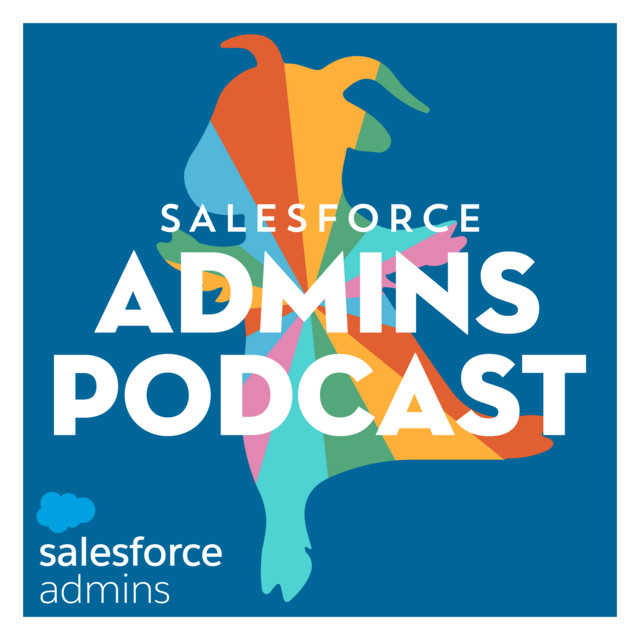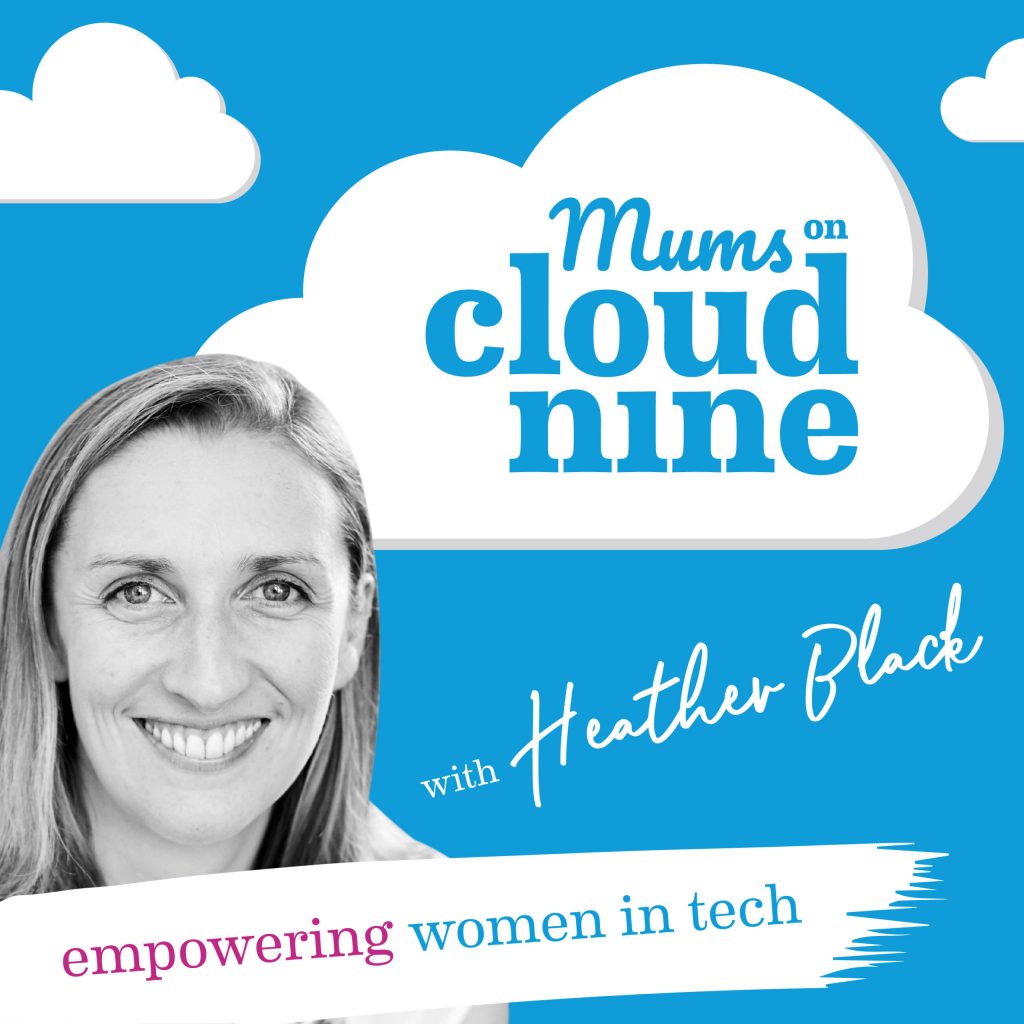 Salesforce Admins Podcast
Listen as Salesforce Admins just like you share their unique stories, bits of advice, and helpful tools for blazing their trail in the Salesforce ecosystem—and how you can find success along the way, too!
Visit sforce.co/podparty to tune in
Mums on Cloud Nine Podcast
Join over 60+ expert speakers & coaches as they inspire mums to progress their careers in tech from starting out to climbing the career ladder. It provides tips and insight on how to succeed in your career and overcome adversity that many women can face in the workplace
Visit MOCN and feel inspired and empowered
Next Steps…..
Connect with the Supermums Customer Success Coaches to discuss your current position and whether our Admin Course is right for you.
If you want to get started on your new job or career today, our Salesforce Admin Training Programme run in February, May, September and November. With the next one just a few weeks away, don't wait, start the ball rolling by speaking to us, downloading a course brochure and then take that leap of faith and GO FOR IT. We'll be with you every step of the way!
Our Admin Course is kindly sponsored by..

Subscribe To Our Weekly Top Tip Bulletin
Get Updates And Learn From The Best