5 Day Salesforce Admin Career Challenge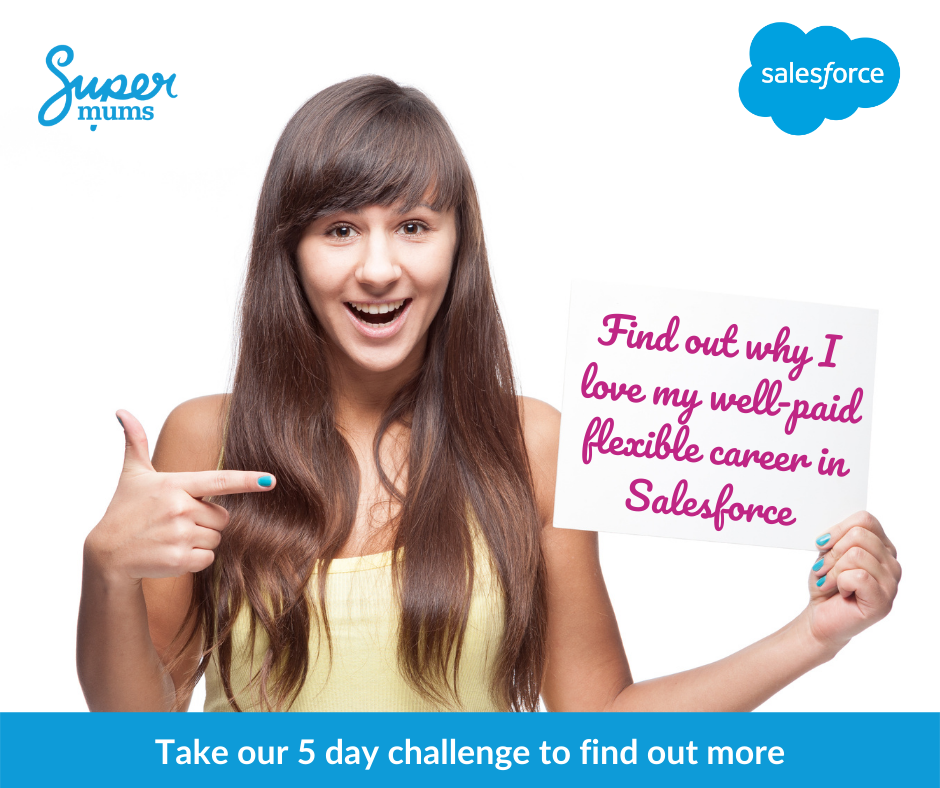 Our challenge helps people learn more about what a career in Salesforce could offer, to help you assess if it's the right fit for you.
There is a bite-sized task every day, giving you an insight in to the Salesforce world, the career opportunties and how you could transition.
Over five days you will gain the confidence, knowledge and information to make an informed decision about whether you want to learn more and whether Supermums can give you the right foundation to get started.
PLUS – Book in your free 30 min career consultation call with our career coaches.
Be warned….it could change your life for the better! … You are about to embark on a journey that tells you how a career can Saleforce can help you..
Gain an internationally-recognised certification.
Transfer your existing skills into a new career
Be empowered to work anywhere anytime using cloud technology
Earn a great salary working in a flexible job role
Get trained up in the #1 CRM and start a new career for life.

Let's get started…
Sign up and take the 5 day Salesforce Admin career challenge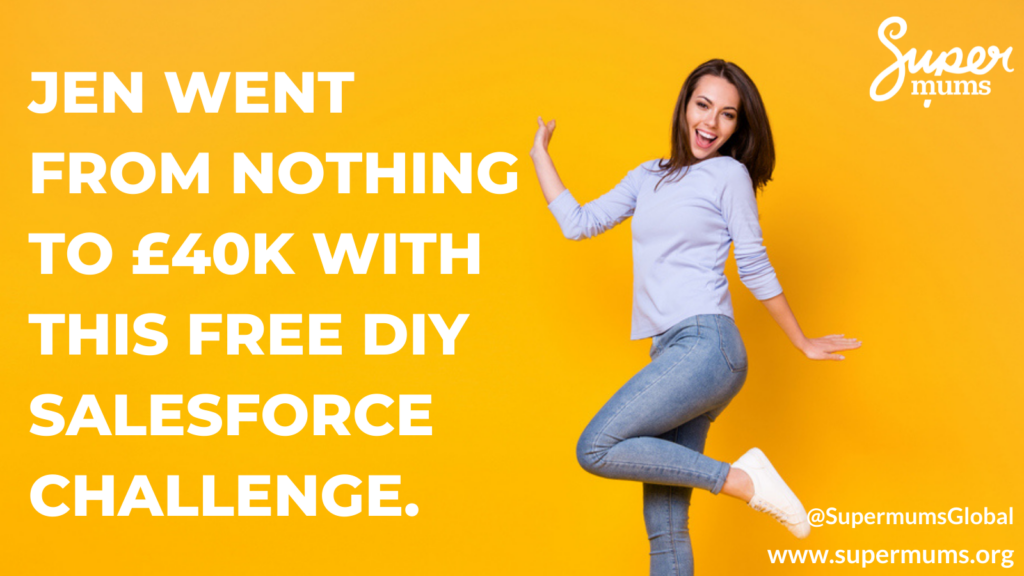 Join over 400+ trainees who are forging their new career in the Salesforce eco-system.
'The format of the course in terms of being in a specific cohort with weekly webinars and homework really worked for me as it gave me focus'
EMEA Admin cohort, Feb 2019
"Wow, you know I was debating between different courses I could take and I am so impressed with the structure of the Supermums course. I definitely made the right decision!"
USA Admin cohort, May 2020
'Gaining an insight into working with a project manager was useful and interesting as this is a world that i have never worked in before'
EMEA Admin cohort, Nov 2018
'I really liked having a group of people to work with and learn from. Also being able to interact with the tutors was really useful as some other courses are just pre-recorded but Supermums lessons are taught live and you can watch them back"
EMEA Admin cohort, March 2020
'I like how the course is structured and your own personal mentor provides feedback, tips and advice on how to perform tasks. With Supermums, anyone can learn Salesforce!'
USA Admin cohort, Dec 2020
'I found the Supermums format helped to keep me on track and accountable as i had weekly deadlines to complete the learning objectives and homework. Having the support of a mentor was great as she helped me when I got stuck or needed guidance'
EMEA Admin cohort, Feb 2019