5 Ways to Double Your Salesforce Salary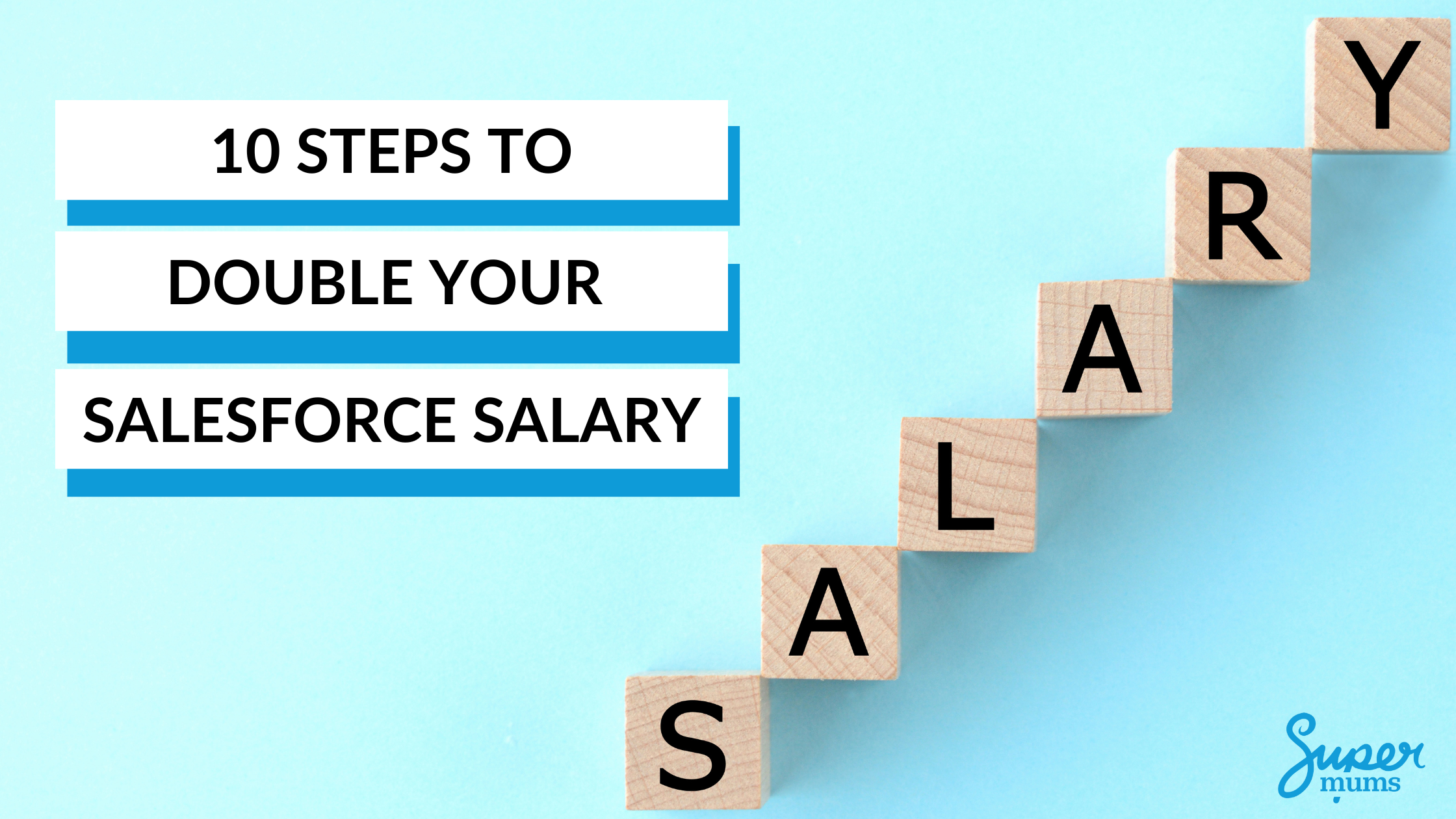 So let's be upfront you aren't going to double your salary overnight. How long it takes will depend on you, your time, your commitment and transferrable skills. Heather Black, CEO of Supermums in collaboration with Amanda Blesing, mentor, speaker and 2 x author on feminine ambition, both share their tips on how women can achieve their ultimate potential and double their Salesforce salary.
Who doesn't want to double their salary overnight BUT it takes time and effort. In this article, we have mapped out some of the things you can do that will make a real difference to your earning potential so you can have a clear roadmap on how to double your Salesforce salary. How long it takes will depend on you, your time, your commitment and transferrable skills. There are some moves that will be quicker than others to enhance your salary potential.
To put this goal into context it involves upskilling and progression from one job role to another with incremental salary increases in between. Typically you can negotiate pay increments every 1-2 years if you have tangibly added value to your CV in the ways mentioned below and double your salary within 3 years.
In terms of setting your overall career goals, here are 5 of the career paths you can decide to take to double your salary potential in the Salesforce ecosystem: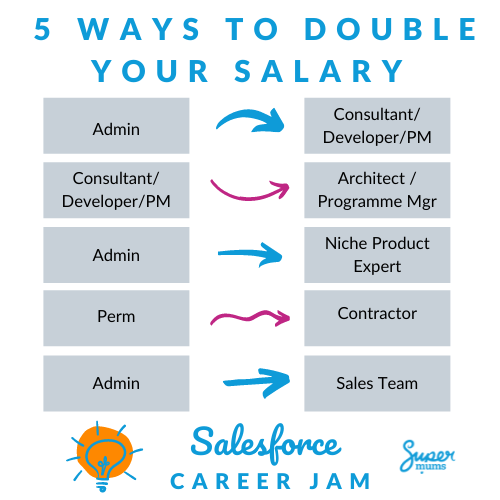 If you are progressing from an Junior Salesforce Admin to a Consultant / Developer / Project Manager /Product Owner this could take 3 years.
If you are progressing from a Business Analysis /Salesforce Consultant /Developer towards a CRM Programme Manager / Architect Roles. this could take 3 years.
You could from from a permanent role to a contractor and double your salary within a month as the day rates are higher, but bear in mind you are then responsible for own holiday, sick pay, training and benefits quite often so you have to weigh up the benefits.
You could go from being a Salesforce Admin to becoming niche product expert within a year – think Mulesoft, Marketing Cloud, CPQ, Vlocity, FSL products where there is high shortage and demand for talent so salaries are higher.
You could go from being a Salesforce Admin/Consultant into a Sales or Solution Engineering Role within 3 months and double your salary by earning commission. If you love getting people exciting about technology by discussing their challenges, proposing solutions and building out solutions as demo's, then this is a great place to be.
Keen to Double Your Salary? Let's Create Your Plan of Action with these 10 Steps to Success
To achieve your goal you need to create your plan of action. Check out our the range of things you can do to shift the dial on your salary. Here are 10 ways to add value to your resume and salary:
1 – Change Roles Every 1-2 years
Gosh! I can almost hear you know gasping with how unprofessional this sounds given this didn't use to be the norm! But for a moment, suspend your judgment and continue reading.
Did you know that men change roles more than women? And every time they change it's an opportunity to negotiate for more money.
2 years is the average time for changing roles in the Salesforce eco-system because people are thirsty to get project and product experience and to keep learning new things. You may well not get that by staying in one business. Take advantage of opportunities that come your way, stop trying to be perfect, and put your hand up bravely for bigger better opportunities even if you don't feel ready yet. You might be surprised at what's possible and your pay packet and superannuation will say thank you.
If you want to discuss job opportunities then sign up to our recruitment service here.
2 – Apply for a Role That's Two or Three Levels Above Your Current Pay Grade
Just because a company has transparent salary banding and pay grades doesn't mean you can't apply for a role two or three levels above your current band especially if you have the experience and expertise and are able to communicate this clearly.
Women in particular often underestimate themselves and their capabilities, or perhaps we took a career break and came back in at a lower level. Women too are more conscientious, considerate and compliant, so more likely to hold ourselves back thinking we need to work our way back up again.
This is a tactic that I've seen work really well over and over again in both large and small organisations. And the trick is to truly focus on building a business case to showcase the value you can add, that might not be obvious from what you're doing in your current role.
It's nobody's business what you currently earn. That question that recruiters often ask "How much are you currently on?"quite simply perpetuates the gender salary gap. Reply and ask them what the role is paying instead.
Don't let what you currently earn get in the way of what you should or even could be earning. It's likely you're being underpaid as it is. If you want to discuss job opportunities then sign up to our recruitment service – https://supermums.org/recruitment/apply-for-salesforce-roles/
3 – Conduct a Bench-marking Activity
Find out if you're being paid at the same level as your peers, or not. Asking for a role to be bench-marked is a great way to find out where your role sits on the scale within (and with out) your organisation and may just result in a sizeable adjustment in your favour. Also check out the various Salesforce Surveys, find similar job specs and ask for them a salary survey internally to share visibly if there is a gender pay gap issue.
4 – Add Consultancy Skills to your Bow Strings
Which ever role you are in getting skilled up in Consultancy Skills – Business Analysis, Agile Project Management, Change Management and Coaching will advance your salary in any of these job roles and give you a better chance of doing a great job as well as earning more. Typically Business Analysts earn 10k more than Admins, and Project Managers can earn up to 20k more.
As a Consultant you can expect to have all of these skills alongside the technical experience.
You can learn these Consultancy Skills with Supermums – find out more.
5 – Add DevOps Certifications to your Knowledge
DevOps is now being mentioned in most of the technical job specifications from Admin to Architect and everything in-between. It's highly recommended that you learn and master the principles of DevOps, one of the DevOps platforms and add this to your skill set and CV. This will contribute to your earning potential.
At Supermums we work with a number of providers through our free Peer Study Groups that offer free certifications. These could give you another 5-10k depending on your level of experience. Have a look at our next ones and join in the conversation.
6 – Add 5 x Salesforce Certifications 
To advance between the different job roles you are typically looking at earning 5 certifications each time to advance your knowledge and expertise. Product knowledge that comes with 5 certifications will advance your salary between 10-20k.
As an Admin you would take a combination of Admin, App Builder, Advanced, Platform 1, Product Cloud Certs to double your salary to become a Salesforce Consultant/Junior Developer.
From a Consultant/Developer role you would complete a combination of Product Cloud Certifications and Architect Certifications, to progress towards an Architect Role and double your salary.
For Specialist Roles, such as Marketing Cloud, you would earn the relevant credentials that relate to the products to equip you for the roles. If you fancy becoming a Marketing Cloud pro then check out course in partnership with Salesforce & Trailhead. 
7 – Sell your Professional Experience
Apply for roles where you can transfer your industry experience, management experience or product knowledge. Build up and present your portfolio of projects and expertise to position yourself as an expert. Demonstrate the ROI that these projects have provided for the customers. The more experience you can share the more salary you can leverage as they will appreciate your knowledge.
8 – Don't Shy Away from Management Roles
Women are less represented in management roles so companies want to balance out their gender split by hiring more women for management roles. Being a manager doesn't mean more responsibility quite often as you have to learn the art of building a great team, delegating tasks and planning your time. If you build a highly performing team you will all get the balance you need. By taking on a management and leadership role you can increase your salary, progress your career and focus on supporting a team to flourish below you through coaching and mentoring. To support yourself, invest in a great coach and mentor who can help you to stay accountable and in check. If you want to discuss job opportunities then sign up to our recruitment service here – https://supermums.org/recruitment/apply-for-salesforce-roles/
9 – Build your Personal Brand 
Companies will be attracted to candidates who have a good reputation and profile in the Salesforce Ohana as it's shows good will and it's also good for their own brand and customers. What can you do to share your knowledge with others in the Salesforce Ohana. Can you write blogs, create videos, speak at events, produce a podcast. It's fantastic to see what other trailblazers have created. If you love sharing and helping others then build a personal brand not to bag a higher salary, but this will inevitably be the case.
10 – Become a Third Party App Expert
Understand a suite of commonly used Third Party Apps to improve your management and use of Salesforce and demonstrate the value they can bring to a solution. Quite often learning third party apps can be on a need to know basis, but there are many apps out there that we should be proactively seeking and using to enhance the way we manage Salesforce products and create solutions. Demonstrating your experience and knowledge of Third Party Apps, particularly ones that a potential client/employer is using, will definitely add weight to your salary.
Download our Salesforce Interview Tips
At Supermums we want to accelerate your success with training and employability support. We have established a great community of Salesforce professionals and partners to deliver free and paid-for training, peer support and expert advice to help you achieve your career goals.
Included in this download is tips and advice around these 5 key areas:
Tip 1: How to Add Value
Tip 2: Talk the Right Talk
Tip 3: Sell Yourself
Tip 4: Stand Out
Tip 5: Demonstrate your knowledge and apply relevant experience with examples
Feel The Fear And Do It Anyway!
Amanda Blesing is a highly sought after mentor, speaker and 2 x author on feminine ambition – how to spark it, tackle it and see it flourish. As a former CEO, she understands the tightrope that many women walk on their pathway to the top in their quest to make a difference. Follow her or check out her website at www.amandablesing.com
Subscribe To Our Weekly Top Tip Bulletin
Get Updates And Learn From The Best