Marketing Cloud vs Pardot: Which Tool to Choose?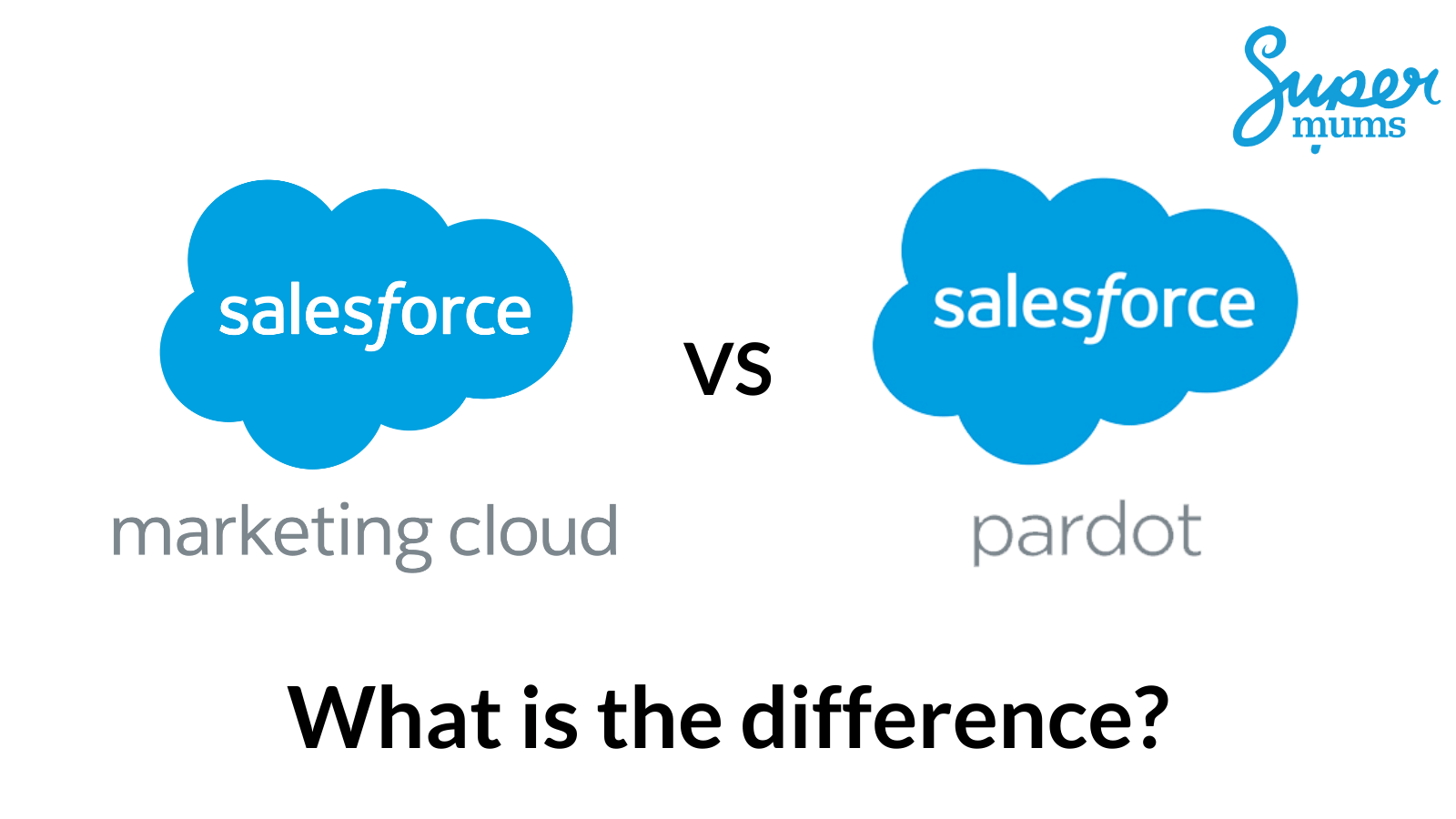 Both are Marketing Automation tools from Salesforce…so what's the difference between the tools and how do you know which one to choose?
You might have noticed that in April 2022 Salesforce announced 'Pardot' was changing its name to 'Marketing Cloud Account Engagement'. Along with this rebrand, they're changing the names of about a dozen products so stay tuned, but despite them changing the name of a tool we use every day, the functions, from what we understand will stay the same so we can address the questions everyone asks all the time – What's the difference between Marketing Cloud and Pardot?
What is Marketing Automation and Why Should I Be Using It?
Ever wonder how small marketing teams manage to make a huge impact? You've guessed it… they're more than likely using marketing automation! Marketing automation tools allow you to best use your data to segment audiences and add personalisation to ensure that the right message gets to the right person at the right time.
How Are The Two Tools Similar?
While there are some huge differences that will factor into your choice, the two tools are very similar.
Both offer WISYWYG (What You See Is What You Get) editors that allow you to create sleek, stylized email content with declarative drag-and-drop tools rather than needing to know HTML code.
Both can use your Salesforce data to drive your customer engagements & nurture journeys.
Both can include personalised content to make sure that your messaging is on target and fits the customer.
Both are compliant with GDPR, CAN-SPAM and other data privacy laws, including inclusion of a public lists for opting into marketing campaigns and opt-out options.
B2B vs B2C
Pardot is sold as Salesforce's B2B tool, which stands for business-to-business. Typically, it is used by organisations who are looking to sell a higher ticket item and have a smaller database of potential customers.
Marketing Cloud is considered a B2C tool, which stands for business-to-customer. It may be used for selling products, services or subscriptions at a lower price point over an extended period of time. Marketing Cloud is best used when creating engagements and touch points with a customer over the entirety of the customer lifetime – from lead nurturing to customer service to up-selling on future products or services.
Grading & Scoring – A Win for Pardot!
One of the biggest factors in choosing between the tools is whether your business is specifically looking to create marketing qualified leads to hand over to your sales team. Pardot includes scoring and grading, which allows you to quantify which customers have shown the most interest in your company and best fit the profile of your typical customer. This allows your sales team to focus on only the most qualified leads who are close to converting to a sale!
Cross-Channel Communications – A Win for Marketing Cloud!
Are you thinking about using different channels of communication besides strictly email? Marketing Cloud has a range of tools available, such as Mobile Studio for SMS, MMS, push notifications and in-app messaging, Interaction Studio and Advertising Studio just to name a few. While many of these tools may be an additional price point, the ease of use and embedded functionality allows you to easily incorporate them into existing marketing campaigns and customer journeys.
Pardot comes out-of-the-box with strictly email used in conjunction with forms and landing pages to create a customer funnel. There are third-party tools to incorporate other communication channels, but between the cost of the tool and any potential implementation costs, these can add up quickly.
Relationship to Salesforce
Marketing Cloud is considered product agnostic.
This means that, while you can enrich your use of the tool and benefit from extended functionality by using Salesforce as your database of truth, it doesn't need to be used with Salesforce. Marketing Cloud can be used with any data source, from CRM competitors like Hubspot to a data warehouse to Google Analytics 360.
The Marketing Cloud Connect, which is free as long as you have purchased both Marketing Cloud and either Sales or Service Cloud on the Salesforce CRM, creates a tight-knit connection to your Salesforce data. Users can send from Salesforce, segment audiences using Salesforce reports & campaigns, perform sends to a single individual and benefit from enhanced tracking analytics around how an individual has engaged with your marketing assets.
Pardot on the other hand is built on the Salesforce platform and users are required to have a Salesforce license to access Pardot and log into Pardot through an app in Salesforce.
Still on the fence? Our previous Marketing Cloud Training Instructor, Vicki, attended Pak Dreamin' in September and shared a great presentation all about this. Check it out here.
Where can i study for my Marketing Cloud Certs?
Supermums offers the ideal Marketing Cloud training program that's like no other – combining 2 courses in one as one of only a few Trailhead Academy approved training providers AND we include access to a 2 week Trial org – this is notoriously hard to get hold of, but with Supermums, we've got it covered – so you can get your hands dirty and put into practise everything that you are learning.
Our course is also £1600 / $2000 less than if you studied with other MC course training providers.
Supermums was created to help mums and dads get back into work after a career break so our courses are fully virtual, all sessions are recorded so you can watch them back if you aren't able to join the live sessions and we design our timetables around school holidays.
Find more about our Marketing Cloud course and we can help you on your journey to become a professional marketing cloud expert.
Have you got your place at Marketing Cloud Experience Week?
Marketing strategies and technology is innovating at a rapid pace and if you don't keep your skills and knowledge up to date you can be left behind and get outdated. It's one of the reasons why people choose to upskill with the Salesforce Marketing Cloud, to master one of the leading Marketing Solutions in the market place right now.
If you want to find out more, join our #MarketingCloudExperienceWeek from 23 – 24 May.
Join our 2 day event to learn about:
All of the latest trends in marketing, demo of the Salesforce Marketing Cloud suite and customer success stories.
Understand the Salesforce Marketing Cloud products on offer and how customers can benefit.
Decide if the Marketing Cloud Suite is the next product for you to specialise in as a Salesforce and/or Marketing Professional.
Anyone who joins the event and then signs up to the Supermums June cohort of our Salesforce Marketing Cloud training programme, will also get a FREE Pardot Mini Course included at the end of the MC sessions.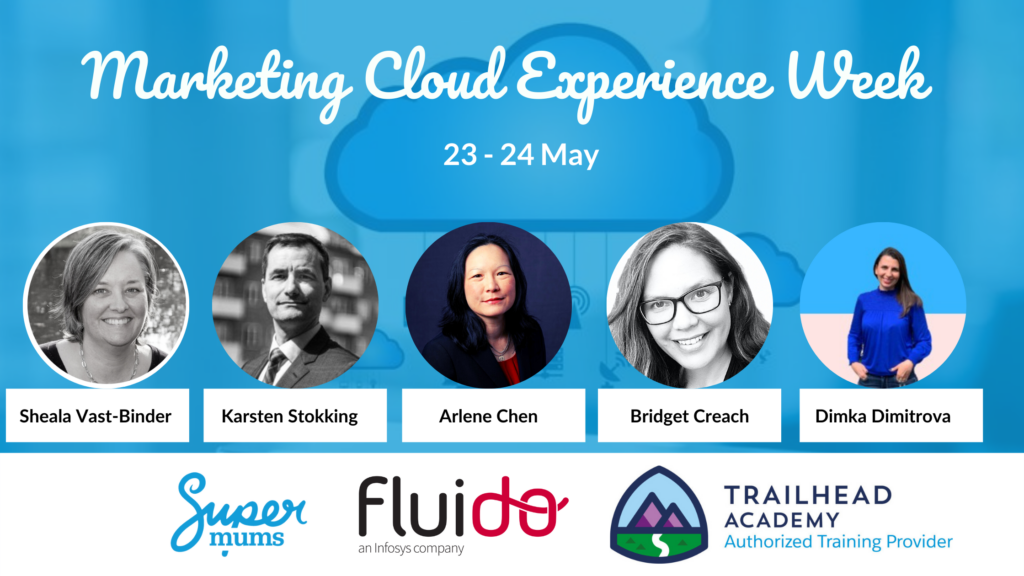 Subscribe To Our Newsflash
Get Updates And Learn From The Best