How to be a Salesforce Admin – Part 4 – How to plan a CRM Roadmap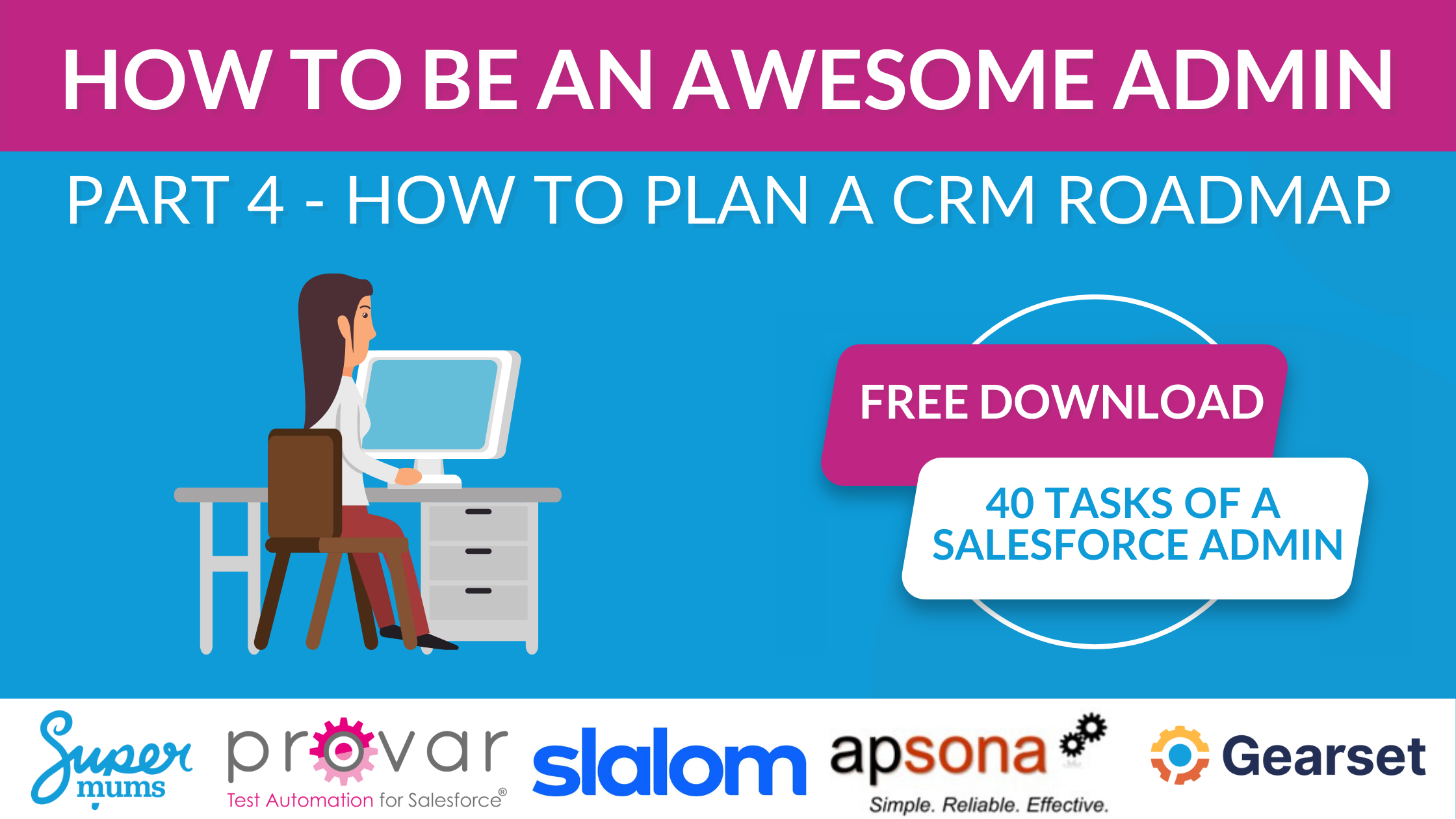 Learn how to manage a Salesforce system with our four part series focussed on how to be an awesome Salesforce admin. Whether you are considering a Salesforce admin career, starting out as a Salesforce admin or already working as a solo admin, we are sure this content series will add value to your knowledge. We teach this content as part of our Salesforce Admin Course and Consultancy Skill Course.
If you are working as a solo admin or a team of Salesforce admins you might have to manage the full task list yourself or distribute it amongst you. Ideally you want a structured plan of who is doing what and when throughout the year to ensure your Salesforce system is trusted, compliant, adopted and developed as needed.
During the next four weeks we are going be looking at the following roles of a Salesforce admin with our partners – Gearset, Apsona, Slalom and Provar Testing.
Part 4 – How to plan a Salesforce Roadmap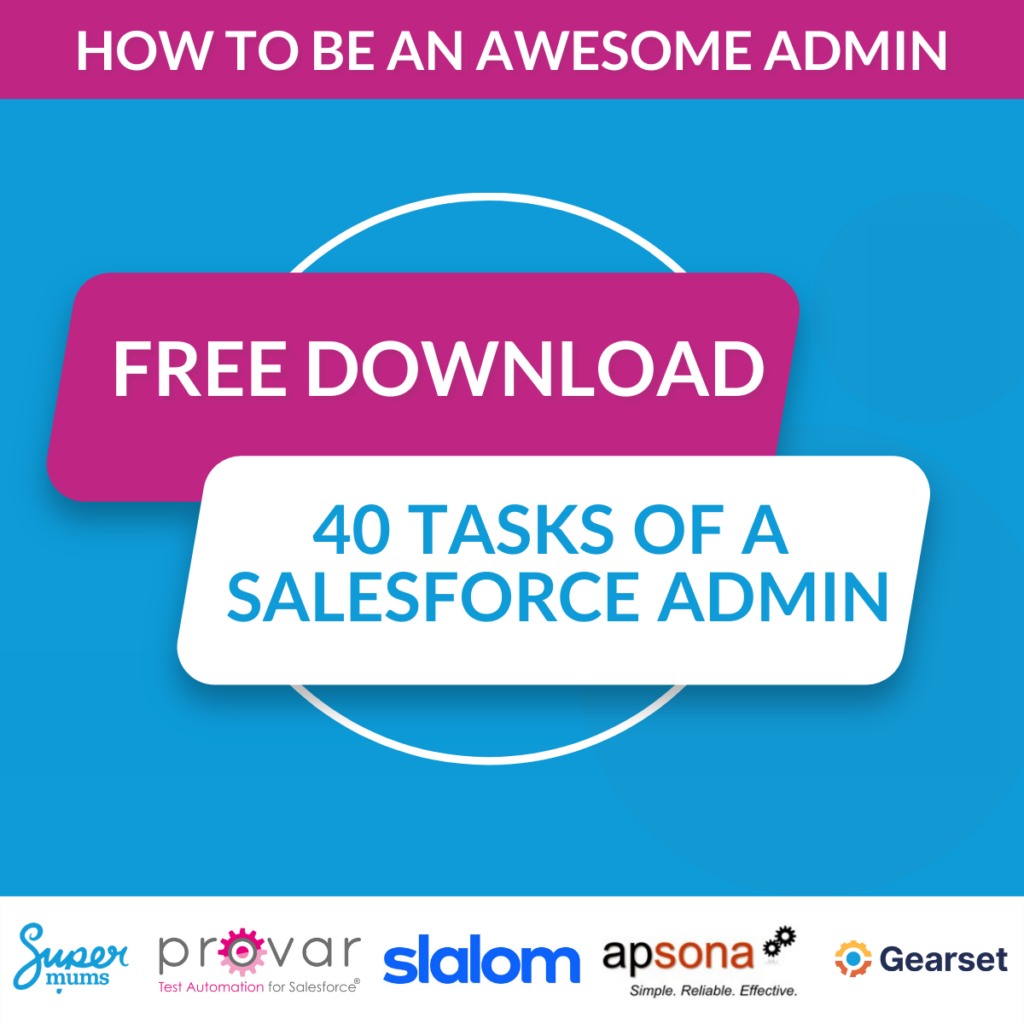 BONUS DOWNLOAD
Download the 40 tasks of a Salesforce Admin to know how to handle your system with daily, weekly, quarterly tasks to manage your time and responsibilities.
Part 4 – How to plan your CRM Roadmap
This week listen to our Mums on Cloud Nine Podcast with guest Ghada Fourane, Director at Slalom UK, to find out how to plan your CRM Roadmap and apply key consultancy skills.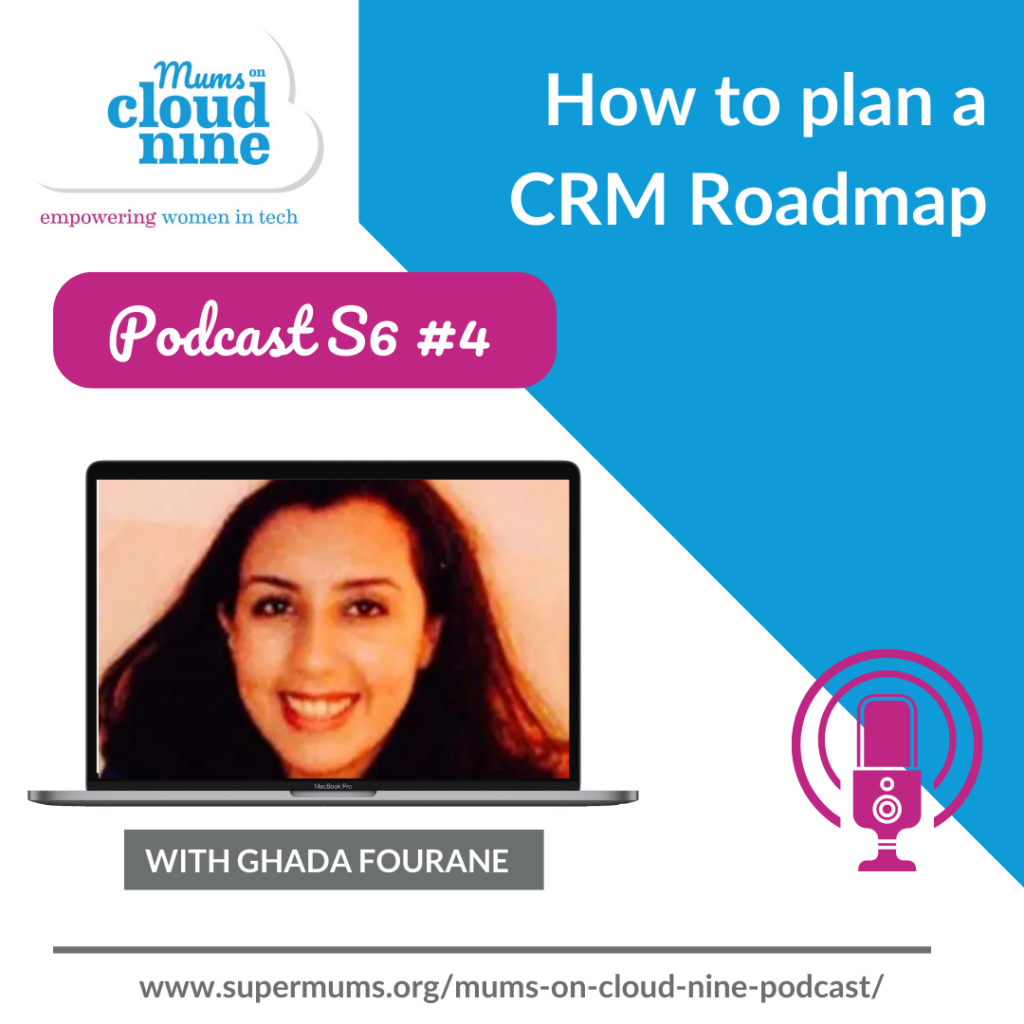 What is a CRM Roadmap?
A roadmap is a strategic plan that defines a goal or the desired outcome which includes the major steps or milestones needed to reach it. It is also great to use as a communication tool, as it serves as a high-level document that helps articulate strategic thinking—the why—behind both the goal and the plan for getting there to stakeholders.
Defined by strategic goals – These are then prioritised and we then look to see what component of the platform is best suited to cater for this and what the timeframe/order of the implementation will be.
It would map out the CRM roll-out across and between departments and implementation of different Salesforce and ISV products to deliver on the desired business objectives and priorities.
Why is it important to have a CRM Roadmap
If there isn't a roadmap with clear priorities, it can be very hard for a Salesforce admin to have a clear north star to focus on. They won't know what to work on first to best improve the situation of the business, it's employees and customers. Without this clarity, the Salesforce Administrator can feel overwhelmed and attention can be focussed on the wrong areas to meet the needs of the organisation.
A solo Salesforce administrator should possess the professional skills of Business Analysis, Agile Project Management and Change Management skills to really facilitate the conversations needed to produce a CRM road-map. They are effectively a salesforce consultant who is working internally for an end-customer to get their system rolled out and adopted by users.
If there isn't a clear road-map it can result in poor system adoption, integration and alignment across departments resulting in data silos, poor customer intelligence and inconsistent information across systems.
All of this undermines the value placed in the CRM and can lead to low adoption of the system.
How to plan a CRM Roadmap
Understanding the strategic business priorities is the first step to determining the priorities of a CRM build. Applying Agile Project Management methodologies is the common approach used by technology projects for prioritisation.
This helps to lay the foundation for creating the CRM Strategy. This foundation can only be put in place if there is a clear governance structure for the CRM that is often called a Centre of Excellence hosted by an Executive Sponsor.
How do you govern and manage a CRM Roadmap – Project governance is a crucial element, especially for complicated and risky projects. It contains a framework for making decisions about the project, defines roles, responsibilities, and liabilities for the accomplishment of the project, and governs the effectiveness of the delivery.
One of the key areas is establishing the specific role types within the framework – this will assist in providing clear ownership. There is often a lack of clarity around groups such as super users & admins, business analysts and the technical team. Given these different groups should have an understanding of the technical process/design and also business processes, they will be able to assist with the validation of requirements and ensure they deliver upon the required business metrics, as well as make key approval decisions. This will ultimately enable the development of Salesforce to be aligned to business strategy and the overall roadmap.
If you want to skill up in Agile Project Management check out the Supermums Consultancy Skills Course.

How to conduct Business Analysis
Once you have determined the key business priorities e.g. areas of greatest challenge and strain on the business, these are the areas to delve into first from a business analysis point of view. Business analysis includes: establishing the business case, proving a return on investment, and gathering and documenting the requirements
Building the business case for spending time on development work. There needs to be a tangible return on investment. Here are some commonly used ROI indicators: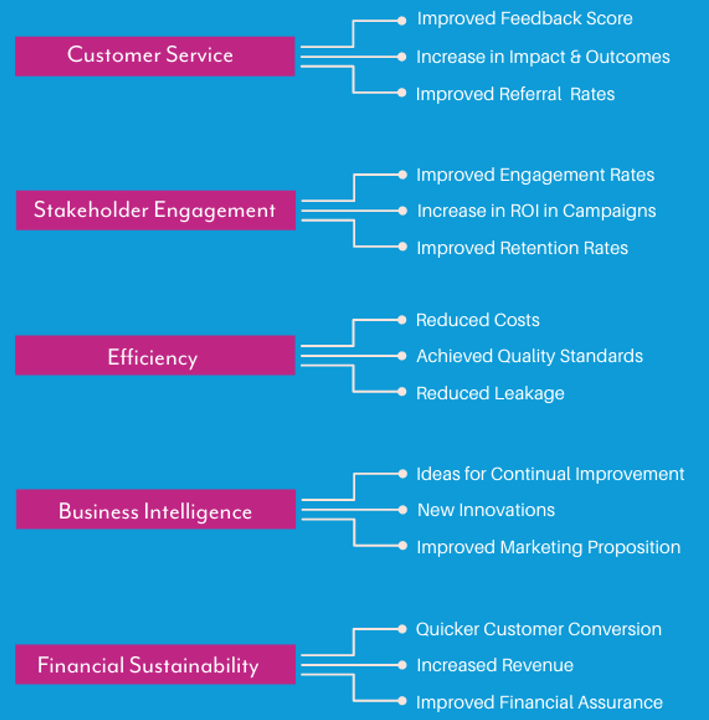 Handover Requirements Documentation & technical documentation are imperative to confirm everything is scalable. Admins will be on hand to make any day to day changes;/safeguard the implementation delivered so far.
If you aren't confident in Business Analysis and Requirements Gathering skills, check out the Supermums Consultancy Skills Course.
Once the system is in place their should be ongoing product training and knowledge sharing with the Centre of Excellence about new releases, products and features to solve new challenges or innovate improvements which can inform the future roadmap.
A CRM Roadmap demonstrates Innovation and Change Management which is imperative for an organisation to survive and proper to keep ahead of the game!
Training for Salesforce Admins – How to be an Awesome Admin
At Supermums we offer multiple courses to help you start or boost your Salesforce career. Check out how Salesforce Admin or Consultancy Skills Courses could help you on that next step of your journey:
Salesforce Admin Course
Join our 3 or 6 month Admin Course to learn the fundamental skills, tools and techniques of being a Salesforce Admin. From Live Training to Work Experience, One to One Mentoring, Coaching and more.
The next course starts in November.
Salesforce Consultancy Skills Course
Join our 3 month Consultancy Skills course to upskill in Business Analysis, Agile Project Management, Change Management and Coaching Skills to become a No 1 Salesforce Professional and manage your projects effectively.
The next course starts in January.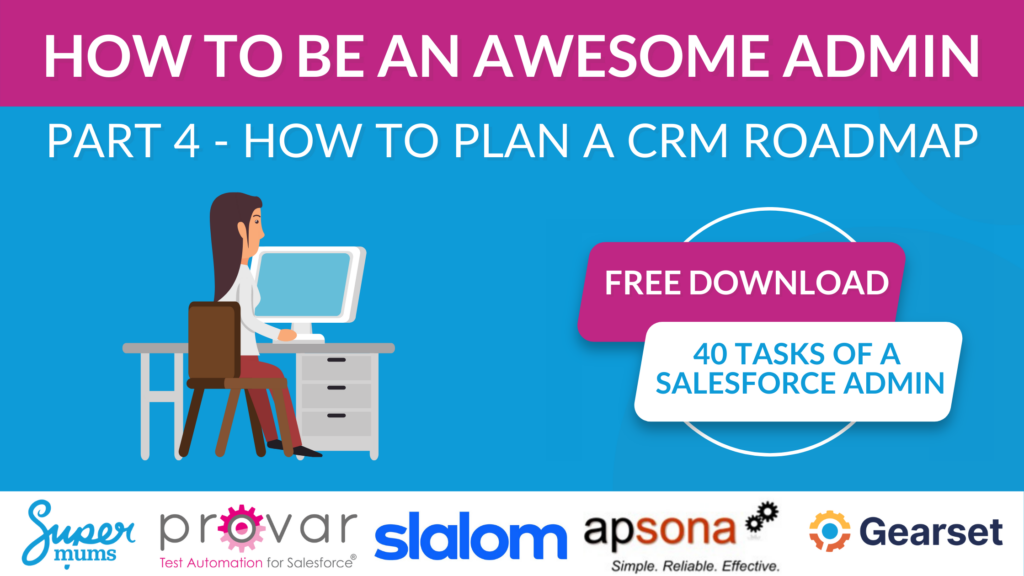 Supermums is proud to be an approved training provider of Salesforce

Subscribe To Our Weekly Top Tip Bulletin
Get Updates And Learn From The Best