How to be a Salesforce Admin – Part 2 – How to Manage Data in Salesforce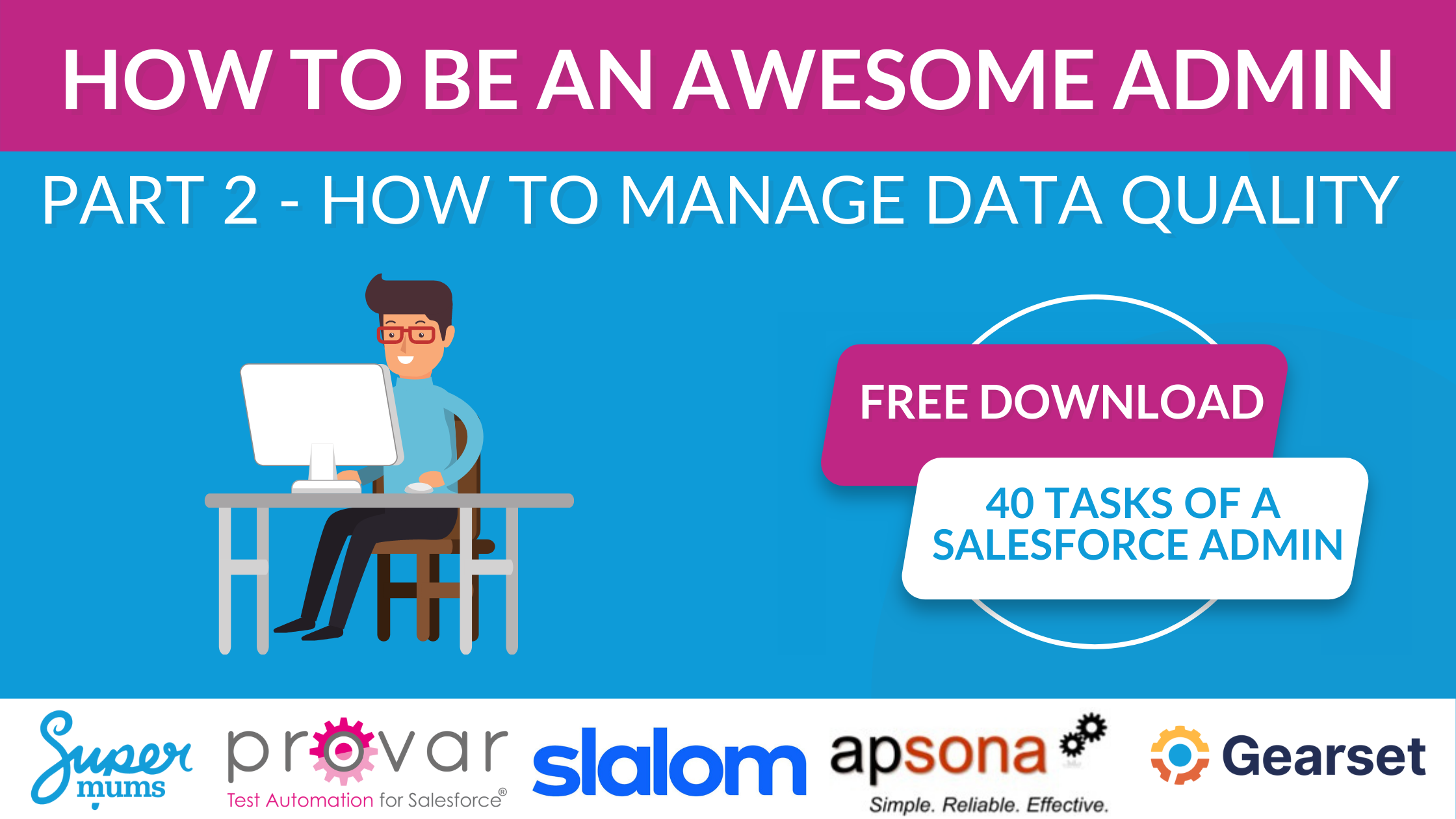 Learn how to manage a Salesforce system with our four part series focussed on how to be an awesome Salesforce admin. Whether you are considering a Salesforce admin career, starting out as a Salesforce admin or already working as a solo admin, we are sure this content series will add value to your knowledge. We teach this content as part of our Salesforce Admin Course and Consultancy Skill Course.
If you are working as a solo admin or a team of Salesforce admins you might have to manage the full task list yourself or distribute it amongst you. Ideally you want a structured plan of who is doing what and when throughout the year to ensure your Salesforce system is trusted, compliant, adopted and developed as needed.
During the next four weeks we are going be looking at the following roles of a Salesforce admin with our partners – Gearset, Apsona, Slalom and Provar Testing.
Part 2 – How to manage data quality in Salesforce
Part 3 – How to keep Salesforce secure
Part 4 – How to plan your Salesforce Roadmap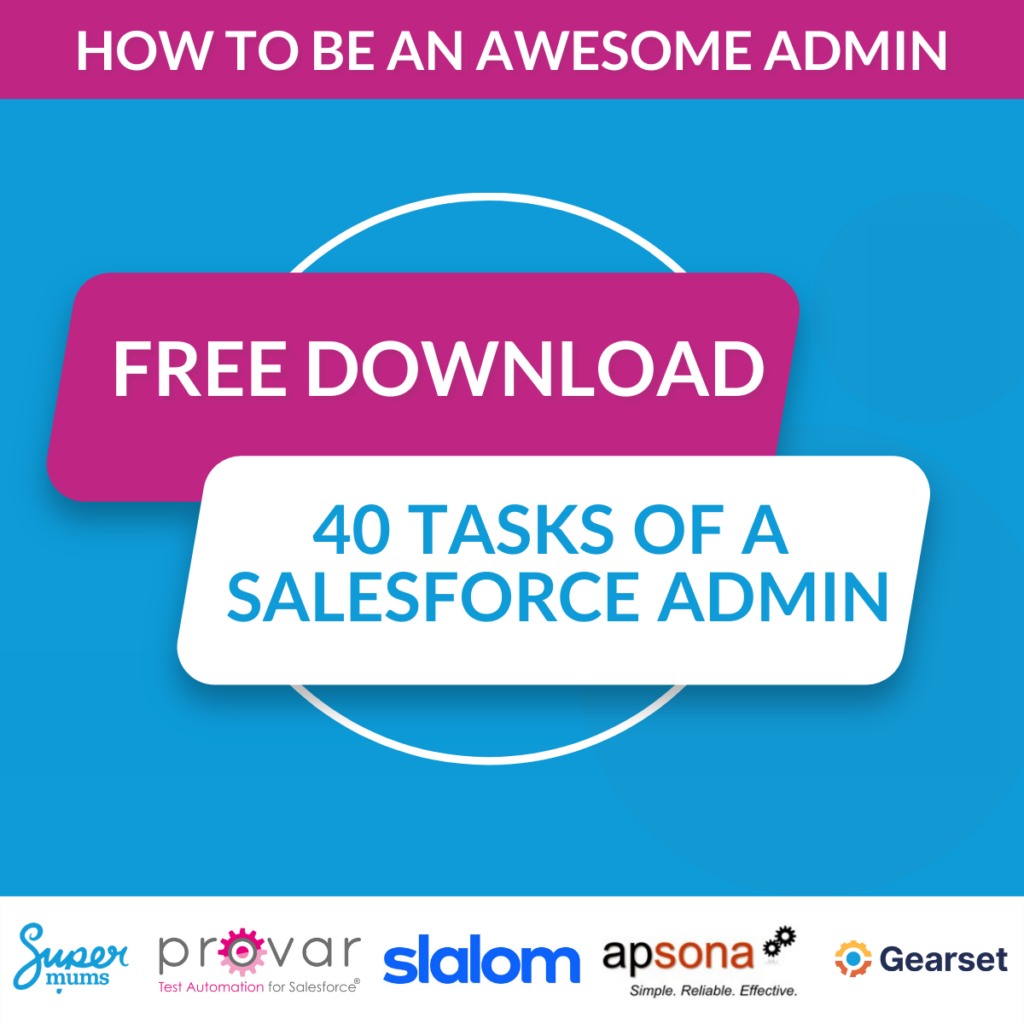 Download the 40 tasks of a Salesforce Admin to know how to handle your system with daily, weekly, quarterly tasks to manage your time and responsibilities.
Part 2 – How to keep Data Trusted
Tune in to this week's podcast the Apsona team to learn more about the different roles and responsibilities for keeping data integrity good and trusted by users and how they support Salesforce Admins with this task.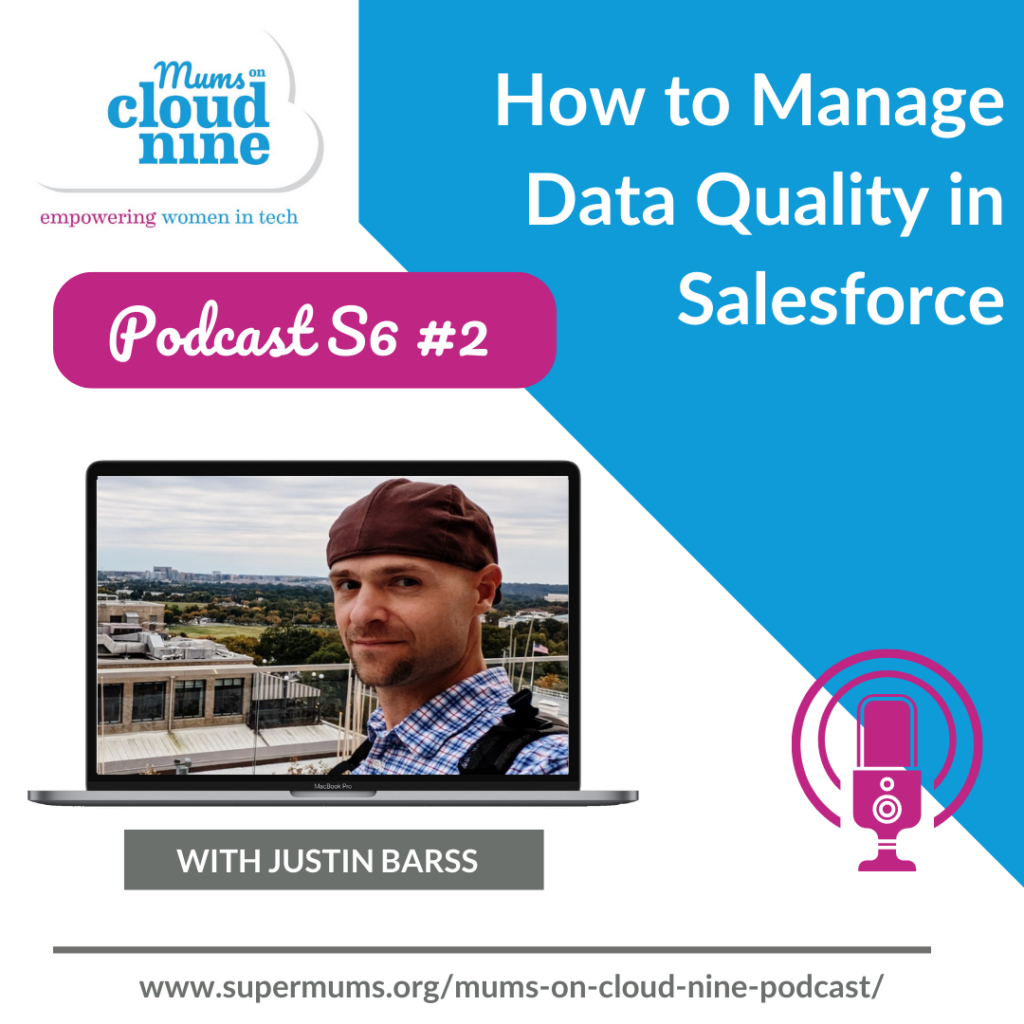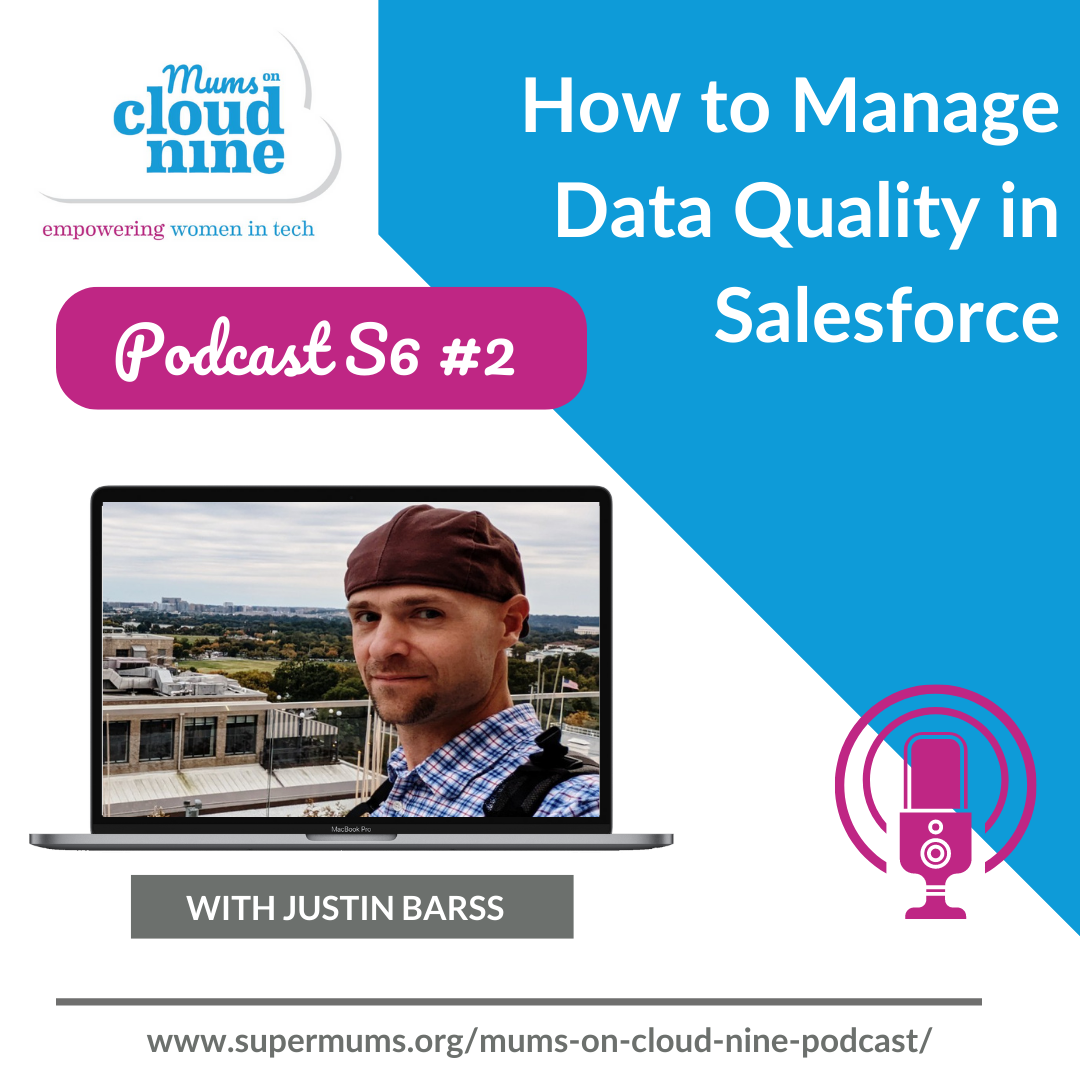 Why is it important to have trusted data in your Salesforce System?
One of the biggest reasons why CRM's are adopted by users is because they don't trust the data. Poor data governance can impact the organisation significantly*:
Inaccurate or incomplete data can lead to 20% stalled productivity, which is one day of work each week.
The average company loses 12% of its revenue as a result of inaccurate data.
Forty percent of all business initiatives fail to achieve their targeted benefits because of poor-quality data.
Bad data is consistently linked with:
Lost revenue
Missing or inaccurate insights
Wasted time and resources
Inefficiency
Slow info retrieval
Poor customer service
Reputational damage
Decreased adoption by reps
Good data lets your organisation:
How to understand what data is important in your Salesforce System
The first step is to understand how data is used by the organisation and which data is most important to drive business performance and intelligence. A Data Governance plan should be created and governed by a steering group that owns the responsibility for data integrity. To start with, the key questions would be:
What are the business objectives
What customer data is required to support those objectives
How are they currently using that customer data
Where is the customer data stored
How to assess the quality of your data in your Salesforce System
Once you understand what data is important to the business you would want to assess the quality of this data as it currently stands in the system. Some of the typical assessment exercises are..
Age – What was the last time each record was updated?
Completeness – Are all key business fields on records filled in?
Accuracy – Is your data as accurate as possible? Has it been matched against a trusted source?
Consistency – Is the same formatting, spelling, and language used across records?
Duplication – Are records and data duplicated in your org
Usage – Is your data being harnessed in reports, dashboards, and apps?
Cleansing – Is data being deleted that is no longer required in the system.
How to manage and maintain data integrity
There are 10 essential tasks to manage and maintain data.as a Salesforce Admin:
Duplicate Management – Creating a strategy that covers the Prevention of Duplicates where possible, to the Detection of Duplicates and Management of Duplicates and Merging of Records all require preventative and curative actions either using native features or third party solutions such as Apsona.
Preventing Data Issues – Understanding where gaps in data integrity are occurring and looking at where you can prevent these issues occurring with the introduction of Required Fields, Validation Rules, Auto-Populated Fields and better communicated Business Rules.
Data Cleansing – At what stage does data need to be Deleted and/or Archived. Quite often this practice will align with Data Protection Policies and will need to be reviewed as a scheduled or manual job on a regular basis to maintain compliance.
What are some of the great Apsona Value adds beyond Salesforce for data management?
Apsona is Every Admin's Toolbox – combining multiple tools to allow Admins and Power Users to:
Import/Update; Mass Transform and Report on Salesforce Data via our Base "Apsona for Salesforce"
Merge SF Data to any Document, PDF, Email or Spreadsheet via our "Email and Doc Merge"
Create custom insights & analytics with extensive cross object searches and filters via "Multi-Step Reports"
Dedupe, match, & merge any Salesforce record via "Dedupe & Match"
Automate reports and custom analytics or batches of merged documents and emails via our "Scheduler"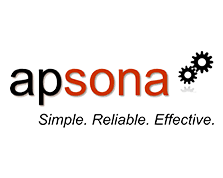 Training for Salesforce Admins – How to be an Awesome Admin
At Supermums we offer multiple courses to help you start or boost your Salesforce career. Check out how Salesforce Admin or Consultancy Skills Courses could help you on that next step of your journey:
Salesforce Admin Course
Join our 3 or 6 month Admin Course to learn the fundamental skills, tools and techniques of being a Salesforce Admin. From Live Training to Work Experience, One to One Mentoring, Coaching and more.
The next course starts in November.
Salesforce Consultancy Skills Course
Join our 3 month Consultancy Skills course to upskill in Business Analysis, Agile Project Management, Change Management and Coaching Skills to become a No 1 Salesforce Professional and manage your projects effectively.
The next course starts in January.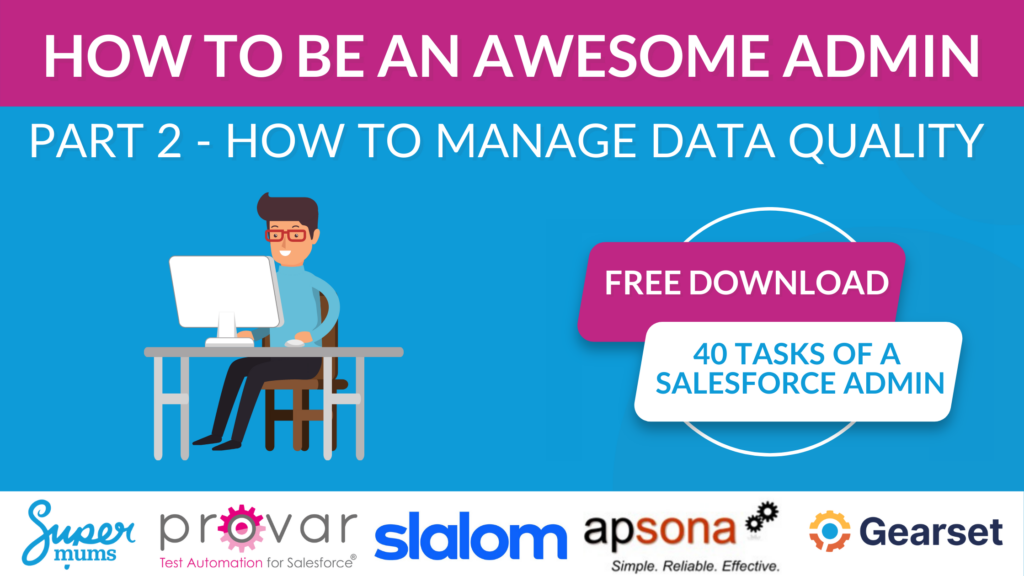 Supermums is proud to be an approved training provider of Salesforce

Subscribe To Our Weekly Top Tip Bulletin
Get Updates And Learn From The Best