How to be a Salesforce Admin – Part 1 – How to manage your Salesforce System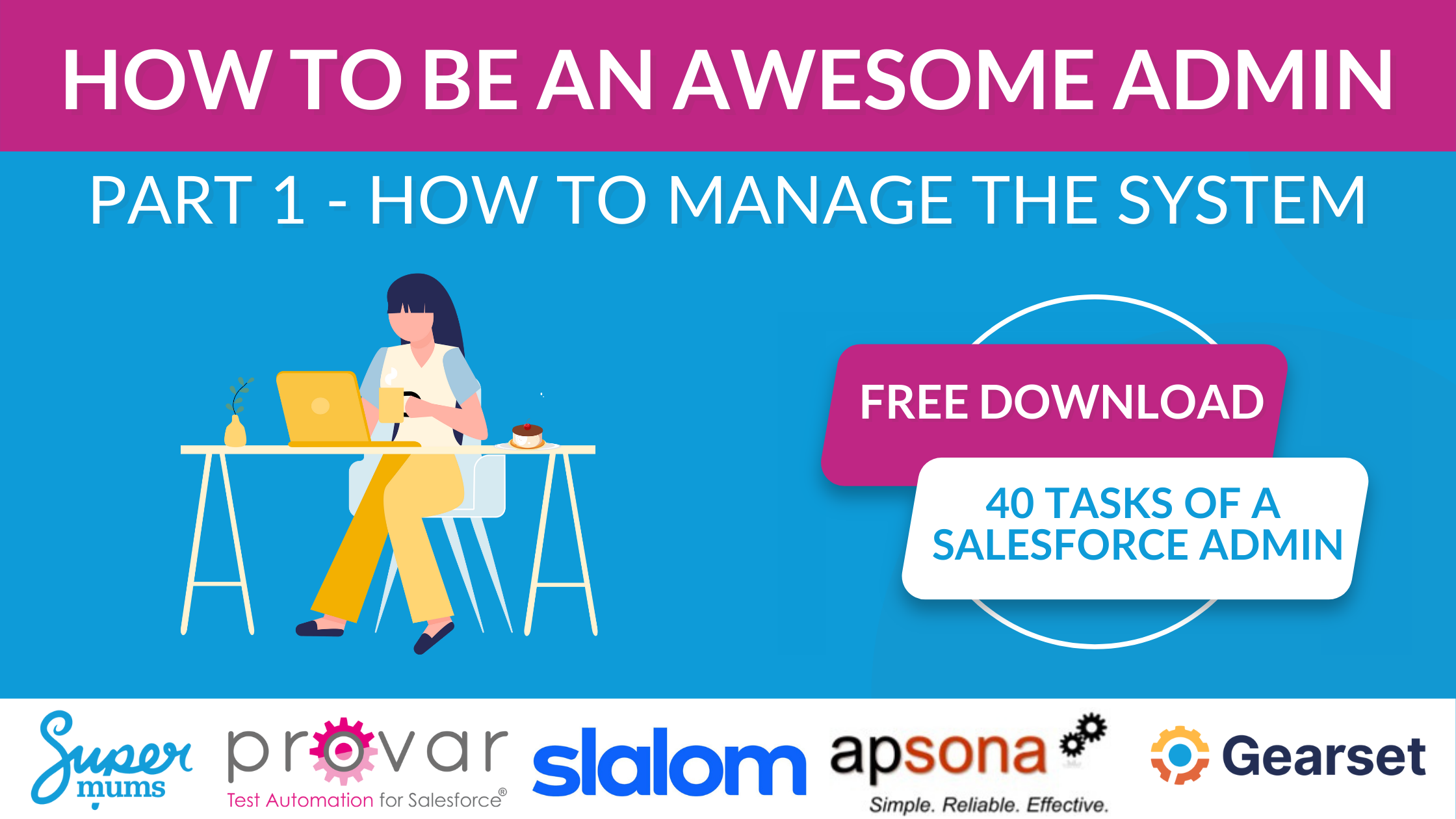 Learn how to manage a Salesforce system with our four part series focussed on how to be an awesome Salesforce admin. Whether you are considering a Salesforce admin career, starting out as a Salesforce admin or already working as a solo admin, we are sure this content series will add value to your knowledge. We teach this content as part of our Salesforce Admin Course and Consultancy Skill Course.
If you are working as a solo admin or a team of Salesforce admins you might have to manage the full task list yourself or distribute it amongst you. Ideally you want a structured plan of who is doing what and when throughout the year to ensure your Salesforce system is trusted, compliant, adopted and developed as needed.
During the next four weeks we are going be looking at the following roles of a Salesforce admin with our partners – Gearset, Apsona, Slalom and Provar Testing.
Part 1 – How to manage a Salesforce System
Part 2 – How to manage data quality in Salesforce
Part 3 – How to keep Salesforce secure
Part 4 – How to plan your Salesforce Roadmap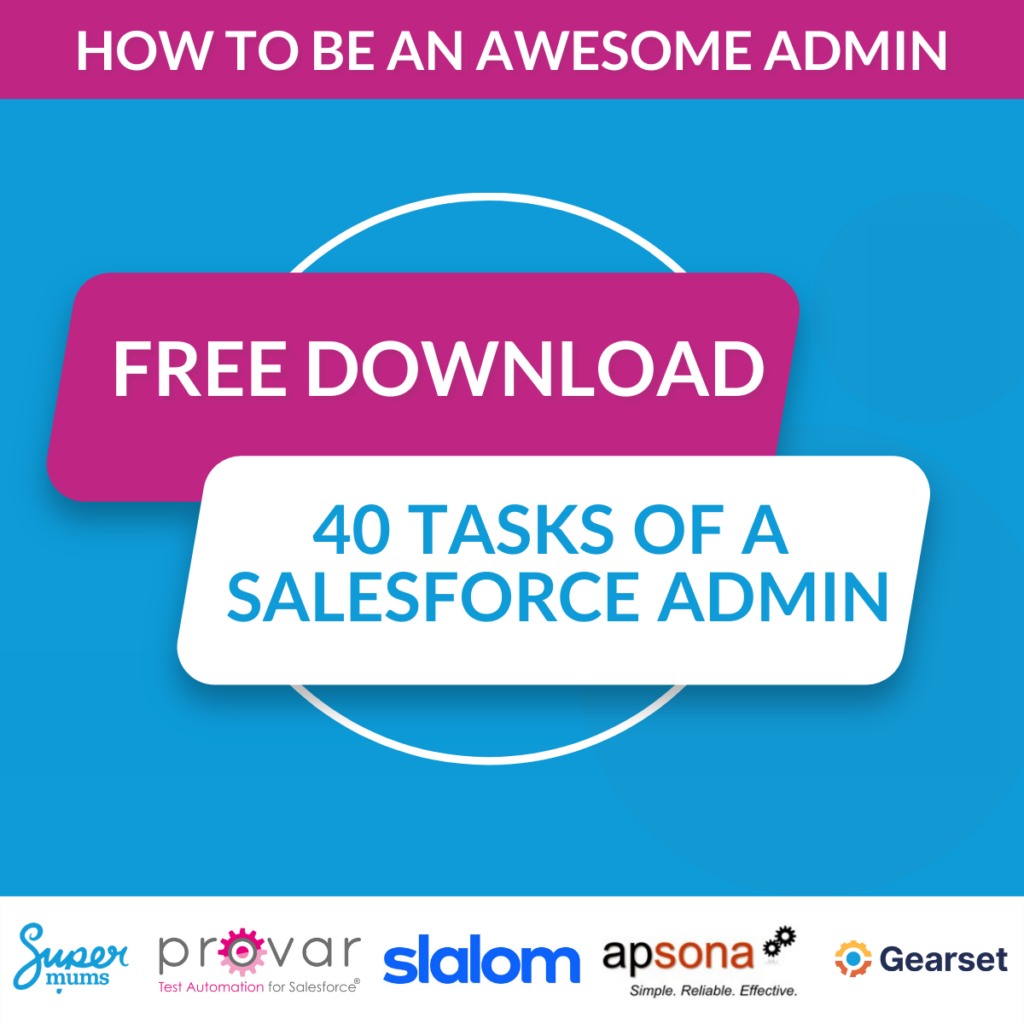 Download the 40 tasks of a Salesforce Admin to know how to handle your system with daily, weekly, quarterly tasks to manage your time and responsibilities.
Part 1 – How to Manage a Salesforce System
Tune in to this week's podcast with Jack McCurdy, DevOps Advocate from Gearset, and find out what you can do to manage your system professionally.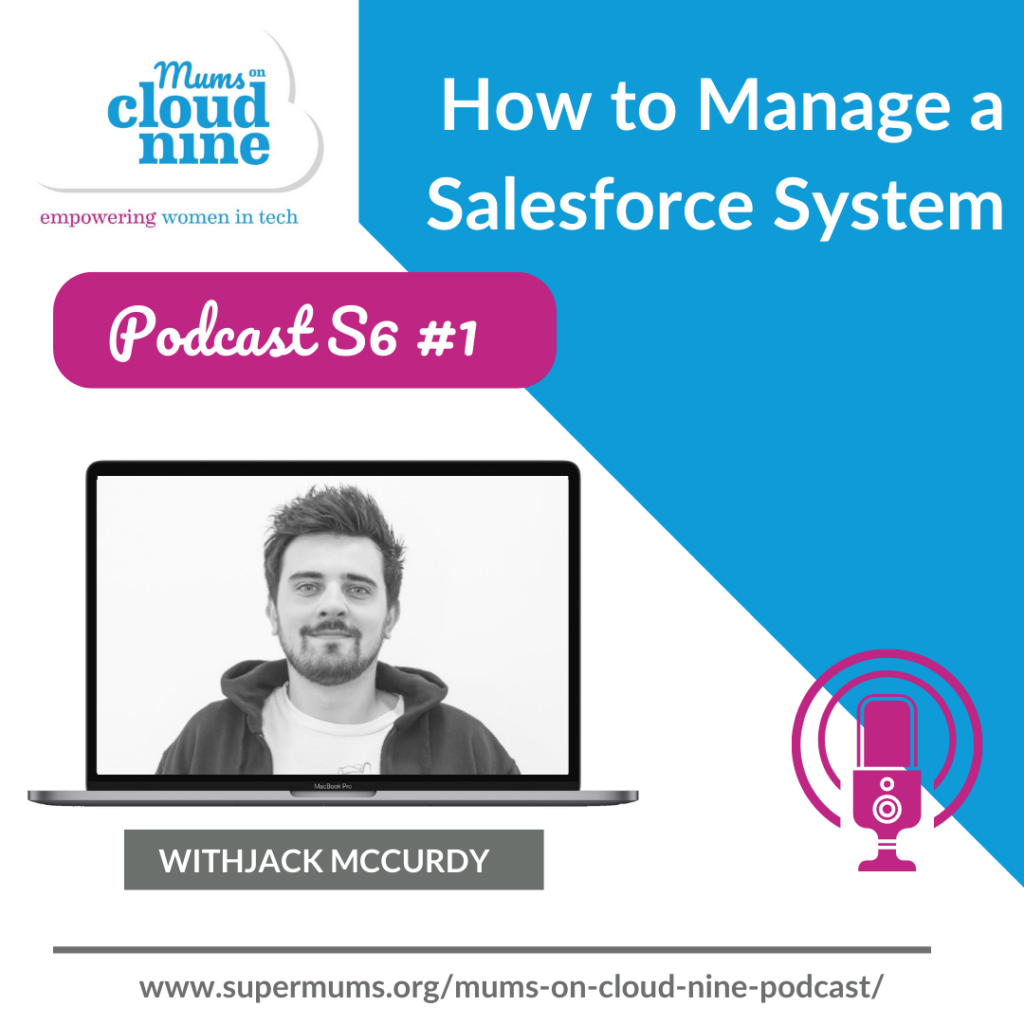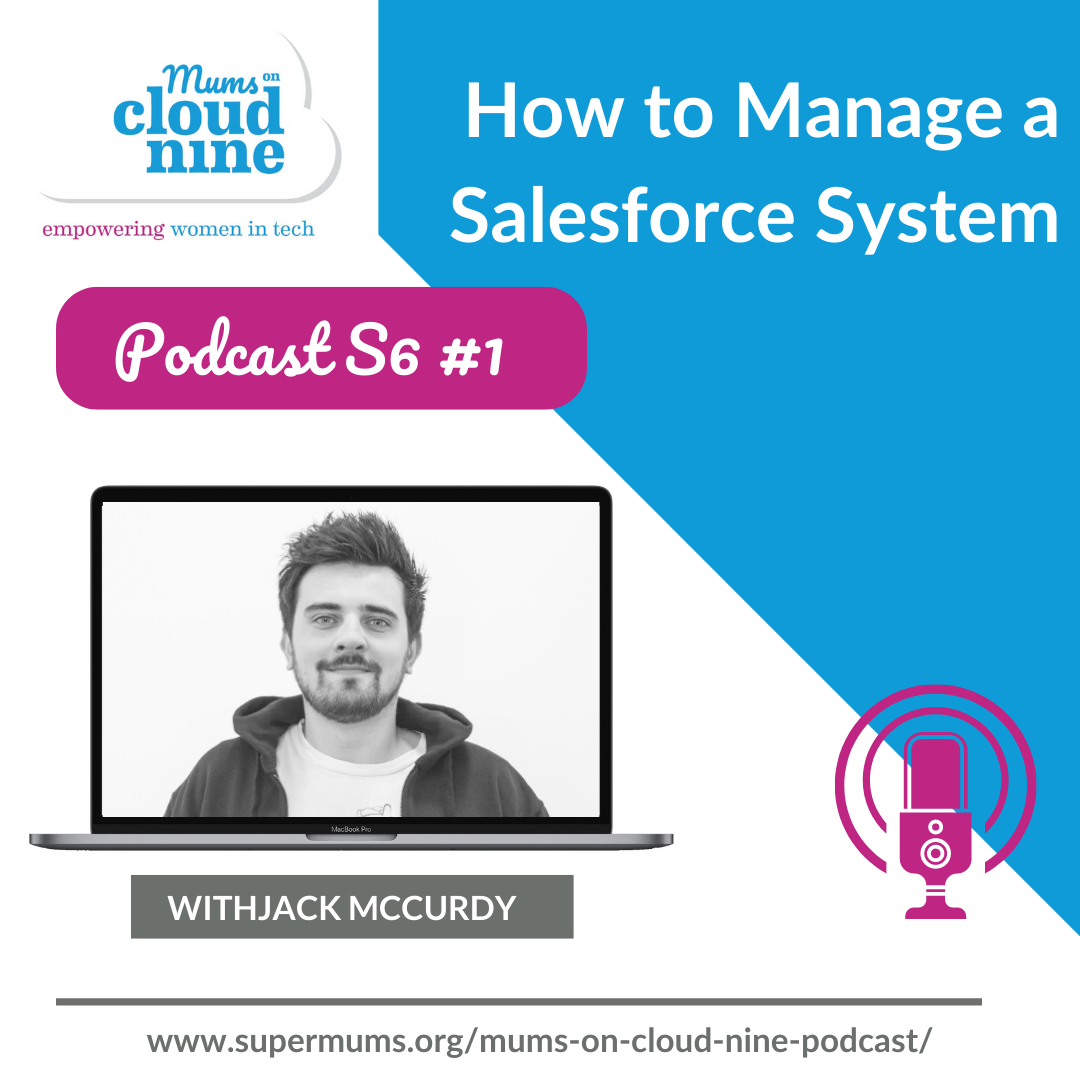 Why is it important to manage a Salesforce system?
If we don't have a plan for managing a Salesforce System then the following issues can arise:
Automation Fails – if automation errors arise, are not fixed or identified on a timely basis then the system won't function for customers or users. Error logs and alerts are essential.
Customer Issues – sales and customer service will suffer if customer online forms aren't syncing with the system or end users can't access the system and data they need.
Reputation Risk – If customer sales and service issues are effected it will impact the reputation of the company.
User Frustration – if the system is slow to respond, functionality isn't working and data isn't trusted then users will get frustrated and employee attrition can be an issue.
How do you manage a Salesforce system?
Here are the 10 tasks we have identified to keep your system in check:
System Release Updates and Functionality Changes (1) that are scheduled by Salesforce for all systems may require updates, sandbox checks and release cycles. Such updates would include things like Lightning Transition (2) and Flow Transitions (3) as system architecture and functionality improves and evolves.
Other Latest Releases (4) are introduced by Salesforce three times a year to innovate and evolve the system,. These need to be appraised to assess their value to your Salesforce System.
Optimizer Health Check (5) – Improve features, clean up customizations, and reduce complexity with the in-house Salesforce Optimizer Health Check. It is valuable to check how well your system is performing on a quarterly basis. You can run the Optimizer Health Check and review any suggestions that Salesforce flags as a potential issue. The Health Check might create a nice little backlog of Optimizer improvements (6) that need doing that you can assess and prioritise as needed.
Field Audit (7) – In line with your data management plan, it can be useful to assess field adoption on a quarterly or bi-annual basis. We will cover more of this in Part 2.
Error Logs (8) – It's recommended that a user license is purchased for salesforce admin tasks and integrations that is an agnostic user and not related to an personal individual, so if this person leaves the organisation a personal user account doesn't need to be deactivated and everything re-assigned. Error logs for Apex, NPSP and Duplicates can then be allocated to this user profile and can be monitored accordingly and ideally would go to a group email address so multiple salesforce admins can oversee the system subject to working patterns and holidays.
Support Desk (9) – Putting in place a support desk using Salesforce Service Cloud or a third party system is really valuable so end users can log requirements, issues or questions somewhere and converse and monitor about their progress. As the Salesforce admin you can manage, prioritise and update requirements.
DevOps (10) – When you are making updates to an existing system it is important to manage the changes systematically with Salesforce to ensure nothing breaks for users or customers. Having a good DevOps process and system in place can set you off on the right track.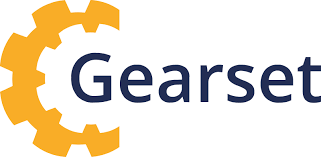 How can people learn more about Salesforce DevOps?
Training for Salesforce Admins – How to be an Awesome Admin
At Supermums we offer multiple courses to help you start or boost your Salesforce career. Check out how Salesforce Admin or Consultancy Skills Courses could help you on that next step of your journey:
Salesforce Admin Course
Join our 3 or 6 month Admin Course to learn the fundamental skills, tools and techniques of being a Salesforce Admin. From Live Training to Work Experience, One to One Mentoring, Coaching and more.
The next course starts in November.
Salesforce Consultancy Skills Course
Join our 3 month Consultancy Skills course to upskill in Business Analysis, Agile Project Management, Change Management and Coaching Skills to become a No 1 Salesforce Professional and manage your projects effectively.
The next course starts in January.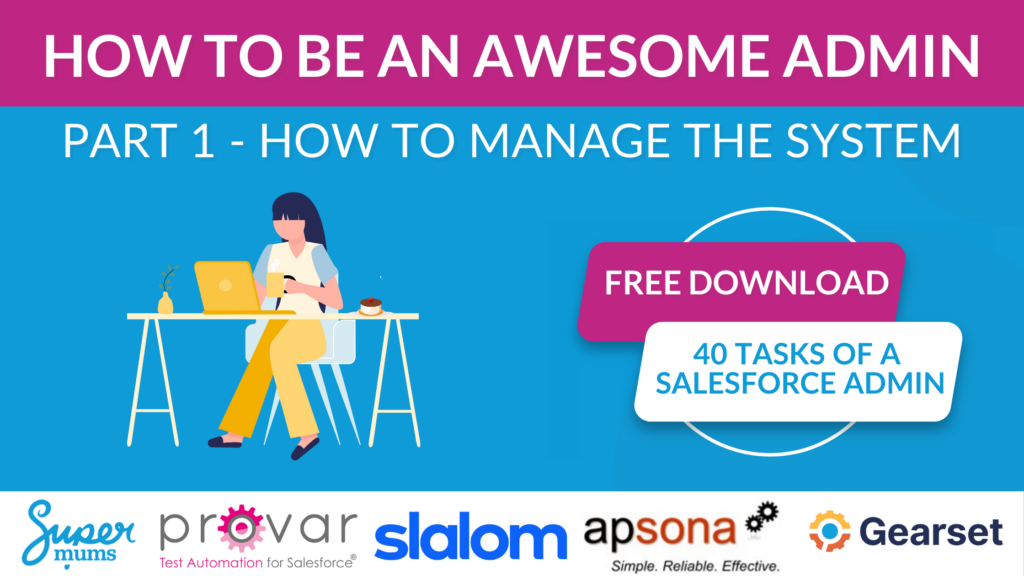 Supermums is proud to be an approved training provider of Salesforce

Subscribe To Our Weekly Top Tip Bulletin
Get Updates And Learn From The Best