You walk into a company and there is little or no overall understanding of the configuration of Salesforce. You have no idea of the scale or complexity of the org.
Where is the org is hitting limits?
Where the technical debt is highest?
What changes will have the highest risk?
You are literally blind. It's scary. It's uncomfortable. It knocks your confidence. And this is when you want to make a great first impression with your new client if you are a consultant, or your boss, if you are a new employee.
Within our latest CPD article we explore how you can QUICKLY analyse a Salesforce Org you're inheriting with the help of Elements.cloud.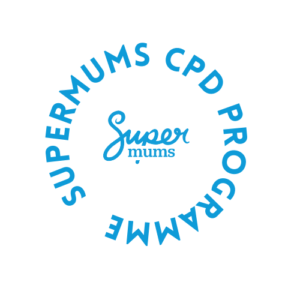 Join our Live Office Hour Events where we will be hosting a live discussion on this topic with live demo & Q&A with Elements. Cloud
This article is part of the Supermums CPD Programme which focusses on equipping Salesforce talent with essential skills to enhance their CV and salary. Sign up to our CPD programme to benefit from our weekly top tip bulletin, monthly office hours events with free Demo's and Q&As, exclusive discounts, events and training.
So, let's get started on how to analyse an existing Salesforce Org!
To get you in the right mindset, let's think about Google Maps.
If you are heading off somewhere, you tend to start your journey by opening up your SatNav, or Google Maps. It's much easier than the days of having to use to a paper map where you had to plan your route beforehand and it wasn't so easy to change if there was traffic or a change of plan.
Google Maps pulls so much disparate information together it makes your drive much easier and smoother. Somehow it manages to calculate how long it will take. It helps you make better decisions about your journey. No, wait…it makes better decisions for you, so you don't have to. Without it, you would run out of gas, get stuck in traffic, and arrive late.
You are 2 mins away from Org Discovery
The great news is that now you can have a full picture of your Org metadata with impact analysis, and it only takes 2 mins of work on your side. Elements.cloud Change Intelligence Platform does all the heavy lifting.
Sounds too good to be true?
You create a workspace in Elements and connect your Org – that is the bit that takes 2 mins.
Then we do the analysis which takes between 10 mins and 2 hours:
We build a metadata dictionary by pulling all the metadata from the Org. All the configuration customizations. All the managed packages.
We then run dependency analysis. This looks at where metadata is used by other metadata. For example this picklist is used in this record type or this field is used in these flows and these dashboards.
We build Dependency Trees showing milt-level where used.
We then look at field population to understand which fields and picklists have data by record type.
We recommend optimization for metadata items
Finally we combine the dependency and field population to provide a risk impact analysis for every field. Just because a field is empty, doesn't mean it can be deleted. In fact there are 5 situations I can think of when it shouldn't be deleted.
Here are couple of screenshots that show the analysis: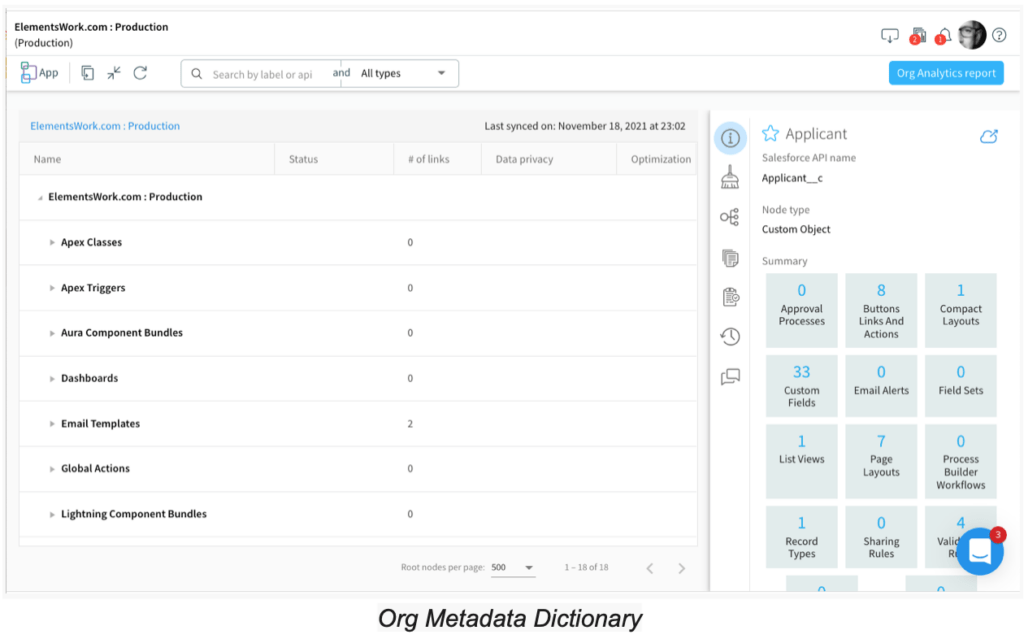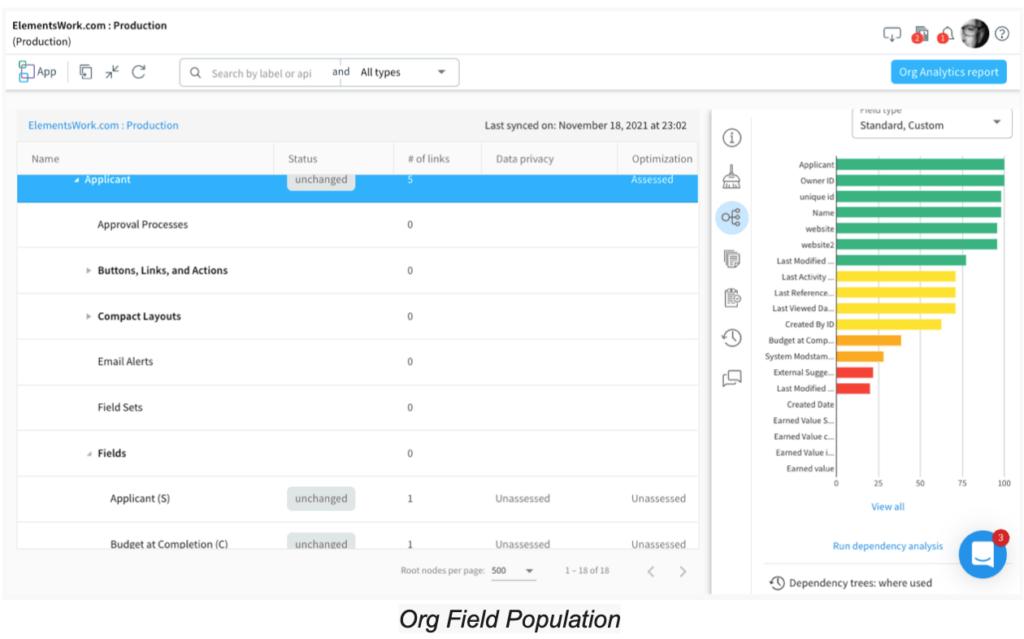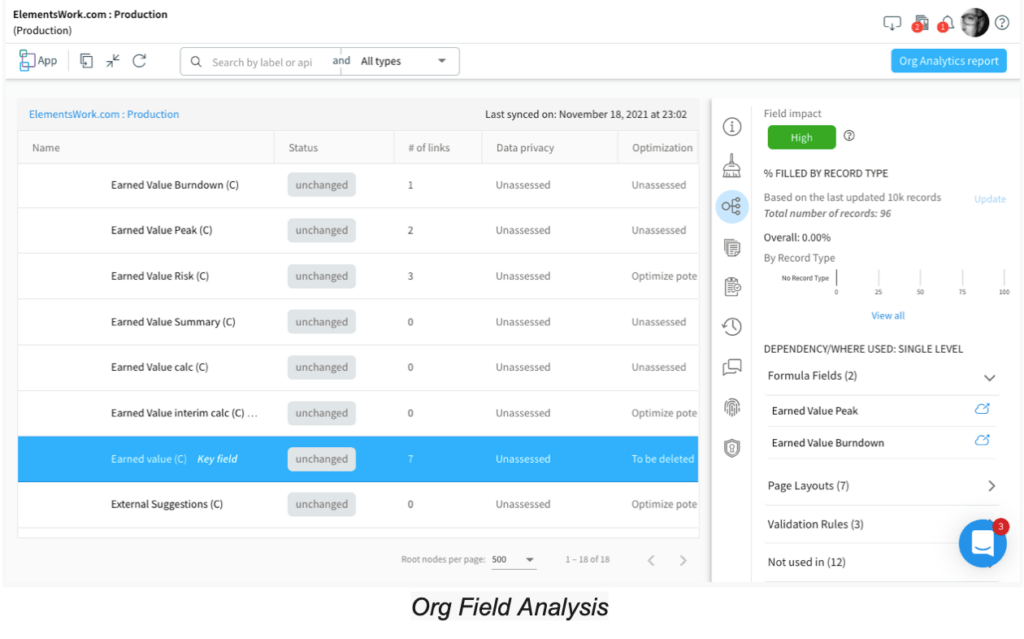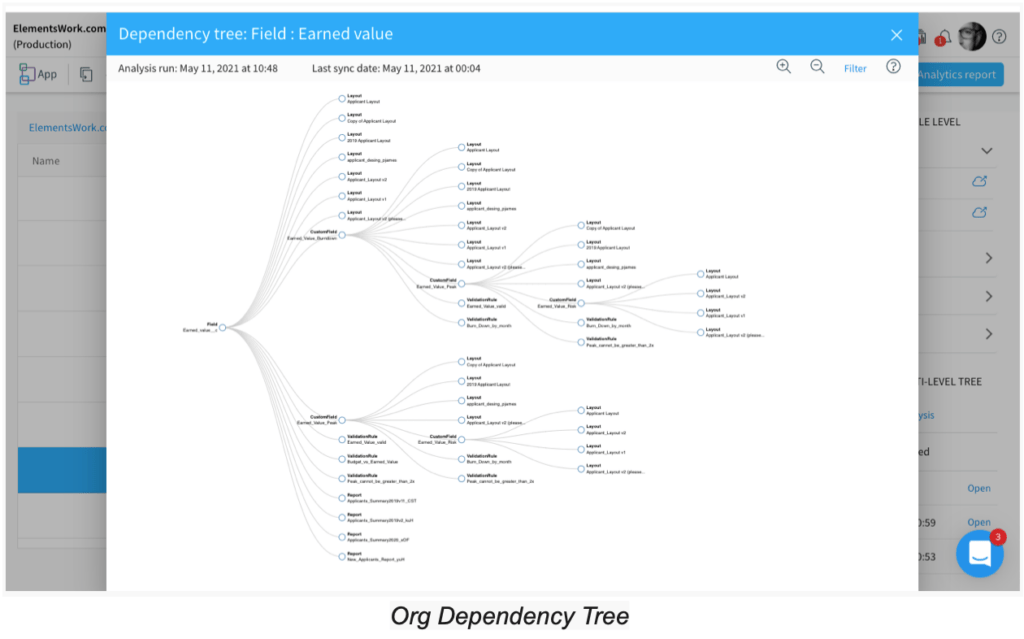 Slice and Dice
Now you can really see the Org. You can check out the Org Impact Analysis report which is the overview of the Org. You can navigate around the metadata dictionary and you can drill into any metadata item, such as an object, so see the related metadata – fields, flows, record types – and the detailed analysis.
And everything can be reported on for more in depth analysis.
Finally all the analysis is available inside Setup. Select any metadata item and we inject the analysis into a right panel in Salesforce Setup using a Chrome Extension.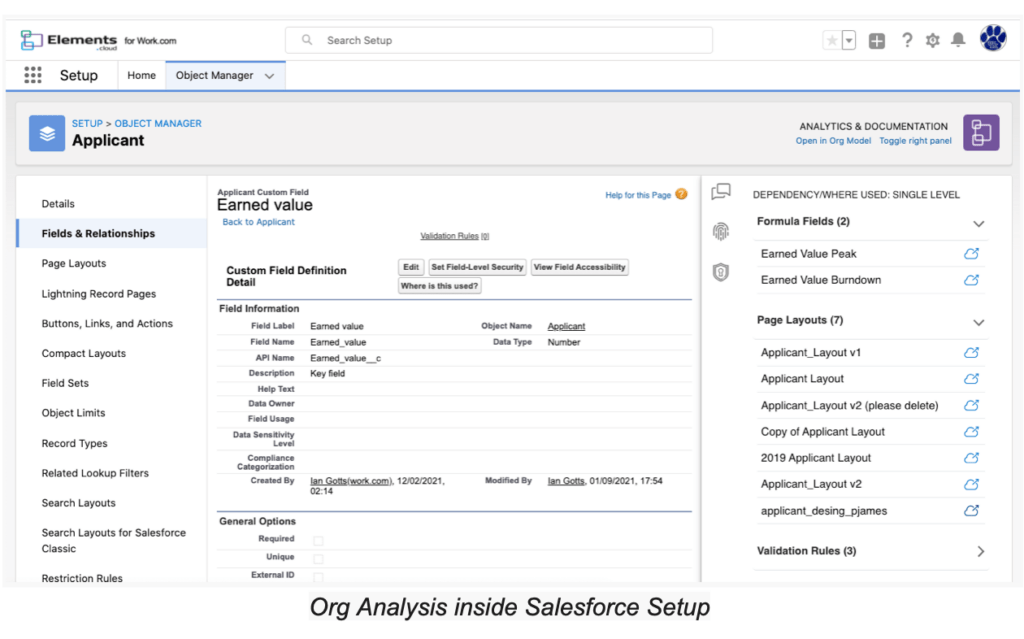 We have developed an Org Discovery course in our Academy which takes you through the set up, but then helps you do the analysis and come up with an Org analysis report. This will blow away your client or boss and make a great first impression,
You are the detective. Document the evidence.
As you navigate around your Org you will spot things; metadata that can be deleted or optimized; notes about what you've discovered who or why things were configured, ideas for improvement. You will need this if you want to create a report of recommendations.
Step away from GoogleDocs or GoogleSheets. There is a better way.
You can document what you've found inside the Org connected to metadata. There are 3 different ways, all accessible through Elements or Salesforce Setup for every metadata item in the right panel:
Salesforce description for the metadata that has a description field – not everyone does. This can be updated from the Elements Info tab
Optimization ideas. The Optimization tab is essentially a todo list where you can capture the action, assign it and report on the actions.
Documentation. Add quick notes, a screenshot or a link. You could even create a quick UPN process map to describe a flow and attach it. This is in the Documentation tab.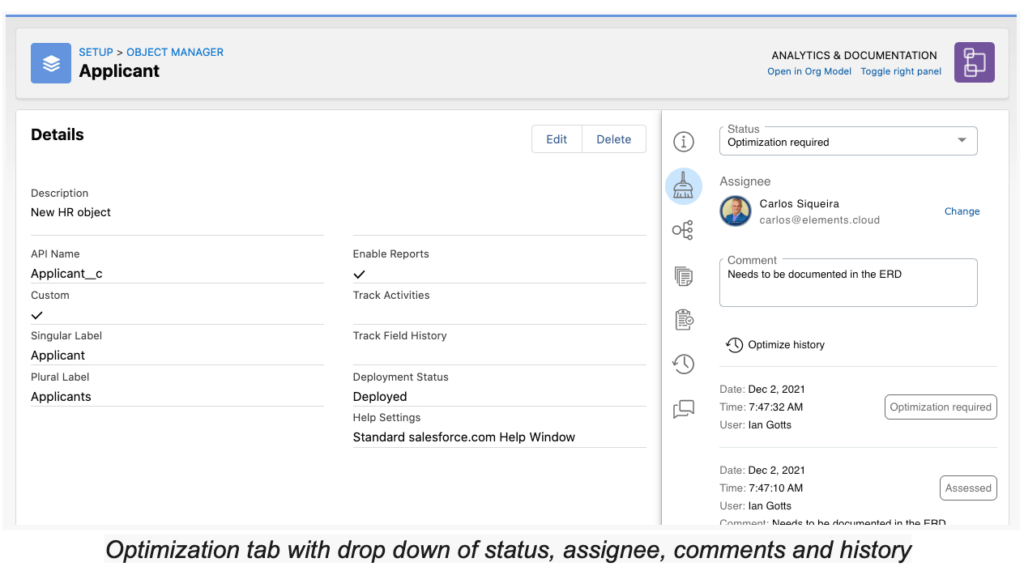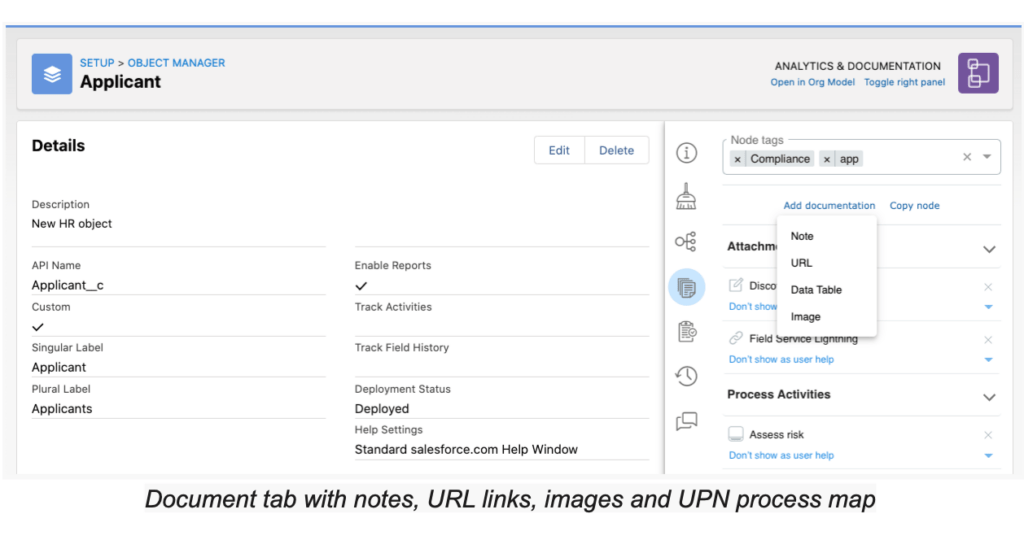 But the org changes
Absolutely, which is why we sync the org and analyze it every night and produce an email with the change log.
Elements.cloud does so much more to provide intelligence across the entire change cycle with a central repository of end user feedback, requirements, process maps, user stories, documentation, and in-app help. Which is why we call it a Change Intelligence Platform. But more on this later.
Getting Started
Register for a free Elements user account. You will get an Elements playground. You can connect that Playground to your Dev Org. The analysis on a Dev Org will take about 10 mins to run.
Elements Cloud have created a light, introductory, training package for Supermums, helping you gain the skills, knowledge, and confidence to carry out Org Discovery for yourself. With no signup, and free access to this course, you can practice the exact steps that build an impactful Org Discovery Report.
Elements Academy – Org Discovery for Supermums
**Warning: Once you've seen the power of Org Discovery you will ever want to go back.**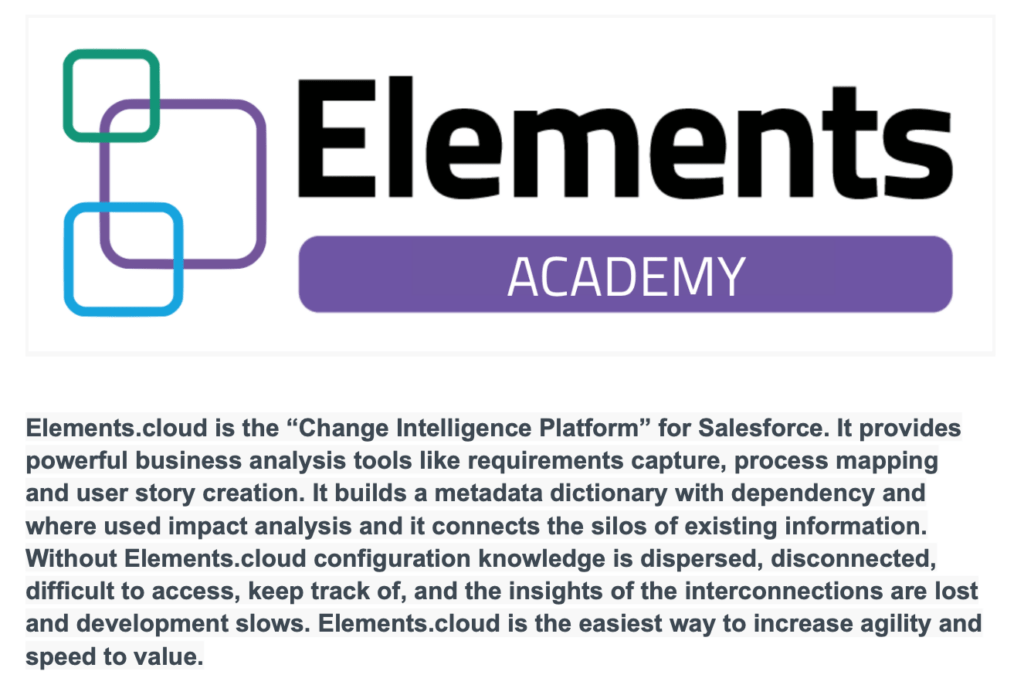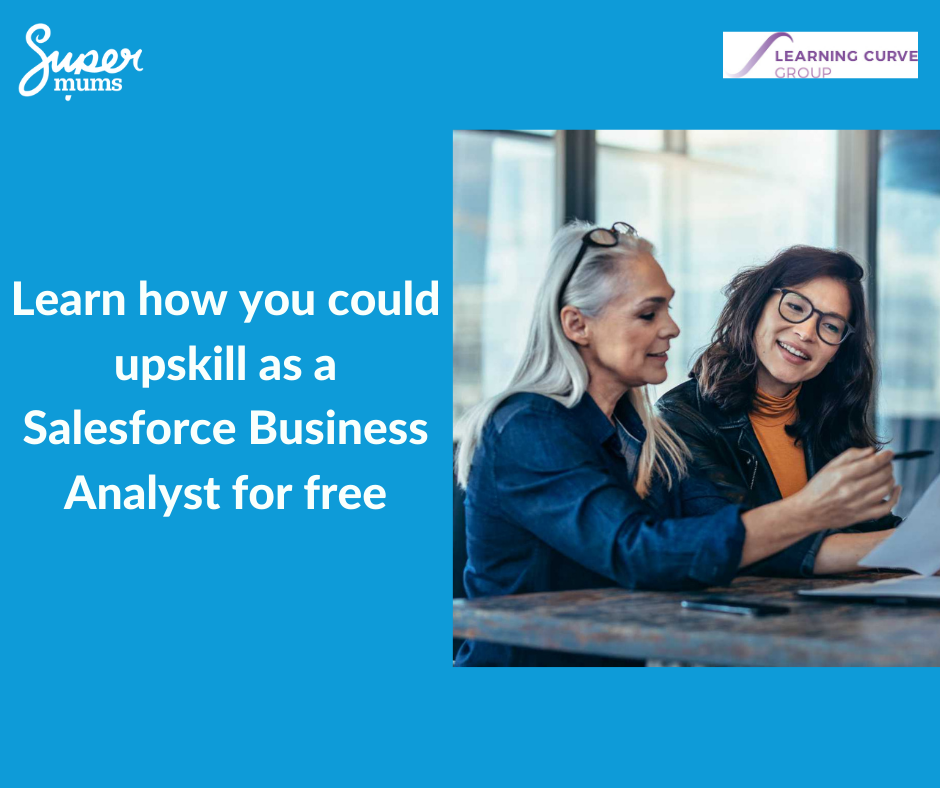 Find out more about our Salesforce Business Analyst course that you could do for FREE!
Come along to our Q&A session on Thursday 9th December and find out more about our Salesforce Level 4 Business Analyst Apprenticeship course and how to get your place for FREE.
Our partner, Learning Curve Group will be there to sharing key details.