It's that time of year again……as a new school / college / university year looms so does a new start for parents, or a rest after a long summer break!
My daughter starts school for the very first time in just a few weeks, so my emotions are up and down over such a big and exciting change. I'm sure I'm not the only one, as we reach such a momentous milestone.
If you've been a stay a home parent, having the change of kids flying the nest by going to full time education, gives you the chance think about yourself again. Whether that's going back to work, reinventing yourself or starting a new career,  it can feel like an exciting and nervous time.
It can be challenging to navigate a smooth journey back into work if you have been out of the professional environment for a while. Where do you start if you're looking for a new job? How do you present yourself at interview with confidence? What if your old job doesn't give you the flexibility you now need? How can you show that you are ready to take on more work now that you have more time?
These are all questions that I asked myself, in fact, most of the the Supermums team will have had these thoughts at some point. They are also some of the most common questions we get asked by new and potential trainees.  
Where do I start?
Firstly, write down your goals. What do you want to achieve? Reset your expectations for yourself as they may have changed. If you are not sure where to start, Heather did a great podcast at the end of last year with tips on how to set your goals for the year. Have a listen to get yourself started.
Tips on going back to your existing job:
If you're going back to an existing job, transitioning step by step, will help it go much smoother. Speak to your boss about doing keep in touch days and maybe start off by doing reduced hours and work your way back up. Not everyone has this option but its good to consider if this would work for you.
Make sure you don't start your first day back the same day that your child does. Get them started and settled and then you can focus on yourself.

 

Be kind to yourself. This will be hard and you will definitely have #mumguilt at some point but remember that its ok, it will get better, and you can do this!
Set a schedule and try as best as you can to stick to it. If you need to leave at a certain time for nursery / school pick up, block them out in your calendar.

 

Manage expectations. If you are working part time then it may take longer to come back to someone but if they know this ahead of time, they can plan for this.
Tips if you're looking for a new career or job:
Update your CV. This might sound obvious but if you keep this up to date every 6 months with projects etc, then when you come to apply for a new job, you won't have to try and remember all of the great things you have worked on and achieved. Also, have multiple CV's for different types of roles.
Update your LinkedIn profile. Dates, info, projects, achievements, profile photo and headline. You know the drill!
Go back to the goals that you have set out and try matching these with different jobs, especially if you are thinking about a change in careers. So many trainees are surprised to find that they can apply their previous skills and knowledge in roles within the Salesforce ecosystem.

 

If you are looking for part time roles or ones that are more flexible around having a young family / commitments, have you thought about a career in tech? Check out the different career options available using Salesforce.
Still don't have a clue about what you want to do?
Talk to our career consultants about the courses Supermums offers and how they could help you achieve the career you want. Book a call with them today.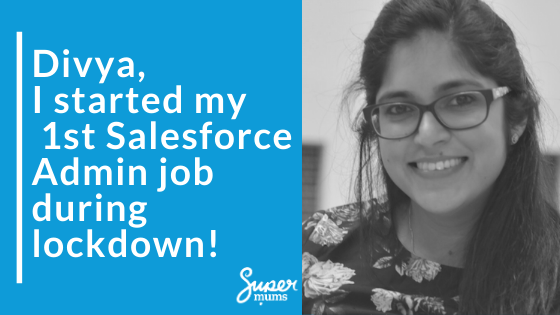 Divya – I started my first job in lockdown!
Divya is a mum from London who used to be a high school Spanish & Chemistry teacher. Her husband encouraged her to look at Salesforce when she was on maternity leave and after giving Trailhead a few tries, she fell in love with Salesforce but knew she needed guided learning to really reach her goals of changing careers. After applying for role at the beginning of 2020, Divya got her new role during COVID-19 lockdown.
Listen to how even a global pandemic couldn't stop this Supermum.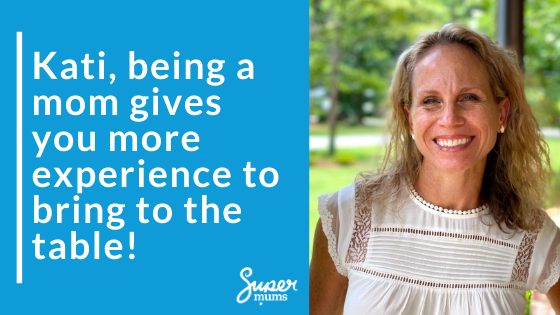 Kati – Being a mom actually gave me more experience!
Kati is a mom of 3 from Atlanta, GA with a background in Sales & Marketing within the hospitality sector. Her husband told her to check out Salesforce and she gained her first cert via Trailhead. With a taste for Salesforce but the need for more hands on learning, she discovered Supermums during the Stronger Women Summit in June 2020. This gave Kati the tools to reevaluate herself, her strengths and how just because she was a mom, she was still the same person, but now with more skills and experience to bring to the table in the Salesforce ecosystem. 
Check out our latest "What is" series.
Have you wondered how to get started in a flexible, well paid career in the tech industry? What qualifications do you need? Where do you start? Can my previous experience help me? What is the next step after Salesforce Admin? How can i be a contractor? How do i get into marketing in the Salesforce ecosystem?
We've done the leg work so you don't have to!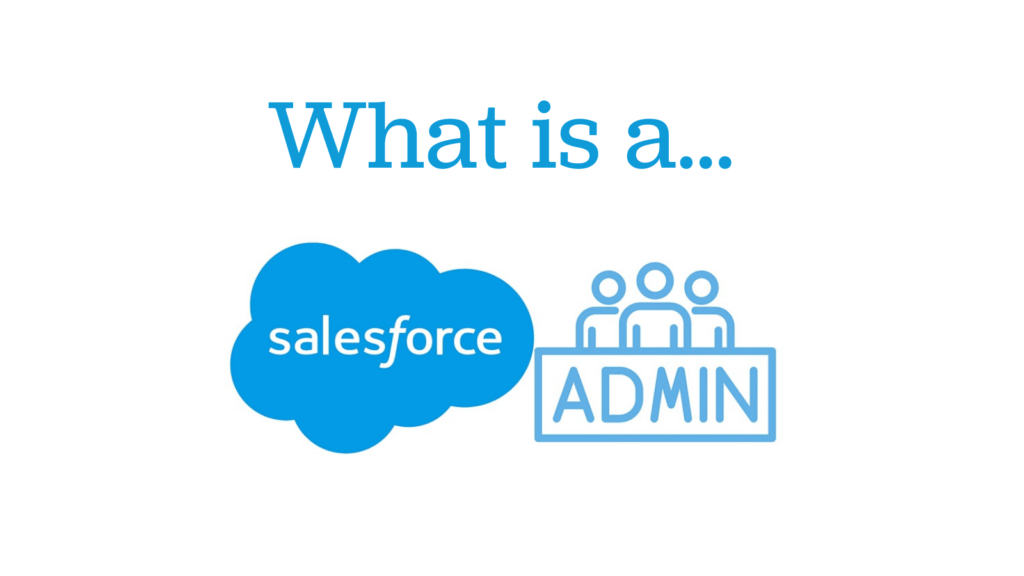 If you're thinking about starting a career in Salesforce, a Salesforce Admin is the best place to start and get your foot on the ladder. But what is a Salesforce Admin and how to do you become one? Read our tips on how to start your journey and the certification you'll need to get that first job!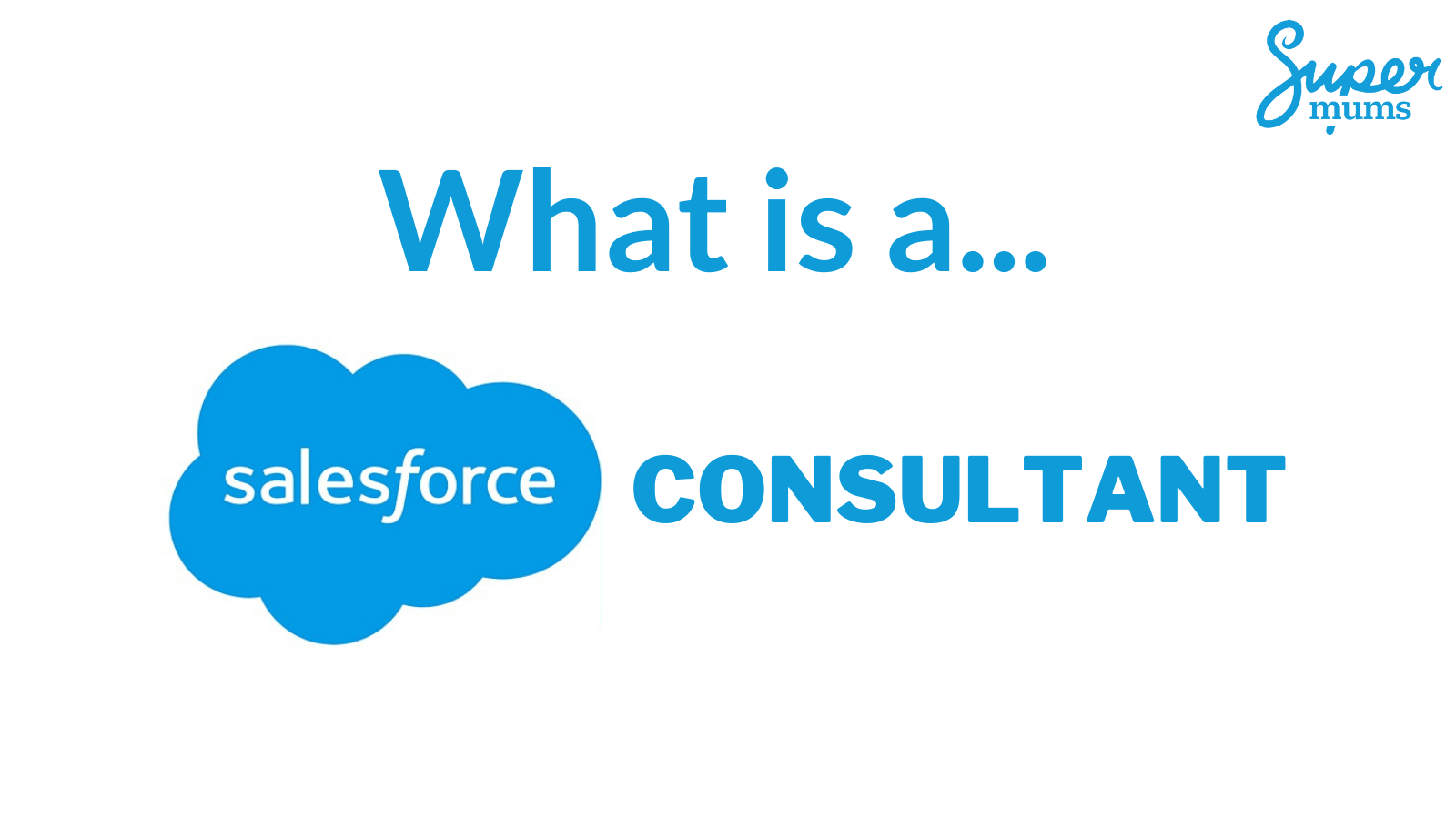 You might already have your Admin cert or experience of Salesforce in your day to day job. How do you take your knowledge to the next level? This is where the Salesforce Consultant Skills come in. A good consultant is one who understands the platform but equally has good business analysis, project management and change management skills to guide people and organisations through a process to solve critical business problems…..and can add up to £10k to your salary.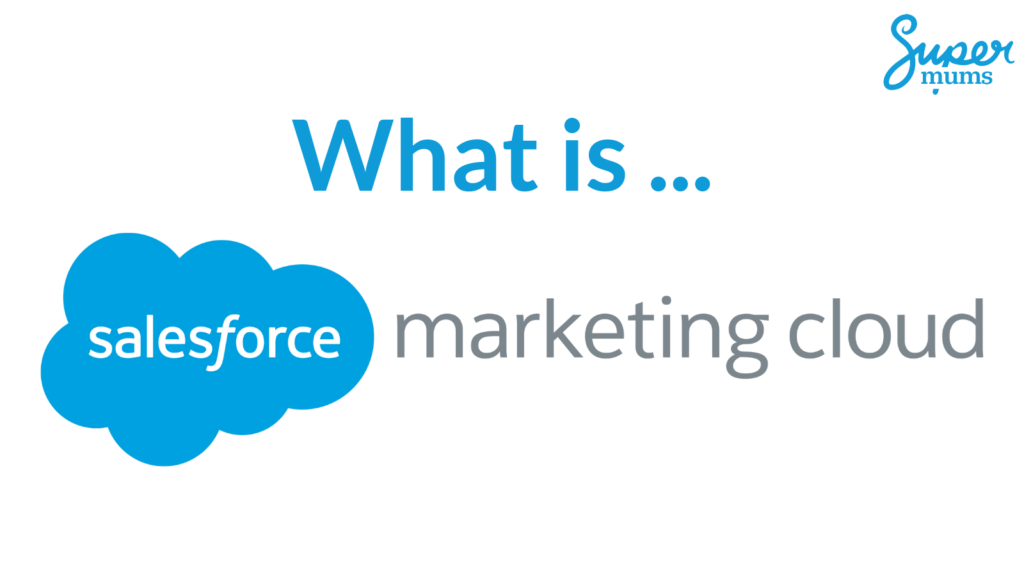 Are you an experienced marketer and looking to upskill? Are you thinking about a career in marketing?
Find out more about Salesforce Marketing Cloud, the different types of roles you can take on within this space and how embracing it will future proof your career with the most in-demand marketing skills.
If you are ready to apply for  a job then you can apply for a wide range of roles via the Supermums Recruitment Team. We currently represent a range of great customers and consultancies in the UK.
Sign up to our Recruitment Service and stay up to date with the roles available.