What is a Salesforce Admin?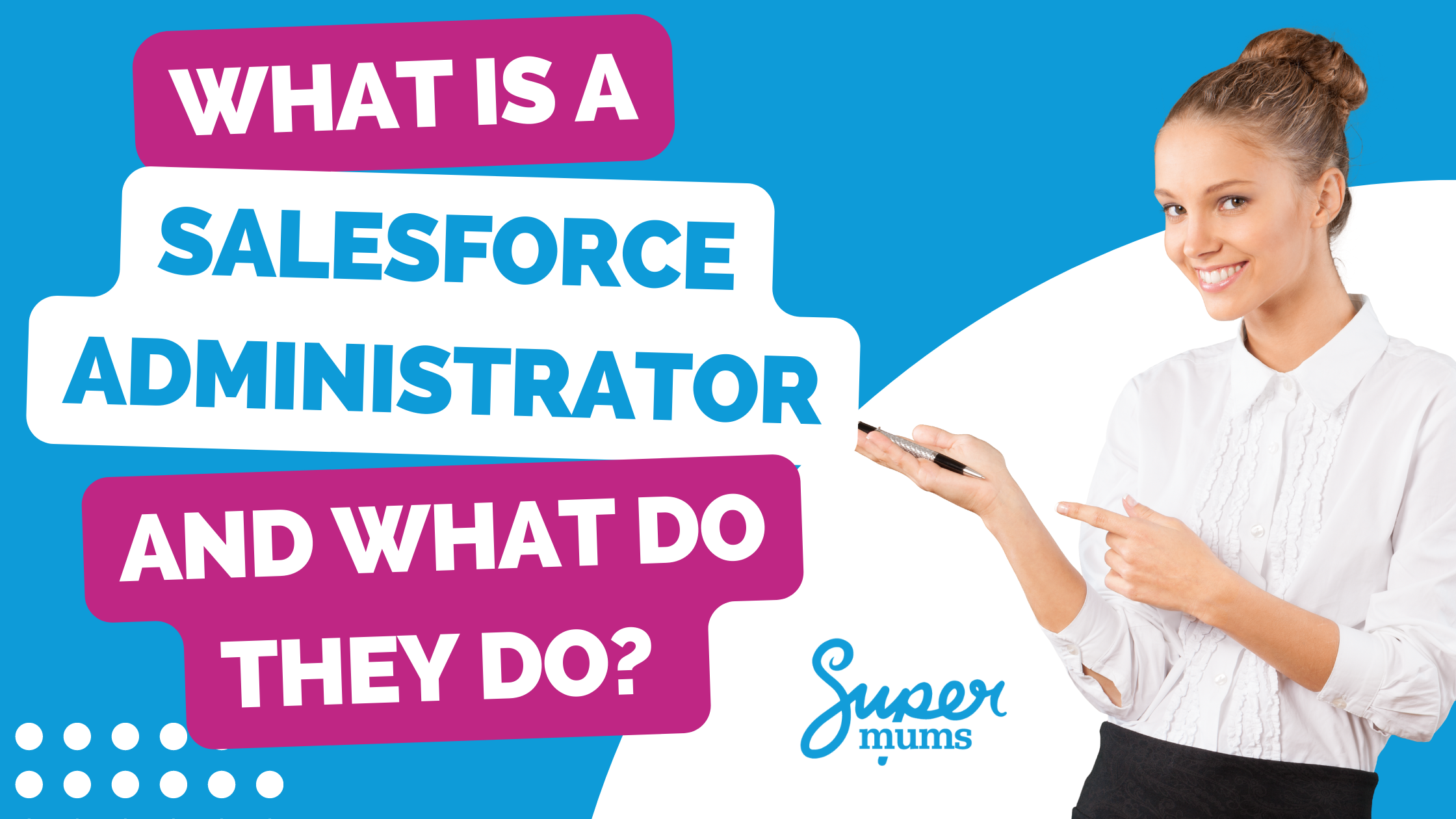 During our 'Salesforce Job Role' Series we dive into the different job roles available to you in the eco-system.
Check out the range of roles we have in this series to explore in more detail:
What is a Salesforce Admin
What is a Salesforce Business Analyst
What is a Project Manager
What is a Salesforce Consultant
What is a Salesforce Marketing Cloud Specialist
The economy and job market has changed drastically and people are looking for a more flexible resilient well-paid career. Job roles within the tech sector are the answer to many people's prayers and you don't need to have a technical background to work in the sector. If you have a love for improving business processes for the benefit of teams and customers then skilling up as a Salesforce Admin might be the right opportunity for you. 
Salesforce helps over 150,000 customers, connecting them to their customers in all types of businesses and non profits across the globe. Salesforce is the leading CRM system in the world and their is a huge talent shortage as their product is so popular. A CRM is a Client Relationship Management Sytem which tracks all of the company's contacts, transactions and communications in one place. A CRM keeps a company running as manages all of their customer interactions across sales, marketing, customer service, finance and more and makes teams work much more efficiently. If you are new to the world of Salesforce and want to know where to start, upskilling as a Salesforce Administrator is your foot in the door that will open up a whole new world of opportunities in the growing ecosystem. Read on to learn more about:
What is a Salesforce Admin?
What does a Salesforce Admin do?
What's rewarding about being an Admin?
How to become a Salesforce Admin
Career opportunities for Salesforce Administrators
What is a Salesforce Admin?
This is an individual that helps a company get the most out of Salesforce CRM using "click not code". Admins focus on ensuring the CRM system is working for its users, assessing business processes, identifying improvements, building functionality based on requirements, fixing issues and training users on how to use it. If you don't have an IT background, becoming an Admin is a great place to start.
What does a Salesforce Admin do?
In some companies, administrator jobs are combined with other roles while others are hired specifically for this role. Having someone with an admin certification can ensure the company is using the platform to its fullest potential.
Eg. The company might use Sales Cloud to keep track of sales opportunities and close deals. With the help of a Salesforce Admin, your sales team can set up dashboards and reports to shorten the sales cycle and track every lead in greater detail; Or the company might use Service Cloud to manage their call centre. With the help of a Salesforce Admin, the service team can manage their call handling and log and respond to calls effectively. There are a range of products to support Sales, Marketing, Commerce, Customer Service, Finance, Non-Profits, Healthcare, Education and more.
What's rewarding about being a Salesforce Admin
As a Salesforce Admin you get to:
improve business processes to make them more streamlined and automated,
make people's jobs and lives easier through removing administrative tasks,
help a business understand it's performance by creating useful reports and dashboards,
make customer's happier as customer service and response times are quicker.
There is a lot to smile about if you enjoy making things better for people.
How to become a Salesforce Admin
Firstly, you don't need to have a background in tech or any previous knowledge of Salesforce to get started. Anyone with a computer and an internet connection can get started.
The first step is to understand the foundations of the platform – what it is, how it works, why does it work for companies. At Supermums we provide a six month learning journey with our Supermums Ultimate Admin Course which is the best foundation. Why? Our course includes:
Motivational Training – There is 16hrs of training/home study to do a week and we keep you accountable. This includes a live 2hr webinar followed by virtual practical exercises and further study. Each week your mentor will check over your practical homework and tick it off as complete. If you need help they are there for you.
Work Experience Project. Following the completion of three months study, we give you the opportunity to get hands on experience which is a valuable asset to your CV.
1-2-1 Mentor. They will have weekly catch ups with you, check your homework and be your sounding board for any questions to help coach and support you to pass your Admin exam.
Not 1, but 3 references. We can get not one but THREE real recommendations on LinkedIn if you do a great job – from the trainer, mentor, and work experience partner.
Endorsement by Global Brands. Our training courses are endorsed by global brands which creates trust. We are a Salesforce Partner and a Salesforce Talent Alliance Partner. This looks great on your CV too.
Peer Support. We only have small cohorts of learners, so we get to know you and you get to know each other to encourage each other along the way.
Dedicated Training manager. We have dedicated Training Managers in each region on hand if you get stuck, concerned or troubled about your learning journey.
Follow on Support. We don't leave you hanging after the training. We continue to invest in building your confidence, certifications, communication and employability, with our coaching skills programme, study groups, our employment readiness module and recruitment support to help you get your certifications and land your first job. You are part of your community for life.
We also have our Essentials Admin Course which is shorter and more suited if:
Are you already a Solo Admin?
Are you self taught and have no formal Salesforce qualifications?
Want to learn the Salesforce basics fast and don't need a mentor or work experience project? Our Essential Admin course could be the right one for you.
If this sounds like you then you would benefit from our 3 month Essential Admin course. It still includes all of the ADX201 training but doesn't come with a mentor, work experience project or employability support.
DID YOU KNOW: You could save over £1000 by doing the Supermums Ultimate Salesforce Admin Course comparative to other ADX201 commercial training courses that are over £3000!! We are all Authorised Salesforce Training Providers delivering the same content but at Supermums we add in a lot more for the price and, as a non-profit, we reduce the price for our trainees thanks to our sponsor Provar Testing.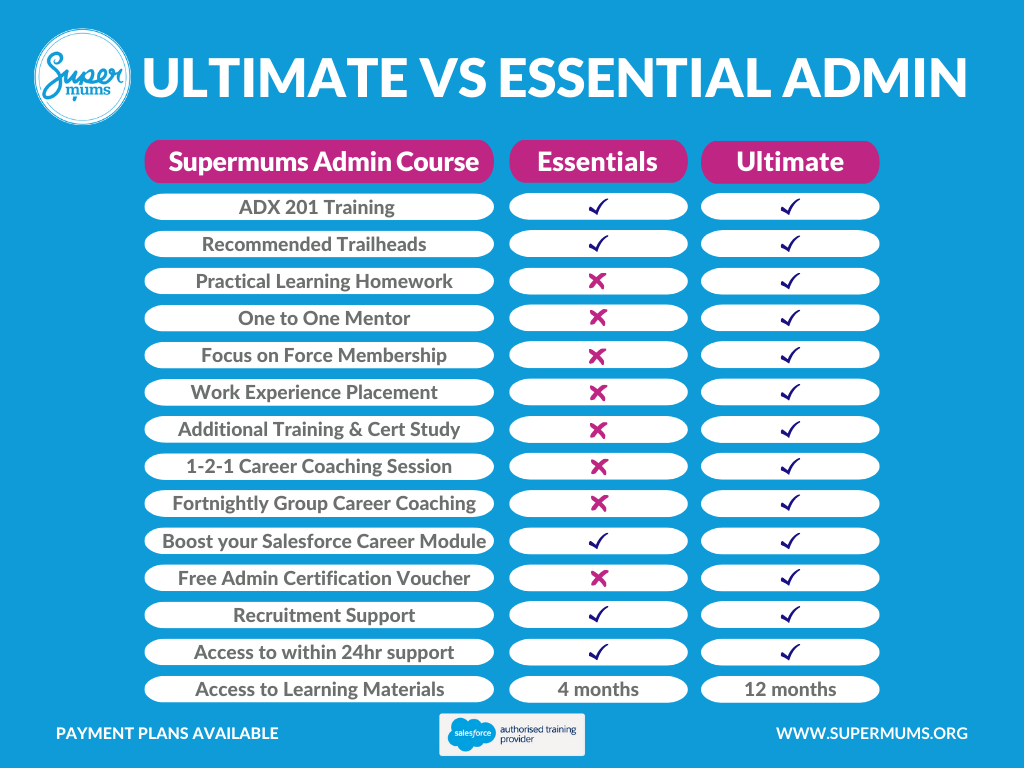 Career opportunities for Salesforce Administrators
As Salesforce continues to grow, Salesforce Admin jobs will grow, too. Salesforce research shows a 400% annual growth rate for admins and salaries range from £35k to £50k/ $79 – 95k. It's a career path for people who love to learn and for professionals who enjoy using the latest technology.
However once you bag the Salesforce Admin certification you can quickly progress to other roles that advance your salary and career quickly. Typically you can increase your salary by £10k every two years when you start out. You might choose to become a Business Analyst, Project Manager, or Developer. Check out the different career roles here.
Keen to find out who else has transitioned, then check out some Success Stories. Our Alumni include teachers, retailers, hospitality, marketing, sales, lawyers, charity workers and more. Salesforce worked us and the BBC to bring to life one of our Supermums stories. Watch Silvia's journey below:
Does this sound like the career move for you?
Are you thinking of pivoting into Salesforce from a different career?
Worried about taking the leap?
Don't underestimate the value of the skills you already have! The Salesforce ecosystem embrace transferable skills from previous careers, jobs or even parenting.
Our Admin Training will kick start your technical knowledge and then depending on the route you take, our Salesforce Consultancy Skills Course will help you hone those other skills and apply them in the context of Salesforce or if marketing is your passion, our Salesforce Marketing Cloud Course can give your the digital marketing skills to keep pace with technology and make you stand out from your peers. None of those sound right for you? Check out the different roles available in Salesforce on our Career Options page.
Subscribe To Our Weekly Top Tip Bulletin
Get Updates And Learn From The Best