Are you looking for a new job or thinking about doing something different?
Don't pigeon-hole yourself by only considering opportunities similar to your established career or what your degree says you are qualified to do. If you are going in a totally new direction with your career, it may require reinventing yourself, utilising hidden skills and talents, and setting different goals.
In this weeks podcast, Berta shares her tips about how to build your confidence and how to overcome that imposter syndrome, especially if you're starting out in a new job or industry like tech, for the very first time. 
From Imposter Syndrome to Self Belief!
Julie is a mum and has worked in the non-profit services sector for over 15 years. She found Salesforce whilst looking for a better database option and stumbled upon Supermums training. Since then she has studied on our Admin and Coaching Skills courses which have enabled her to become a Superuser and to assist with this implementation while continuing to to learn more certs in her own time.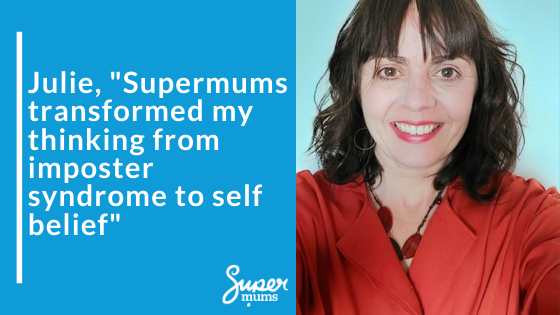 You won't find bootcamp style content here. We give you in depth content, exam prep, connect you to a like minded community and offer ongoing support and access to our recruitment team!
Our Admin cohort starts next week and we still have a few places left in both EMEA & USA time zones. The next Marketing Cloud course starts in June and places are filling up fast. If you are thinking about taking that step, go for it, we are there to support you the whole way…..and you will be on your way to earning more and working less before you know it!