Heather and her team are helping Mums to be Superheroes at work, as well as at home. Two years ago, Heather sat with her youngest daughter on her knee and decided it was a secret she needed to share with other mums. You could look after a baby, enjoy a meaningful career and live by the sea in Hastings. There were flexible well-paid careers out there for mums within the Salesforce ecosystem. It was time to launch Salesforce Supermums and to shout about it.
Heather describes how she got started..  
"I never imagined I would build databases as my career, but that's just what I do today - I implement databases for non-profits, to help improve their efficiency and evaluate their impact.  
 I'm not a coder! I'm a mum, a business owner and management consultant. I have worked with the Salesforce system since 2010. I started out as a certified Salesforce Administrator and then completed a further 7 training courses with qualifications to enable me to deliver in my role today as a professional Salesforce Consultant. 
 As database creators, I like to think we are 'tidying up' an organisation – we clear up their data collection, streamline everyday processes and help them to evaluate how they are doing against targets real-time.  
Salesforce empowers you to build databases with 'click not code' and 47% of Salesforce Admins are women! A good understanding of business and management processes are useful but an attitude to learn is the key."  
What does the Salesforce Supermum programme entail?
Our Salesforce Supermum Administrator Programme offers mums a six-month package of virtual support to get started. It includes training, mentoring and real work experience totalling up to 40 days of learning.
After qualifying as a certified Salesforce Administrator, trainees can train up in additional areas and progress into a wide range of roles from administrators, project management, business analysis to development, depending on their professional background, qualifications and expertise.  To find out more about the role of Salesforce administrators, take a look at this great Salesforce Video.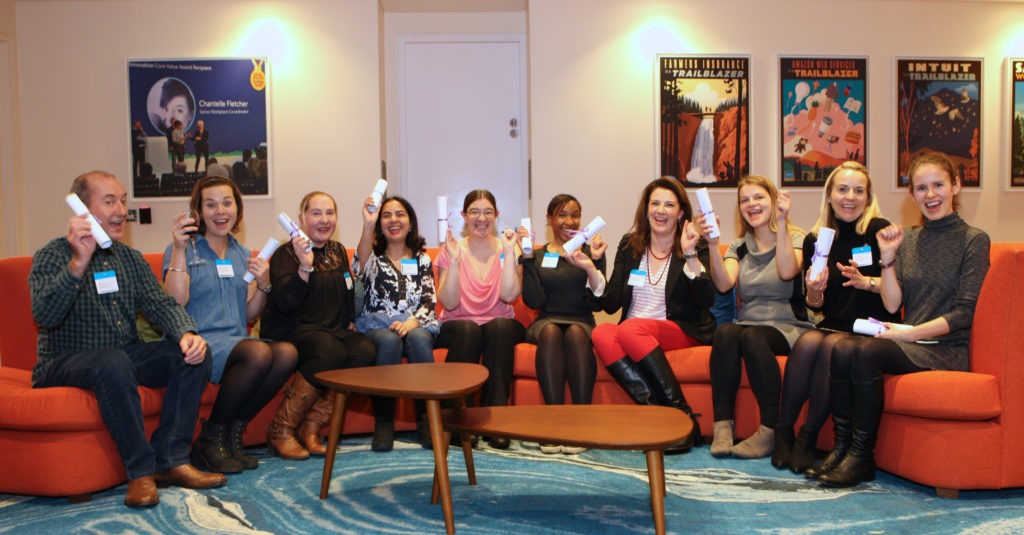 Since the programme started in November 2016 we have launched 8 courses and recruited 66 trainees from the UK and Internationally. 26 trainees have so far completed the course of which 19 are now certified and 23 are working in Salesforce job roles.  Our Supermum's recruitment team has actively filled 15 job placements and our placement commission helps to fund the programme.   
Why are mums deciding to take the retraining course?
We find our mums are motivated to train whilst on maternity leave, looking to return to work or are working but are actively looking for a more flexible well-paid career. They sign up to the programme as it makes them accountable to achieving their goals and gives them the well-rounded experience they need to give them the confidence to secure their next job role. Here's how are few of our mums have found the programme.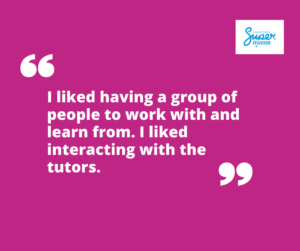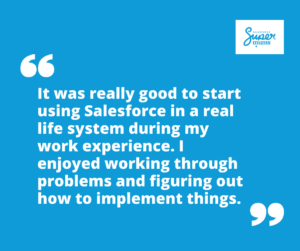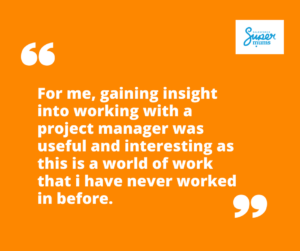 Our supermums have worked on real charity implementations with our consultancy team and so far have provided £195k of pro-bono volunteer support to 46 charities.  With their help, we are able to offer small charities a discounted implementation.  
We recently launched our new website www.supermums.org and a Salesforce Supermums Network on Facebook which brings together people interested and involved in Salesforce Supermums.
We have launched a Salesforce Champion Membership Group that is available to anyone in Supermums Network and Non-Profits Champions to support them with their ongoing learning and training requirements as they progress their career in the eco-system, Click here to find out more.
We are grateful to have attracted over 30 Volunteers from across the Salesforce eco-system who are providing support by delivering mentoring and training to our Supermums or just engaging within the Facebook Group.
We celebrate our 2nd Graduation Ceremony at Salesforce Towers with our supermums next month.
What's Next for Salesforce Supermums
As part of our scale-up strategy, our Supermums are able to offer free implementation support to School Charity PTA's who can benefit from the Salesforce Non-Profit Success Pack which provides them with a fundraising management solution.
Our plan in the future is to scale up our impact and launch additional courses that help mums train up in Sage Business, Pardot and Platform 1 Skills internationally. We will secure investment and scale up our recruitment agency arm that is placing individuals into great job opportunities and helps to sustain our social enterprise mission.
Our Wider Social Impact
As a mum i feel we have a responsibility to share our learning with the younger generation and we asking our Supermums to inspire and inform young people by visiting schools and sharing videos about job opportunities that exist in the Salesforce eco-system.
We are thankful for the support of the Sage Foundation and Salesforce for helping us to make this programme a reality and we look forward to seeing it flourish in the future to tackle equality and make an impact on women's lives.  
Ready To Start Your Learning and Journey Into A Career in the Salesforce Ecosystem?
The next cohort for our Salesforce Supermums training programme starts on the 5th November. You can find out more about the programme here.