The Deveau Group and Supermums have helped 95 parents to launch their Salesforce careers in the USA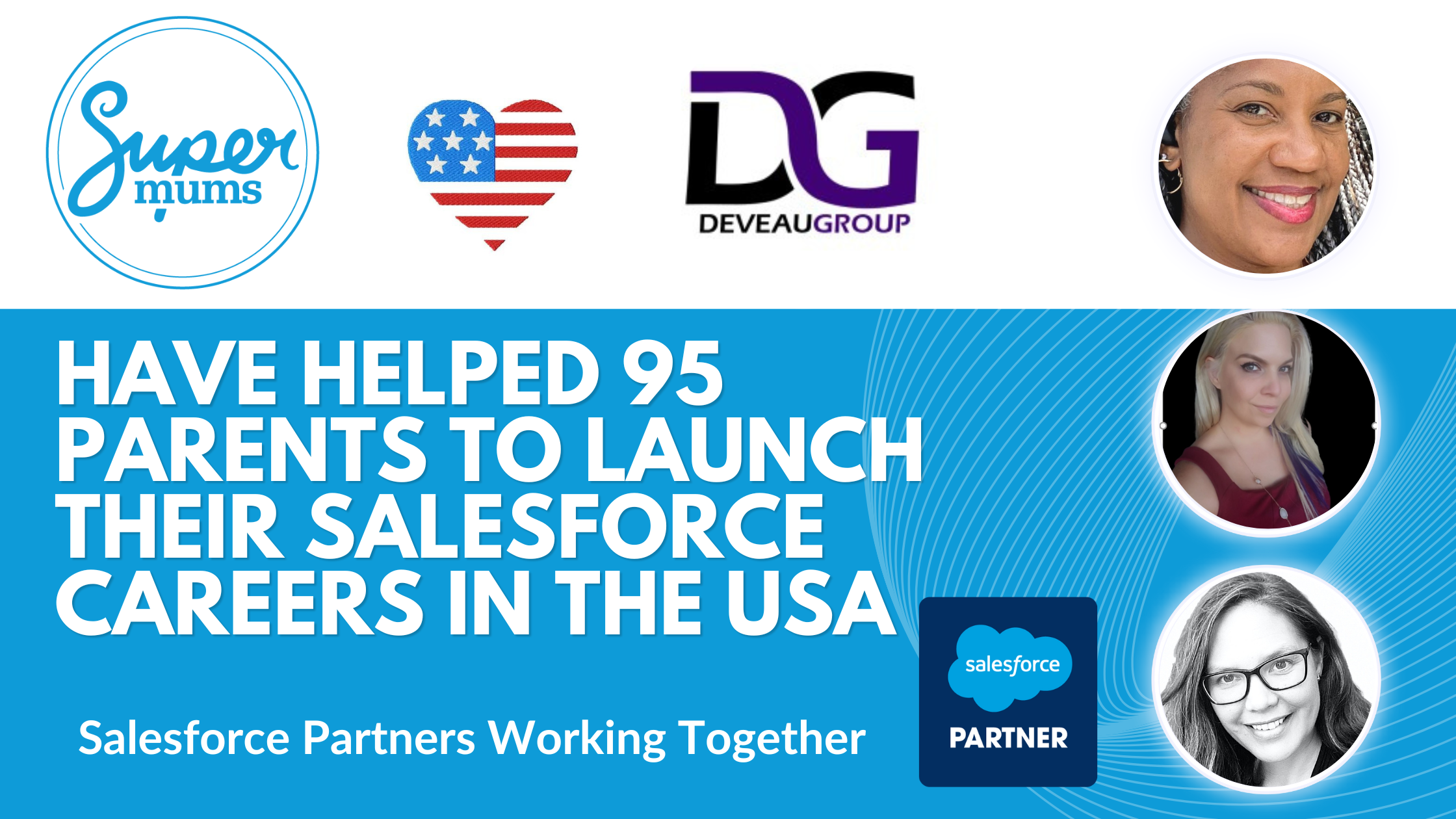 The Deveau Group – a Salesforce Implementation Partner in the USA has been working with Supermums over the last two years to provide real hands on pro-bono experience for parents relaunching their careers in Salesforce. We want to celebrate the success and gratitude for this partnership to help change lives and give back.
The Deveau Group is dedicated to inspiring & empowering the world's nonprofits through the power of Salesforce. They run a 50/50 model where 50% of their implementation work is commercially charged for and the other 50% is delivered as pro-bono projects to non-profits who don't have funding. The Supermum trainees work on the pro-bono projects alongside volunteer project managers. The Deveau Group is very passionate about supporting parents who are looking to get back into the workforce. They support new talent in gaining meaningful work experience as part of their DNA.
Sarah Deveau, Founder says "Our purpose is to help people grow and move on and up in the eco-system."
Since working with Supermums, The Deveau Group have provided 95 trainees with pro-bono experience equating to more than 4560 hours of pro-bono effort valued at $570,000. Supermums trainees are committed to doing 48hrs of volunteer pro-bono experience over 8-10 weeks, while some have decided to give more time as the desire to build their experience and confidence comes from working on various project deliverables.
"Its such a blessing to work alongside a Salesforce Partner that shares the same values and passion for helping parents relaunch their careers, to provide pro-bono support to non-profits and to pro-actively provide wrap around support to empower them to be successful. It's a perfect match and it helps our trainees to get from A to Z to launch their new career. It's a win win for everyone " Heather Black CEO, Supermums
The Credentials of Trainees
The credentials of Supermum trainees gives The Deveau Group the confidence that they will be ready to deliver practical work on real-life projects with minimal risk. Before working on a project, Supermum trainees complete the ADX201 Authorized Salesforce Admin Course completing 160 hours of training and practice homework over three months. This work is overseen and quality assured by a one to one mentor who is assigned to each trainee. The trainee meets their mentor every week for 1-2 hours providing support to their learning journey. A home work record is completed to verify that the learner understands the competency of the week and that homework has been completed. Our learners at Supermums are only referred for pro-bono experience once the 3 month period of practical learning is complete and all the homework records have been submitted. We assess the level of skill and experience of our learners before they are assigned to work on real-life projects.
How does the project experience work
Supermum trainees are onboarded in cohorts every quarter and get allocated to projects to work on in teams of 2 to 5. All projects are managed by a volunteer project manager. The Deveau Group uses ClickUp to manage project tasks, time tracking of work completed along with timeline of deliverables. The trainees can choose which tasks they want to work on. The team encourages independence, taking initiative and wants each of the trainees to feel in control of their level of engagement.
The management team and volunteer project managers at The Deveau Group instill a culture of family, empowerment, accountability and learning. They encourage all of the 'trainees' to think of themselves as Salesforce consultants rather than Salesforce admins, helping them embody the role they representing. This is a real project with a real client and it's all go!
During the 8-10 week placement for work experience they provide practical opportunities to develop and challenge themselves, while growing skills through mentorship, connecting with their peers in solution designs and problem solving. They attend team meetings choosing the salesforce tasks where they want to engage, including business analysis, administration, solution designs, client trainings, etc.
"We challenge them to work outside of their comfort zone understanding that's the place they need to feel confident when moving into their future career" Dawn Williams, Chief People Officer
What support do new trailblazers need on real life projects
The reality is that many of the parents are relaunching their career into a brand new industry and some will have been out of work for a while.

"Imposter Syndrome and lack of confidence is real for many of them and this is the biggest thing that the team at The Deveau Group has to tackle when working with the trainees", says Dawn.
Going forward the intention is to provide additional practical mentoring and soft skills training ultimately building the confidence of the Supermum trainees during their time with the Deveau Group.
Why do the Deveau Group partner on this?
The partnership with Supermums was initially established as a way to support non-profits that would otherwise be forced to decline the Salesforce platform; building an effective instance can become costly and out of budget for the average non-profit start-up. However, we have been able to see the talents of some amazing trainees and we now hire some of them as consultants to work on our projects as they bring a wealth of knowledge to the fore.
Where are the trainees now? Here are just a sample of stories
Shenita wanted a remote flexible role and decided to relaunch her career as a Salesforce Consultant by upskilling in Admin and Consultancy Skills with Supermums. She now works as a freelance Salesforce Consultant with The Deveau Group. She loves the flexibility it offers her to work from anywhere. Read Shenita's story here
Bridget completed her Admin and Marketing Cloud certifications with Supermums. She had a professional background in marketing and a passion for working with non-profits. She now works at Media Monks, an Marketing Cloud Consultancy Partner as a Marketing Cloud Consultant. Read her story here
Darlene had a background in HR but decided to relaunch her career with a desire to earn more working remotely. She completed her Admin Cert and landed a 100% remote Salesforce Administrator role for a Cyber Security company. Read her story here
The plans for the future
Supermums is quickly expanding their training numbers in the USA and The Deveau Group plans to expand their work experience opportunities to align with this growth.
To enable this growth The Deveau group is looking for more volunteer project managers to assist in managing non-profit projects throughout the USA and EMEA with a minimum of 5 hours per week. All of the work for these non-profits is done on a pro-bono basis.
Projects have traditionally used the Non Profit Success Pack, but the plan is to introduce more work around Sales Cloud and Service Cloud so they are looking for people with consultancy experience in these products.
Please reach out to the Deveau Group here about being a volunteer project manager http://www.deveaugroup.com/
If you are interested in being a Partner with Supermums to offer Non-Profit Pro-Bono Placements, please reach out heather@supermumsconsulting.com
Subscribe To Our Weekly Top Tip Bulletin
Get Updates And Learn From The Best