Part 3: What skills do you need for a Marketing Cloud Career?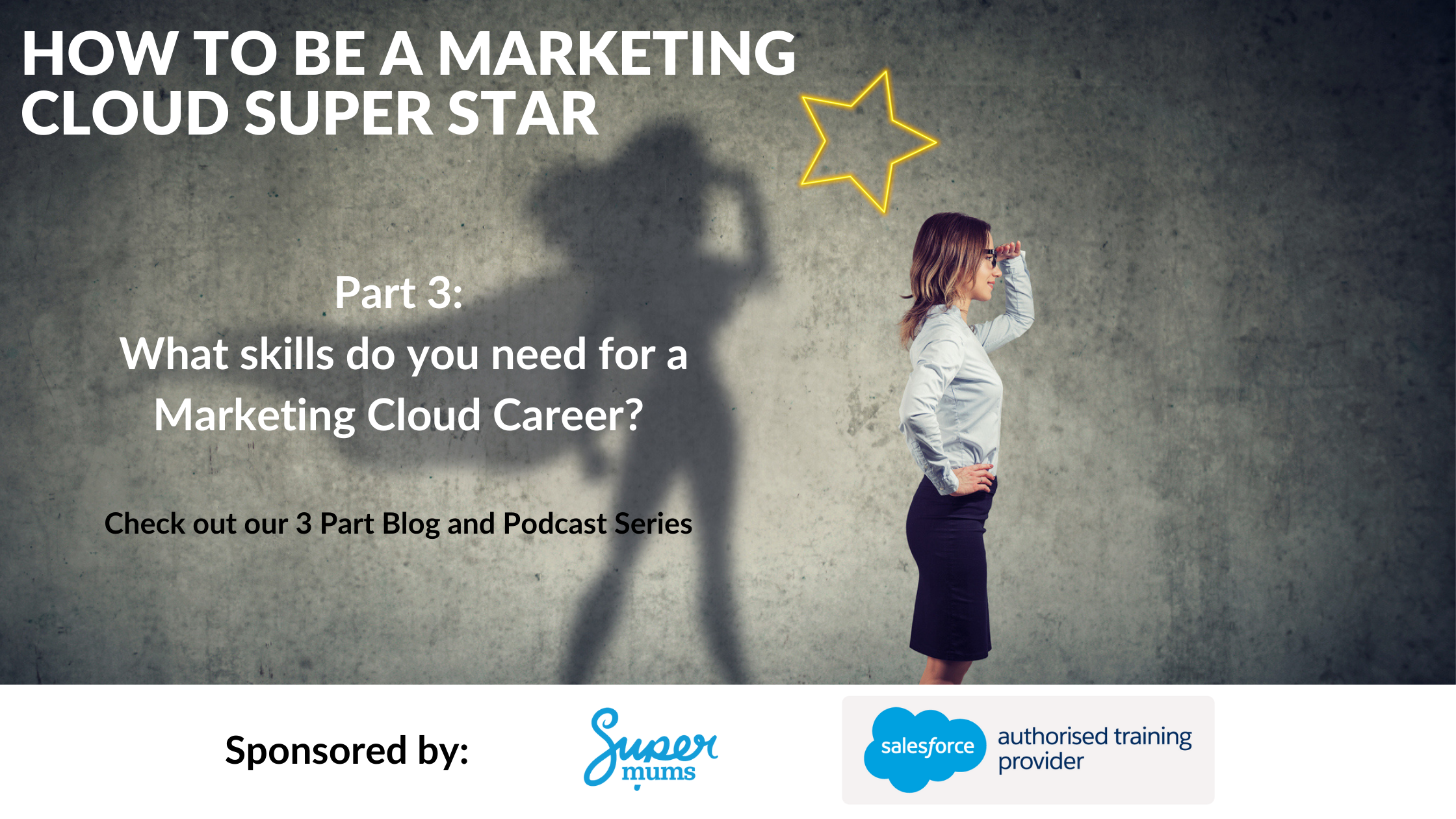 If you are wondering whether you can launch into a marketing cloud career you might be wondering about what type of skills and experience employers might be looking for and where to get started.
Salesforce and Marketing Cloud work in harmony together to optimise customer relationships and in this #MarketingCloudSuperStar mini series, we've been talking about the rising importance of Marketing Cloud and why it's one of the products to add to your bow, whether you are starting out or advancing your Salesforce career. During this series we've covered:
Why Admins Need to Get Familiar with Salesforce Marketing Cloud! (Part 1)
Relaunch your Marketing Career with Marketing Cloud (Part 2)
What skills do you need for a Marketing Cloud career? (Part 3)
Here is a sum up of 12 skills mentioned by Marketing Champions '- Danielle Laffey and Chris Zullo in their podcast episodes:
1 – Planning Skills
Knowing what your goals are, how you are going to achieve those goals, and what technology you are setting up to achieve those goals. 
2 – Project Management Skills
Being able to manage project manage and co-ordinate efforts to achieve the desired result is really important. 
3 – Communication
Open communication, being able to push back, being able to liaise with the sales team, being able to upward management, knowing and sharing what is being communicated when and why with everyone. 
4 – Business Process
Being able to understand and document the business processes and being able to review and improve the business processes to make it better. 
5 – Marketing Skills
A background in strategically planning and executing marketing journeys for businesses is really important in this role which is transferrable knowledge and experience into this role, just using another product to achieve a tangible outcome. 
6 – Marketing Cloud Skills
Understanding the fundamentals of Marketing Cloud is paramount and enables you to achieve your Marketing Cloud Email Specialist and Marketing Cloud Admin Certifications. As part of this learning journey you should also get hands on experience with the platform which is available as part of the Supermums Training Course. 
7 – Salesforce Admin Skills
It is not essential but it can add extra value to your CV and capabilities to have an understanding of Salesforce, how it works and how it connects with Marketing Cloud to maximise data intelligence and synchronicity. You could qualify as a Salesforce Admin so you can turn your skills to both solutions and maximise the connection between them independently. 
8 – Salesforce Products
Beyond Admin Skills understand the dynamics of Sales Cloud and Service Cloud allows you to see the big picture and how and when emails might need to be sent via Marketing Cloud that are part of a sales or customer service journey. Having the big picture view point will broaden your knowledge and capacity to progress up the Marketing Cloud Career Ladder. 
9 – HTML Skills
To have a basic understanding of HTML is really valuable if you are going to get your hands dirty building out email journeys. It depends on which job role you pursue within the Marketing Cloud Career stack. 
10 – Other Coding Skills
If you intend to progress into a Marketing Cloud Developer role, it can also be useful to understand and know SQL, Ampscript, HTML and CSS coding experience. 
11 – Database / CRM Skills
Having an understanding of relationship databases and how customer data is stored and connected so it can be utilised with marketing platforms. 
12 – Analysis Skills
The power of Marketing Cloud and it's capabilities is to enhance a companies marketing return on investment, which is reliant on useful analysis and adjustments to maximise productivity and customer engagement.
How to learn Marketing Cloud
Supermums offers the ideal Marketing Cloud training program that's like no other – combining 2 courses in one as one of only a few Trailhead Academy approved training providers AND we include access to a 4 week Trial org – this is notoriously hard to get hold of, but with Supermums, we've got it covered – so you can get your hands dirty and put into practise everything that you are learning.
Our course is also £1600 / $2000 less than if you studied with other MC course training providers.
Supermums was created to help mums and dads get back into work after a career break so our courses are fully virtual, all sessions are recorded so you can watch them back if you aren't able to join the live sessions and we design our timetables around school holidays.
Find more about our Marketing Cloud course and how we can help you on your journey to become a professional marketing cloud expert. Our next course starts on the 26th October, plus add on the Admin Course at a discounted rate if you want the course bundle. Just add both courses to your basket and use coupon code 'CAREERBOOSTBUNDLE23'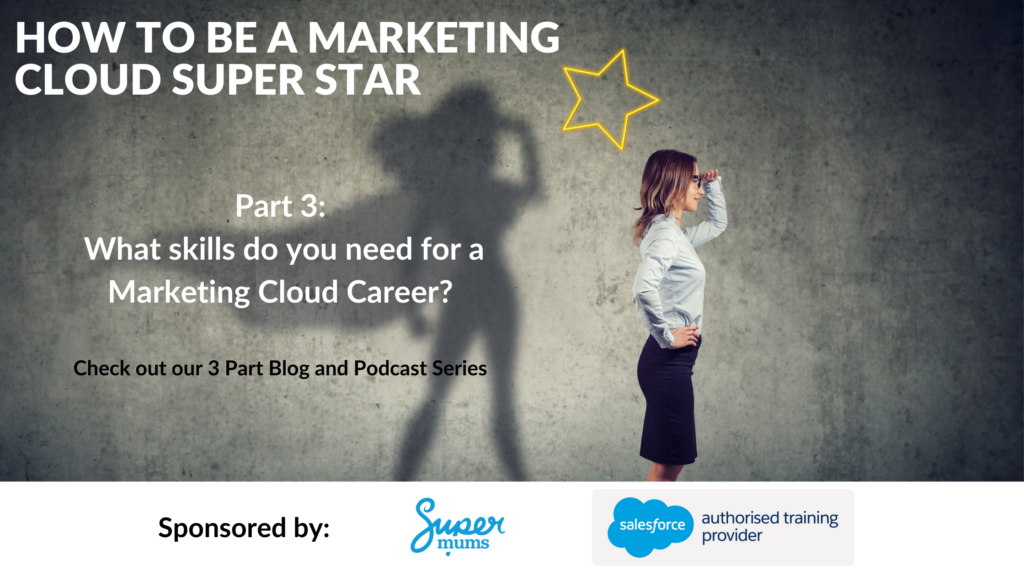 Subscribe To Our Weekly Top Tip Bulletin
Get Updates And Learn From The Best