Part 2: Relaunch your Marketing Career with Marketing Cloud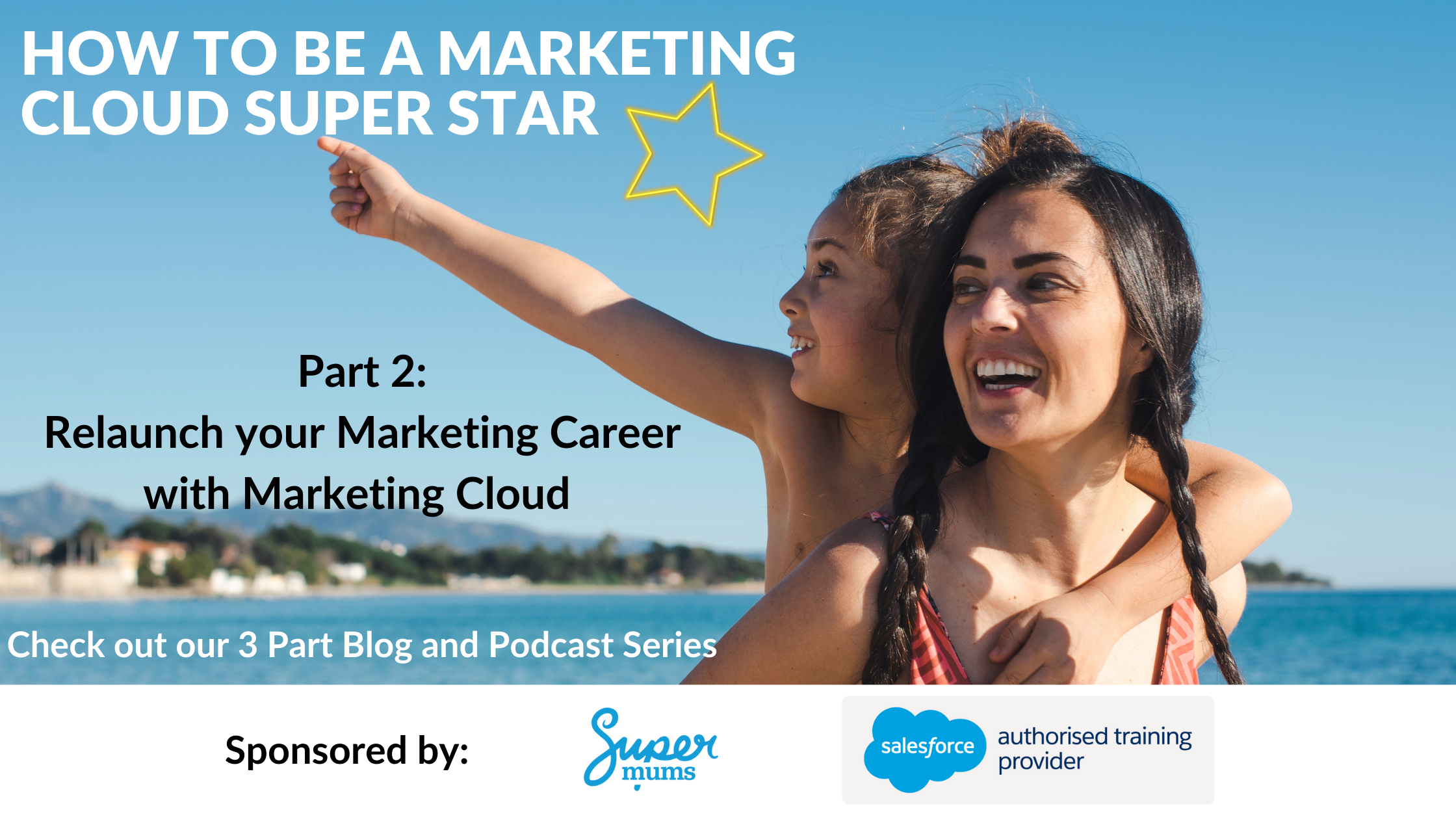 Join us over the next 3 weeks as we share with you Marketing Cloud, why you should get to know it and how these skills can help you as a Salesforce professional.
Salesforce and Marketing Cloud work in harmony together to optimise customer relationships and in this #MarketingCloudSuperStar podcast series, we talk about the rising importance of Marketing Cloud and why it's one of the products to add to your bow, whether you are starting out or advancing your Salesforce career. During this series we cover:
Why Admins Need to Get Familiar with Salesforce Marketing Cloud! (Part 1)
Relaunch your Marketing Career with Marketing Cloud (Part 2)
What is it like working with Marketing Cloud? (Part 3)
In this week's blog we talk about relaunching your career and how refreshing your marketing skills can keep your CV up to date and relevant.

If you have been out of work to raise a family or caring for children or relatives, it's highly likely you haven't kept pace with the latest marketing trends. Blink and you have missed it, feels like the easier way to describe it! Different platforms, trends and approaches are moving so quickly, it's easy to feel overwhelmed and daunted by the prospect of applying for jobs, or going back to your existing role, without really having the relevant and up to date knowledge across all platforms.
Marketing is a huge vortex of skills and platforms now and it's impossible to be an expert in all of the marketing disciplines, so, where do you start when you relaunch your marketing career? It is best to decide on a niche and here are 3 reasons why:
1 – Narrowing your focus makes it easier for others to help you find a position
Becoming an expert in something makes you more in-demand. You can really focus down on learning that one product and platform which makes you the go to person. Rather than be a generalist you can become a specialist. One our Supermums Trainees upskilled in Marketing Cloud and updated their LinkedIn profile with their certifications and they had recruiters knocking at their door and multiple job offers!
2 – Being specific makes it easier for you to talk to recruiters and interviewers about what you want and the value you bring to the table
If you learn and focus on one platform, you can really rebuild your confidence in this area and not feel like your missing something. All of your previous marketing knowledge and experience is all super relevant from a strategy point of view, but you now have a new platform in the mix to make the marketing come to life for a business. You will find it much easier picking up the phone to land your job.
3 – Finding a niche saves you time and energy
There can be so many things to learn in marketing, where do you start and stop? As a mum juggling work and kids, it can be overwhelming, especially when you have a never ending to-do list of learning on platforms that change all of the time. Save yourself time and energy by focussing in on a certain area!
With Marketing Cloud you can still learn about a whole range of products, industries and clients so there isn't room to get board.
Listen to our latest video with Sheala, our Marketing Cloud trainer who explains the product and what the training process is to upskill.
How to learn Marketing Cloud
Supermums offers the ideal Marketing Cloud training program that's like no other – combining 2 courses in one as one of only a few Trailhead Academy approved training providers AND we include access to a 4 week Trial org – this is notoriously hard to get hold of, but with Supermums, we've got it covered – so you can get your hands dirty and put into practise everything that you are learning.
Our course is £1600 / $2000 less than if you studied with other MC course training providers.
Supermums was created to help mums and dads get back into work after a career break so our courses are fully virtual, all sessions are recorded so you can watch them back if you aren't able to join the live sessions and we design our timetables around school holidays.
Find more about our Marketing Cloud course and we can help you on your journey to become a professional marketing cloud expert.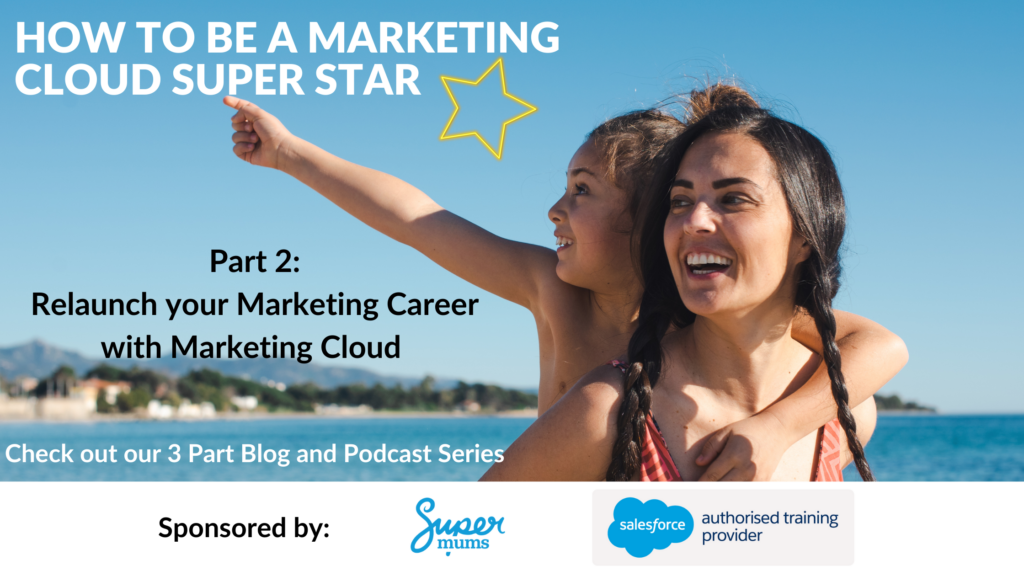 Subscribe To Our Weekly Top Tip Bulletin
Get Updates And Learn From The Best