How to Land Your First Salesforce Marketing Cloud Job
Do you want to land your first Marketing Cloud Job with a great salary?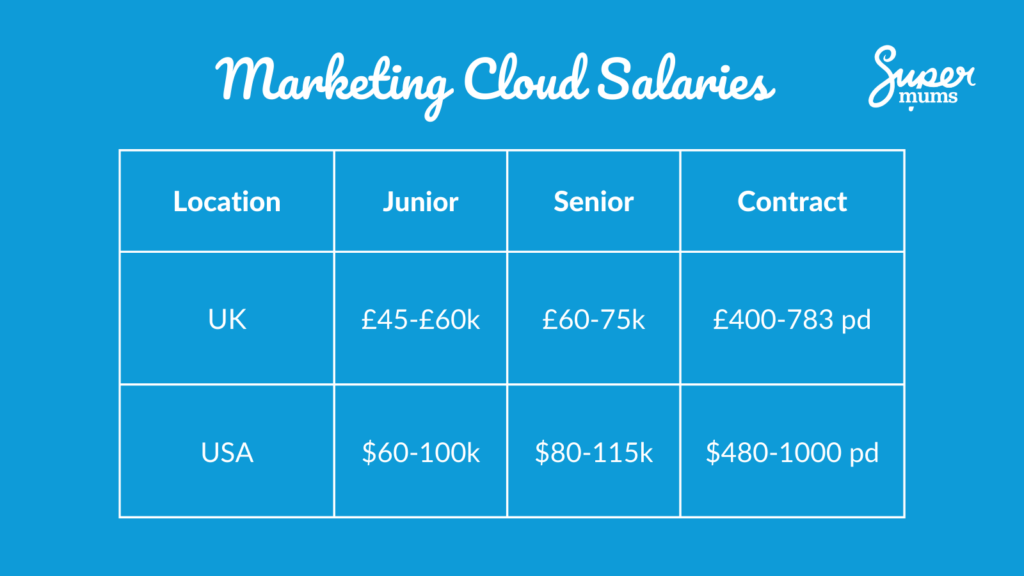 1 – Build your Confidence and Believe in Yourself
If confidence is your biggest barrier, then work with a career coach and/or mentor to help you build your confidence and overcome imposter syndrome. Get clear on what you can offer in this new career, what your power skills and attributes are and practice, practice, practice. Work out what you feel you are missing and plug it. Check out the following things on the check list.
2. Learn from Best Content with the Best Instructors
Learning from the best means you are more likely to succeed. By learning these in-demand skills from Authorised Salesforce Marketing Cloud Instructors, it will help to boost your confidence as you know you are learning from the most credible content and trainers out there.
We would recommend covering the content from the Salesforce Marketing Cloud (MKT101 & MCC201) Training Programmes and getting your Email Specialist Certification and Marketing Cloud Admin Certification to get you started.
At Supermums we are an Authorised Salesforce Training Provider for the Marketing Cloud Course. Find out more about our course here.
3 – Demonstrate Hands On Marketing Cloud Experience
This is invaluable, and without it, you will struggle to get that new role as its a skill they want from new employees.
Demonstrating hands on experience can be building out a Marketing Cloud Demo Org in a Dev Org through practical exercises. Alongside building out the demo architecture it's a great idea to build a script and add in some customer data so you can talk through the customer scenario and make the story come to life. Even record it using video. You want to be able to evidence that you have hands-on experience through a demo, case studies, references or videos of your work.
Most courses don't include this, and unless you are already in a company that has a Marketing Cloud, licence, they are notoriously hard to get hold of. This is one of the many benefits to studying with Supermums as you can gain the hands on experience whilst studying on our Salesforce Marketing Cloud Course.
4 – Sell your Transferrable Marketing Skills
Employers want to hire professionals with marketing skills and experience as it's the marketing strategy that makes the technology come to life at the end of the day. You still need to have the ideas, creativity and insights to build a strategy that you then execute using leading technology. It's important to big up your ''marketing' and 'people' skills as it's what every employer is looking for – coaching, sales, marketing, communication, team work, management, leadership skills, project management, business improvement skills.
5 – Sell your Industry Experience
Salesforce CRM is popular amongst certain industry verticals, for example finance, retail, media, telecommunications, health, non-profits and more, plus cross sector disciplines such as marketing and sales. Therefore customers / consultancies are looking to hire Marketing Cloud professionals with the relevant B2B or B2C industry experience as they understand the lingo, customer interests and challenges. If you are starting out it's a great idea to start in an industry or discipline that's familiar to you as you can sell yourself in on your existing knowledge.
6 – Secure References to Verify your Work
We would highly recommend getting a mentor or supervisor – someone who can validate your newly found skills authentically ready for your interviews. Ideally a mentor will see you build a practical demo org or real-life project and can testify that you can deliver the Marketing Cloud competencies independently. It's the reason we provide 2 references to Supermums on our Marketing Cloud training course, from their 1-2-1 mentor and training manager, who can verify the completion of work.
Ask for references on your LinkedIn profile so any recruiters can see them straight away.
7- Go Beyond the Marketing Cloud Certifications to Stand Out in the Crowd
Get experienced in complementary apps to extend your knowledge. Become a DESelect Champion, or become an expert on some of the free and paid for apps they have available so you can add value to your customer or employer.
Did you know? With DESelect you can easily create powerful audience segments, intelligently control marketing communication frequency, and achieve faster Marketing Cloud ROI. Find out more here.
Study and get your Salesforce Associate Certification as well so you can show you have an understanding of the Salesforce CRM Architecture and how it can integrate with Marketing Cloud. Better still, you can extend your knowledge to the Salesforce Admin Certification if you really want to get the full breadth of skills and knowledge of both platforms. You can do this in just 3 months with the Essentials Admin Course from Supermums.
8 – Find a Job in the Salesforce Ecosystem
Once you've achieved all of the above, you have the right foundations in place to land your first job. We would recommend getting the support of a Career Coach or Recruiter to help you craft your CV / resume and get it in-front of hiring managers. If confidence is an issue, then a recruiter can also sell you in and open the door to jobs.
If you update your LinkedIn profile with all of your new credentials, it will help employers and recruiters find and approach you for new job opportunities. This is a great place to be, and has been the case for some of our Supermums who have really invested time in their LI profile and built their profile & network by engaging on this platform. Some managed to gain 6 interviews and 3 job offers!
Alternatively you could search and go direct via Jobs Boards, LinkedIn Jobs Ads or research and approach companies directly. If you identify and approach companies directly with a tailored covering letter, it shows you are really interested in working for them.
Reach out to the Supermums Recruitment Team if you are looking for work and sign up to our job alerts.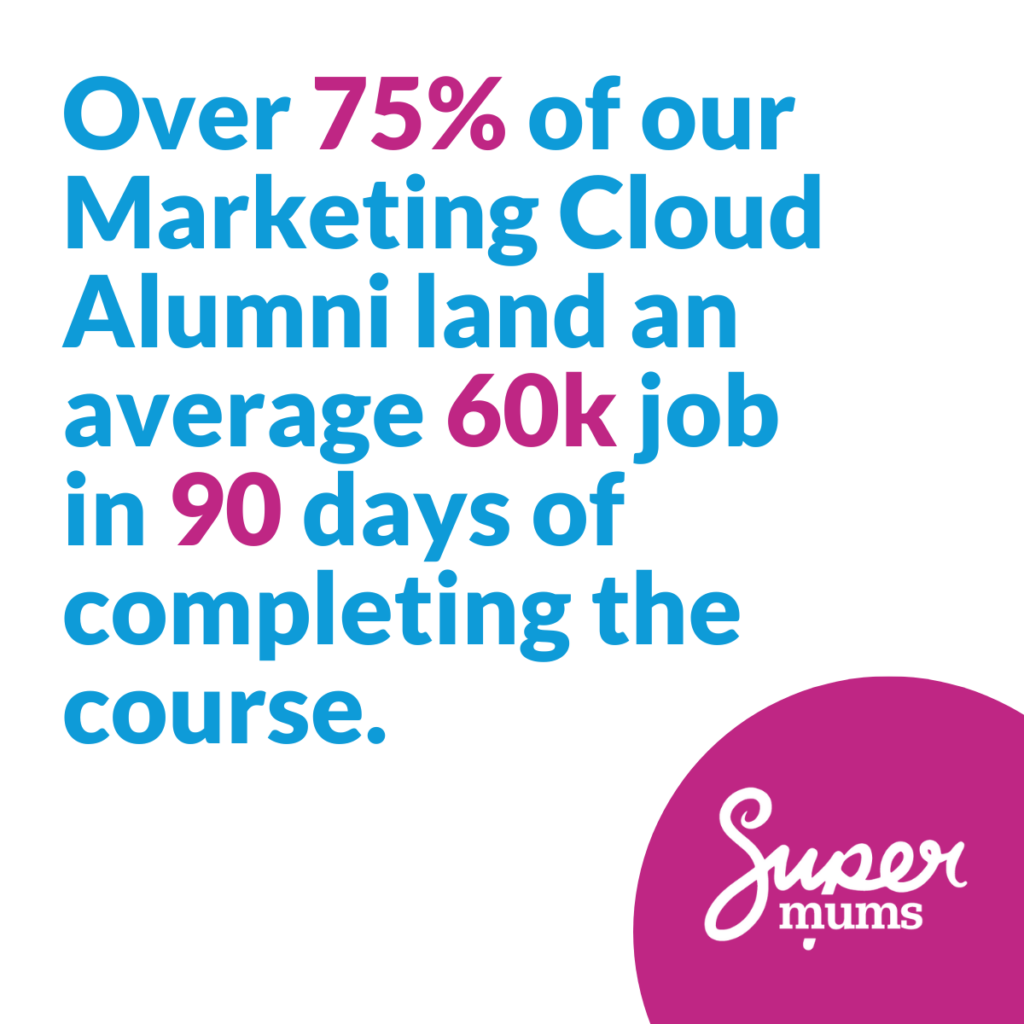 How has gaining Marketing Cloud Skills Helped our Alumni?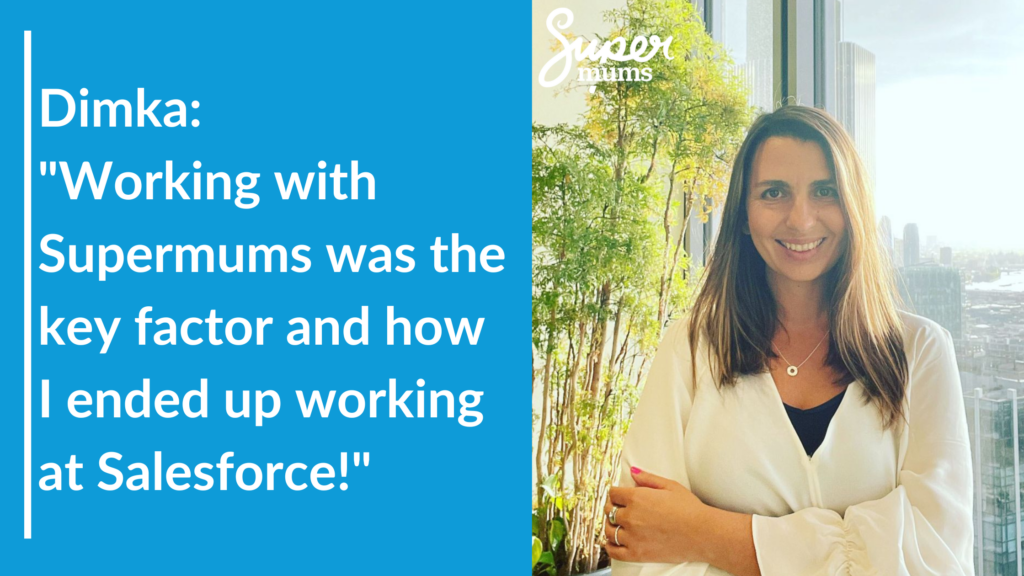 "I became Marketing Cloud Specialist certified and updated my profile on LinkedIn. Once this happened I received a lot of positive messages from recruiters who wanted to speak to me about job opportunities. I started interviewing with a range of Salesforce partners, which was quite intensive period. I also secured an interview directly with Salesforce through the Supermums programme and their Recruitment Team. I was lucky to receive 3 offers in total and I decided to pursue the role of Solution Engineer at Salesforce. Working with Supermums was the key factor and how I ended up working at Salesforce!"
Read more about Dimka's story here.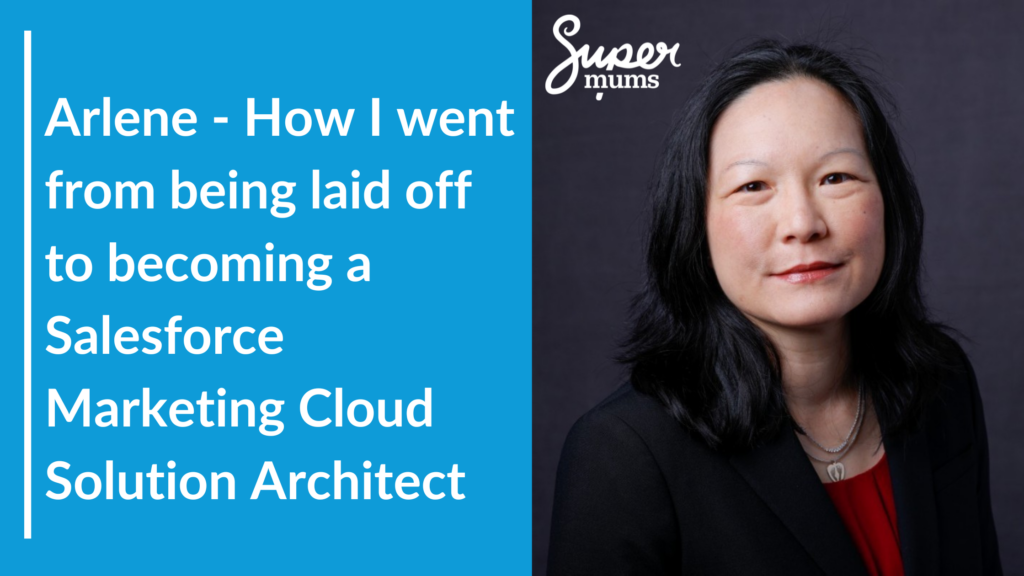 "Wow, the community at Supermums is super inspiring from the leadership, mentors, fellow trainees and beyond. I have felt very supported with the tools and resources to move into a Salesforce role. For example, how to craft a technical resume after a career pause and also being able to have access to my very own Marketing Cloud trail org to get hands on experience. It is very hard to gain access to this system without going through an official course like Supermums."
Read more about Arlene's story here.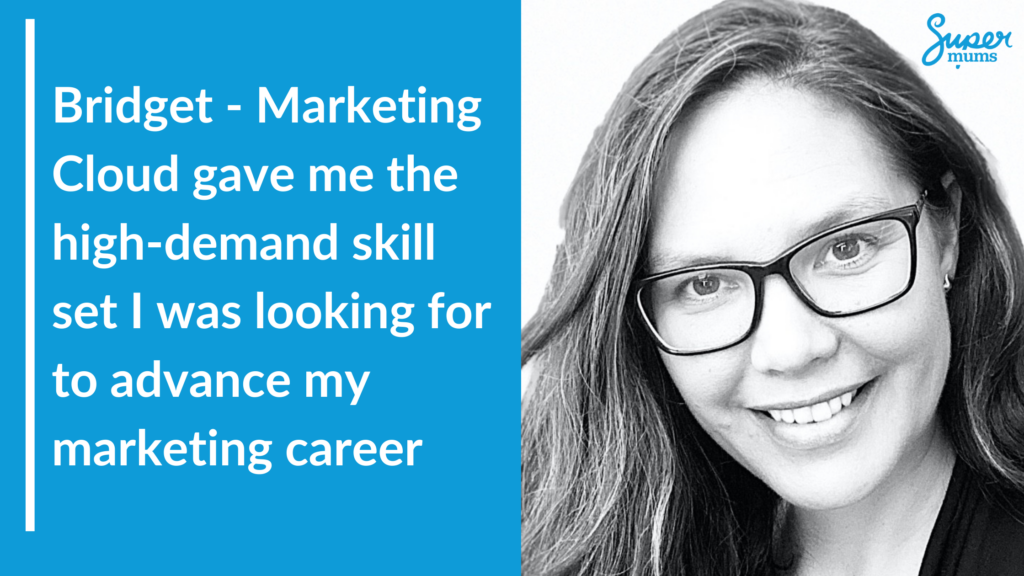 "The added benefits of the course included Salesforce specific resume and LinkedIn coaching which were really instrumental for me. I had three job offers before the end of the Marketing Cloud course because I had that coaching on how to position myself, so people were automatically reaching out to me on LinkedIn wanting to recruit me which was really exciting."
Read more about Bridget's story here.
Find out more about our Salesforce Marketing Cloud course
Advance your marketing career with an in-demand, industry recognised certification. Get the skills, confidence and mindset of a Salesforce Marketing Cloud Specialist.
We are an Authorised Salesforce Training Provider for the MKT101 Course
7 week study programme (approx 12 – 15 hrs study per week) with LIVE classes
Includes 4 weeks access to Marketing Cloud Trial Org
Get Access to an Experienced Marketing Cloud Mentor
Added Value Training and Certification in DESelect, a MC Integration Product
Subscribe To Our Weekly Top Tip Bulletin
Get Updates And Learn From The Best