An appetite for Salesforce learning is a must, as you will soon realise that there is always more to learn. Salesforce is constantly developing new features and acquiring new products which can make studying feel a full-time occupation. The amount of learning available to you can feel overwhelming, especially as a mum with limited time on their hands, but don't worry, you will never need to know everything related to Salesforce technology. We would recommend focusing on learning specific features and products, putting them into practice and mastering them, then moving on to the next product when you're ready.
Alongside the Salesforce learning and certifications, it's important to get the right work experience with qualified professionals to put your learning into practice. This will definitely help you to succeed in your learning journey. Our Supermum trainees have really benefited from the work experience and experienced mentors provided on our programme, as it helped them to cement their learning. Here's what a few mums say.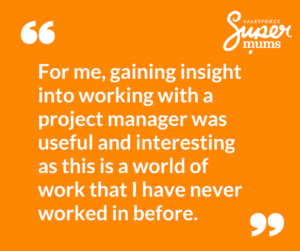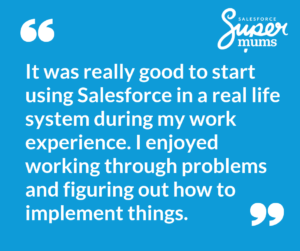 So, how do you decide on your learning journey?
Deciding on your career direction can be a good place to start – think about the type of company (see Part 1) and the desired role (see Part 2) that you think suits you and understand the professional expertise you need to demonstrate. You can then focus on the certifications that matter for this role.
Remember, it's a marathon not a sprint, so plan out your strategy and decide on your career path and secure your certifications over a number of years. The more you invest in learning and can demonstrate relevant experience, the higher the salary you can request. At an interview you will need to show relevant certifications, an appetite to learn, and be able to demonstrate resourcefulness in finding out new information.
This learning curve really resonates with the emotional reality of our Supermum trainees!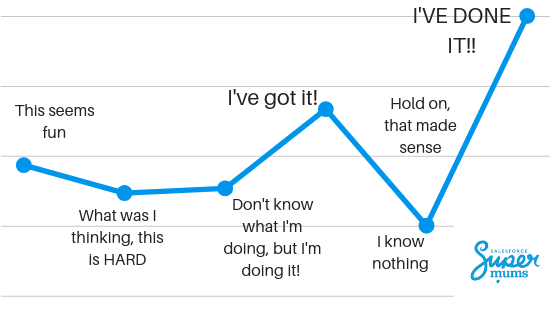 Let's take a look at the different qualifications…
Trailhead provides a good foundation for learning, but typically trails don't go into the level of depth and knowledge you need to pass the Salesforce certifications and implement full solutions, so further training is often required. You can check out the learning objectives of the certifications here and find routes to learning the detailed information either through the Salesforce Supermums programme or alternative learning platforms.
Laying the Foundations
The Salesforce Administrator Certification is the foundation certification and is the pre-requisite for understanding the basics of the platform.
Increasing Technical Competence
If you decide to go into a technical role which involves building a system by clicks then you would next focus on the next technical certifications of App Builder and Advanced Administrator to learn some more tricks of the trade. If you are interested in code, you would need a foundation knowledge of coding skills and then you could progress onto the Platform 1 & Platform 2 Development certifications.
Both of these routes can then progress to become a Technical Architect. If you decide to go into a consultancy role or require a more in-depth knowledge of specific products, then you would focus on specific Consultancy certifications. Depending on your professional background you might decide to focus on a specific product, for example. Marketing, Sales or Service Cloud products.
Increasing Business Management Competence
If you decide to progress into a business facilitation role that supports the CRM implementation process you might want to complete qualifications in Business Analysis, Business Modelling, Project Management, Change Management and Coaching.
At Economic Change, we use Metadata training to complete some of these courses, and they are offering our Supermum community £100 off their training courses. Book a course by using the discounted code "economicchange" at checkout. Courses must be over £500 (code expires 30 April 2019).
Ways To Secure Investment For Your Training
Many of our Supermums have reached out to banks, friends, employers, family members for financial investment to fund their training with a payment plan in place to return the investment if needed. If you are having to ask people for investment then you will need to present a business case about the opportunity and the salary expectations at the end. It's like being in the Dragon's Den! We would highly recommend putting together a presentation to demonstrate the job opportunities, the demand and the salaries that exist to help provide evidence to support your case.  We will put together a summary for you in our next blog.
Ready To Start Your Learning and Journey Into A Career in the Salesforce Ecosystem?
The next cohort for our Salesforce Supermums training programme starts on the 5th November. You can find out more about the programme here.