What is Marketing Cloud and which Products and Features are included?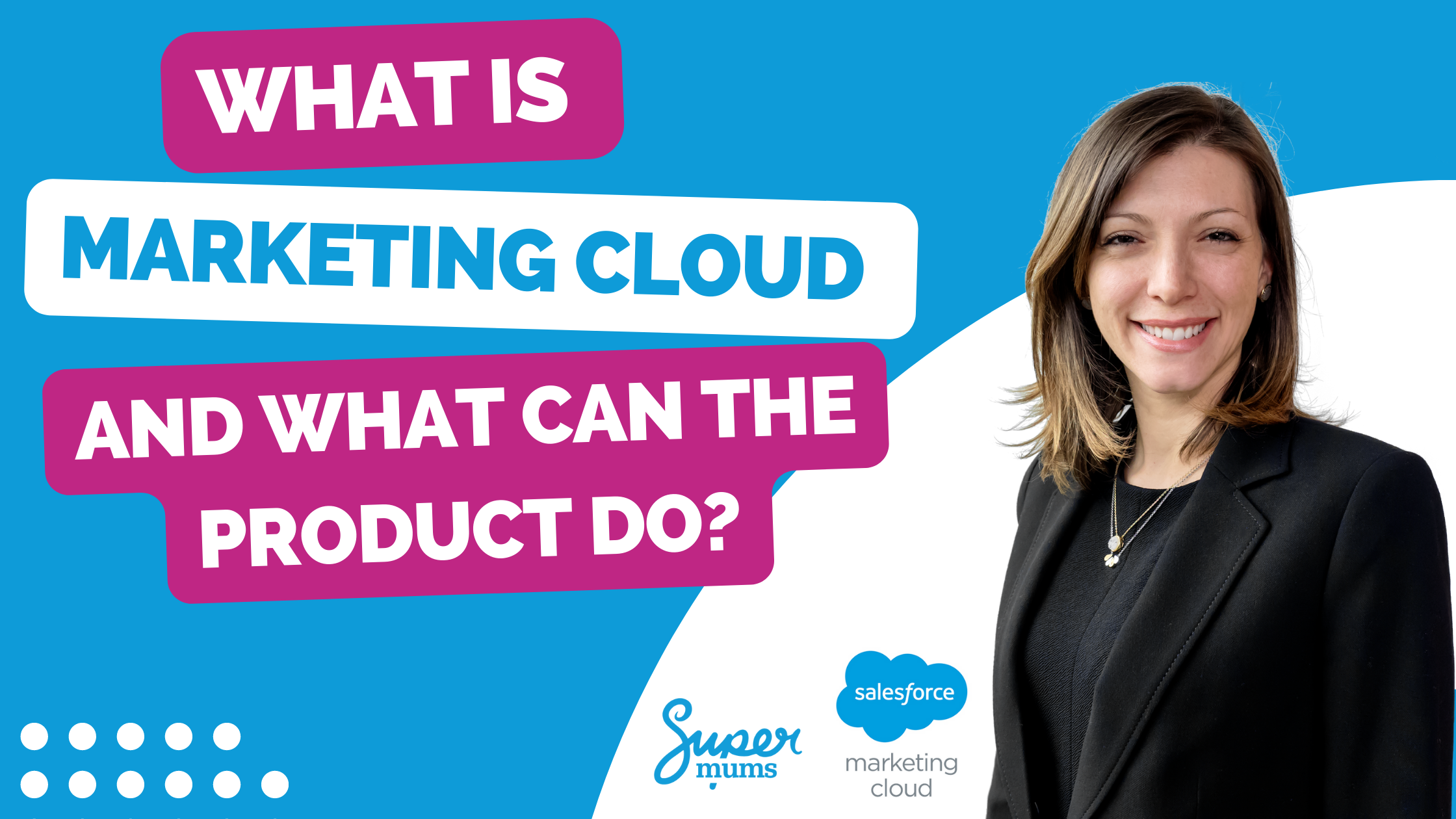 This guest blog was written by Bruna Schwerz, Enterprise Account Manager at Salesforce, and Supemums Alumni
If you are reading this article it's because somehow, Marketing Cloud catches your attention, so let's dig deeper and understand what you, as the Marketing Cloud Specialist could do using all features available under the Marketing Cloud suite of products.
Marketing Cloud, as Jennifer Wood, Marketing & PR Manager at Supermums explains: "is a suite of products that align under one platform. It is much more than just email, it's about advancing communication and relationships with your customers, to fully extend the role of a CRM". There are in fact, 7 different sets of products, that can be used together or standalone, it will depend on the client and the use case they have:
Customer Data Platform
Personalisation
Engagement
Advertising
Intelligence
Loyalty Management
Let's start from the centre: Customer Data Platform – Data Cloud
To survive today's new world and meet customers' real-time expectations, marketers must unlock the value of their customer data with a single, complete view of every customer. This means bringing all of that data together into a single source of truth.
But why is it so hard to centralise data, and keep that data organised and ready to use?
1 – There's so much data! Companies no longer measure customer transactions by thousands but by millions and billions of touch points. The average company has 976 different applications and that's all data sitting in different silos.
2 – Customers have multiple IDs. They move between channels in real-time, and data privacy regulations are changing with a cookie-less future in front of us.
3 – Customers are indifferent to these challenges. 1 in 3 loyal customers will now switch from brands *they love* after just one bad experience.
Salesforce Data Cloud is a product that goes beyond Marketing. Every single cloud now in Salesforce has incorporated Data Cloud capabilities:
All the data is available in Real-time: Real-time Sales, real-time service, real-time marketing, and real-time commerce.
Intelligent: You personalize every experience, deliver faster service with bots, and predict what customers need next.
Automation: Automated workflows that let you reduce time, and cost and deliver better experiences – even across legacy systems with Robotic and AI process automation
And it's all built on top of Hyperforce, our hyper-compliant, hyper-secure, hyper-private infrastructure.
Data Cloud allows companies to ingest and connect any data (Web, mobile, Apis, CRM, devices and many more) in real-time, harmonising this data to make sure it will be ready to activate and engage with their customer.
Marketing Cloud Personalisation
Good, once we are now able to have that customer in the centre, with one unique identity, we can then personalise the content which will reach those customers in a 1:1 conversation at scale, so that is where Personalisation sits.
Automating Personalised experiences across channels and touch-points provides critical money-saving marketing efficiency that is proven to increase marketing ROI. The key benefits of adding Personalisation to the customer's experience include:
Capturing behavioural insights to help manage personalised customer journeys driven by affinities and demonstrated customer intent.
Leveraging AI for real-time decisioning allows your marketing efforts to go further by shortening the path to conversion.
Test and optimize your customer engagement by leveraging Einstein to continuously model the next best offer and next best action for each consumer enabling you to grow even more efficiently with each new engagement.
And because Personalisation can run across all touch points, a journey can be managed across every moment online or offline.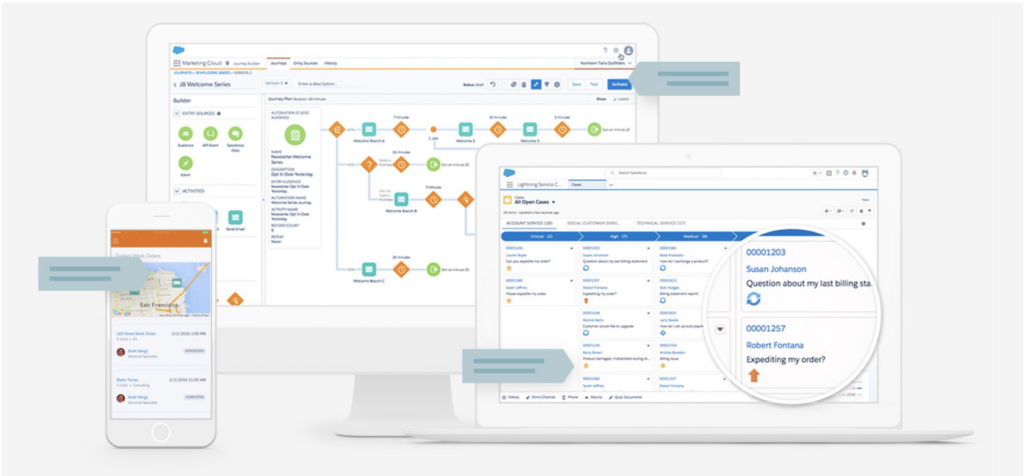 Marketing Cloud Engagement
Your key to making every moment count is building that emotional connection with your customers, while also making your spending go further and driving efficiency.
With Marketing Cloud Engagement you can automate multichannel, personalised customer experiences to build meaningful relationships with your customers. By designing seamless journeys and delivering intelligent messages, you can improve marketing performance and leverage critical insights to easily optimize campaigns and segments.
With Marketing Cloud Engagement's email and mobile messaging, users can design wow-worth moments to connect wit their customers:
Boost engagement with consistent content by building templates that automate unique messages for each recipient
Create a mobile-optimized experience by integrating whatsapp, mobile messaging, push notifications and mobile app experiences to meet your customers where they are on their preferred channels
Automate real-time multichannel engagement by reducing friction in the customer journey to make it easy for customers to take action in the moment
Gain trust with impeccable deliverability. Lean on scalability you can trust so optimising campaign performance comes easily and operating campaigns is a seamless experience for marketers.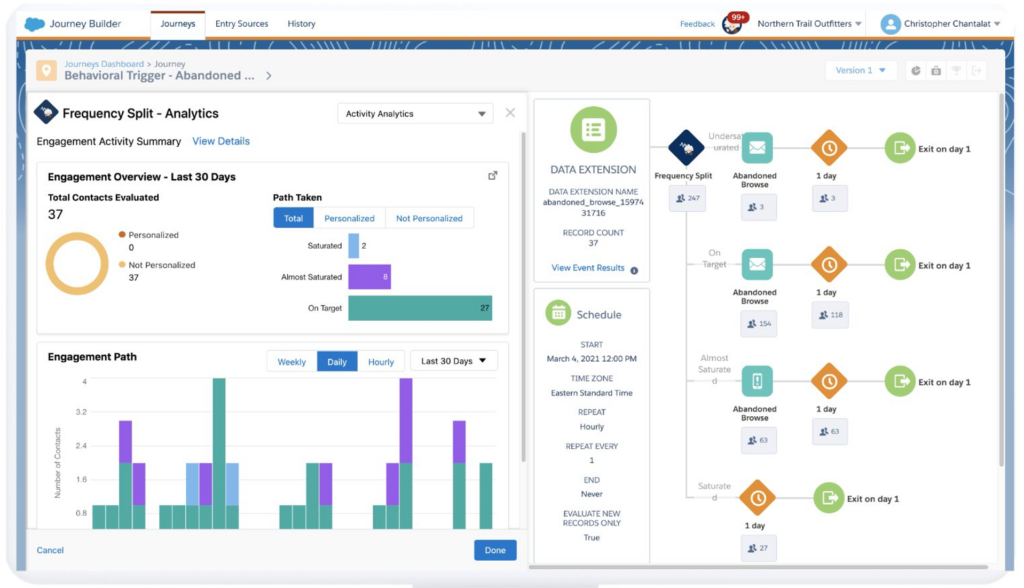 Marketing Cloud Advertising
With Marketing Cloud Advertising you can target and reach the right audiences with relevant messaging using your own first party data:
Mobile your first-party data by activating cross-system customer data for better marketing outcomes
Increase purchase intent by deepening awareness with ads you can fold into real-time multichannel customer journeys
Improve return on ad spend (ROAS) by reducing advertising costs by suppressing current customers from acquisition campaigns
Acquire new customers by converting new audiences by identifying high-value customer lookalikes.
All of that is automated in journey builder,. Salesforce Marketing Cloud clients all over the world are leveraging advertising to learn more about their audiences to further tailor their marketing campaigns.
Marketing Cloud Intelligence
And what is a good marketing campaign without a way to measure the results and get the best insights? And all of that in real time?
With Marketing Cloud Intelligence, you can build a marketing strategy for the future to keep up with marketing ecosystem changes as well. You can help the companies define new measurement approaches to replace deprecated legacy approaches. Define new KPIs, implement new strategies (1st party data first, incrementally, MTA approach shifts), and connect marketing performance results with business outcomes across sales, product, service, and beyond.
This lets every company optimise the impact of their efforts not just within the marketing team, but across the entire organisation.
Marketing Cloud Loyalty Management
Loyalty Management is our end-to-end loyalty platform that helps you design and deploy a flexible, configurable and unique loyalty program. Boost your bottom line and make loyalty a profit-center by delivering delightful experiences to your customers and partners.
Some of the key features are:
Program Setup: Easily manage your program such as setting up tiers, currencies, benefits and more through an intuitive, user-friendly UI
Loyalty Process Administration: Run processes for tier assessments, point expiration and more, and leverage Decision Tables to simplify complex if-then scenarios
Member Administration: Get a 360-degree view on members, monitor their program activity and service their member accounts
Rewards and Voucher Management: Define and track member behaviours, leveraging rules management to rapidly deploy rules for accrual and redemption
Benefits Management: Expand your program beyond just earn & burn with Benefits Management that allow you to create experiential perks across any business system like free express shipping
Dynamic Promotions Management: With Promotions Management, you can create time-based promotions and deliver them to segments either created right in Loyalty Management, or by leveraging dynamic segments created in Salesforce CDP or your CDP and many more.
And all of this under click and not code, Salesforce make the Loyalty Management program set up easy. It comes equipped with several out-of-the-box processes to help you set up the logic for various backend processes quickly.
The user-friendly UI makes it easy for admins to define your program tiers, assign relevant benefits and configure both tier qualifying and non-qualifying currencies. Run one program, or multiple programs across your different brands, or B2B & B2C businesses. All programs are run on a single platform, giving you full visibility over all of their performance.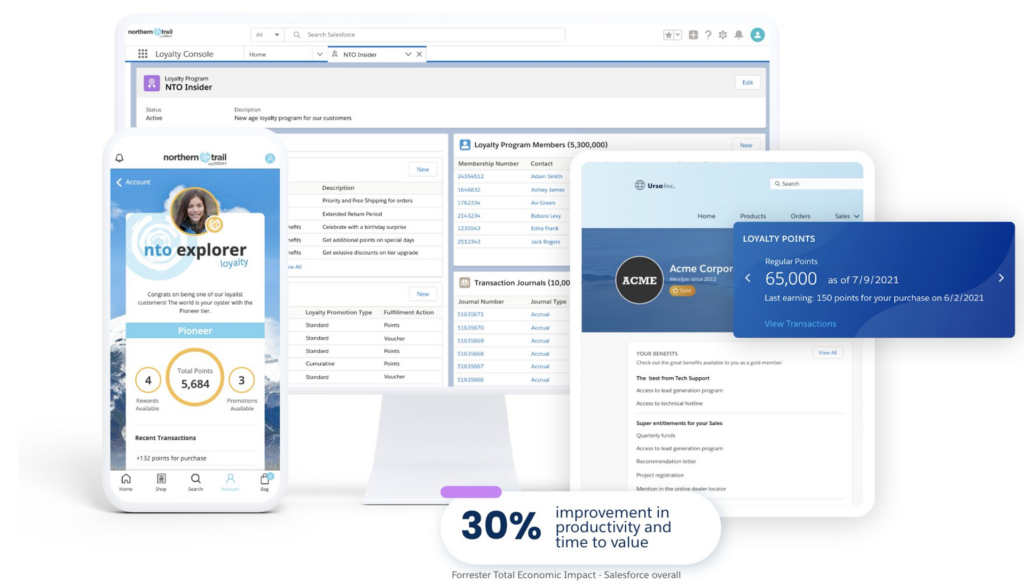 Wow, that was quite a lot!!
If you are interested and would like to see all of that working in a customer real life story, access this video demo of how Ford is transforming the way we get around. With Salesforce Customer 360, they bring a real-time, personalised touch to every customer interaction.
And after all of that, if this looks like you, go ahead an book a free 30 minute consultation with Supermums Customer Success team to explore if Marketing Cloud is the right for you and to discuss our Marketing Cloud Course in more detail.
Explore a Marketing Cloud Career Bootcamp: 7 – 9 March
Come along to our VIRTUAL Marketing Cloud Career Bootcamp from 7 – 9 March. Join a panel of expert speakers, inlcuding Bruna, and Supermums alumni to learn more about Salesforce Marketing Cloud, job roles available, different products and training options to explore if it's the right career opportunity for you.
Explore our Salesforce Marketing Cloud Training Course
Build your career with an industry recognised certification. Get the skills, confidence and mindset of a Salesforce marketing cloud Specialist.
Authorised Salesforce Training 7 week Programme – we've condensed the content so you get certified faster!
Includes 4 weeks access to Marketing Cloud Trial Org.
We include expert career coaching & employment support.
Payment plans available.
Our next course starts w/c 27th March 2023.
This guest blog was written by Bruna Schwerz, Enterprise Account Manager at Salesforce, and Supemums Alumni
Subscribe To Our Weekly Top Tip Bulletin
Get Updates And Learn From The Best