Supermums has felt so much of that warm Ohana support lately. That's why we're taking a moment to give thanks to our Ohana family – those individuals and organisations around the world that have helped us reach the point where we are now. These are our Supermums Superheroes.

The warmest of thanks to….

Our volunteers
We currently have over 75 volunteers from 9 different countries supporting the Supermums mission! They are the heart of our organisation – supporting our Supermums trainees through mentoring, delivering training and developing new content. The relationships that have been developed here warm our hearts and have allowed us to support the 115 trainees enrolled to date. Our Supermums have said time and again how the mentoring support has been integral to their success!

If you're interested in supporting a Supermum, fill out about our volunteer opportunities here!
---
Our supporting organisations
There are over 100 organisations across the globe who have overwhelmed us with their support thus far. These organisations share our common goal of supporting women returners, workforce development and diversity & inclusion. Keep your eyes posted here for announcements about the latest companies that are joining the Supermums Ohana as consultancy partners, sponsors and more!

Does our mission speak to your company? Click here to find out how you can get involved!
---
Our Supermums trainees
Of course we can't forget our Supermums themselves! These amazing individuals truly blow us away on a daily basis. They are the ones juggling families, their Salesforce studies, and sometimes even a job to make it through the six months of our training programme. The way they come out the other side and succeed in such a variety of roles is astounding!

Want to be our next Supermum? Download an information pack then fill out an application here.
---
Big news – Supermums is taking the hop across the pond to empower mums (or moms) in the States!
Yes, you heard that right! By popular demand, Supermums will be launching our first course in the United States in 2019. We've been holding this secret for quite a while now and have been dying to share it.

The word is finally out! Keep your eyes peeled as we will be announcing more details shortly.
And we're not stopping with there – look out for Supermums in Australia and New Zealand in 2020!
---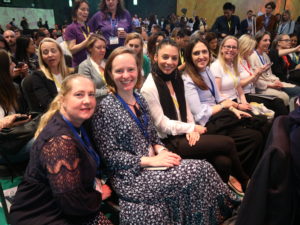 Thank you for being a part of our very own Salesforce Supermums Ohana!