Employers can benefit from taking the time to understand their workers' circumstances, and providing the appropriate amount of flexibility, support and benefits that show they are valued.
​​​​
This week we're discussing how employers can support employees and empower women with great benefits in the workplace.
For almost 12 months, employees globally have been faced with new ways of working as staff have been away from the office or work environment and adjusting to a 'new normal' way of working, whether socially distanced or remotely.
During this time, employers have had to consider how to balance productivity and business performance with the wellbeing of their employees, with many workers having to face new challenges of their own.
Many employees are also having to balance non-work pressures, such as juggling home schooling, caring commitments and managing financial concerns, making this a difficult time for both employers and employees.
Although employers alone can't provide a 100% work-life balance for their employees – employees have to take some responsibility to change their attitudes to work and home life and there are many things companies can do to help workers find and maintain a work-life-balance that's right for them.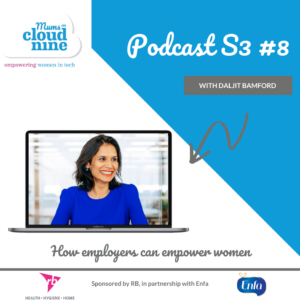 On this week's episode of Mums on Cloud Nine podcast, we're talking to Daljit Bamford, Chief Customer Officer of the Tenth Revolution Group about how employers can support employees with great benefits in the workplace.
If you are an employee listening today, then share this podcast with your boss as its contains some great ideas.
[ux_image id="11753″ link="https://supermums.org/series-3-8-how-employers-can-empower-women/"]
Did you know?

Employees who feel valued by their employer are 60% more likely to be motivated and do their very best for their employer (source visix.com)
Find your perfect career with Supermums
With approx. 45 million mums in the world and technology being the fastest growing sector, why aren't there more mums in tech? Supermums sees their potential and helps them to upskill and retrain in Salesforce and supports parents, non parents and everyone in between into finding flexible, well paid roles that fit around family life.
No matter what you are into, this innovative sector has a place for you. You don't need to be techie to understand but having the knowledge opens so many new doors!
If you are keen to get started in a Salesforce career then join our Facebook group community and check out the types of roles available in Salesforce. If you are ready to find out more about the courses we offer and how they can help you start or accelerate your journey in Salesforce, check out the different course we offer:
Are you looking for your next role?
The Supermums Recruitment team can help support you in your job search to find your first Salesforce role, the next step in your career or securing contract roles. Chat to the team, submit your CV or check out the live job vacancies.