Salesforce Demo Jam – Who was the winner?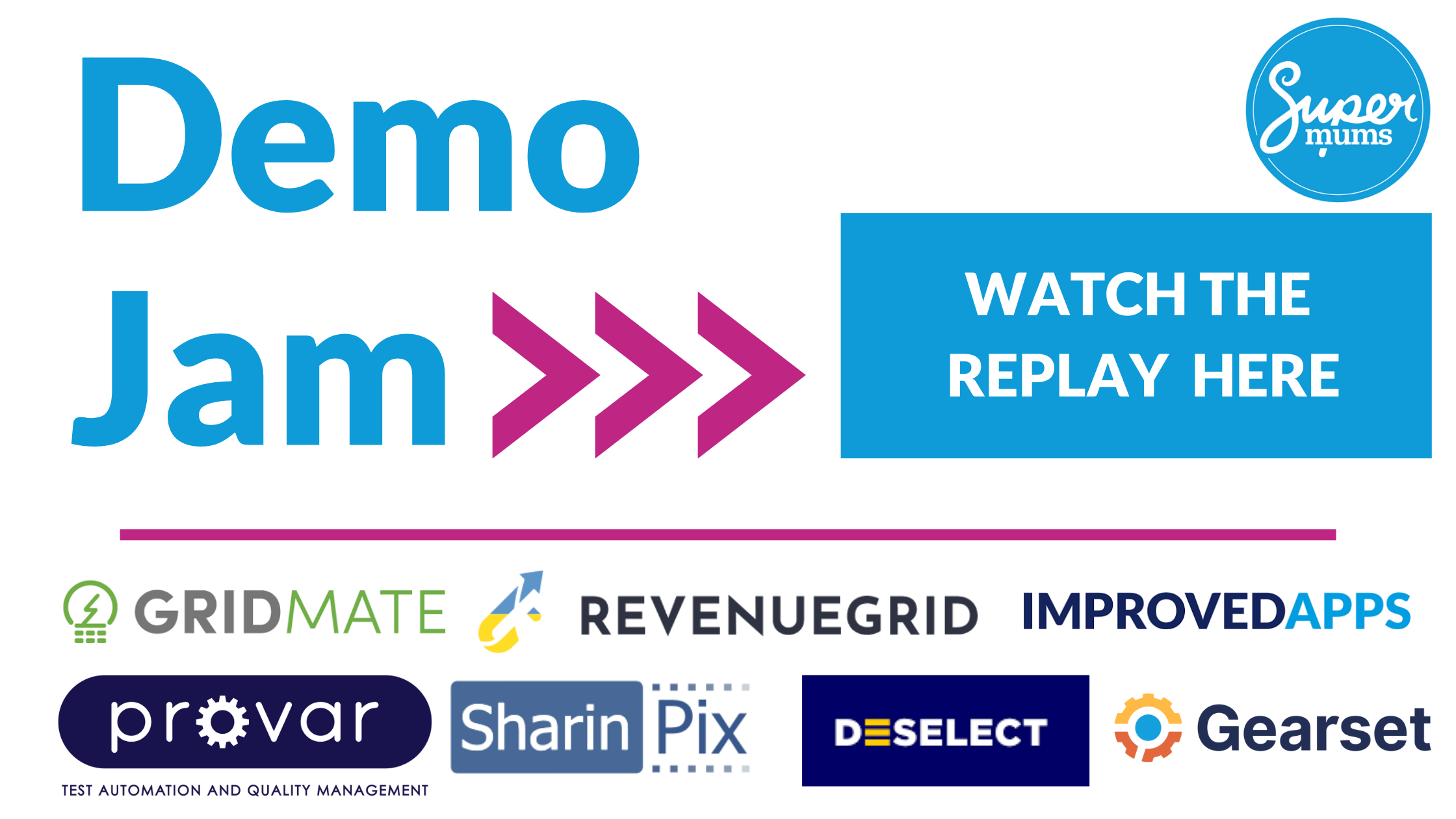 So what is a Demo Jam? If you're new to the Salesforce world, a Demo Jam gives you can insight into a range of tools offered by ISV Partners on the AppExchange, showcased with 3 minute demo's by partners showing off their best features and capabilities.
Did you watch 7 companies battle against each other and showcase their new apps?
The Salesforce AppExchange offers thousands of products that provide solutions in just a few clicks. With so many to choose from it can be difficult to know where to start. That's were Demo Jams come in. A fun and fast way to get an understanding of some of the best solutions on the market.
If you missed it, you can watch it here or read below about the company's who took part:
We are proud to work with these fabulous ISV partners who are sponsors of Supermums and support our mission and work endorsed brands. The DemoJam is open to all of our Supermums Alumni and community and it gives you all chance to learn more about our partners and hear more about the products that they offer.
Our Demo Jam WINNER was……..Improved Apps!
"Thank you all very much. Our first ever win and a win with Supermums…love it!"

Simon Thompson, CEO, Improved Apps
Speaker: Simon Thompson, CEO.
Description of demo: Improved Apps is the only Salesforce security reviewed digital adoption partner. We help you embed your content in context to boost digital adoption within your user communities. Our Free Improved Usage Tracker tool gives insights, data and dashboards to show you exactly how your users are engaging with Salesforce, enabling you to identify the potential for efficiencies and boost productivity for greater Salesforce ROI.
Next Steps: Thank you for organising this and thank you to everyone who could join and voted for us. More info on our FREE #ImprovedUsageTracker may be found here: https://www.improvedapps.com/improved-usage-tracker/
Speaker: Gal Steinberg, VP of Partners hips & Strategic Alliances.
Description of demo: Revenue Grid is the Revenue Intelligence platform that automatically captures sales activities to help you identify and fix revenue leaks. Revenue Grid's Salesforce and Email integration will help you capture all relevant data like emails, email threads and attachments to Salesforce, sync Salesforce and Outlook / Gmail calendars and schedule meetings online easier. Your sales team can also leverage complete Salesforce data to find revenue leaks, inspect pipeline health, and manage sales forecasts.
Special offer: Book your free demo here.
Speakers: Richard Clark, Chief Product Officer and Joe Garza, Solution Engineer.
Description of demo: Provar is the continuous quality solution for Salesforce DevOps. They provide integrated quality management, maintainable test automation, release governance, and outstanding service to Salesforce teams. Their comprehensive suite of low-code products is proven to improve Salesforce release agility, reduce system defects, and advance innovation.
Next Steps: It's time to add test automation to your team's workflow. But where to start? Get instant access to this downloadable PDF and move forward in your test automation solution evaluation process with confidence and ease.
Book your free demo here with Provar Testing.
Speaker: Garrett Menichini, Product Marketing Manager
Description of demo: Save time by using DESelect Search to find literally anything in Marketing Cloud. This free tool is like your very own search engine embedded into Marketing Cloud, eliminating the need to dig through folders one by one.
Next Steps:
Speaker: Jean-Michel Mougeolle, SharinPix CEO & Founder and Salesforce MVP.
Description of demo: Using Photos in Salesforce? Then SharinPix has everything you need. Image Features directly available in Salesforce, a Lightning component library to add images features to your record pages, home pages, experience cloud pages or even mobile implementation. Even an Inspection mobile app to take advantage of working offline with advanced capabilities. And bringing automation on images to your Salesforce without code!
Next Steps: Get access to our free 14 day trial. Head over to the AppExchange to download: http://bit.ly/SharinPixAppExchange. If you have any questions on our app or features, feel free to chat on the same page with any of our agents!
Speaker: Rey Perera, Ceo & Co-Founder.
Description of demo: The User Grids component in the GridMate productivity suite allows users to take full control with our no-code, click and configure customization feature. Users can create grids for any object (Custom or Standard) and apply filtering, grouping, aggregations, multi-sorting and conditional coloring based on their requirements without any admin involvement. GridMate also brings a spreadsheet-like experience to Salesforce where users can perform inline-editing, multi copy/paste from Excel/CSV files and add/remove multiple records at a time.
Special Offer: Get a 3 month trial of Gridmate. Click the link and install the standard trial. Once you receive the welcome email, hit reply and provide the following promo code so they can extend if from the standard 14 day free trial, to the Supermums special offer of 3 months. Code: GM-SM-DEMOJAM-23.
Speaker: Nathan Cross, Account Executive.
Description of demo: Gearset helps Salesforce teams apply DevOps best practices to their development and release process, so they can deliver higher-quality projects rapidly, securely, and more reliably. Worldwide, thousands of Salesforce professionals use our DevOps platform to achieve unparalleled deployment success and develop mature Salesforce release practices, incorporating CI/CD, automated testing and backups.
Special Offer:
Want to know more about what the AppExchange is and what are ISV Partners? Find out more in this helpful guide. Click here to read.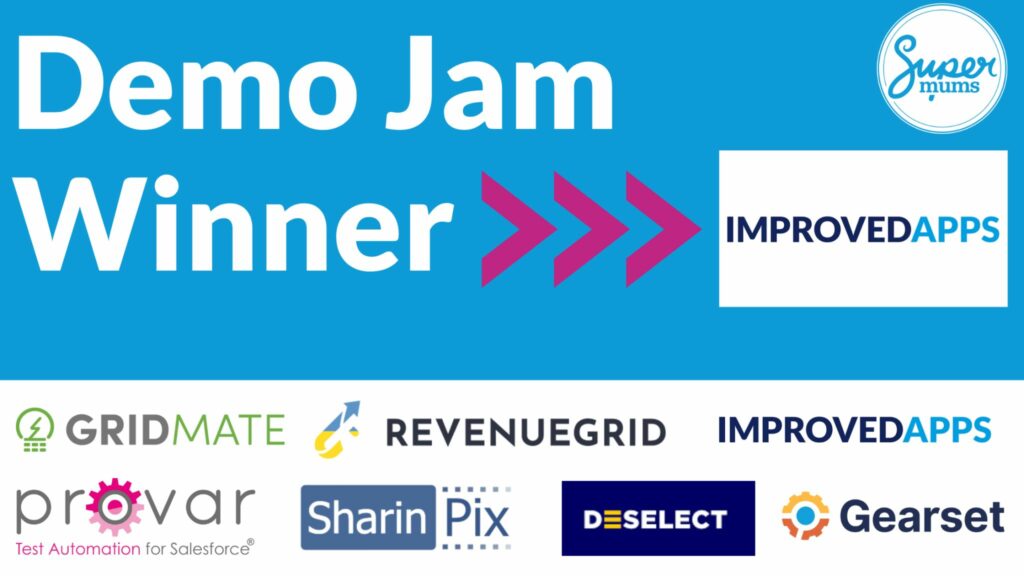 Subscribe To Our Weekly Top Tip Bulletin
Get Updates And Learn From The Best