This week, we're launching series 3 of our Mums on Cloud Nine podcast where we are helping mums to find their super power!
We are talking to a fabulous line up of inspirational guests and experts to find out what they consider their super power to be. This power could be a skill, an attribute or knowledge that motivates them or empowers them each day to do their best and live out their best life. We want you to find your Super power and to relish in it!
This week's guest is Musidora Jorgensen. She works at Salesforce as the AVP (Area Vice President) and Head of UK Energy & Utilities. Musidora has been named as Yahoo Finance HERoes top 100 female future leaders 2020, UK 50 Leading Lights Kindness & Leadership 2020, and is an Equality & Diversity Champion.
Musidora talks to us about what has motivated her over the years and what she values most at work. She emphasizes the importance of 'Leaving a Legacy' in her life and about how important this is to her in everything she does. She wants her children to feel proud of the legacy she has left behind and she is strongly motivated by helping others achieve their potential whether it's her family, clients or team members. Listen to the podcast here to find out more.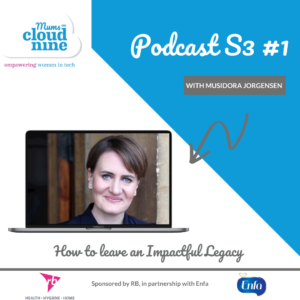 Salesforce and the wider eco-system strongly demonstrate the value of giving back and making a positive impact. It's one of the reasons why people choose a career in Salesforce as they align with the culture and values of the company and choose to pay it forwards. We have hundreds of volunteers that support Supermums with mentoring and training support to help upskill the next generation of talent.
If you are keen to get started in a Salesforce career then find out more about the courses we offer and how they can help you start or accelerate your journey in Salesforce: