How to Find your Salesforce Niche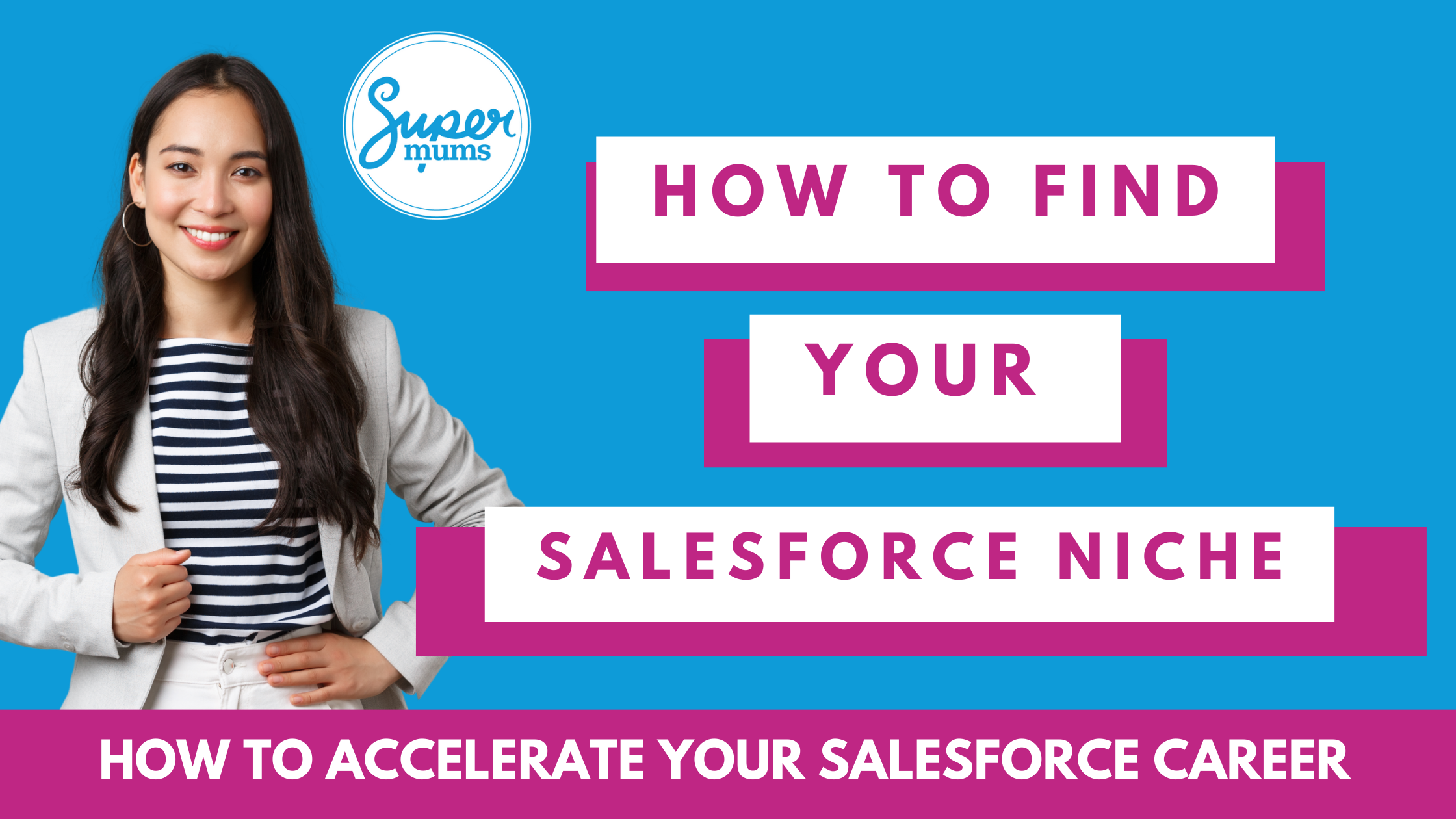 Find out how to Launch your Salesforce Career in 5 Steps with our latest content series over the next 5 weeks. In each blog we cover the four key factors that will help you to make the right decisions to accelerate your Salesforce Career. From choosing which Salesforce Admin Training is right for you, how to benefit from working with a Salesforce mentor, how to secure work experience and how to land your first job role. 
Sign up to our Weekly Career Boost Bulletin to be notified of each release:
Part 5 – How to find your Salesforce Niche
One way to advance your Salesforce Career – to build your confidence, land a job, or get a promotion, is to really carve out your niche in the Salesforce arena. Check out my tips below on how you can take the steps to find and establish your Zone of Genius.
At Supermums, we love to help professionals to accelerate their Salesforce career through our Training Courses and Recruitment Services, and we share lots of top tips with our clients like those below.
What Are You Passionate About and What Makes You Shine?
What could your niche be in?
Industry Related – Salesforce focusses on selling it's product into certain industries verticals. Do you have relevant experience and have a passion for working in certain industries.
Product Related – Do you have a passion for a certain Salesforce product that you can become an expert in. Do you want to immerse yourself in the product and all of the third party extensions be it Service Cloud, Sales Cloud, Marketing Cloud, CPQ, Mulesoft and beyond..
Skill Related – Do you have a passion for Admin, Automation, Business Analysis, Project Management, DevOps, Training, Coding or Architecture for example and do you want to become a champion for one of these skills and share your top tips.
Mission Related – Do you have a passion to champion and support certain members of the community with a similar background, for example equality groups, locality or industry customers, just like I did by launching Supermums.
Once you've identified your niche, then you want to build your confidence in this area to feel like you have the authority to shine and speak.
Seek Feedback from people you have worked with and start asking for LinkedIn Testimonials, so they are publicly available for people to see.
Appreciate and accept the great feedback, so you get to boost your confidence and believe in yourself.
Start to document your winning formula, strategy or tips that would share with others.
Complete any relevant certifications that back up your expertise.
How to Build your Confidence and Gain Traction in your Niche
Mentor others who are keen to learn this topic
Start to present on this topic and share your expertise within Internal Meetings or Training Sessions
Share some of your top tips on Social Media and see how people react.
Once you feel comfortable and believe that you have something to share with others, it's time to step it up. Put together a one page profile that summarises your speaker topics, your background, testimonials and your credentials and use this to leverage new opportunities.
How to Amplify your Personal Brand
You could apply for a job role or ask to become the internal specialist or Head of Department in your niche.
Put yourself forward to speak at user group events
Submit speaker sessions for Salesforce Community Events
Write articles and submit them to existing blogs
Start your own blog and write regularly
Put yourself forward as a guest speaker on a Podcasts
Start your own podcast show
Launch a You Tube Tutorial Channel and create You Tube Tutorials
Share regular tips across social media platforms
Start a Linked In Newsletter and publish articles each week
Find the medium that works for you and the one you are most comfortable working with. Seek training on how to present or how do optimise a blog or YouTube channel if you decide to launch a medium on your own. If you want to step out of your comfort zone you don't have to do it alone. Make sure you are surrounded by experts who can help you on your way. Most importantly, you want to enjoy it and to shine. So go for it, find and focus on your Zone of Genius!
These top tips are from a Chapter in Heather's new book 'How to be a Super Salesforce Consultant' due to be published in October 2023.
All book proceeds will go to a bursary fund to support women who have suffered from domestic violence, to relaunch their careers with Supermums and to get their life back.
Join the Waiting List to buy the book and to benefit from special offers.
Subscribe To Our Weekly Top Tip Bulletin
Get Updates And Learn From The Best