6 Amazing Salesforce UX Hacks to Delight Your Users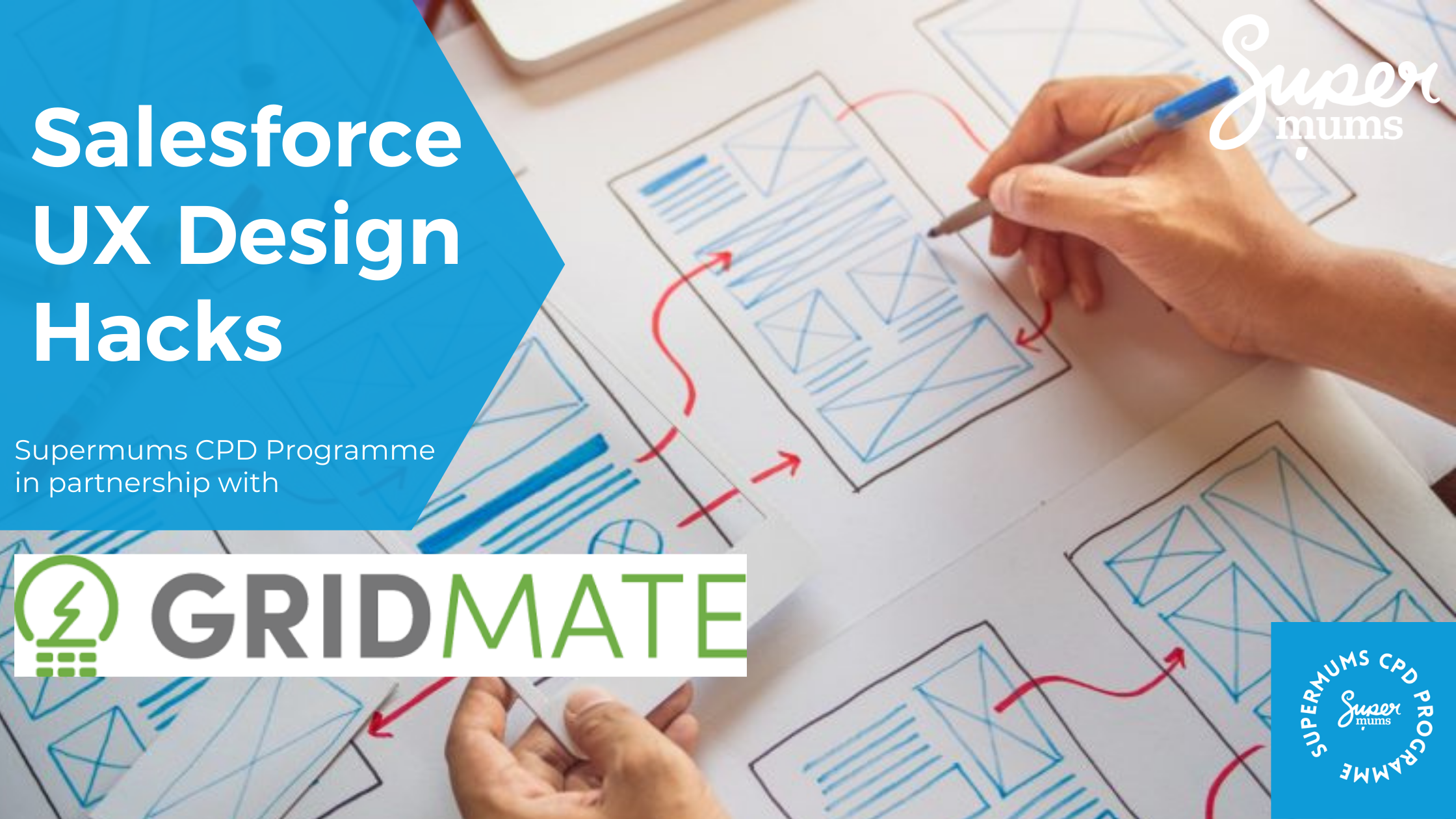 This month's CPD session is focussed on UX Design brought to you by GridMate. Don't forget to join us for demo's and live Q&A's with them during our CPD Office Hours on 13th & 27th April.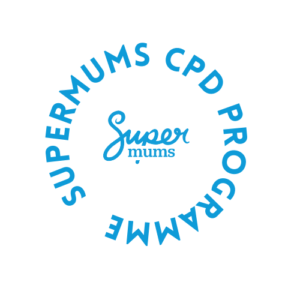 The Supermums CPD Programme focusses on equipping Salesforce talent with essential skills to enhance their CV and salary.
Sign up to our CPD programme to benefit from our weekly top tip bulletin, monthly office hours events with free Demo's and Q&As, exclusive discounts, events and training.
During this month's Supermums CPD Office Hours we're focusing on UX design. You'll learn how advancing your UX features can improve the standard Salesforce functionality, productivity and efficiency as well as 6 hacks to achieve this from Gridmate.
USA Office Hours – 13th April at 9am PST – Register here.
EMEA Office Hours – 27th April at 9.30am BST – Register here.
Learn how Gridmate can help you improve your productivity & efficiency with 6 UX hacks.
The focus on UX design has become an increasingly exciting topic for Salesforce Professionals with the release of the latest UX Design Certification with Salesforce, encouraging you to think through out to design interfaces that make it easy for users to navigate the system.
End-Users are sure to love their Salesforce team if they can make things easier for them through advancing their UX features to improve productivity and efficiency.
Check out just 6 of the amazing UX Hacks that have been created by GridMate to advance the standard Salesforce functionality. Customers are adopting these worldwide to make the working lives easier:
1 – Interactive Related List Views
Do you dream of being able to see, mass update and edit records in a related list view? No more jumping between objects to update things, you can mass updates records all from one view.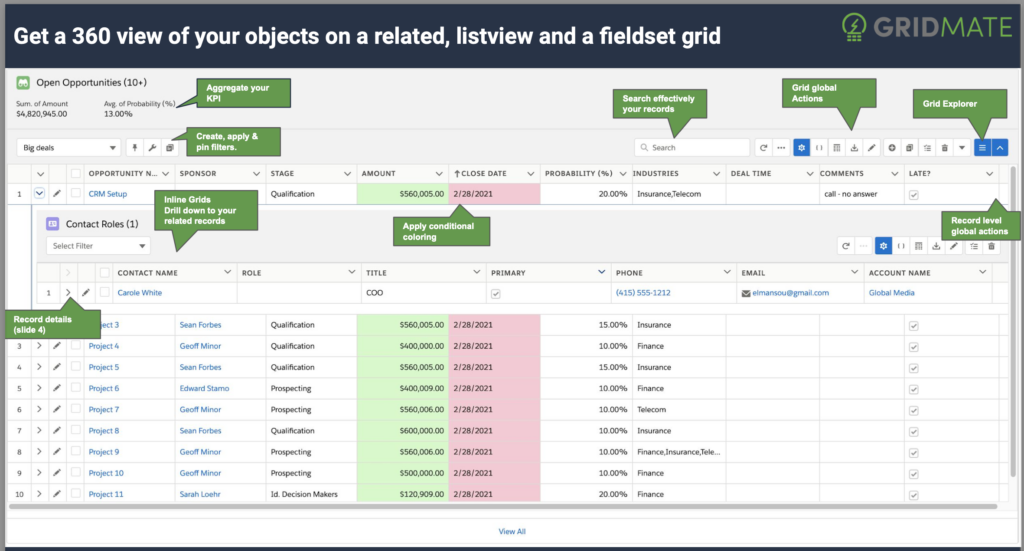 2 – Interactive Home Page
How about showcasing the most important objects and records on the Home Page under Tabs – Login and everything is right under your nose without navigating to different objects.
3 – Pivot Tables made easy with PivotGrid
With PivotGrid, you can display time-series records with the ability to summarize and edit the data. Imagine a spreadsheet (excel or google sheet pivot tables in Salesforce)
4 – Mass Email Contacts
Do you want to send a quick email to multiple records that meet a given criteria without using campaigns or list emails on Contacts? Gridmate has an inbuilt mass email function that lets you design and send an email to chosen records from any object.
5 – Google Map Component
Show the street view and location of any address your team are heading too.
6 – Create new records without doing an import
You can do this from spreadsheets interactively! I know hard to believe but if people still love a spreadsheet how do you get it to mass update Salesforce quickly and easy? With this you can!

Simplify complex data management & mass edits with GridMate for Salesforce.
We're on a mission to separate users from their spreadsheets and uncover ways to increase Salesforce performance of organizations!
Our suite of lightning components enhanced to fit the needs of our Salesforce community to simplify the complex data management by yielding an actionable UI/UX by leveraging your existing metadata.
Join us for our March CPD Office Hours
Join us for the Office Hour Sessions on UX Design Hacks to get a demo of these in action and understand what great UX is all about and how you can get it too!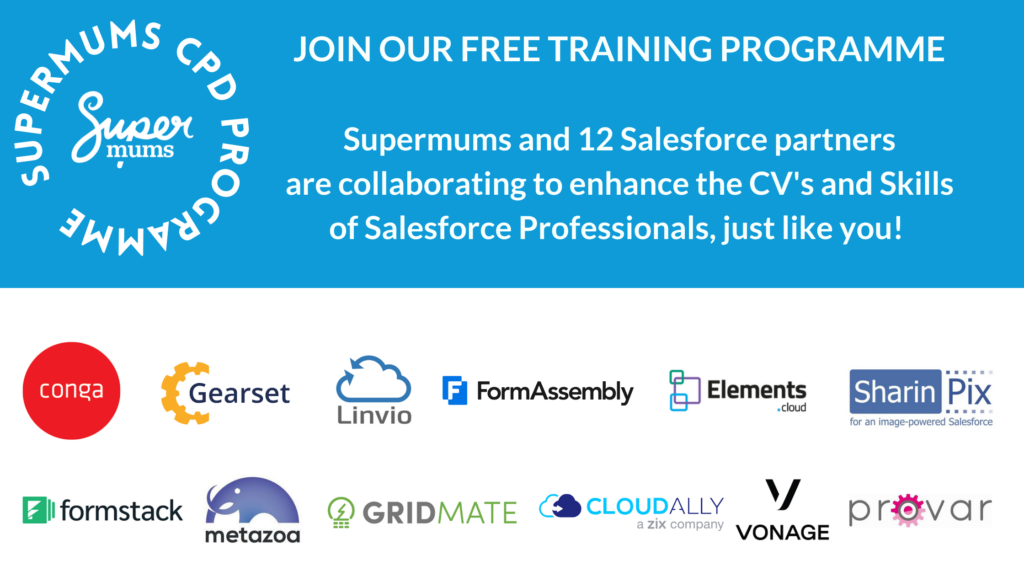 Subscribe To Our Newsflash
Get Updates And Learn From The Best