This week we are talking about the importance of influencing skills and how everyone can be a leader, no matter the role, industry or level.
Salesforce professionals have to lead people through a digital transformation. They have to facilitate conversations to help create a collective vision, they have to engage people in the process and they have to enthuse people throughout.
This requires great communication skills but also great leadership skills. You have the c-suite executives putting their trust in you to guide their organisation and team through this massive digital transformation process which will change how their organisation works for the better.
As a leader everyone is looking at you to be guided through this process safely – you have to show authority, generate trust, empathy and authenticity.
So what is the difference between leadership and management? According to Nathan, guest on the weeks podcast, management is all about the process and leadership is about the people. Being a leader, in whatever role, be it at home as a parent or at work as a consultant or manager, is about being at the front, guiding and steering, passing your knowledge and expertise and encouraging those to reach their potential.
When you are encouraging people to adopt new technology be it a the sales cycle, design stage or training, there is always going to be an element of selling the solution to the people you are talking too, to help maximise end user adoption.
Here are the five steps you need to take to successfully engage people in new technology by selling the solution to them. You need to:
Understand people's motivations
Identify their pain points
Help to elicit goals and the criteria for success
Talk through scenarios and options
Propose the right solutions to meet their needs.
"It's all about self leadership – You can't expect to lead others until you can lead yourself"
Our this week's Mums on Cloud Nine podcast, Heather. talks with guest Nathan Simmonds about leadership skills, how to enhance your own and the importance they play in leading a digital transformation.
Nathan has over 20 years experience as a senior leadership coach and consultant.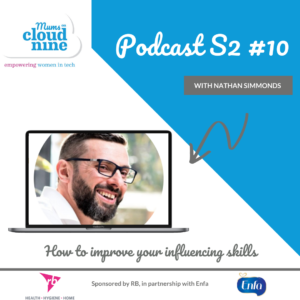 Many people can shy away from thinking about sales skills as they think it's pushy, hard nosed and not in their skill set, but actually authentic sales is often about helping people solve their problems, and that's actually the job that Salesforce professionals do every day.
If you are keen to upskill in these areas then we would highly recommend you take our Supermums Consultancy Course, which teaches the fundamentals of working with businesses to understand their needs and propose solutions.