What to do in the first four weeks of your Salesforce Admin Job!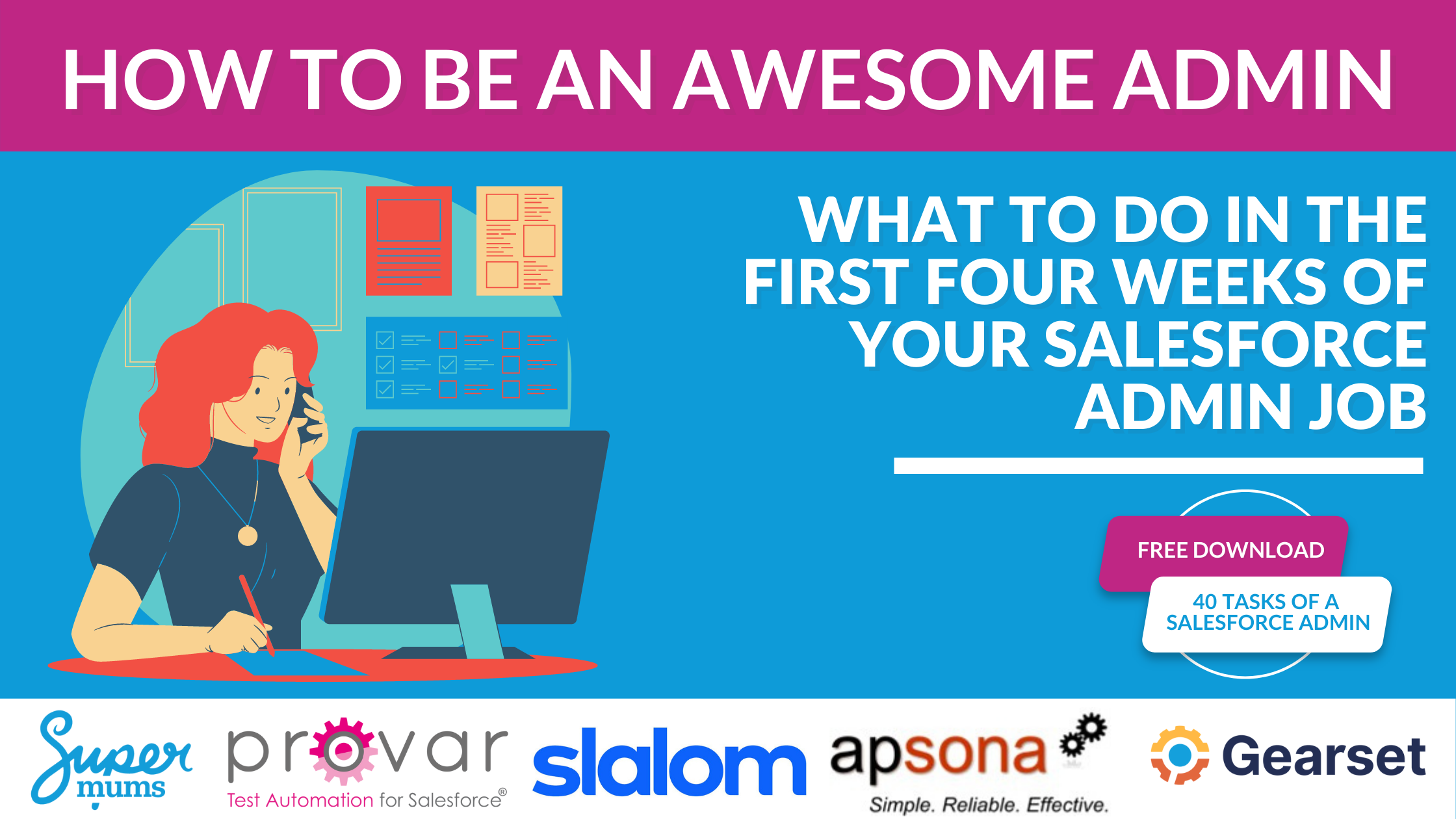 You've put in all of the hard work – taken the Supermums Admin course, sat the exam, got your Salesforce Admin cert and you've landed your first Admin role……now what?
Firstly, WELL DONE! If you have recently become certified as a Salesforce Admin and landed your first Salesforce Admin Role – thats such fantastic news!
In this new role you are likely going to be a solo admin, which means you are responsible for managing the system independently. It is also likely that you are the person in the team with the most Salesforce admin knowledge so you don't have anyone who can really tell what you need to do or a manager to lean on for strategic advice.
You might be adopting a system that is not well used or loved, or in better circumstances, a great platform to build from with good adoption. The first four weeks is going to be all about discovery so let us find out how you might tackle your new role.
I've written this article as I have recently been coaching our Supermums Training Alumni who are starting out in their first role as solo Salesforce Admins, and we have focussed on the strategy they must put into place to lead effectively.
If you don't have a plan, you can feel overwhelmed, like an imposter and pulled from one thing to another without any strategic direction. Without structure, you are not going to start off on the best foot and it can landslide from there.
Instead, you need to step into your power, take the lead and execute a strategy. A solo admin is better referred to as an internal 'Salesforce Consultant.' You will need to upward manage and downwards manage, communicating what you need to happen to be successful in your role. As a reminder, if you are a solo admin, it is often the case that people will not know what needs to be done, and all eyes will be on you. If you have a team around you, then you will play your part, but you need to have the broader understanding and knowledge still.
As an internal 'Salesforce Consultant' you'll wear hats from business analyst to agile project manager, technical guru to change management consultant. As a consultant you should always start with business analysis, then move to technical configuration and adoption to build in the best way.
To get you started in your new role we have included a couple of free business analysis templates below from our Consultancy Skills Course.
On our Supermums Consultancy Skills Course we teach the essential hat trick of business analysis, change management and agile project management skills and provide a range of Business Analyst templates specifically tailored to Salesforce to equip our students for success.  Find out more below:
So, let us talk strategy… its quite straight forward when you know how.
Start with Business Analysis at the Top. Talk to your manager and the CRM Executive Sponsor to understand the Business Strategy – what the business does, it is 3-year plan and key performance indicators. Learn about the different departments, teams, services, challenges, and priorities. Armed with this information you can then use this to help you prioritise future salesforce requirements in an Agile Project Management approach.
Understand the CRM Strategy to date. Why was Salesforce implemented, what were the measures of success for the CRM and how is it performing against the ambitions. What is the general culture and appetite towards the CRM? Who are the Salesforce Champions and Avoiders? Who engages in CRM Governance and the Centre of Excellence?
Undertake a Health Check on the current Salesforce Instance. This consists of a number of tasks from a technical audit, stakeholder elicitation, data audit and governance audit. We are going to summarise some of these aspects below. To make this easy for you download our free Health Check template so you can fill in the blanks
Undertake Business Analysis with each department to understand their business processes and how they currently use Salesforce as a team. Through this process you can identify good practice, new requirements and gaps in their usage and document a list of requirements. If you are not confident in your business analysis skills the join the Supermums Consultancy Skills Course and we can get you equipped.
Understand the prior and proposed Salesforce Administrator management of the system. I talk about the Four Roles of an Awesome Admin and the 40 tasks that need doing weekly, monthly, quarterly to manage security, data, the system and roadmap – who is doing these tasks and when. download the on-demand content and forty task templates here.
Set up a project management structure – a way to receive, manage, document, prioritise and communicate around requirements. Record your time and effort spent on requirements per department and the estimated return on investment achieved through harnessing technology for the business. You want to be able to communicate your trailblazer success story – How have you helped the business and teams to be more efficient, profitable, and successful…
Once you have done this groundwork then you are ready to start getting your hands dirty with the system by tweaking, building, improving the system knowing that you have oversight into the business priorities, how all the teams work and knowing what questions to ask when looking to improve the system. It is not to say you have emergency tasks to do deal within the meantime, but you should really invest in 4 weeks of discovery to be confident that you have the foundation knowledge of how the business works and emerging relationships with the team to be the best solo admin you can be.
Upskill in Consultancy Skills Today..
If you would benefit from training in business analysis, agile project management, change management with a specific view of Salesforce implementations then learn from Heather. She has overseen over 700 projects with 350 clients and has built up a library of templates and processes that you can plug and play to avoid the pitfalls of getting it wrong. Heather teaches the Supermums Consultancy Skills Course with live training and coaching along with on-demand videos that are available for watching straight away.
Find out more about the Consultancy Skills Course and book a call with our team.
Subscribe To Our Weekly Top Tip Bulletin
Get Updates And Learn From The Best