Have you ever wondered how many people there are in your life that have had some level of influence upon you and the choices you've made that have shaped who you are today?
This week we're discussing how to benefit from the power of mentoring, whether as mentor or a mentee, Mentors help people determine who they want to become, how they must change in order to become these people, and how they can take advantage of their experiences to bring about these changes
There are 3 main benefits to having a mentor:
A mentors knowledge and experience can help guide and steer you and avoid making the same mistakes they did.
Their mentorship helps to build your self confidence.
Having encouragement helps you to aim higher and take leadership. By having someone who believes in you, will share their network, vouch for you and willing to go that extra mile to help you, you are sure to succeed.
Check out this week's Mums on Cloud Nine podcast with the Supermums CEO and founder, Heather Black.
Heather empowers people, non-profits, and businesses with Salesforce CRM Technology and Talent. She is an experienced motivational speaker, certified NLP coach, trainer, and 8x certified Salesforce consultant.
As a female entrepreneur and mother, she is a champion for equality and tech for good. She is also listed as 1 of the 100 most influential women in tech & has won or been a finalist for many awards.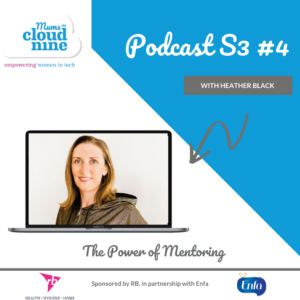 How do you learn best?
We all learn in different ways and understanding the types of learning styles can not only help you understand how best you learn but can also help a mentor to tailor and adapt their style to suit you.
The VARK model helps to identify the 4 main learning styles:
Visual
Auditory
Reading & Writing
Kinesthetic
Try taking the test for yourself and see what your learning style is.
If you are keen to get started in a Salesforce career then join our Facebook group community or find out more about the courses we offer and how they can help you start or accelerate your journey in Salesforce by visiting our different course pages:
Do you want to be a volunteer mentor or trainer?
Mentors work with our trainees throughout the programme, offering advice, support, and ideas to help them make the most of the course and achieve their Admin qualification.
Are you an experienced Salesforce professional who wants to give back and share your Salesforce knowledge with our Supermums?
If you are interested in becoming a volunteer mentor or trainer, complete an application form and one of the team will be in touch.