The Mindset behind a Successful Woman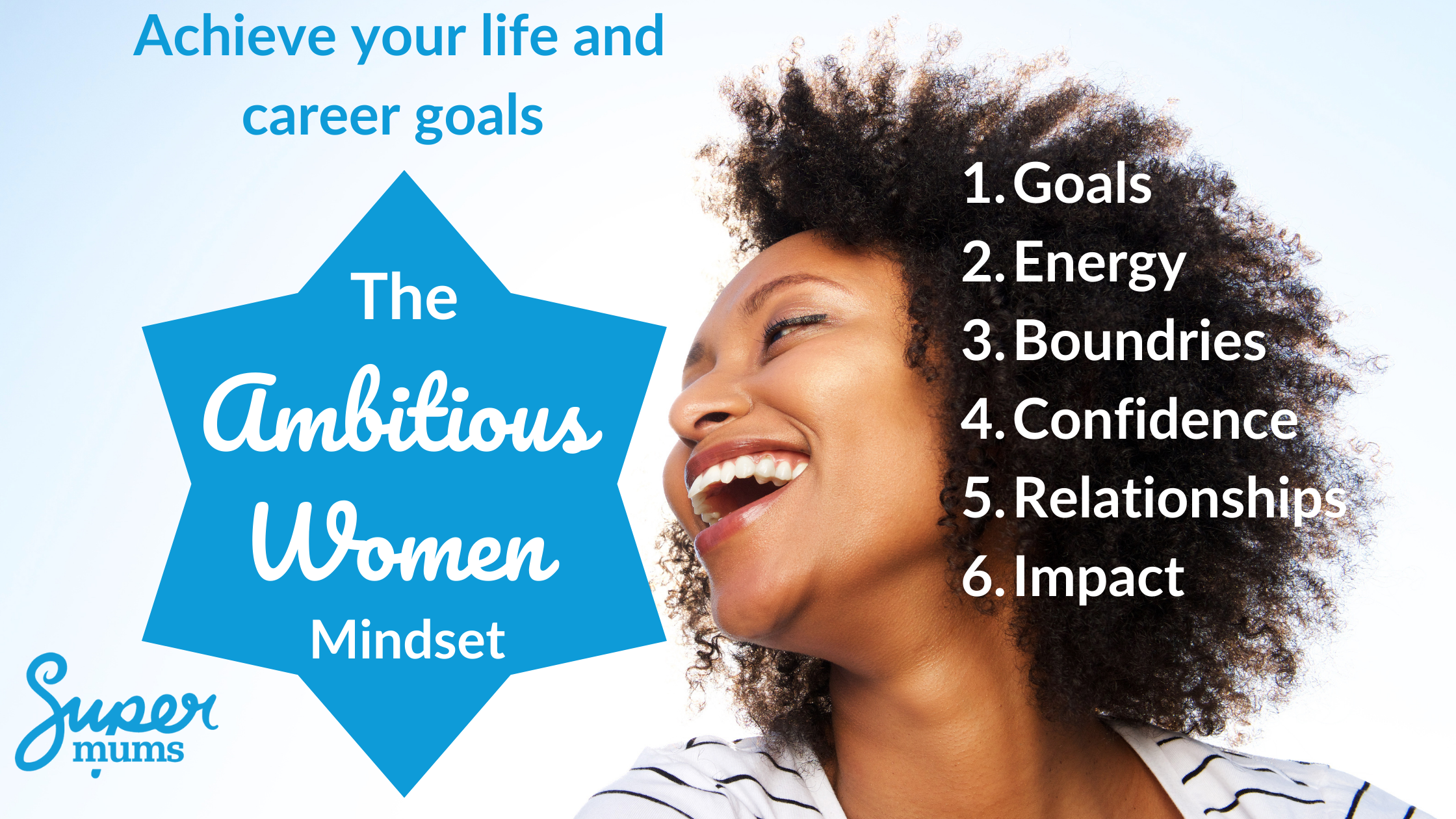 At Supermums we talk about the Ambitious Women Mindset – the mindset that enables you to build your resilience, achieve goals, overcome set backs and make us feel stronger, clearer and confident in what we want to achieve.
This courageous, super confident mindset doesn't come naturally to women. We can be our own worse inner critic, we can do too many things and we can influenced by others day to day. Life can get chaotic, we can become overwhelmed and things feel out of your control. Having a compass is really important and the Ambitious Women Mindset is created with that vision in mind. It gives you six key attributes that are pivotal to your core and balance and you can use the model to assess and identify where something is off kilter.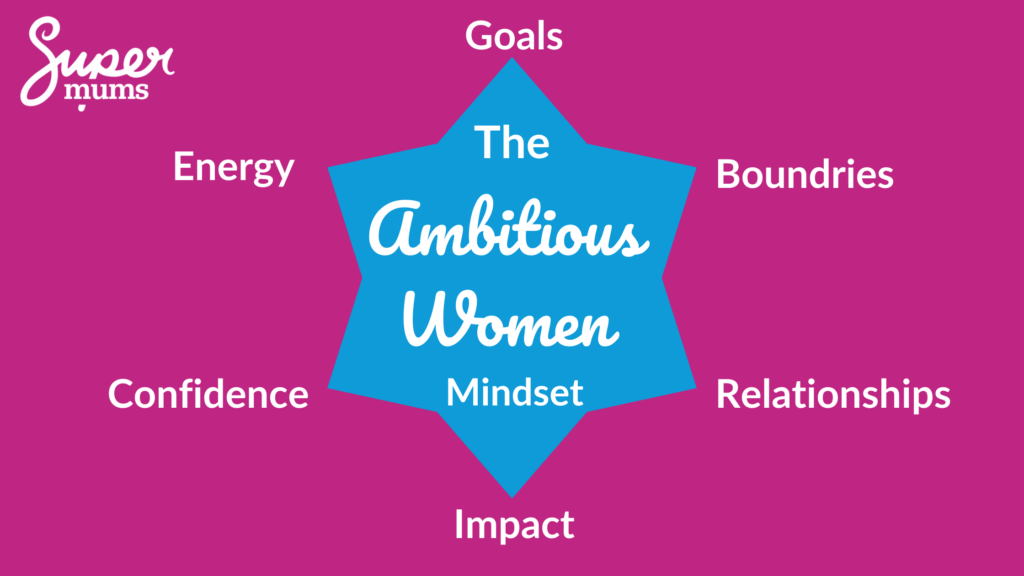 Some of the six attributes will be more natural to adopt and implement than others, but to really build that positive mindset it takes daily attention and exercise to put in place new habits and a solid foundation.
Coaching tools and techniques are the key to reviewing and improving our mindset. We embed a coaching within all of our programmes at Supermums to help trainees build the confidence and softer skills as well as technical skills to achieve personal and professional goals.
We believe that coaching is the fuel behind every successful person whether they are an athlete or business professional. Successful people don't achieve success by working alone but they benefit from coaching and mentoring expertise in some form along the way.
The Ambitious Women Mindset model has been produced by Heather Black, CEO of Supermums, based on her near 20 years of experience working in the coaching industry, experiencing coaching first hand and seeing first hand the outcomes achieve when people do or don't apply the principles.
She has produced this model as a compass for our Supermum customers to help them instil a mindset for success.
We now offering a three month Ambitious Women Mastermind Course for women who want to benefit from coaching to get ahead in life and achieve their financial, career and personal goals
Here are the six attributes..
#1 – Goals – Without a destination and a map you can find yourself lost. Get clear on where you want to go.
Setting yourself daily – weekly – monthly goals will prevent you from meandering and get distracted. By the end of the day you won't get a sense of accomplishment if you don't know what you are aiming for. Sometimes it can be perfectly lovely to not set goals, but if you are finding yourself lost, left behind, not performing, struggling with motivation, or lacking confidence in your achievements then getting clearer on your destination and tangible goals to get there will give you the route to take.
#2 Energy – You won't bounce back if you don't have a spring in your step. Plug into positivity.
How is your energy level on a scale of 1-10 these days? 0 being nothing to 10 being fully energised.
Ideally you want to retain a positive energy level of 7-10 in normal everyday circumstances so when things hit the fan you can bounce back relatively easy. At Supermums we teach our students a range of coaching tools and techniques to get clearer on your zones of energy, how to boost your positivity and how to recharge after a set back.
#3 Boundaries – Blink and you have missed it! Create new habits today.
Do you know how to implement your own boundaries. To understand where and when to focus your time and when to say no. Coaching tools and techniques enable you to reflect and reset your routine and habits to focus on areas of your life that give you value and energy. We all own our time and our ability to choose what to do with it.
#4 Confidence – If you don't believe in yourself, no one else will! Find your super power.
Reducing the inner critic came top of the list in a recent poll when we asked our followers about their personal challenges. Spending time recognising and celebrating your strengths is really important alongside acknowledging where you need to improve and learn, and to know what to leave behind if it's not sparking your interest or zone of genius. You need to have a growth mindset and to be open to being a better version of yourself if you aren't hitting your goals, as something needs to shift.
There are lots of coaching tools and exercises that can help you reduce your inner critic and boost your confidence if you want to step it up. It just needs you to own it and take action.
#5 Relationships – Struggling with life and work? Build your support network.
There are 5 areas to focus on with relationships to create a strong support network for yourself. This involves looking at where you can build new relationships to delegate tasks, learn from an expert to build confidence or to form a team around you to complement your skills. It's about understanding the dynamics of relationships to nurture new and existing relationships to produce the best outcomes and it's about moving away from negative relationships that no longer serve you.
#6 Impact – Do you sit in the shadows or do you step up and make a difference?
Ask yourself about how do we live out our best life to make the difference you want to make in the world that gives you a sense of satisfaction? What does impact mean to you? Is it about family, friends, customers, colleagues, a world issue? What does having an impact feel and look like to you?
How would you know you had achieved the impact you want to?
If you want help to build your confidence and personal brand with the help of our coaches and guest experts, join our Ambitious Women Mastermind Programme – Find out more and sign up to improve your confidence as a women.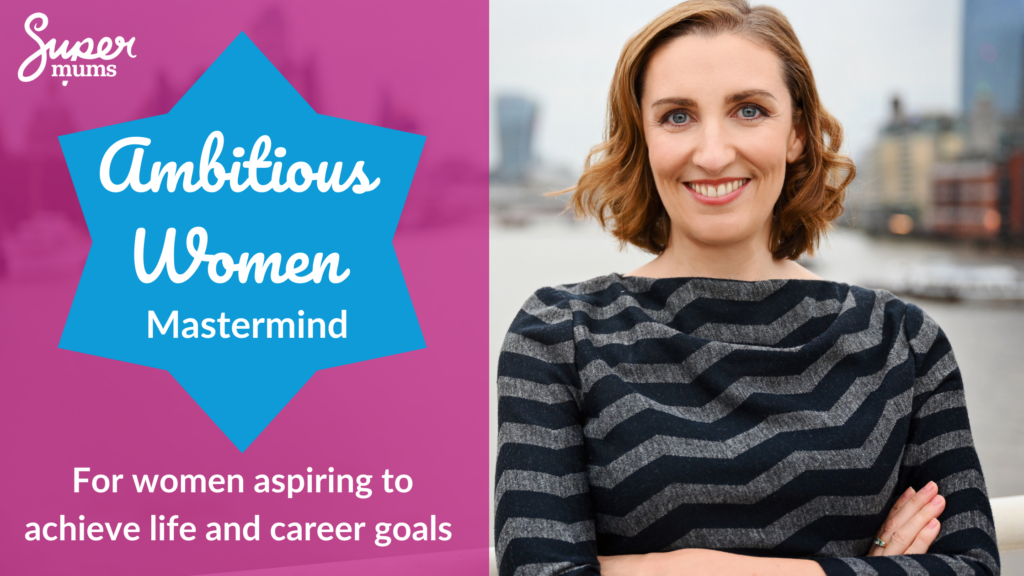 Series 5 – Mums on Cloud Nine Podcast (MOCN)
Series 5 is launched on Monday 20th June.
During this podcast series, we share tips and tricks around launching and furthering your career, and also how to manage that work-life balance, so you can create those career opportunities without compromise, burnout or stress. We're also going to share coaching tools and techniques and insights from some incredible guests.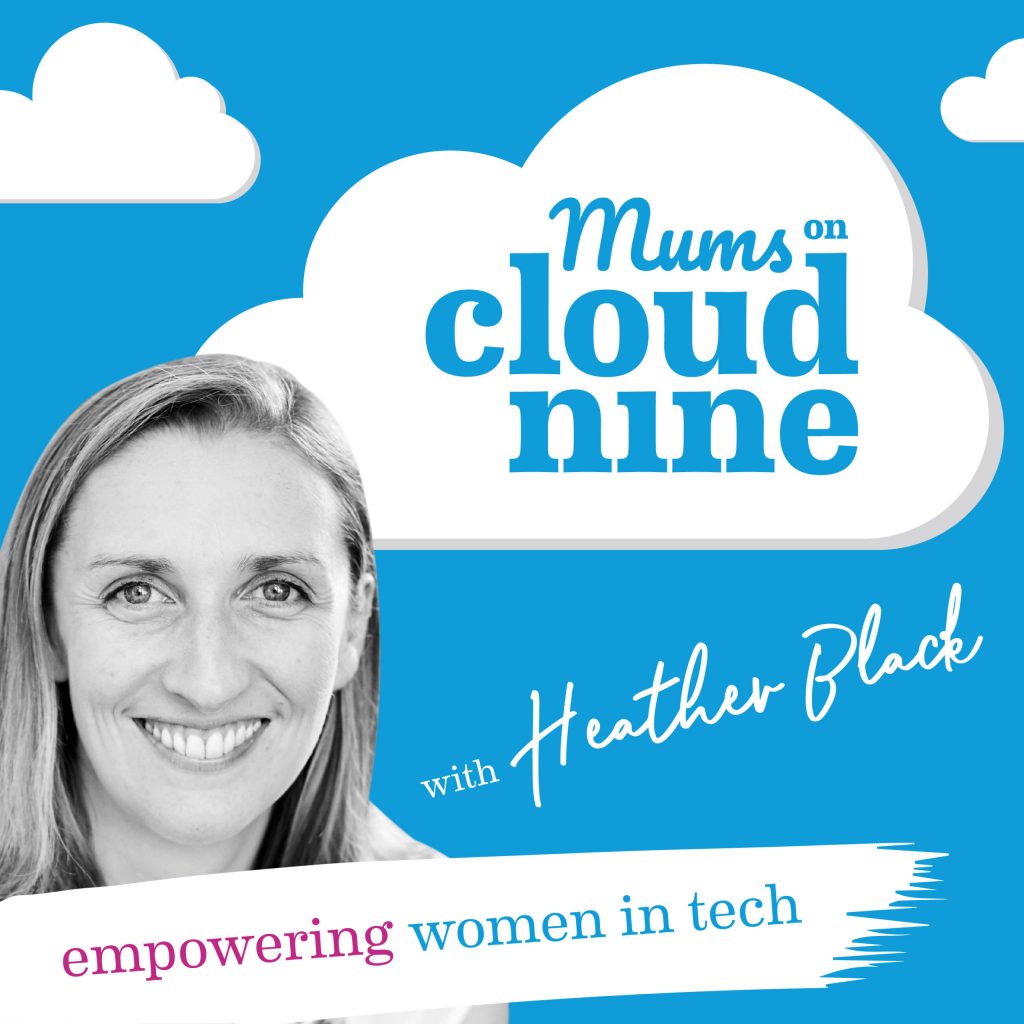 Subscribe To Our Newsflash
Get Updates And Learn From The Best