Supermums World Tour – Find out how to be a Super Salesforce Professional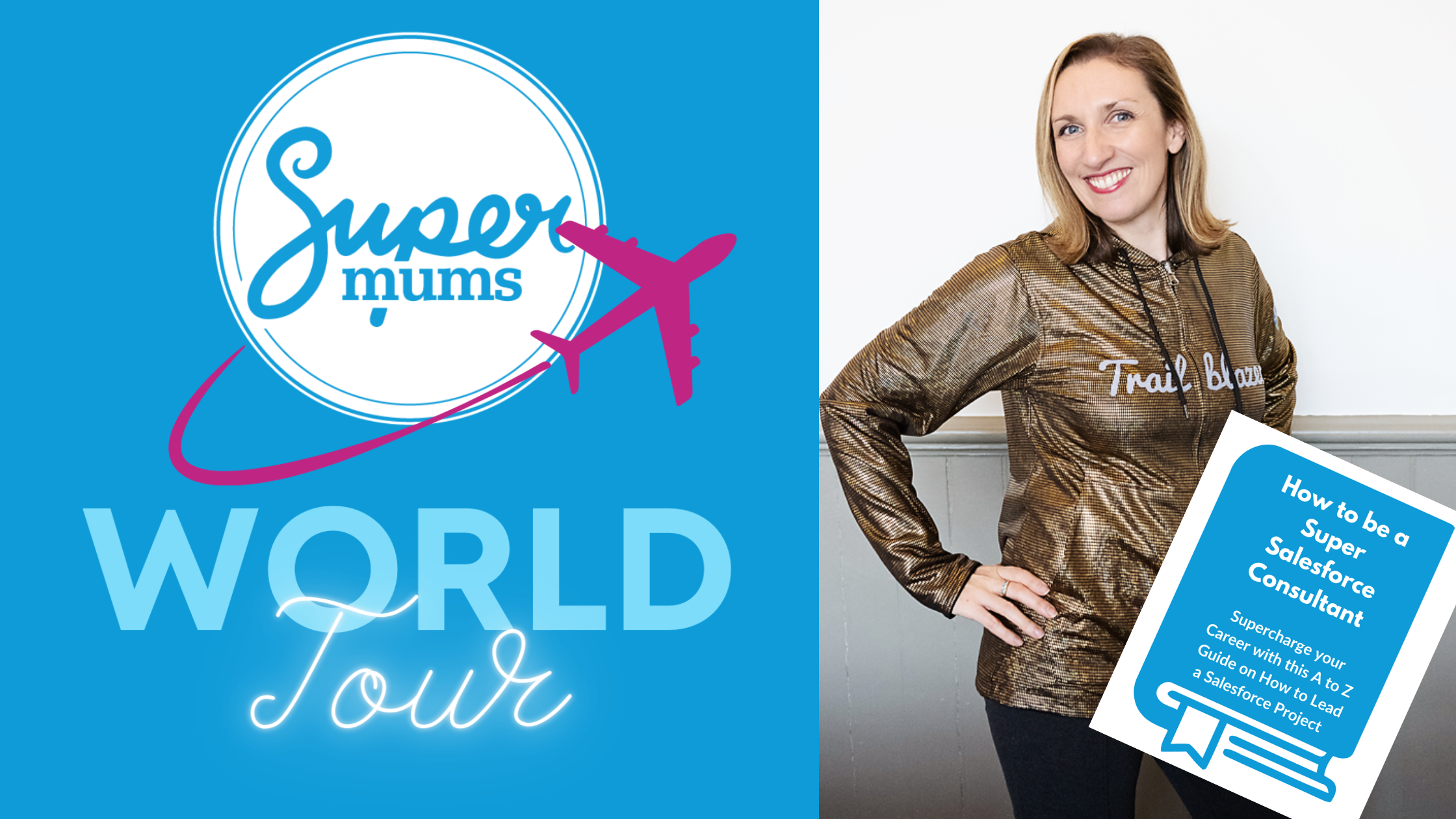 Heather and the Supermums Team are excited to be on tour virtually and physically sharing expertise about how to be a Super Salesforce Professional by speaking at various Salesforce events around the globe. We love helping people to launch and accelerate their career within the eco-system with our Salesforce Training and Recruitment Services.
Heather has been speaking on the following topics from her soon to be published 'How to be a Super Salesforce Consultant' Book (details below), with downloadable take-away templates for listeners. The feedback has been so lovely from everyone!
The Four Roles of an Awesome Admin;
Building Consultancy Skills as an Admin,
How to be a No 1 Salesforce Consultant
How to undertake a Org Health Check, and
The Ambitious Women Mindset
"What a fantastic presentation" "I found this presentation very insightful and interesting" " The template is a great take away – thankyou"
Heather Black became a Salesforce Consultant in 2012. Starting out as a freelancer she then grew and managed a consultancy team and has overseen over 700 projects with 350 clients. Her Consultancy won the EMEA Salesforce. Org Consultancy Partner of the Year Award. She has 7x Salesforce Certifications and certifications in APMG Agile Project Management, APMG Change Management and BCS Business Analysis and NLP Coaching. She is now the CEO of Supermums and has helped over 1000 trainees to relaunch their career. She spends her time educating and supporting students by teaching the Consultancy Skills Course to Salesforce professionals globally.
Over the last six months Heather has already had the privilege of being a guest speaker at the following User Groups around the world, and we are looking forward to upcoming sessions over the next year. So far she has spoken at WIT Groups, in Maryland, US, Atlanta, US; Boston; US, Twin Cities;, Chicago, US, Netherlands, St. Louis, US; Los Angeles, US; Austin, US; Portland, US; Tampa Florida, US; Salt Lake City, US; as well as the Admin Groups in Buffalo, US, Baltimore, US and Birmingham US.
Upcoming speaker sessions include:
WIT Group, Denver, USA – 5th June – Ambitious Women Mindset
Admin Group, Little Rock, US – 16th June – Building Consultancy Skills as a Salesforce Admin
Admin Group, Lowell, US – 27th June
Nonprofit User Group, Los Angeles, US – Date Pending
Please contact maryrose@supermums.org if you would like to book Heather in for a speaker slot.
Heather is excited to sharing topics from her upcoming Book 'How to be a Super Salesforce Consultant' due to be published in October 23.
If you join the VIP Waiting List for the buying the Book you can benefit from the following special offers during the launch week:
JOIN THE VIP WAITING LIST HERE
Supermums is a Social Enterprise. All sales proceeds of the book will be reinvested in a bursary fund to support women who have suffered from domestic violence, to enrol on the Supermums Admin Course to relaunch their career and get their life back on track.
Subscribe To Our Weekly Top Tip Bulletin
Get Updates And Learn From The Best