How to go from Salesforce Admin to Salesforce Consultant to Boost your Salary!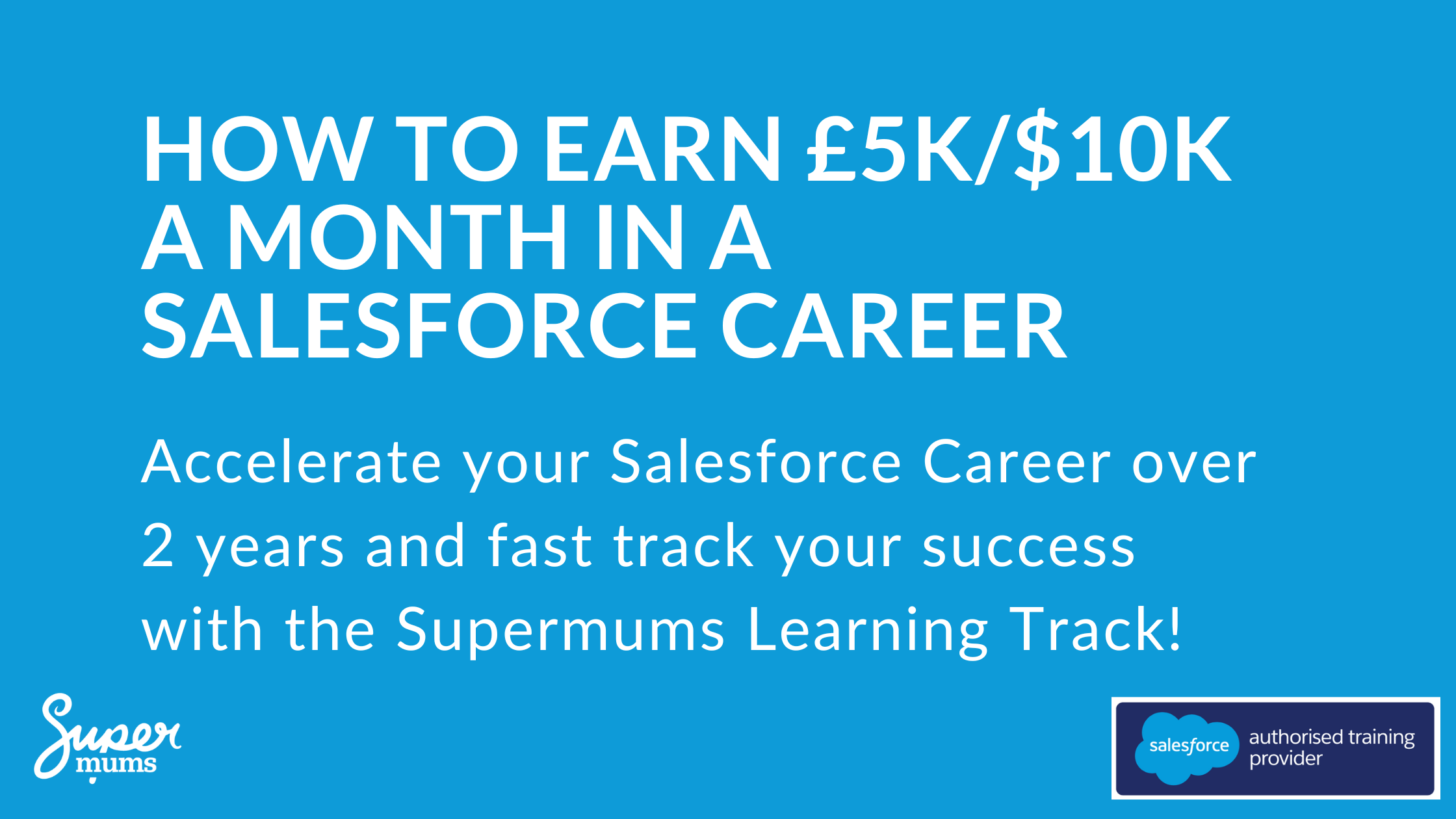 People often ask how do you get to earn £5k/$10k a month in a Salesforce Career – How do you get this momentum!
Well it often means doubling down on your learning and stepping from an Admin to a Salesforce Consultant!
The answer is, it requires a clear plan of action, with learning objectives and a financial mindset to increase your earning potential. The Supermums Alumni who have achieved these financial goals have had a clear plan of action and have been fully committed to their success.
At Supermums, we provide this two year learning track for our trainees and alumni who want to invest in their success. It's down to you! September is a great time to commit to studying, so join us to get back in the grove! We have your back with our suite of training options from our Admin Course, Consultancy Skills Course and Peer Study Groups.
Two Year Training Schedule
At Supermums we have all of the components in place to get you motivated and accountable over two years! You just need to join the community and commit to the learning plan.
Over three months, spend 16hrs a week studying for your Salesforce Admin Certification with the Supermums Ultimate Salesforce Admin Course.
Over three months spend 4hrs a week studying for your App Builder and Advanced Builder Certifications with the Supermums Peer Study Certification Groups.
Within three to six months you should gained your first experience and have landed your first job role in the eco-system with three certs under your belt!
Over three months, spend 4.5hrs studying on the Supermums Salesforce Consultancy Skills Course whilst working in a role.
Over three months, spend 4.5hrs a week studying for your Business Analysis Certification with a study plan on the Supermums Consultancy Skills Course.
Over 12 months, spend 2-4hrs a week studying for one of more Salesforce Cloud Consultant Certifications that relate to the products you are working with in your job. Benefit from Business Analysis Questionnaires and Product Knowledge on the Supermums Consultancy Skills Course.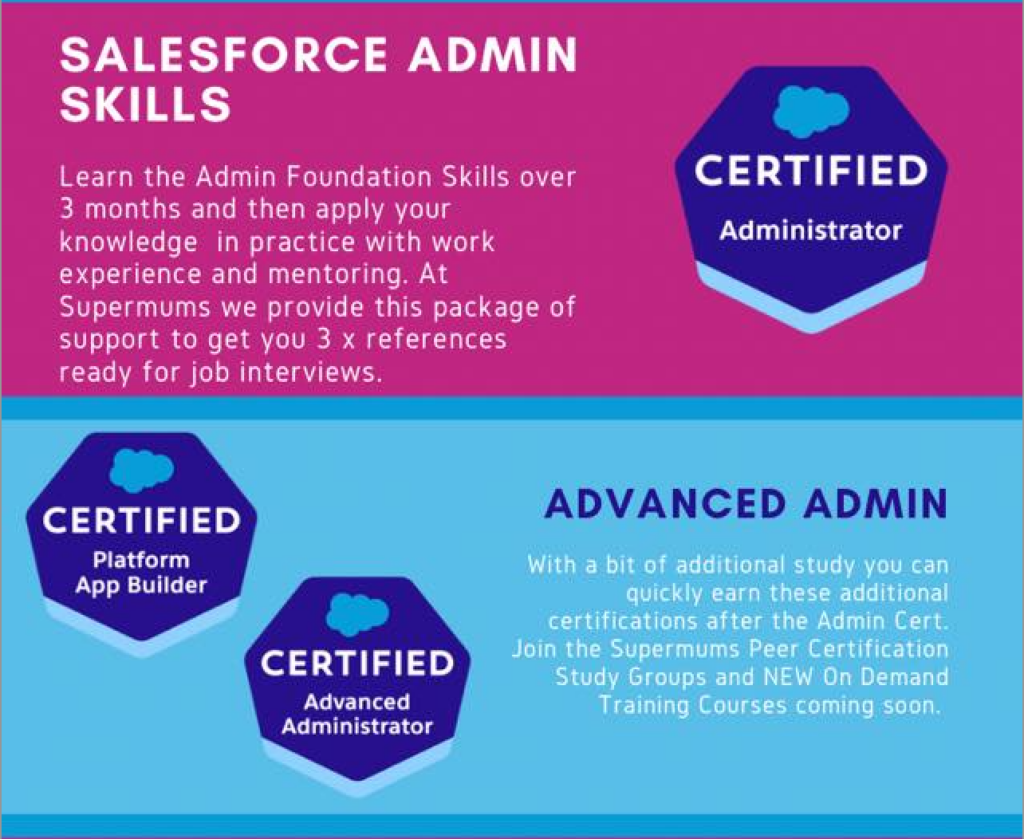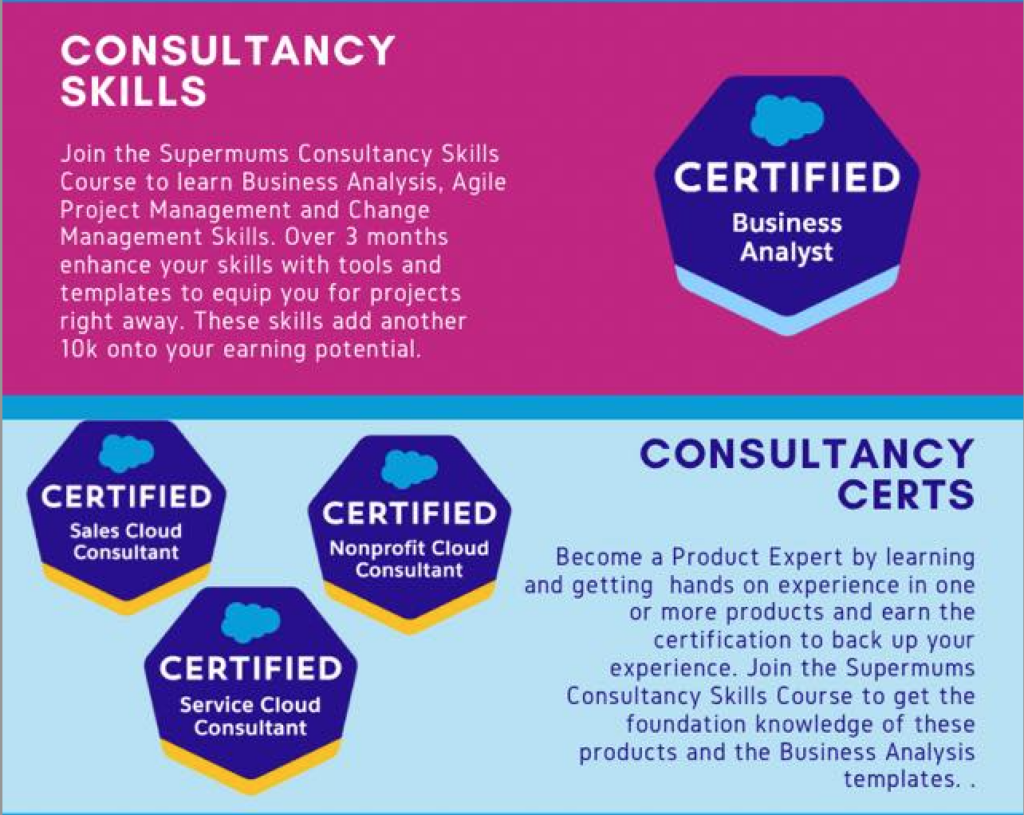 So How Does This Translate into Financial Reward?
Firstly you can discuss a performance related reward in the first job you take.
Over the 2 years, set the learning and certification milestones and gain relevant experience to negotiate a pay increase over this time. Why? because as you learn more and gain more certifications you are worth more! You can expect increase your salary or contractor day rate accordingly if there is a clear performance framework in place.
If your employer doesn't increase your salary someone else will. Your other option is to jump ship and move to a new job that gives you more opportunity to develop your skills and experience. With every job change you can typically expect a 10k increase with an increase in your credentials.
With this reward it therefore makes sense to be pro-active and committed to your progress and your value in return.
If you shy away from talking about money! then use a Recruiter to help you negotiate a salary/day rate and an incremental pay increase overtime for a new role. Speak to the Supermums Recruitment Team if you are looking for your next job move.
Follow the Trail of others who have taken the step to Salesforce Consultant, with the support of Supermums!
Below is a summary of the different roles you might want on the team: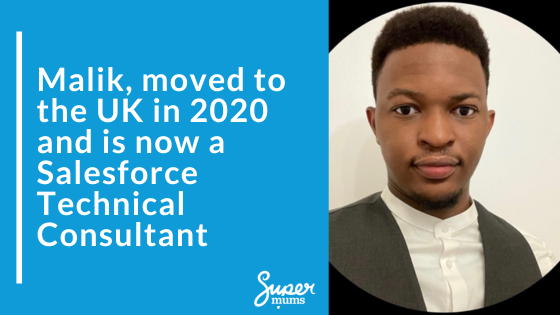 Malik, moved to the UK in 2020 at the height of the pandemic and wasn't sure what career path he wanted to take. His aunt suggested he learn something new, and make himself more marketable in an ever changing and unstable economic climate, and so pointed him in the direction of Supermums as a starting point. He has now completed the Supermums Admin course, as well as the Supermums Consultancy course, and is now Technical Consultant at Arcus Global.
"A year after passing the Salesforce Admin exam, I enrolled in the Supermums Consultancy Skills course. After working as Sales Admin for the past year, I knew I wanted to do more. Pushing for growth and solving problems were two aspects of my role I was particularly interested in, and so the Consultancy Skills course was the next logical step for me. Plus knowing that Heather was going to be delivering the course was an added bonus! There was the opportunity to pick her brain, and to really learn from someone who has so much experience when it comes to leading consultancies was an opportunity I couldn't miss."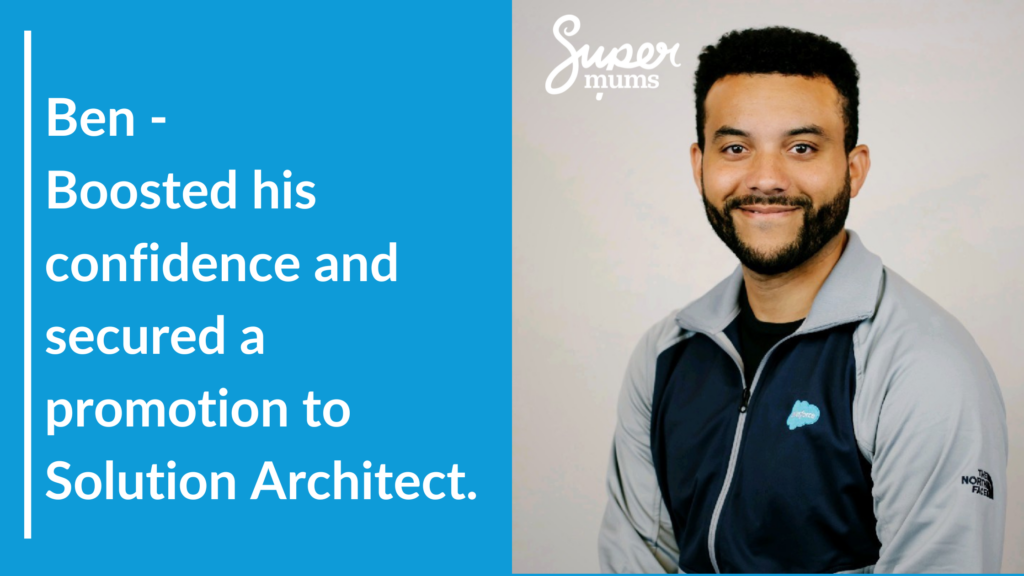 Ben wanted to develop professional Business Analyst and Agile Project Management skills to become more confident in his role. He wanted to know how to run Discovery workshops and what questions to ask. The content, skills and confidence he has learn't on the course has enabled him to feel confident and to progress in his career. He has since secured a new role as a Solution Architect. He loves the flexibility and the role everyday.
"I came across the Supermums Consultancy Skills Course, and it offered great content and templates that I could use straight away. The variety of different methodologies covered in the course was really useful and interesting. I now use the content and learning every day in my work."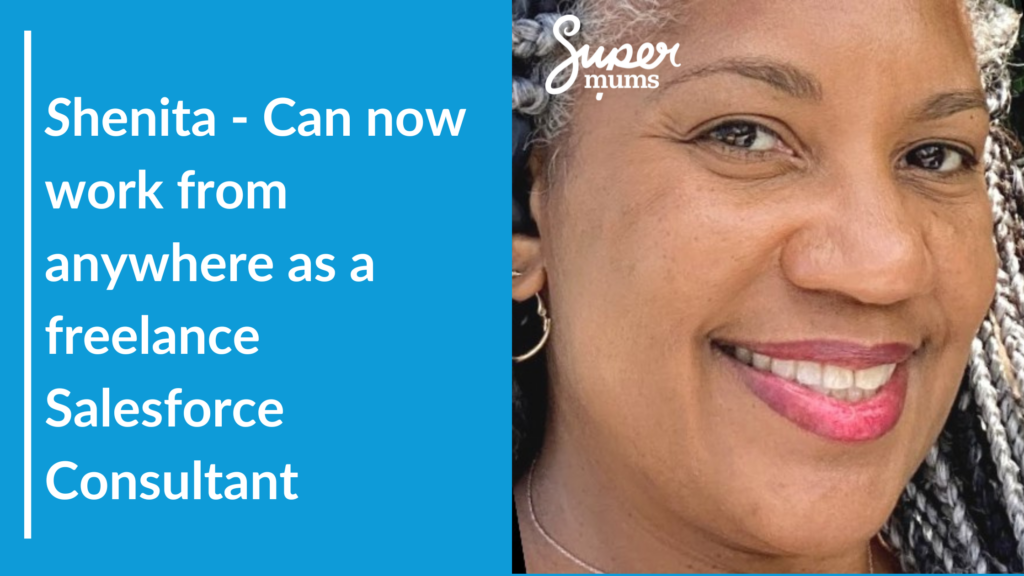 As a stay at home mum who frequently relocated around the world as part of her partner's job, Shenita had been trying to find a career that she could do from anywhere that would equally pay her a good wage. She came across Salesforce and Supermums and upskilled in Admin and Consultancy Skills. She now works as a freelance Salesforce Consultant working remotely.
"Invest in yourself. Learn the tool and go all in! With Supermums and Salesforce together it is what you make it. The sky is the limit for earning potential and careers."
Join the next Supermums Salesforce Consultant Course
If you're inspired by these stories, and want to progress your career to the next level, in terms of knowledge and salary, save your seat on our next Salesforce Consultant Skills course.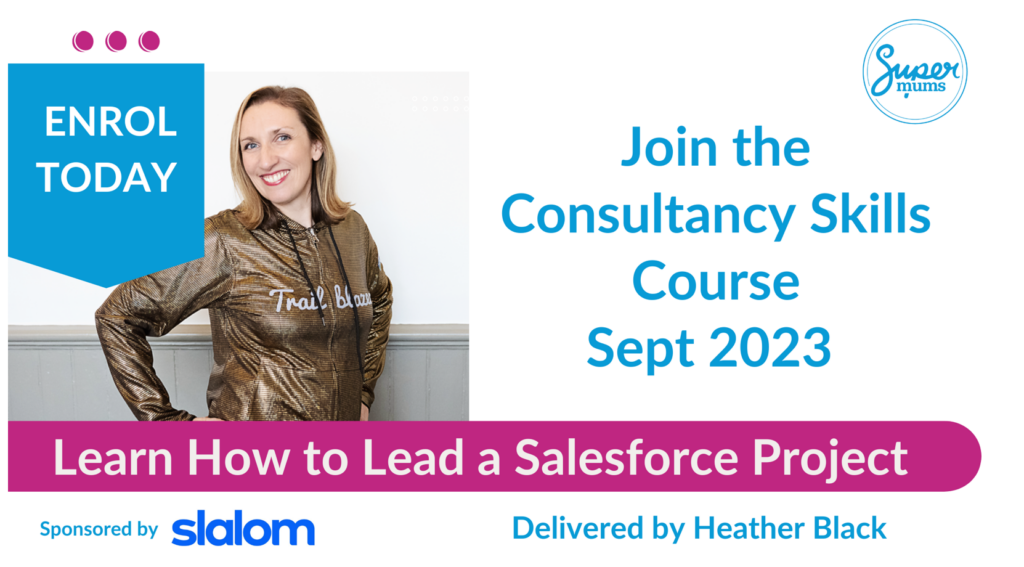 Subscribe To Our Weekly Top Tip Bulletin
Get Updates And Learn From The Best